Conductor and composer Esa-Pekka Salonen leads the Chicago Symphony Orchestra in Mahler's Symphony No. 9 on May 17, 2018. (Credit: Todd Rosenberg)
Although everything they touch turns to gold these days, nothing quite reveals the brilliance of the musicians of the Chicago Symphony Orchestra quite like the challenge of a Mahler masterwork. And with its haunting, soul-baring grandeur, its ever-surprising shifts of mood and rhythm, and its remarkable use of each instrument's full range of color and meaning, the composer's Symphony No. 9 is among the greatest showcases of their ability to create magic.
Thursday night's performance, led by Esa-Pekka Salonen – a twig of a man whose balletic arms and hands weave a unique magic all their own – was nothing short of spellbinding as it captured the strange, often unpredictable twists and turns of Mahler's alternately dreamlike and intensely vivid work that dances wildly between romanticism and modernism.
Written in 1910, just a year before Mahler's death at the age of 50 (and at the end of a life marked by persistent anti-Semitism, romantic angst and relentless professional challenges), the symphony, which was not performed until a year after the composer's death, might well be thought of as the musical transcription of a series of sessions of Freudian analysis. (Mahler did, in fact, consult with Freud at one point late in his life.) At the same time, it feels like the stormy fever dream of a man who is somewhere between sleep and waking as he revisits, in somewhat fractured form, the full arc of his existence.
Listen to the hushed sound of the cellos that open the work as if the composer is groping his way to consciousness, with Mahler's signature horns sounding in the distance like an augury of darkness to come. Then come the waves of sound laced with folk-like melodies climaxing with the crash of cymbals, the pounding of timpani and a sudden calm. There is something uneasy in the air, and then a beautiful, singing melody, and then the sense of inner frenzy as the cry of horns (cheers for trumpet Mark Ridenour and French horn Daniel Gingrich) streams through the lush landscape of strings.
Quicksilver shifts of emotion are of the essence throughout, as the orchestra swells and recedes, and the sound of a flute is followed by the intersection of the harp and horn before ceding to the strings and an exquisite solo by concertmaster Robert Chen. The first movement ends with a return to sleep, with the musicians' bows held suspended in the air. One woman in the balcony was so overcome she shouted, "That was amazing!" A break in concert protocol, to be sure, but fully understandable.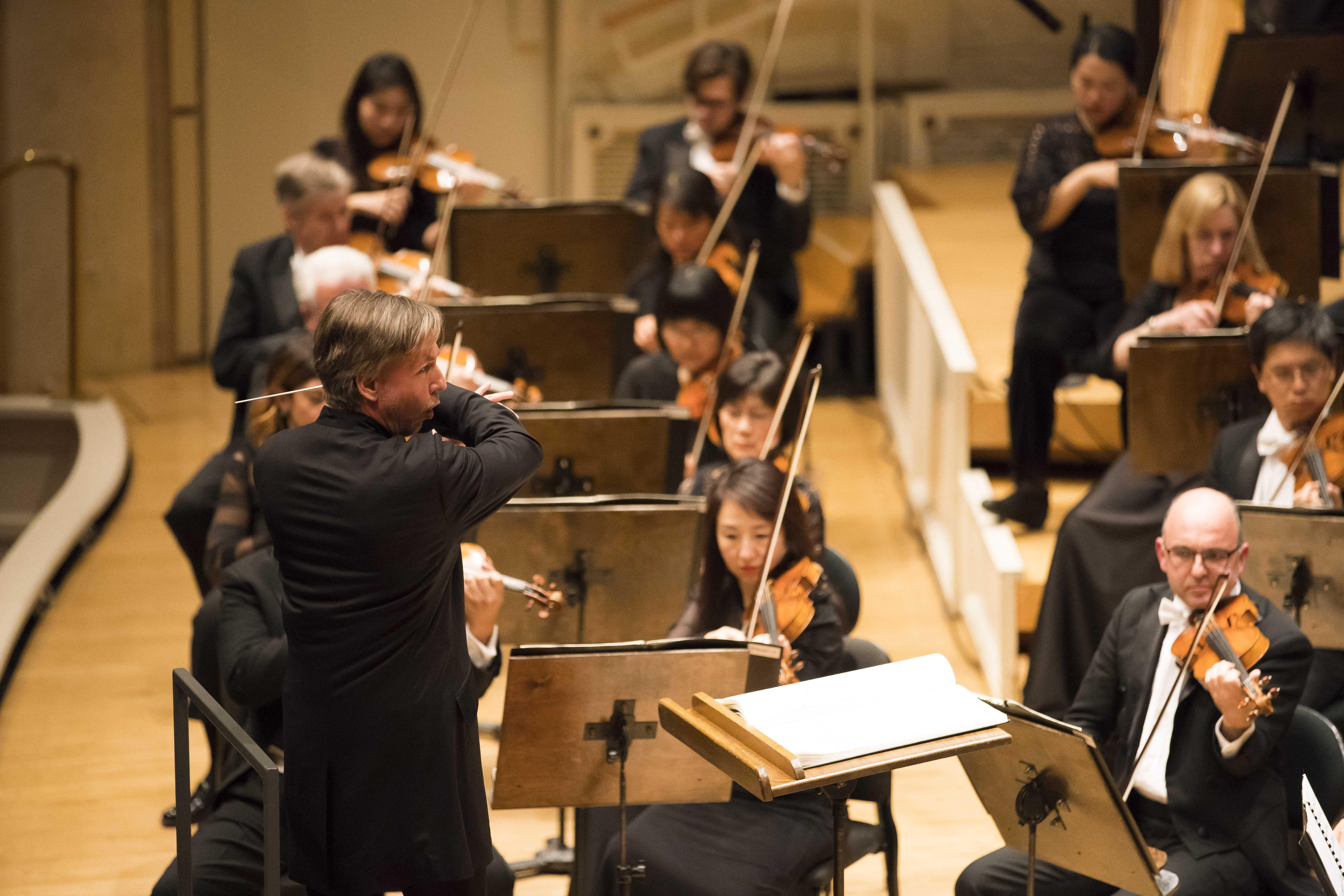 (Credit: Todd Rosenberg)
The symphony's second movement has a more worldly, communal feel, with folk dance riffs, a fascinating blend of cellos and basses, violins and violas (notably Li-Kuo Chang), bursts of horns and triangles – with a deconstructed feeling at one moment, and a sweeping, lyrical surge the next. Grand, erratic, unpredictable, and then a most delicate stop.
The third movement is also a different sort of forceful storm, with the high strings and low strings in a fascinating back-and-forth, great shifts in temperament and "weight," and the use of the winds, harp and clarinet to suggest the forces of nature in a dizzying massing of sound.
The symphony's fourth and final movement begins almost like a great exhalation with plaintive violins weaving a heartbreaking melody. This is a return to the composer's interior world, with Mahler, the ever-anxious romantic, in something of a dream state once again as all the earlier themes of the piece seem to be filtered through gauze. A benediction of sorts – a last breath in a work pierced with a sense of impending mortality.
With the sounding of the symphony's final note, Salonen held his baton in frozen suspension for several long seconds. The audience sat in rapt silence before erupting in a uniquely unrestrained ovation heralding both the genius of Mahler, and the CSO's unmatched ability to climb inside it.

This program will be repeated May 22 at Symphony Center, 220 S. Michigan Ave. For tickets ($36-$259) call (312) 294-3000 or visit www.cso.org. Running time is 90 minutes with no intermission.
Note: Salonen will return to the podium on May 21 to conduct the CSO in works by two Mead Composers-in-Residence (Samuel Adams and Elizabeth Ogonek), and then again on May 24-26 for a concert featuring pianist Mitsuko Uchida playing Bartok's "Piano Concerto No. 3," plus works by Brahms and Schoenberg.
Follow Hedy Weiss on Twitter: @HedyWeissCritic
---
Chicago Theater Recommendations from Hedy Weiss
John Malkovich joins CSO and Muti in Copland's 'Lincoln Portrait'
CSO and Chorus Create Wondrous Veil of Sound, Color with Ravel and Debussy
---