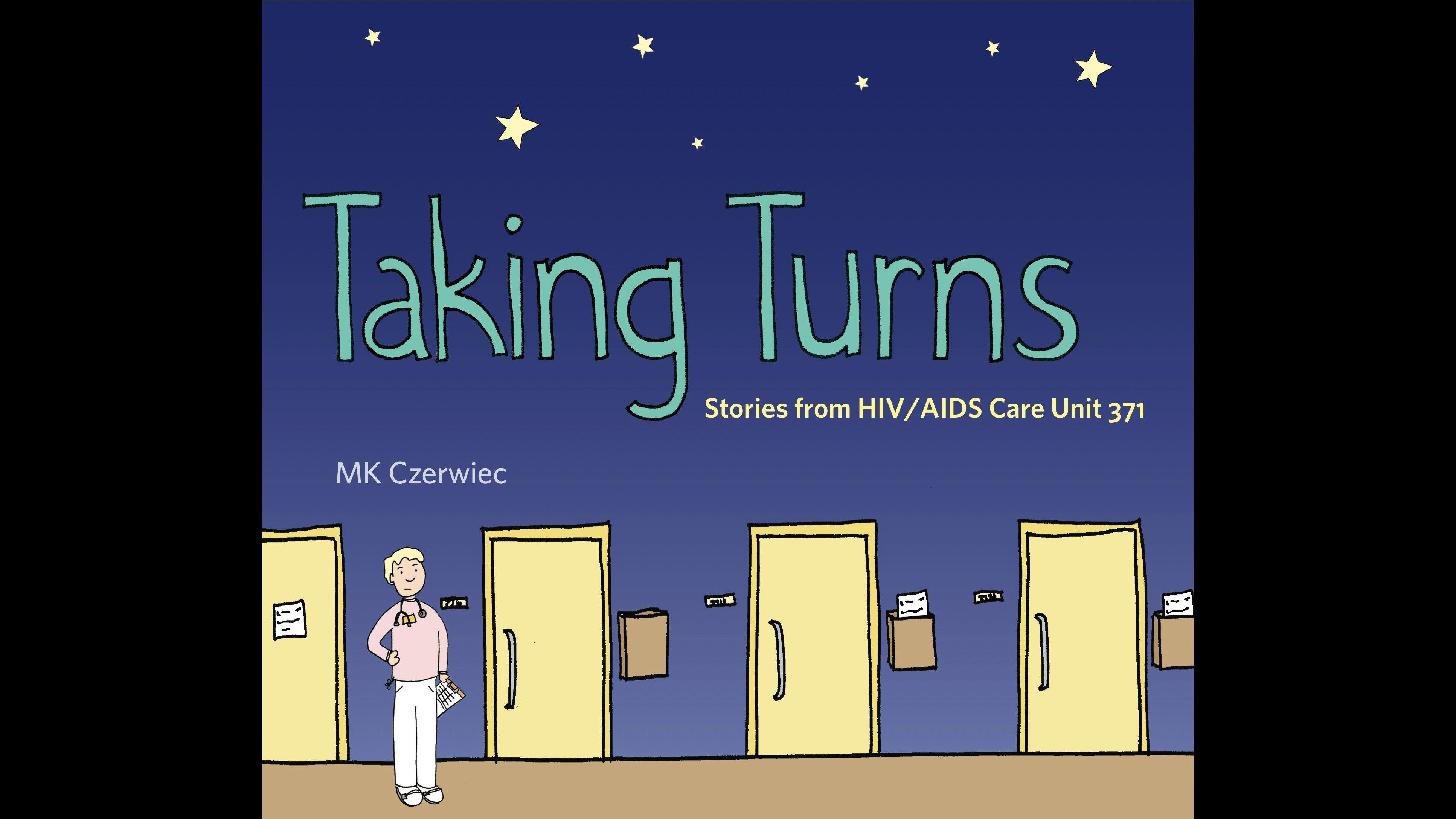 MK Czerwiec describes the recently published novel detailing the history of Illinois Masonic Medical Center's unit dedicated to AIDS patients as a "combination of oral history and my own memoir." (Courtesy MK Czerwiec)
Growing up, Northwestern Feinberg School of Medicine Artist-in-Residence MK Czerwiec never spent much time drawing or reading comics.
"I was not a kid who could draw or was encouraged to draw," Czerwiec said. "I'm not a fan of mainstream comics. ... I was a huge fan of Lynda Barry while in college and followed underground comics."
Czerwiec began writing comics while working as a nurse as a way to process her experiences.
"It was more out of necessity when I was working as an AIDS nurse," said Czerwiec, who began writing comics under the pseudonym Comic Nurse in 2000. "Writing a journal wasn't helpful because I couldn't recount these stories again and images weren't working alone.
"Then I came up with the idea to put image and word together and it just happened to be comics."
From 1993 to 2000, Czerwiec worked at Illinois Masonic Medical Center in the unit dedicated to caring for AIDS patients, better known as Unit 371.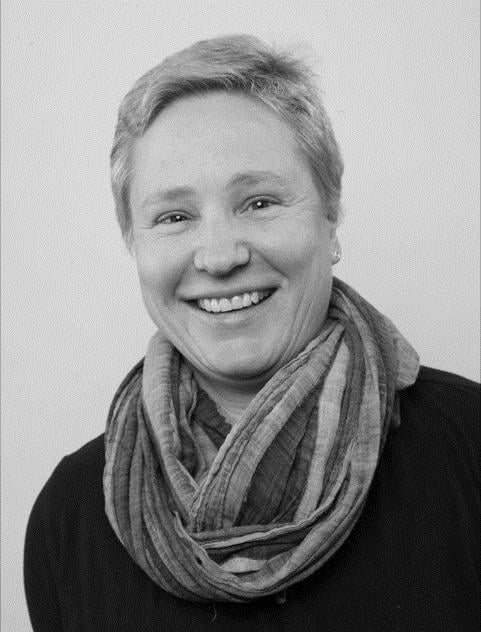 (Courtesy of MK Czerwiec) When Czerwiec joined the unit, the AIDS epidemic climaxed: In 1994, the disease was the leading cause of death for all Americans between the ages of 25 and 44 and the following year 500,000 cases of AIDS were reported in the U.S., according to the AIDS.gov website.
"I started making comics as a way to cope with some of the challenges that I faced and that I had to deal with: difficult deaths of patients I cared about and missed," Czerwiec said. "I felt comics were helpful for me to think about the things I was dealing with in my life."
With the release of effective therapies, the number of new AIDS patients began declining in 1996. The dwindling number of AIDS patients led to the closure of Unit 371 in 2000.
"Unit 371 was a special place that had no recorded history," said Czerwiec, who took it upon herself to chronicle the unit's history. She initially began the oral history project for her master's thesis.
"When I did interviews, I told them I wanted to adapt it into a comics project at some point," she said. "I wanted to make a comic about Unit 371 because it seemed like such a unique place in the health care community.  It was community taking care of itself, and it was done in such unique ways. It was very patient driven."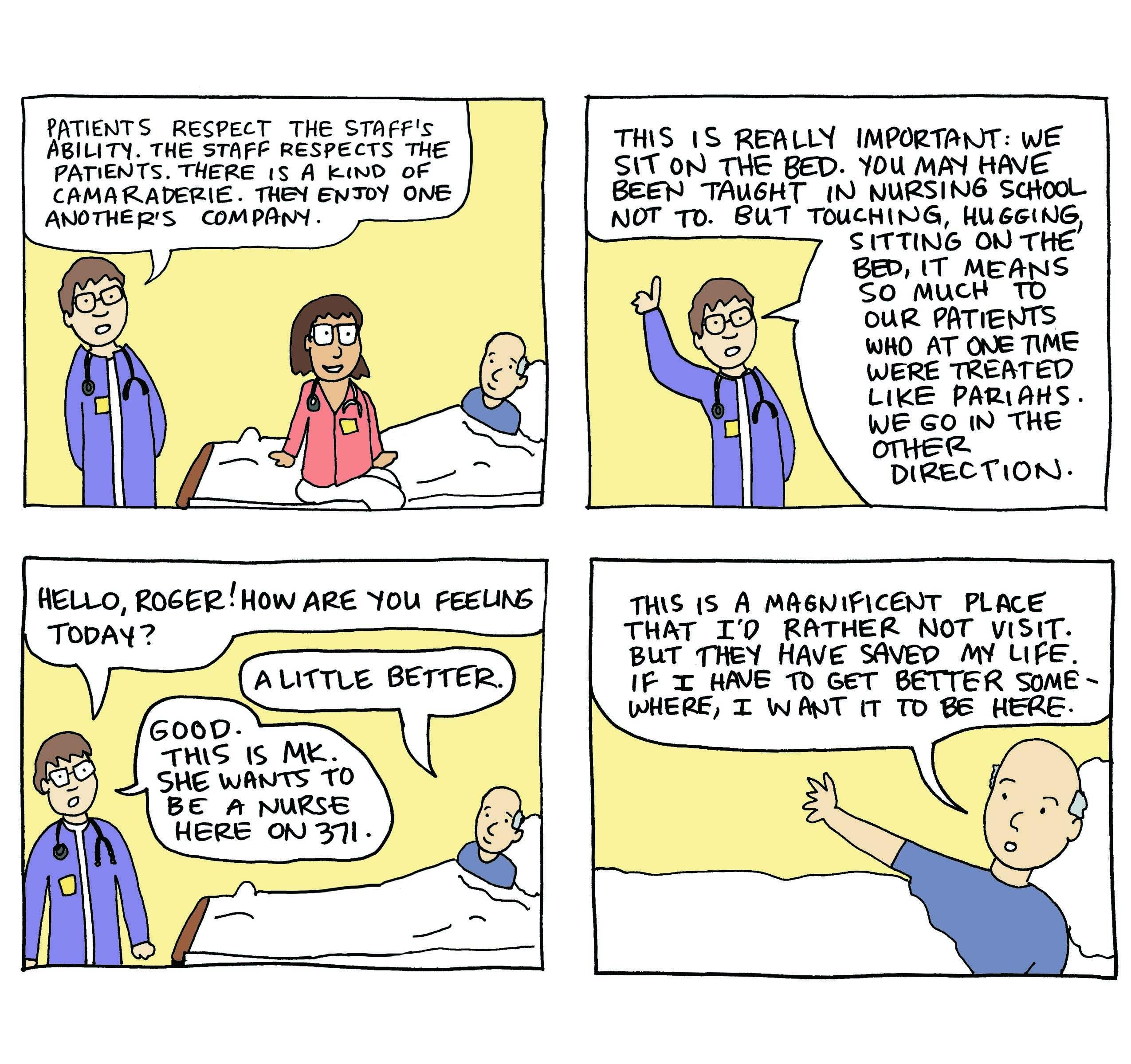 (Click here for a larger view of a passage from "Taking Turns: Stories from HIV/AIDS Care Unit 371." Courtesy of MK Czerwiec.) In March, Czerwiec's comic, "Taking Turns: Stories from HIV/AIDS Care Unit 371," was published.
"It's a combination of oral history interviews and my own memoir," Czerwiec said. "I also wanted to show what health care and community-based care could look like and how people in the community stepped up and gave their time to care for others."
Writing the comic, Czerwiec said she had two readers in mind: those who had lived through the AIDS epidemic and those who were either too young to remember or hadn't yet been born.
For those who lived through it, Czerwiec said she hopes "it opens up others to tell their stories and take the time to talk about what that was like. And for people who are younger ... I hope they use my book as a way in to learn the history."
While pursuing a master's degree in medical humanities and bioethics from Northwestern University Feinberg School of Medicine, Czerwiec said she "started thinking about how comics could have a serious role in discussions around illness and caregiving. I've made this my life's work since I graduated [in 2009]."
In future comics, Czerwiec hopes to address topics including end-of-life care. "I'm hoping, because I talk about young people who have to face their own deaths, with caregivers this will start the inevitable conversations about the outcomes and what they truly value when it comes to their care," she said.
"Building on this book, I want to expand more about end-of-life care and how to make our values clear to our families and loved ones about what we do and do not want at the end of our life," she added. "I'd love to do a lot more of that in more comic forms and personal experiences with family members that care for others and how to say goodbye, and the fact that we're all going to die."
Follow Kristen Thometz on Twitter: @kristenthometz
---
Related stories: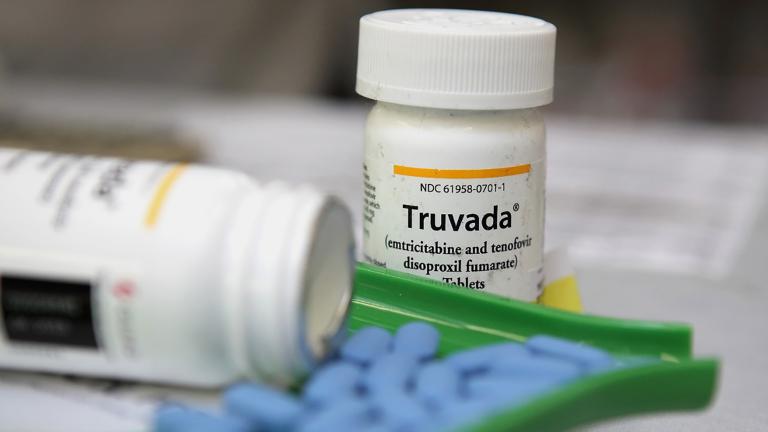 The Future of HIV/AIDS: Treatment, Prevention 35 Years Later
Nov. 29, 2016: A look at some breakthrough treatments for HIV and AIDS and a landmark clinical trial for a vaccine ahead of World AIDS Day.
---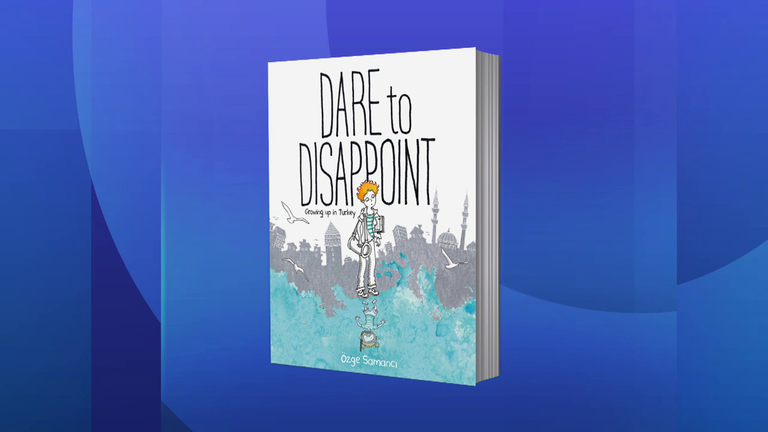 Northwestern Professor Tells Turkish Coming-of-Age Story
Jan. 4, 2016: In the 1980s, women in Turkey weren't supposed to have adventurous lives. After initially trying to meet the expectations of others, Ozge Samanci finally realized her true calling was to be an artist. She tells her coming-of-age story in her new graphic memoir "Dare to Disappoint: Growing Up In Turkey."
---
Variety Comics Closing at the End of October
Sept. 30, 2015: For more than four decades, Variety Comics has anchored the corner of Western and Wilson avenues and attracted comic book fans and the curious alike with its superhero murals. At the end of October, the Lincoln Square comic book store will close.
---