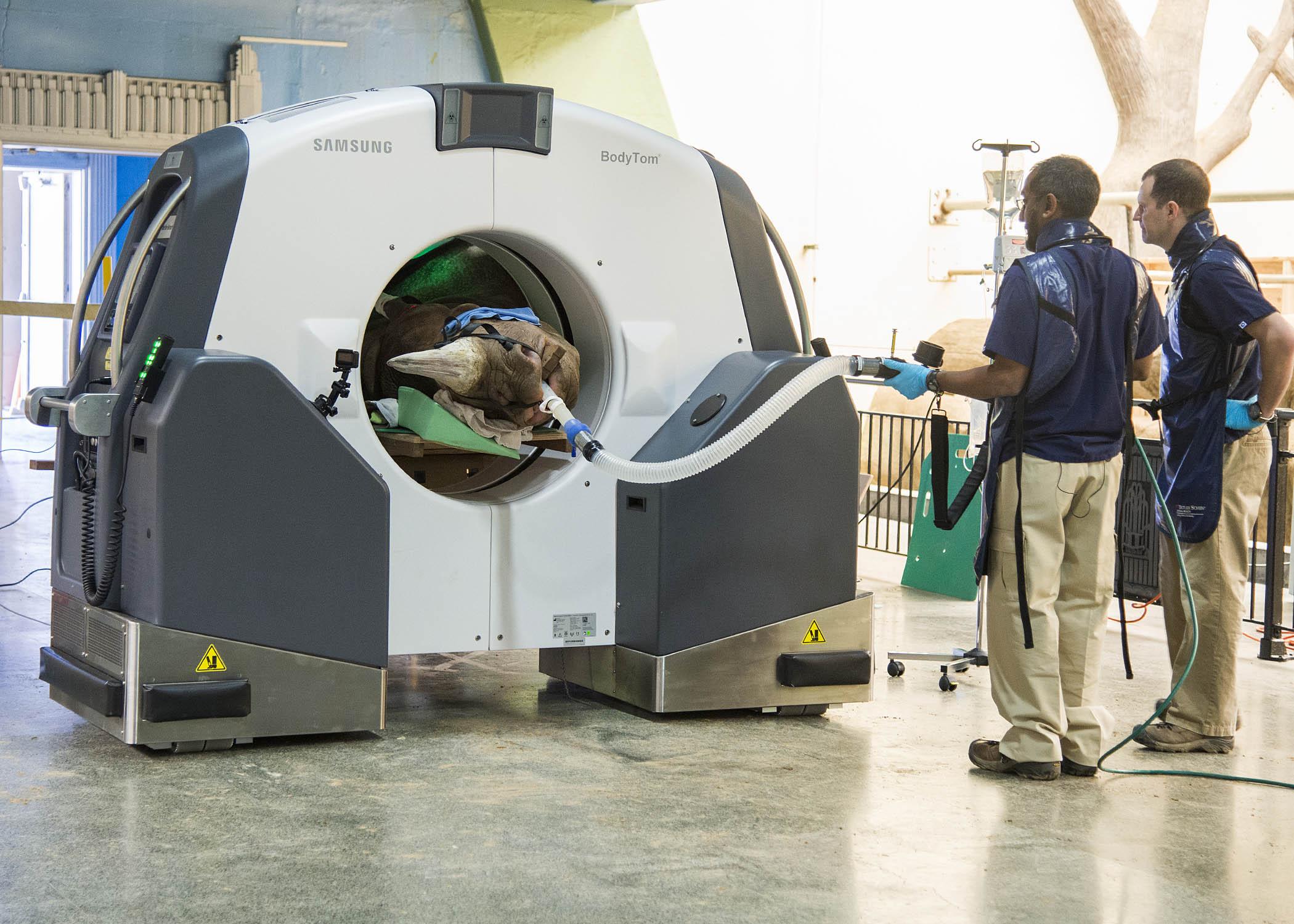 Dr. Sathya Chinnadurai, left, senior staff veterinarian with the Chicago Zoological Society, and Vice President of Clinical Medicine Dr. Michael Adkesson monitor Layla, a 7-year-old eastern black rhinoceros at Brookfield Zoo. Layla underwent a CT scan April 19 to help doctors determine the next steps for treating an obstruction in her nasal passageway. (Courtesy Chicago Zoological Society)
In what is thought to be the first procedure of its kind, nearly 40 staff at Brookfield Zoo worked together last week to transport a 2,300-pound rhinoceros in preparation for a CT scan, which allowed veterinarians to diagnose a bacterial infection that had been plaguing the animal for months.
Layla, a 7.5-year-old eastern black rhinoceros at the zoo, was diagnosed with obstructive sinusitis in December when staff noticed that she was having trouble breathing. Because rhinos have difficulty breathing through their mouths, any sort of nasal obstruction can become dangerous, according to the zoo. 
After failing to respond to standard treatments, Layla underwent sinus surgery in late January, which helped her breathing and allowed staff to begin treating the infection. But despite her improvements, surgeons had been unable to identify the source or extent of the infection, leaving Layla vulnerable to further problems.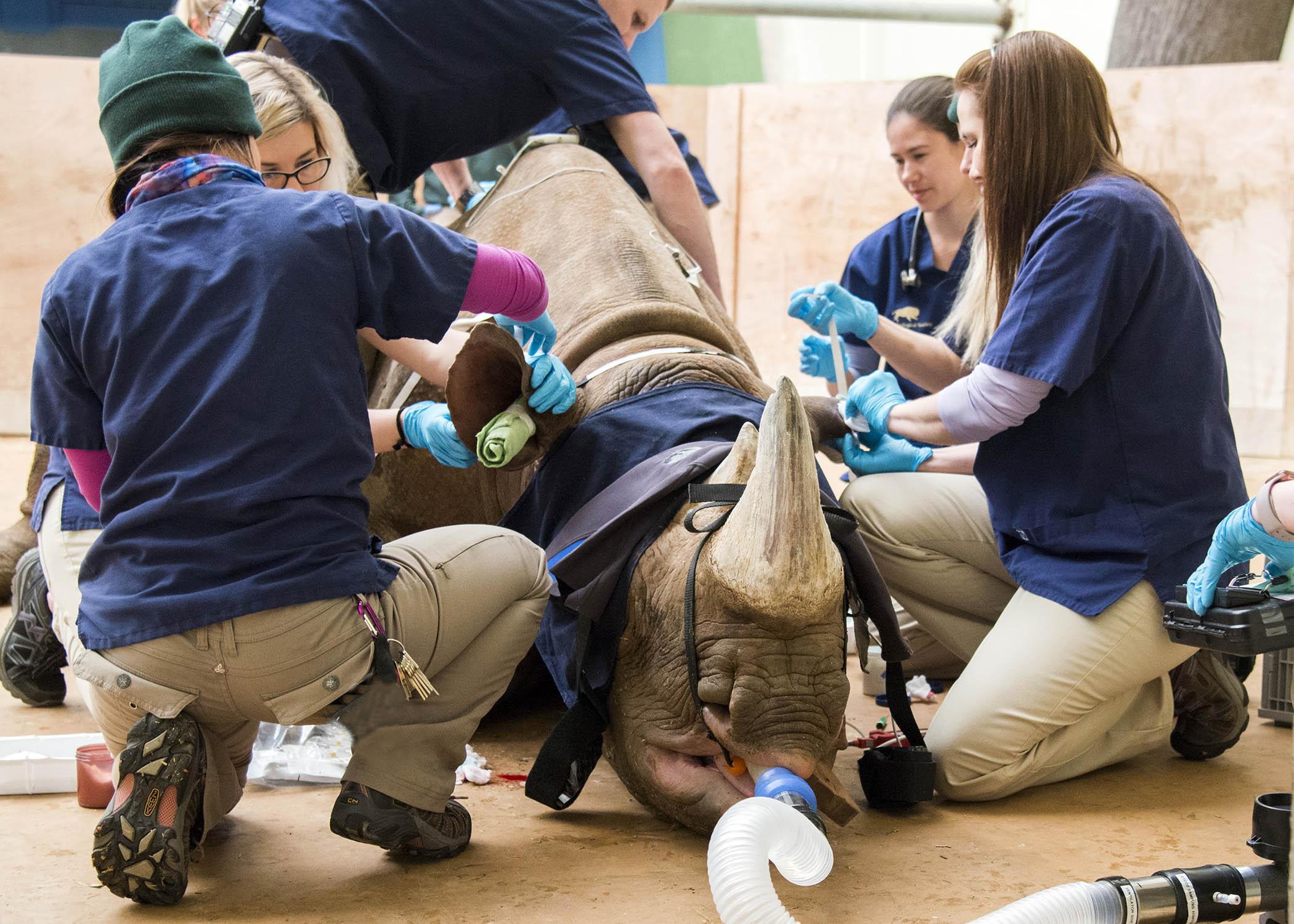 Veterinary staff stabilize Layla in preparation for a CT scan. (Courtesy Chicago Zoological Society)
"Their heads are so incredibly massive and their bones are so thick that our traditional X-rays are just not able to penetrate through the skull to provide a clear picture," said Dr. Michael Adkesson, vice president of clinical medicine for Chicago Zoological Society, which manages the zoo.
Brookfield Zoo is one of just a handful of North American zoos with its own CT scanner. But that was of no help with Layla, who is too large to be moved inside the zoo's animal hospital, where the scanner is located.
Instead, staff decided to conduct the test inside Layla's habitat in the zoo's Pachyderm House. On April 19, the zoo brought in a portable CT scanner to take high-powered images of Layla's skull, which revealed abnormal tissue in the root of one of her upper molars. The tissue's growth had been causing the obstruction in Layla's nasal passages and sinuses, veterinary staff determined.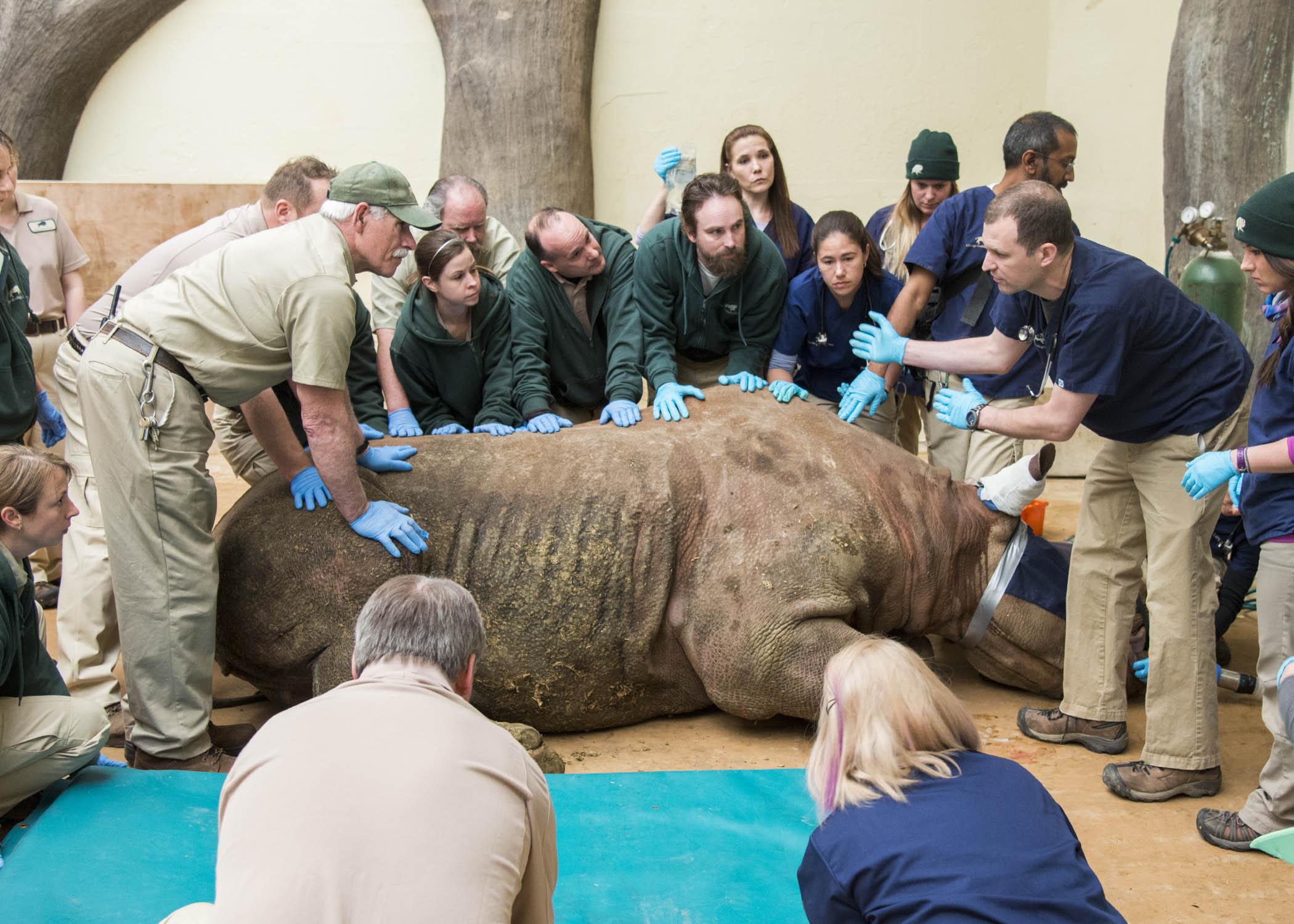 Zoo staff prepare to position Layla onto a mat in preparation for a CT scan to help plan treatment for an obstruction in her nasal passageway. Nearly 40 staff were involved in moving Layla for the procedure. (Courtesy Chicago Zoological Society)
In the coming weeks, Adkesson said the zoo will conduct another surgery to remove the infected tooth, which should improve Layla's breathing even more.
To the zoo's knowledge, the CT scan was the first ever performed on a rhinoceros.
"This technology has been around for a few years now, but a few decades ago this is not something that would have even been a possibility," Adkesson said.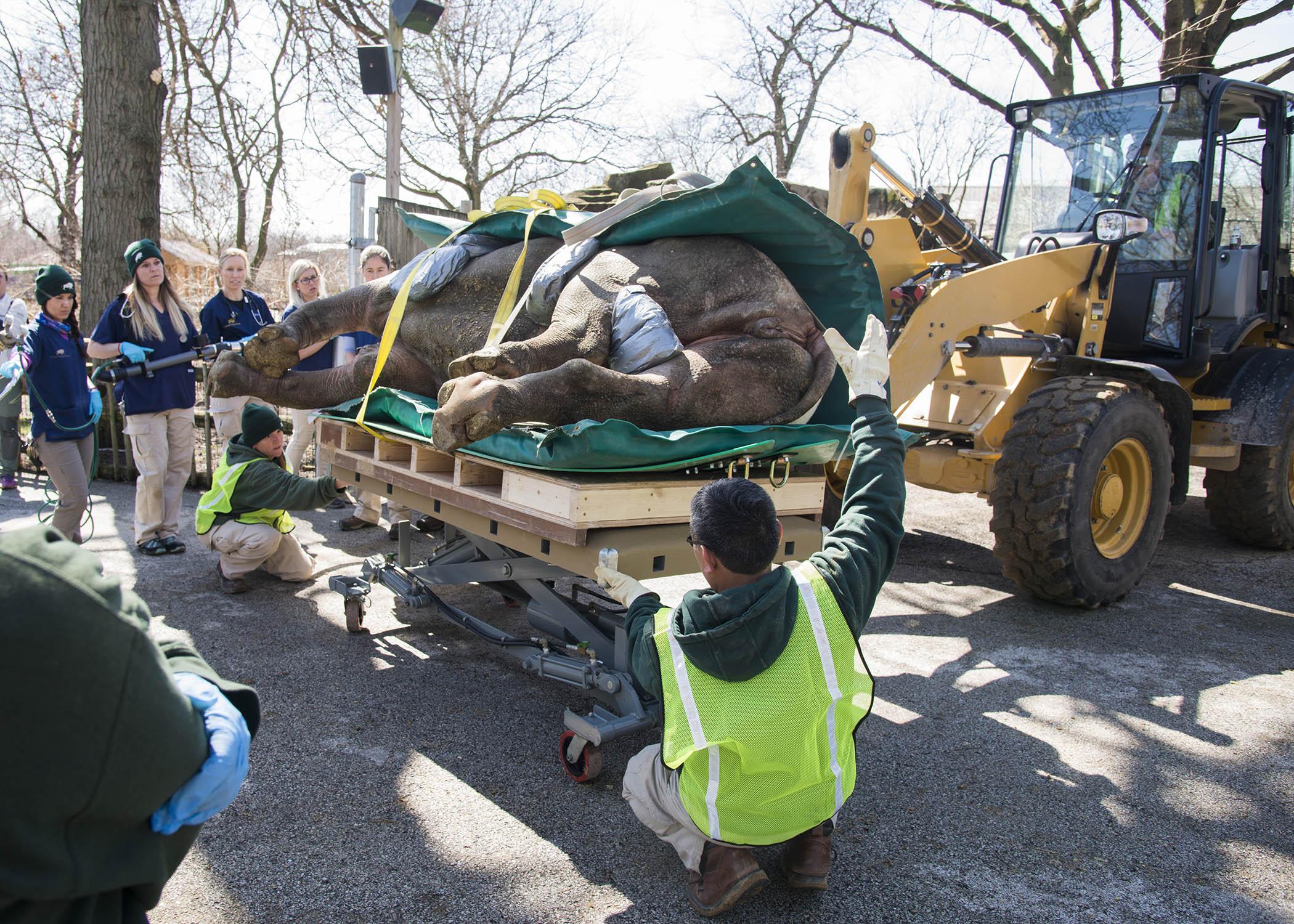 Senior groundskeepers Carrie Sapienza and Vince Valderrama help position Layla onto a surgical table. (Courtesy Chicago Zoological Society)
Moving Layla to and from the scanner required a front-end loader, a custom-made wooden platform and more than three dozen staff, who conducted several practice runs using 2,300 pounds of concrete to simulate Layla's weight. 
The rhino was completely anesthetized during the three-hour process, Adkesson said. Animal care staff have been monitoring Layla closely since the procedure while veterinarians develop a plan to remove the infected molar and any other abnormal tissue.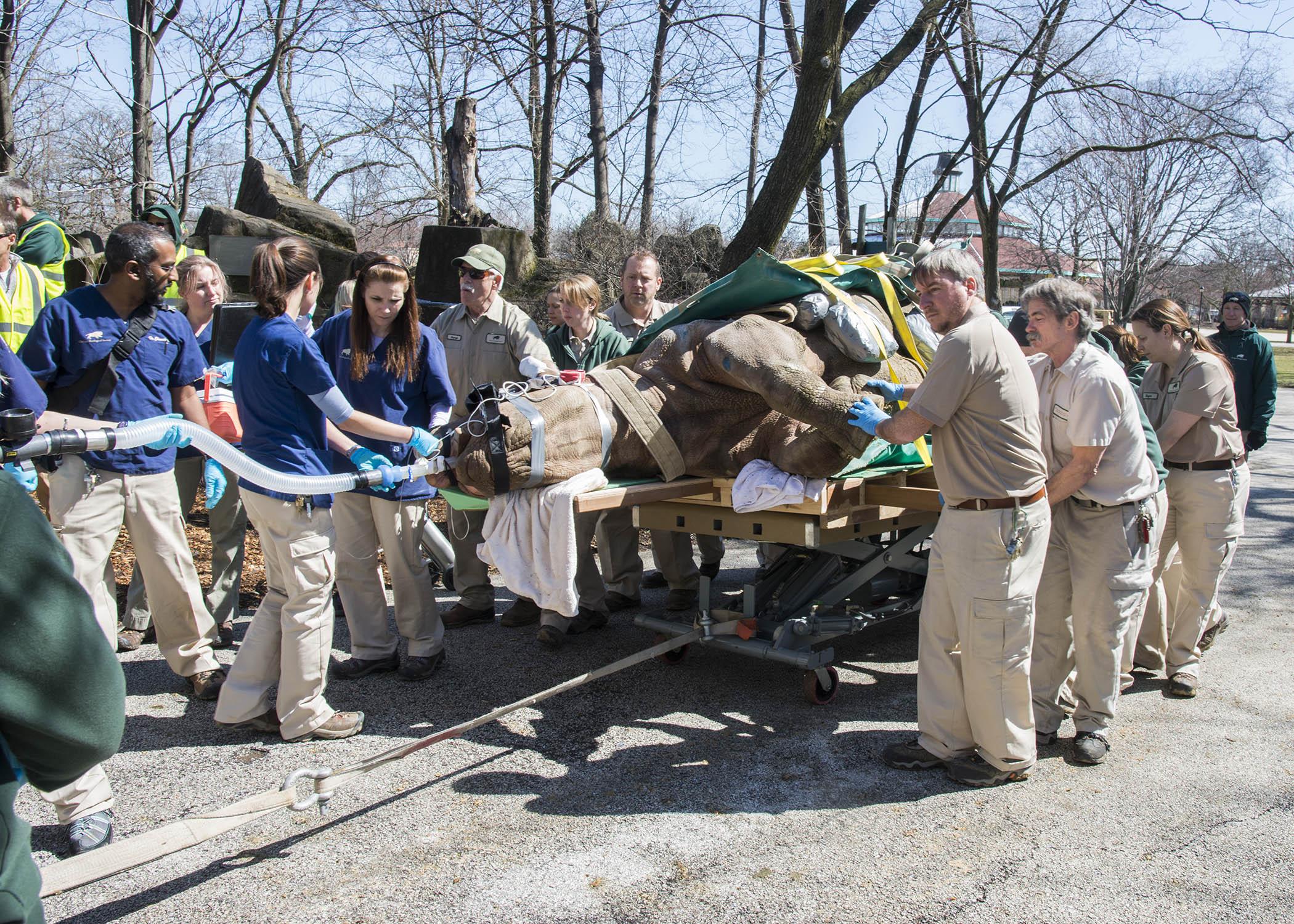 Layla, an eastern black rhinoceros, is wheeled into Brookfield Zoo's Pachyderm House, where she received what is thought to be the first portable CT scan ever performed on the species. (Courtesy Chicago Zoological Society)
Layla was born in 2010 at Kansas City Zoo and arrived at Brookfield Zoo in 2012 on a breeding recommendation as part of a collaborative Species Survival Plan. She is one of just 59 eastern black rhinoceroses in North American zoos.
The species is considered critically endangered, with an estimated 5,000-5,400 individuals living in the wild, mainly in East Africa.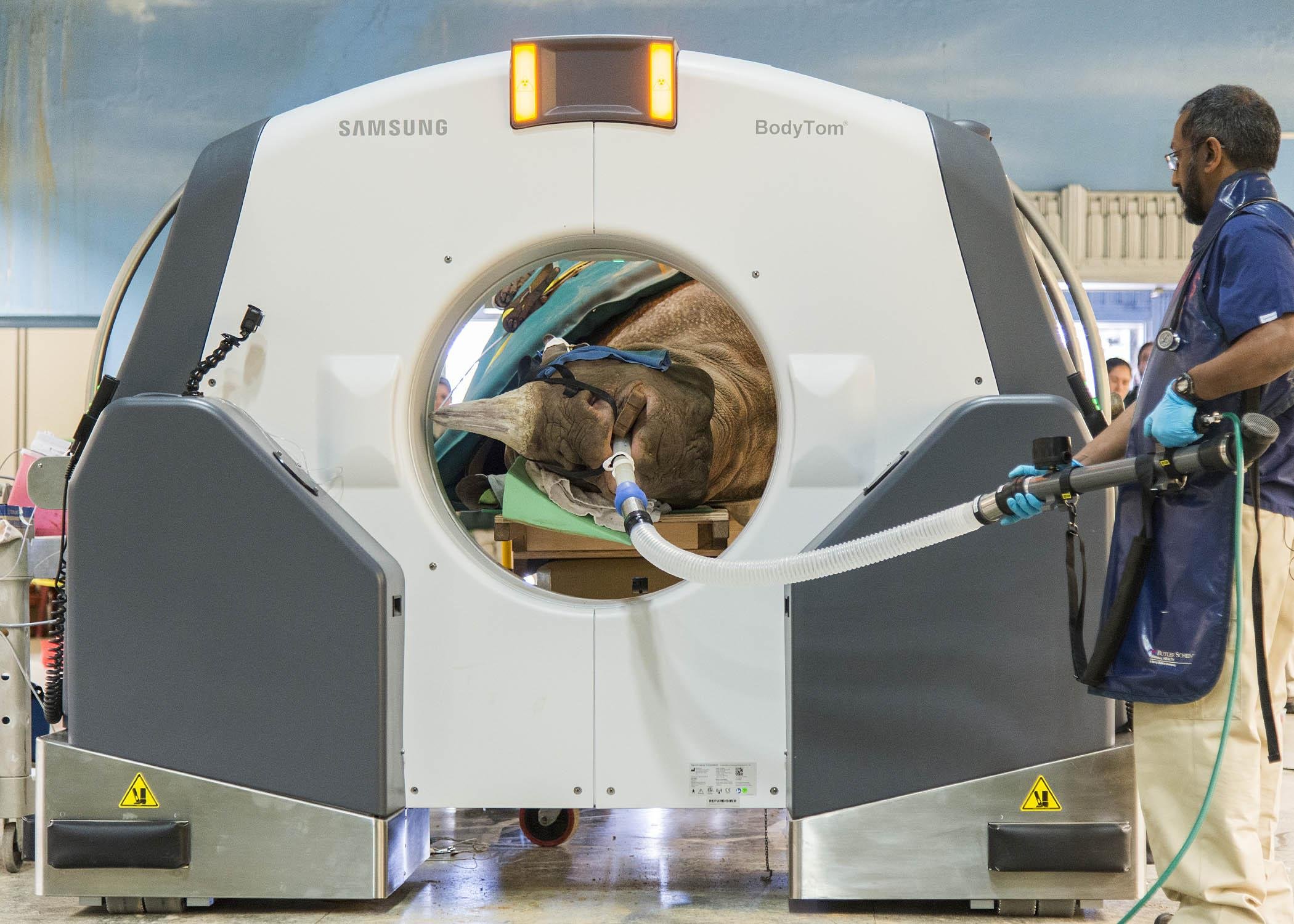 Dr. Sathya Chinnadurai monitors Layla as she receives a CT scan inside Brookfield Zoo's Pachyderm House. (Courtesy Chicago Zoological Society)
The portable scanner, which was donated for the procedure by a subsidiary of Samsung, figures to help the zoo better monitor the health of larger animals that cannot fit into its animal hospital, such as rhinos and giraffes, Adkesson said.
"It definitely provides a lot of new opportunities for some of our biggest patients," he said.
Contact Alex Ruppenthal: @arupp | [email protected] | (773) 509-5623
---
Related stories:
Brookfield Zoo Euthanizes Beloved Gorilla Ramar
April 12: The 50-year-old gorilla was the zoo's oldest animal. "Knowing it's the right decision doesn't make it hurt any less," said Amy Roberts, curator of mammals for the Chicago Zoological Society.
---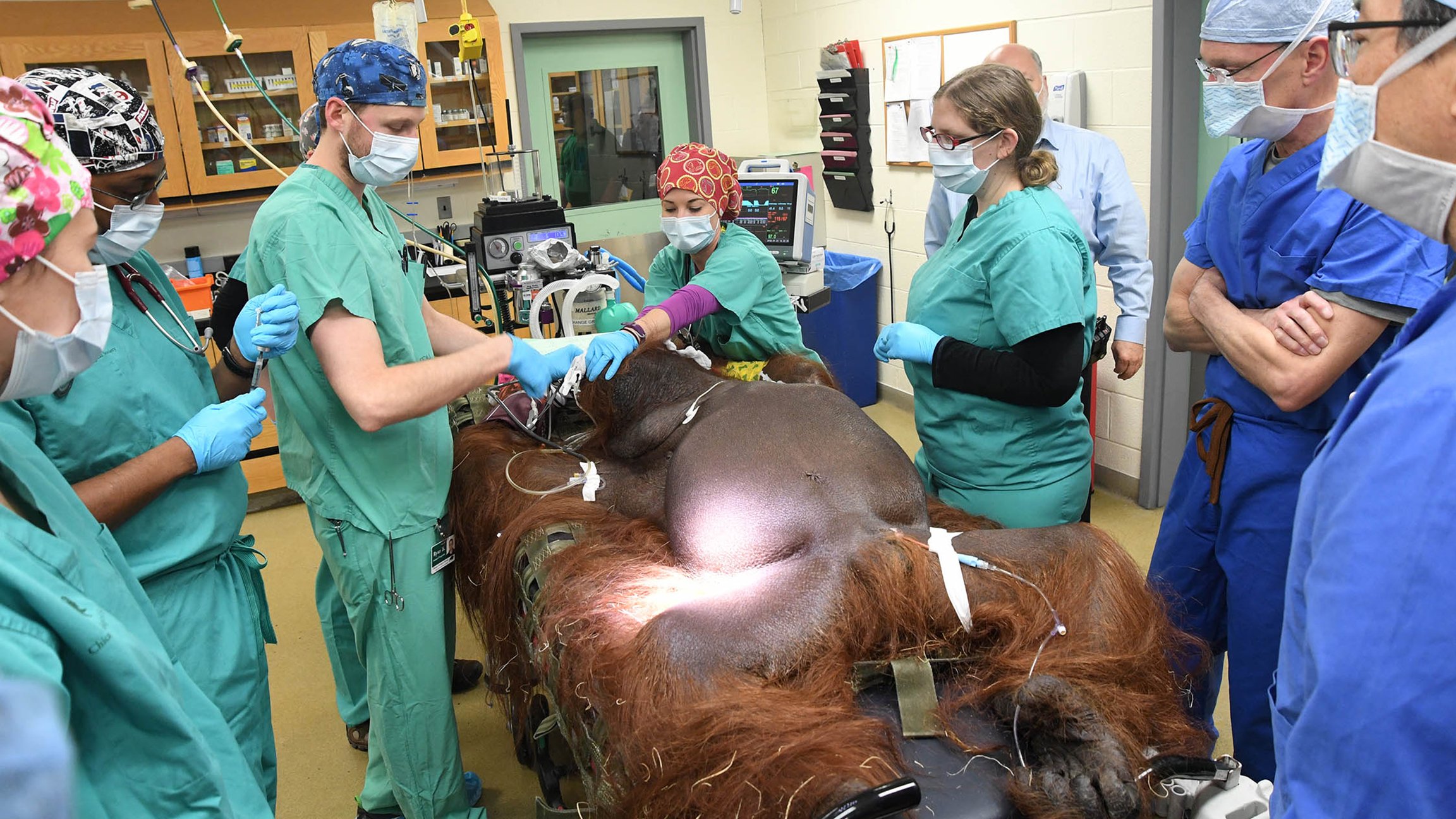 Orangutan Undergoes Emergency Appendectomy at Brookfield Zoo
Feb. 13: Ben, a 40-year-old orangutan at Brookfield Zoo, underwent an emergency appendectomy last month after veterinary staff discovered a ruptured appendix.
---
How Artificial Insemination is Saving Mexican Wolf Populations
Feb. 7: Nearly 30 years ago, scientists began collecting semen samples from Mexican wolves. On Sunday, Brookfield Zoo artificially inseminated one wolf as part of an effort to boost the genetic health of the endangered species.
---