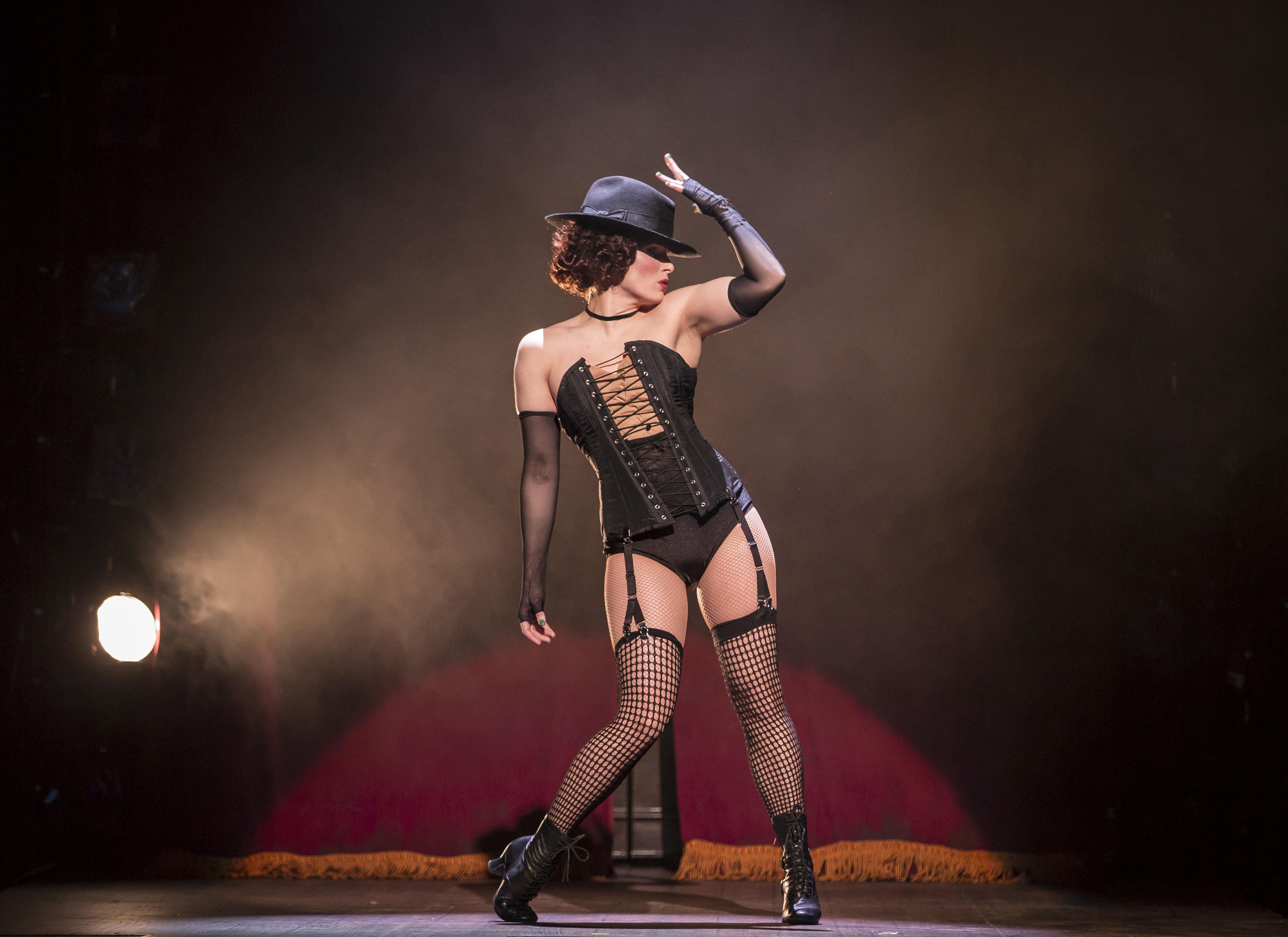 Kelly Felthous plays Sally Bowles in Paramount Theatre's "Cabaret." (Credit: Liz Lauren)
When does the political become personal? When does the personal become political? And at what point do people realize that their very survival is at stake, and that they must choose among open rebellion, immediate flight or conforming to the status quo?
The genius of "Cabaret," the 1966 John Kander and Fred Ebb musical that seems eerily of and for this moment in time (even if history never quite repeats itself in the same way), is how its creators managed to meld the personal and political, creating a score that brilliantly evokes both grand-scale events and the most intimate interactions. And that score is seamlessly interwoven with Joe Masteroff's masterful book based on the quasi-autobiographical stories of Christopher Isherwood and a play by John Van Druten.
The brilliance of the show's revival at the Paramount Theatre in Aurora is the way director-choreographer Katie Spelman has not only found a perfect balance between these two levels of existence, but the way she has fully captured the flamboyant decadence of 1930s Weimar Germany, with Berlin at its epicenter, yet never exploits the pure shock value of its sexual antics. 
Rather, the real shock comes when the no-holds-barred revelers are suddenly faced with the rude awakening of the rise of Nazism. And Spelman and her superb cast of actor-singer-dancers make it very clear that while some of them immediately sense the impending catastrophe, and some easily jump on board to support it, others, with a dangerous sense of denial, write it off as a temporary aberration.
Spelman, who also happens to be a dynamic, highly original choreographer, homes in with laser-like intelligence on every subtle detail of the storytelling, and her actors not only make every essential lyric pop with crystal-clear diction, but make sure those lyrics carry the weight and complexity of dialogue. Credit goes to music director Tom Vendafreddo and his splendid 16-piece orchestra, which not only makes a glorious sound throughout, but never overwhelms the singers.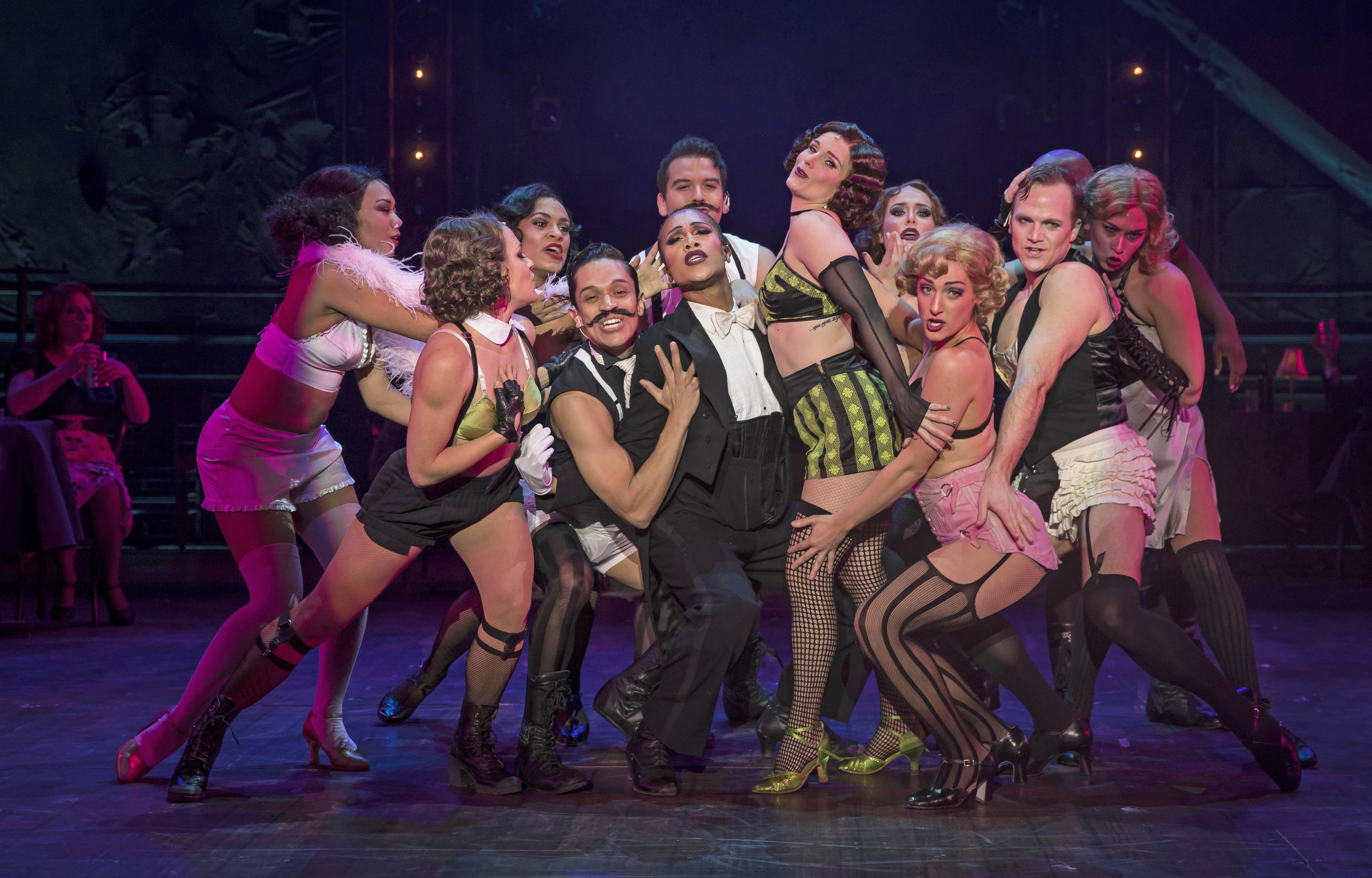 Joseph Anthony Byrd (center, tux) plays the Emcee and Kelly Felthous (black and green striped shorts) plays Sally Bowles in Paramount Theatre's "Cabaret." (Credit: Liz Lauren)
The story, of course, is framed by the presence of the sexually polymorphous Emcee at the notoriously naughty Kit Kat Club. And leggy, charismatic, velvety-voiced Joseph Anthony Byrd (back in Chicago following a stint in Broadway's "Kinky Boots"), fully lives up to his dramatic initial appearance in which he rises out of the orchestra pit on a hydraulic lift.
But "Cabaret" is really the story of Clifford Bradshaw (Garrett Lutz), a young, penniless, bisexual novelist from Harrisburg, Pennsylvania, who decides to take up residence in Berlin at what becomes a momentous moment, and his complicated relationship with the irrepressible Sally Bowles (Kelly Felthous), the promiscuous, emotionally unstable English girl who is a headliner at the Kit Kat Club, and always in need of cash and men.
Lutz's performance is notable for its subtlety, and for the explosive way his all-important ethical and political decisions finally signal the end of a certain innocence. Felthous, a petite, fiery, triple-threat talent with a sensational voice and immense energy, gives us a very real sense of her character's impulsiveness, manipulativeness and deep sadness.
And then there are the two older Berliners who in many ways anchor the show with their realistic late-life romance that becomes a casualty of history.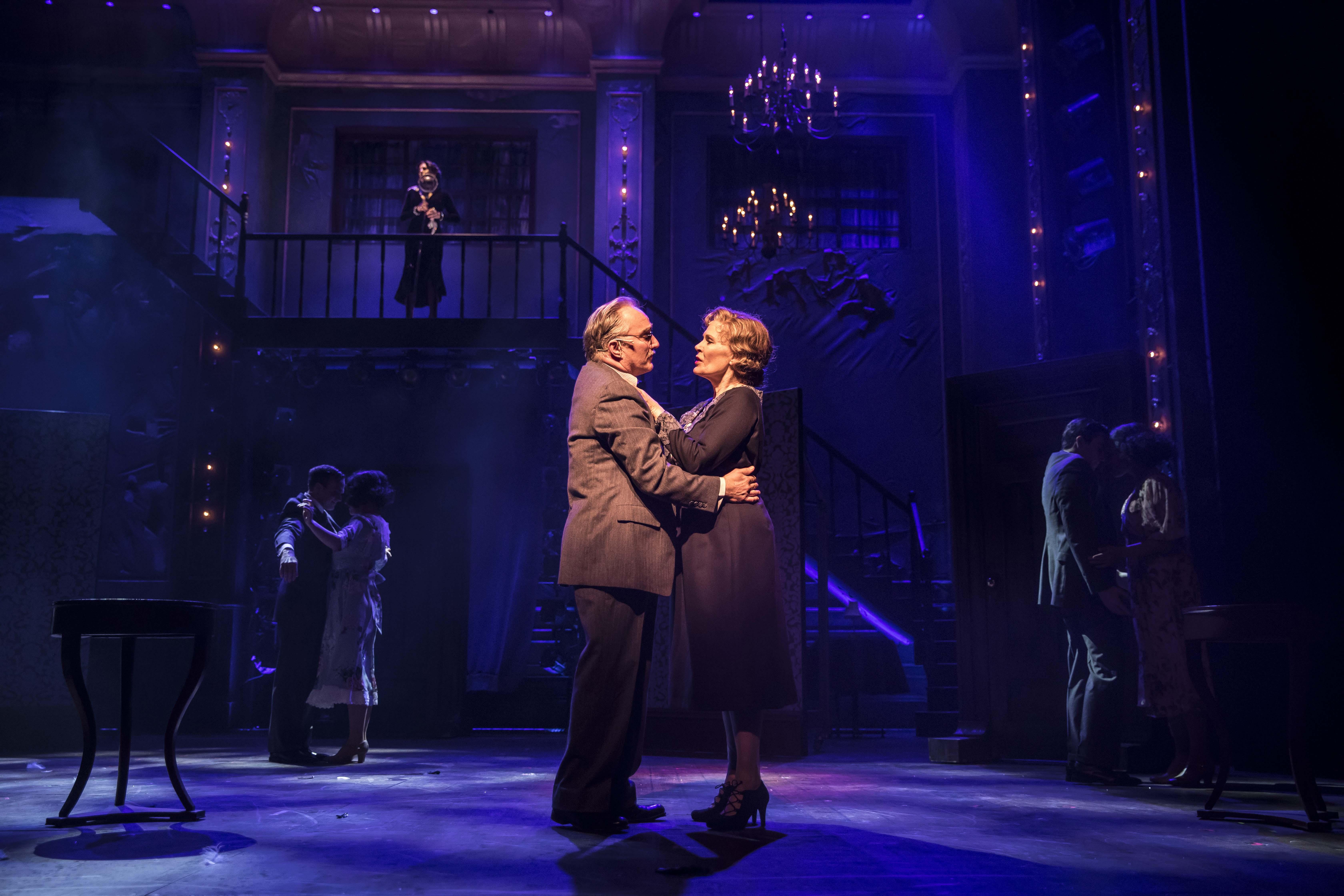 Ron E. Rains is Herr Schultz and Hollis Resnik plays Fraulein Schneider in "Cabaret." (Credit: Liz Lauren)
Hollis Resnik's astonishing portrayal of Fraulein Schneider, the woman who runs the boarding house where Clifford rents a room, is a showstopper. Her searing rendering of two pivotal songs—"So What?" and "What Would You Do?"—hold the audience rapt in ways that easily match the production's most grandiose show biz numbers. And as Herr Schultz, the widowed, German-Jewish fruit merchant who hopes to marry her, Ron E. Rains is sweetly charming in his self-delusion.
In a large and "perfectly wonderful" ensemble, Brandon Springman (as Nazi smuggler Ernst Ludwig), Meghan Murphy (as Fraulein Kost, a prostitute), and Caron Buinis (who brings her haunting voice to the role of the Chanteuse), are all top-notch.
Set designer Scott Davis has devised a notably original vision for the Kit Kat Club (very much in authentic Berlin style), and Yael Lubetzky's lighting bathes it all in just the right tones of dusty purple and green.
The swastika banners that appear at a crucial moment are somewhat cropped from full view. Quite a brilliant metaphor for people just beginning to see what lies ahead.

"Cabaret" runs through March 18 at the Paramount Theatre, 23 E. Galena Blvd., Aurora. Tickets: $36 - $64. Info: (630) 896-6666; www.ParamountAurora.com. Running time: 2 hours and 30 minutes with one intermission.
One final note: Next up at the Paramount is "Once" (April 25 - June 3), the beautiful musical by Glen Hansard and Marketa Irglova, is based on the 2007 film.
---
Related stories: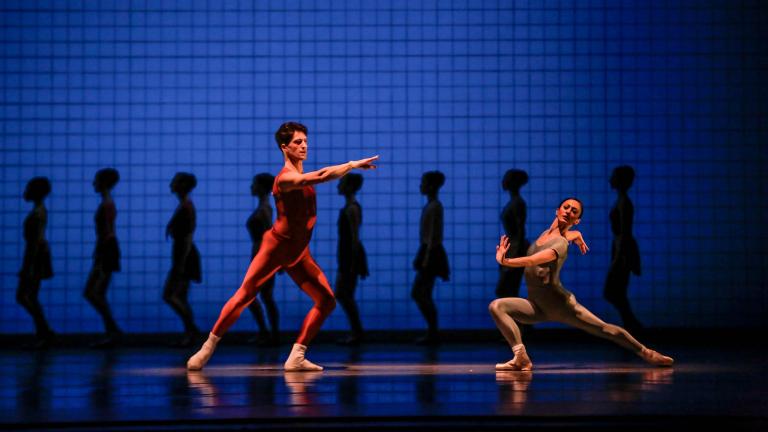 Joffrey's Breathtaking 'Modern Masters' Explores Ballet's Evolution
Feb. 8: The Joffrey Ballet's winter program is a stunning showcase of the prowess of its dancers, as well as the stellar talents of the Chicago Philharmonic and music director Scott Speck.
---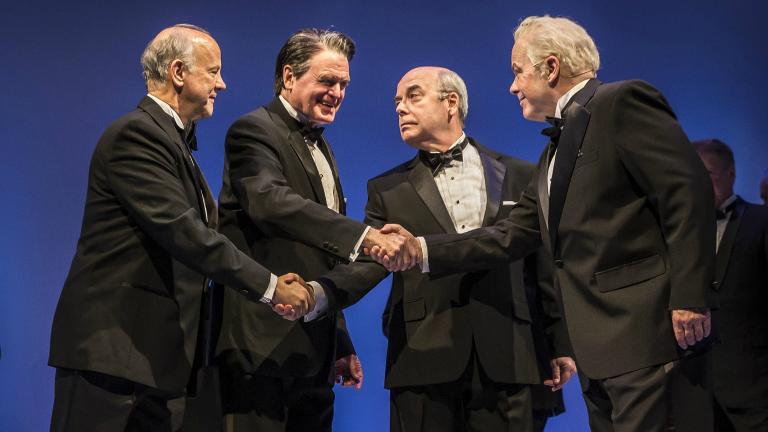 Hedy Weiss Reviews 'Blind Date,' 'Ragtime,' 'Skeleton Crew,' More
Feb. 6: "Ragtime," Ronald Reagan and a rarely seen Stephen Sondheim show are currently featured on Chicago-area stages. Theater critic Hedy Weiss joins us with recommendations – and two exclusive reviews.
---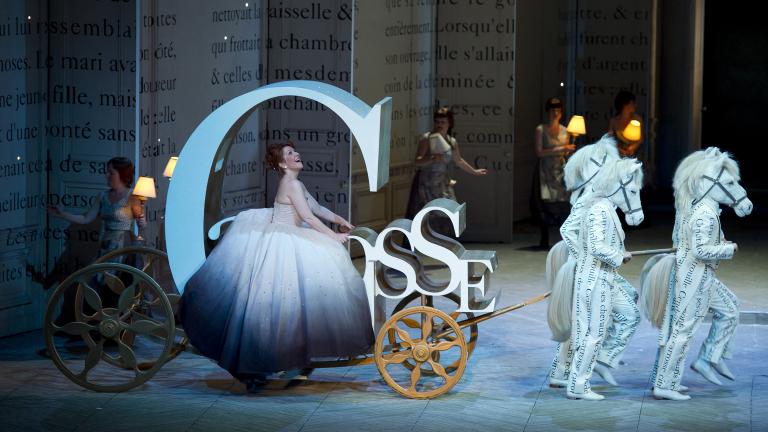 Vocal, Emotional Firepower in Lyric Opera's 2018-19 Season
Feb. 6: Lyric Opera of Chicago announces its 2018-2019 season, including Massenet's "Cendrillon" ("Cinderella"), a Lyric premiere of a new-to-Chicago production.
---