The Republican candidates for governor squared off Monday for the first (and potentially only) time, as Gov. Bruce Rauner and state Rep. Jeanne Ives, R-Wheaton, sparred before the Chicago Tribune's editorial board.
Four years ago, Rauner won the board's endorsement. He had to show up if he wants it again.
He's refused to commit to any other joint appearances with Ives.
When asked if he's "running away from Ives" he said "not at all, not at all. What's crystal clear is we are gonna win in March 20 and we are going to win in November, I am. And we've got to stay focused on Madigan, Madigan and his cronies, Madigan and Pritzker, who's his hand-picked candidate, Madigan and the network of corruption with Joe Berrios and the whole crowd. We've got to focus on them and we're going to win."
It stands to reason that as an incumbent with nearly $56 million on hand in his campaign account, Rauner stands the best chance of keeping what his campaign says internal polls show is a sizeable lead by casting Ives as a "fringe" candidate and keeping her name-recognition down.
The endorsement session wasn't televised, which would increase the number of viewers; as it streamed live on Facebook, roughly only 800 people were watching (there are 13 million residents of the state).
Ives clearly savors debates and is known for speaking up on the House floor. As a state representative from Wheaton, she needs to work to increase her name recognition outside her district.
"At least for once we were together side by side to talk about the issues that matter to people. I think that he tried to monopolize the conversation. But in the end it didn't look good for him, because he only spoke in generalities, as always," Ives said afterward.
Hours later, Ives filed notice that her campaign received its first big boost that could help her to reach a wider audience: Conservative mega-donor Dick Uihlein of the ubequitious U-Line package supply company (think Koch Brothers) contributed a half-million dollars to her campaign.
Uihlein had previously backed Rauner, one of the many indications of the Republican Party's schism on display Monday.
Ives says Republicans across the state don't trust Rauner anymore, after he signed a law (House Bill 40) that expands taxpayer-funded abortions. 
She says he "betrayed everything" the party stands for.
"The governor's gotten nothing done, and nothing's going to be different. He picked a personal feud with Mike Madigan. He didn't build a coalition to get the reform that was necessary," Ives said Monday as Rauenr scoffed. "That's exactly what this election's about. It's about character and it's about courage. And it's about who has the courage to lead. Who has the character for this job."
Rauner says of the abortion bill that he stuck by his political beliefs, in the midst of heavy political pressure.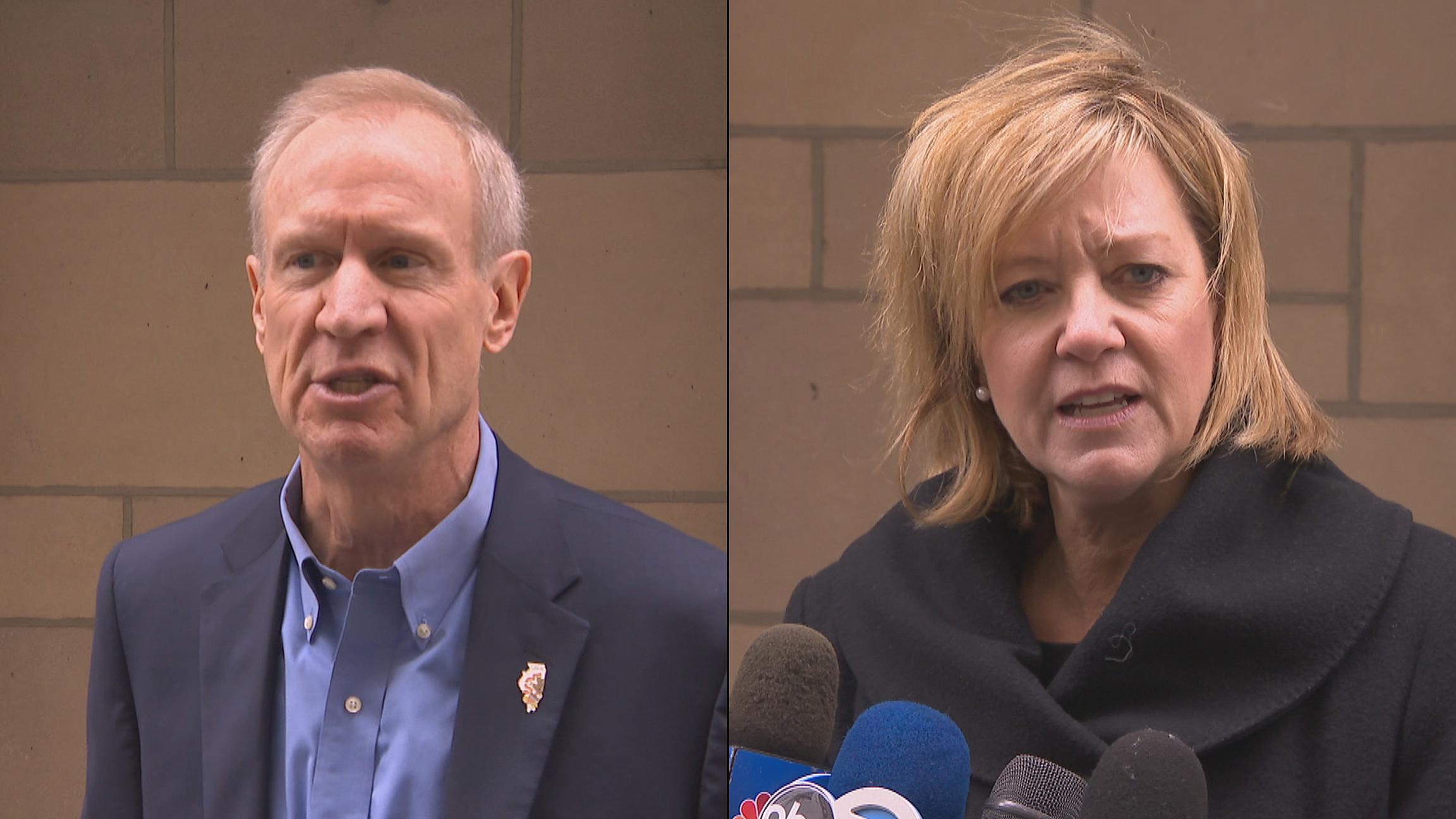 Gov. Bruce Rauner and state Rep. Jeanne Ives, R-Wheaton, speak to the media Monday following a debate at the Chicago Tribune.
The governor repeatedly said he's the only one who can win in a general election, essentially arguing that Ives is too conservative to prevail in a blue-leaning state like Illinois.
"I am the only person in this room who can beat J.B. Pritzker," Rauner said, to which Ives replied, "That is completely untrue."
Rauner says it's crucial that a Republican win the governor's mansion, because the next governor will have to sign into law the next map of legislative districts following the 2020 census. While that may sound insignificant, that will become a map of power, a map to the keys of the castle that is the statehouse.
"When I hold the governorship, we will be able to prevent Madigan from gerrymandering the districts after the 2020 census, because if Pritzker wins with (Democratic House Speaker Michael) Madigan they will control the map and they will turn out the lights on Illinois," Rauner said.
Rauner continually called Madigan a "crook," and blames the speaker, who also heads the Democratic Party of Illinois, for blocking his agenda.
Ives didn't stick up for Madigan, but she tiptoed up to it, saying that the speaker had voted for her bills, and that Rauner has failed in part because of his public attacks on Madigan. She pointed to Rauner's comment last month that he's "not in charge" because Madigan is, and said a good governor would find a way around an obstacle like Madigan.
But while Ives told the editorial board that she has and will work with Democrats, she doesn't have a reputation in Springfield as a bridge-builder.
When pressed to explain why a second term would be any different than the gridlock that's epitomized his first, Rauner says he has now laid the groundwork for a "revolution." He plans to ask all candidates for the General Assembly to publicly pledge to commit to term limits, and to electing someone other than Madigan as House speaker. 
Rauner is also counting on the U.S. Supreme Court to make rulings in a pair of cases that will limit labor unions, which he says will allow him to enact transformative change in government regardless of whether Madigan remains the House speaker.
Ives, however, says Rauner enacted a liberal social agenda during his time in office, and that even though he vetoed an income tax increase this summer, that he is "responsible" for it because he presented a balanced budget and because he'd spurred a GOP revolt.
She says his promises now to phase it the 4.95-percent tax rate are "unrealistic," given the billion dollars in interest the state racked up, and billions more in unpaid bills.
While Rauner kept referring to a general election match-up against Pritkzer, as if the Hyatt hotel heir is he's already the Democratic nominee, there's no lock on the race.
State Sen. Daniel Biss, D-Evanston, on Monday got a coveted endorsement from Our Revolution, backers of Bernie Sanders.
Whether Rauner's attempting to stave off a fight with Pritzker, the only candidate who has more money than him to spend on a race, or whether the governor is so sure he'll be the Democratic nominee that he's going out of the way to tarnish Pritzker early, the Rauner campaign is out with another, new ad, tying Pritzker to disgraced former Gov. Rod Blagojevich.
The primary is March 20. 
Follow Amanda Vinicky on Twitter: @AmandaVinicky
---
Related stories: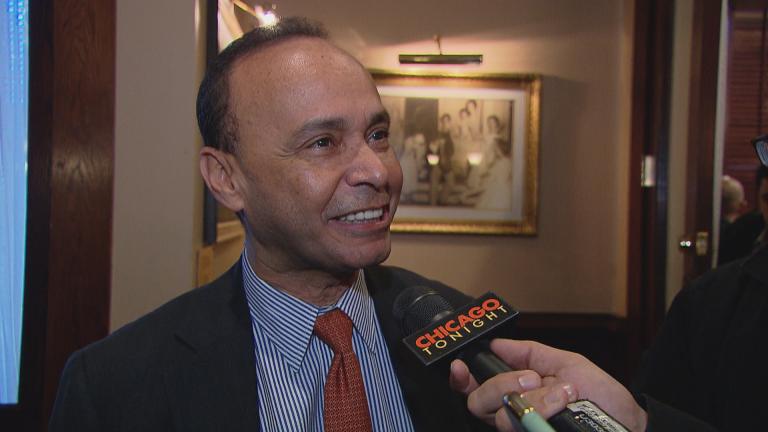 Competition in Congress: A Primary Preview
Jan. 25: Who will take U.S. Rep. Luis Guiterrez's place in Washington? A preview of that highly competitive contest and others coming up next month.
---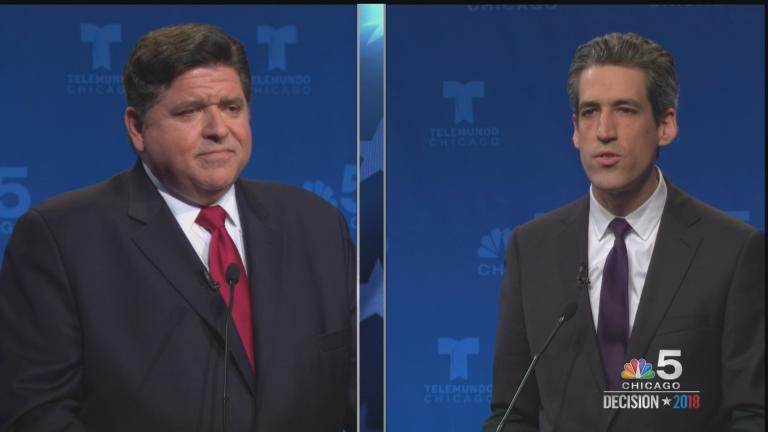 Democratic Candidates for Governor Square Off in First Televised Debate
Jan. 24: The gloves came off Tuesday as Democratic candidates for governor faced off on TV. Carol Marin and guests discuss the latest on that race, and the crowded Democratic field for attorney general.
---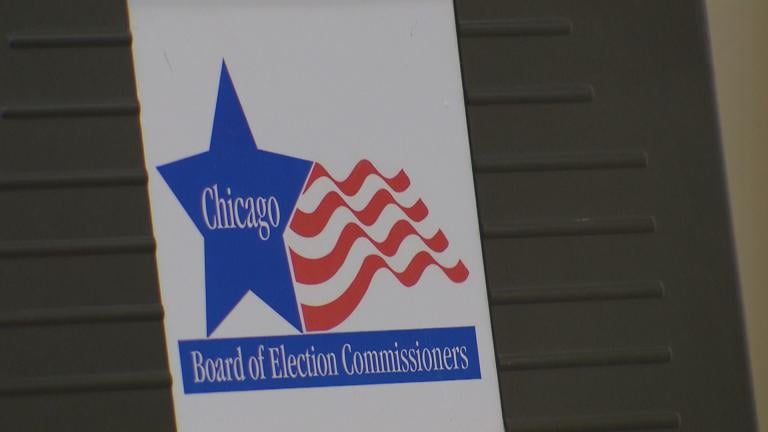 Early Voting for Illinois Primary Election Less Than a Month Away
Jan. 11: The Illinois primary is March 20, but you don't have to wait until then to cast your ballot.
---