Four Rockhopper penguins at Shedd Aquarium are celebrating their 30th birthdays this month. They are the first penguins to turn 30 at the aquarium. (Brenna Hernandez / © Shedd Aquarium)
Shedd Aquarium is celebrating a first-time milestone this month as four of its Rockhopper penguins turn 30, which is more than double the average life expectancy for their species in the wild.
Staff donned party hats last week and presented the senior citizen penguins with specially made frozen treats filled with krill and other fish. The penguins also posed for a birthday portrait next to a homemade "HAPPY B-DAY" sign.
The birds – Drake, Magdalena, Pebbles and Wellington – are the first penguins to turn 30 at the aquarium, and are among the oldest penguins in human care across the U.S.
"Thirty, even for a penguin, is geriatric," said Christy Sterling, Shedd's supervisor of penguins, otters and dogs. "We are doing everything we can to give these guys the best care possible and make them as comfortable as they can be."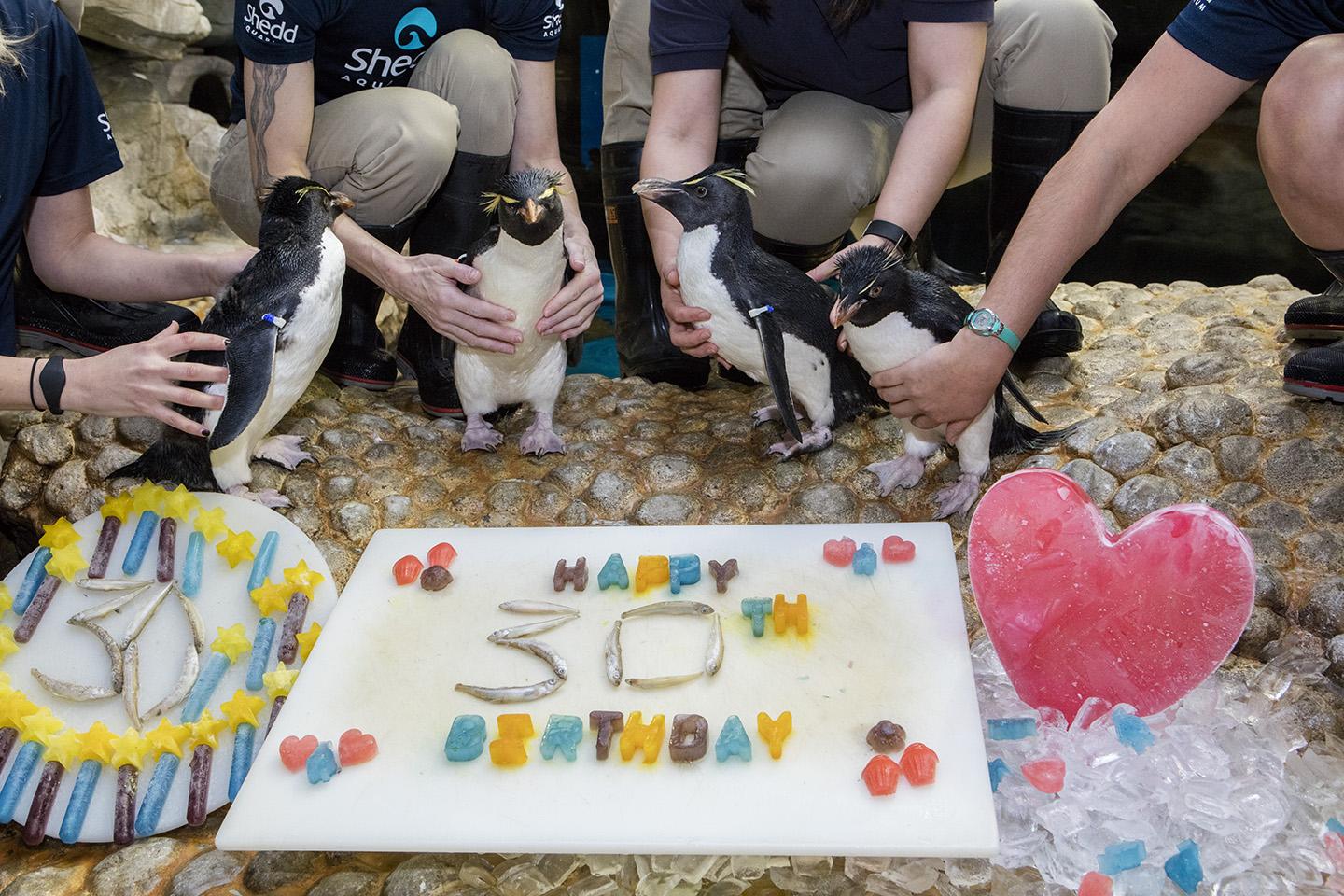 (Brenna Hernandez / © Shedd Aquarium)
On average, the lifespan of Rockhopper penguins in the wild is 10-15 years. Under human care – with regular veterinary assistance, no predators to avoid and no need to hunt for food – the penguins live an average of 20-25 years.
Shedd's birthday penguins have experienced age-related problems, such as vision impairment and arthritis. Wellington and Magdalena both recently had cataract surgery, Sterling said. Pebbles, meanwhile, has been receiving joint supplements and massage therapy to treat her arthritis.
"There are so many factors that work in their favor," Sterling said. "We've got a health care program. We've got so many people taking care of them. They don't have to compete for food."
Shedd has 31 penguins in total. Nine of them are Rockhoppers.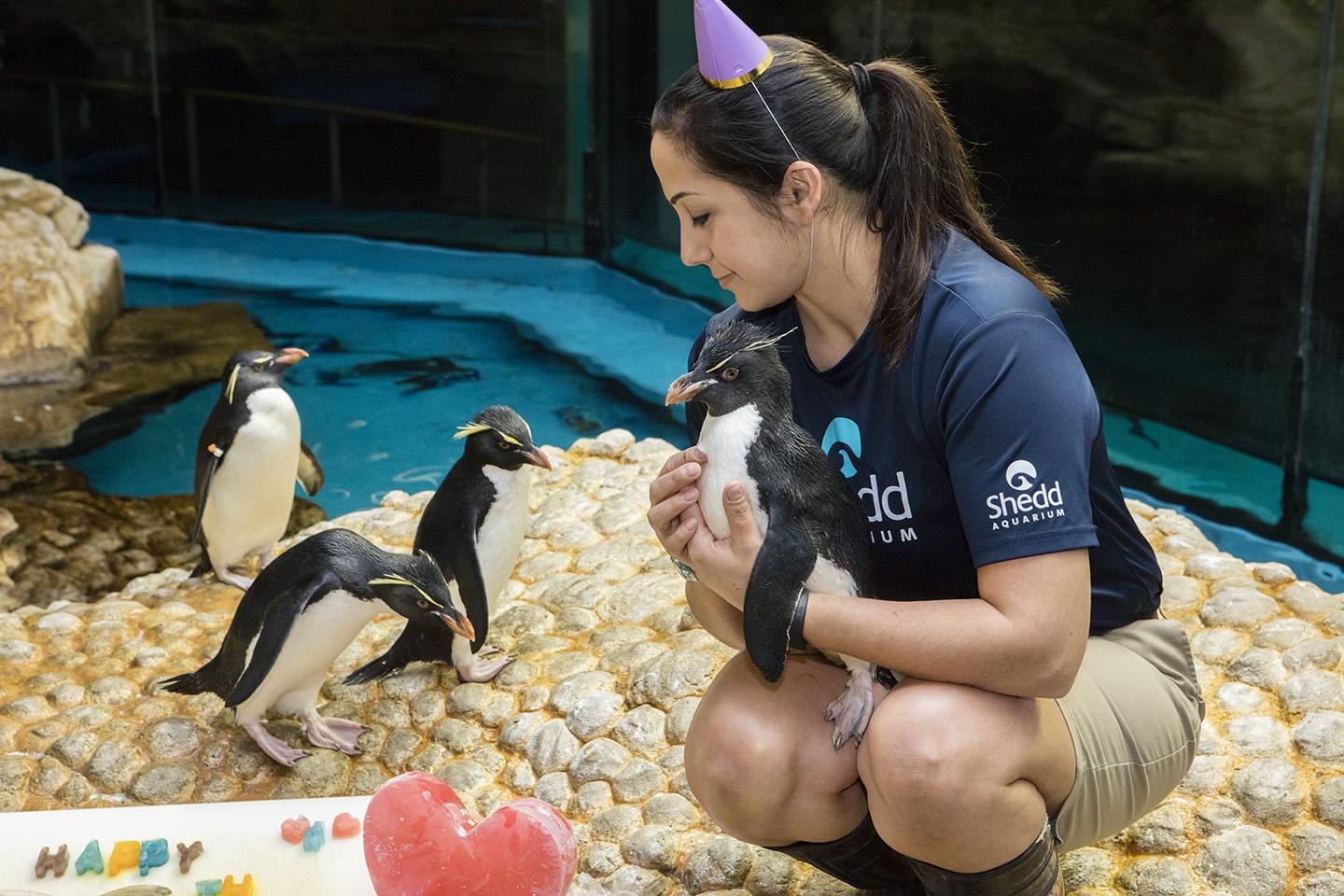 (Brenna Hernandez / © Shedd Aquarium)
Of the four penguins, Drake and Magdelena are currently a pair – mating behavior fluctuates with Rockhoppers, Sterling said, and Magdelena was previously with another mate.
Pebbles and Wellington, meanwhile, are simply companions who spend a lot of time together, Sterling said.
So, how long could these four penguins live?
"We kind of don't know," Sterling said. "We're hoping to continue to do whatever we can to make them comfortable. It's hard to say. But I'm really proud of the 30 milestone."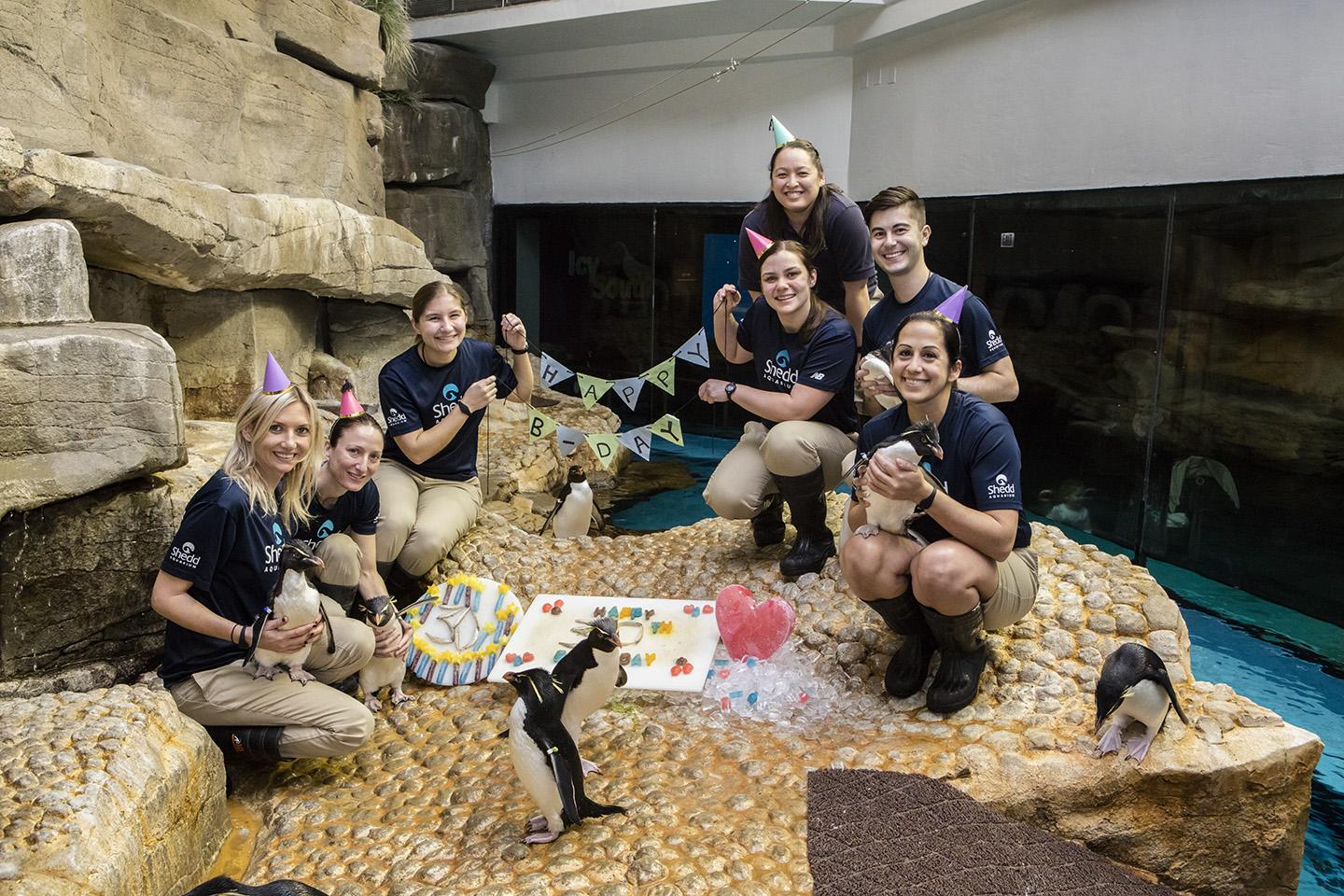 (Brenna Hernandez / © Shedd Aquarium)
Contact Alex Ruppenthal: @arupp | [email protected] | (773) 509-5623
---
Related stories: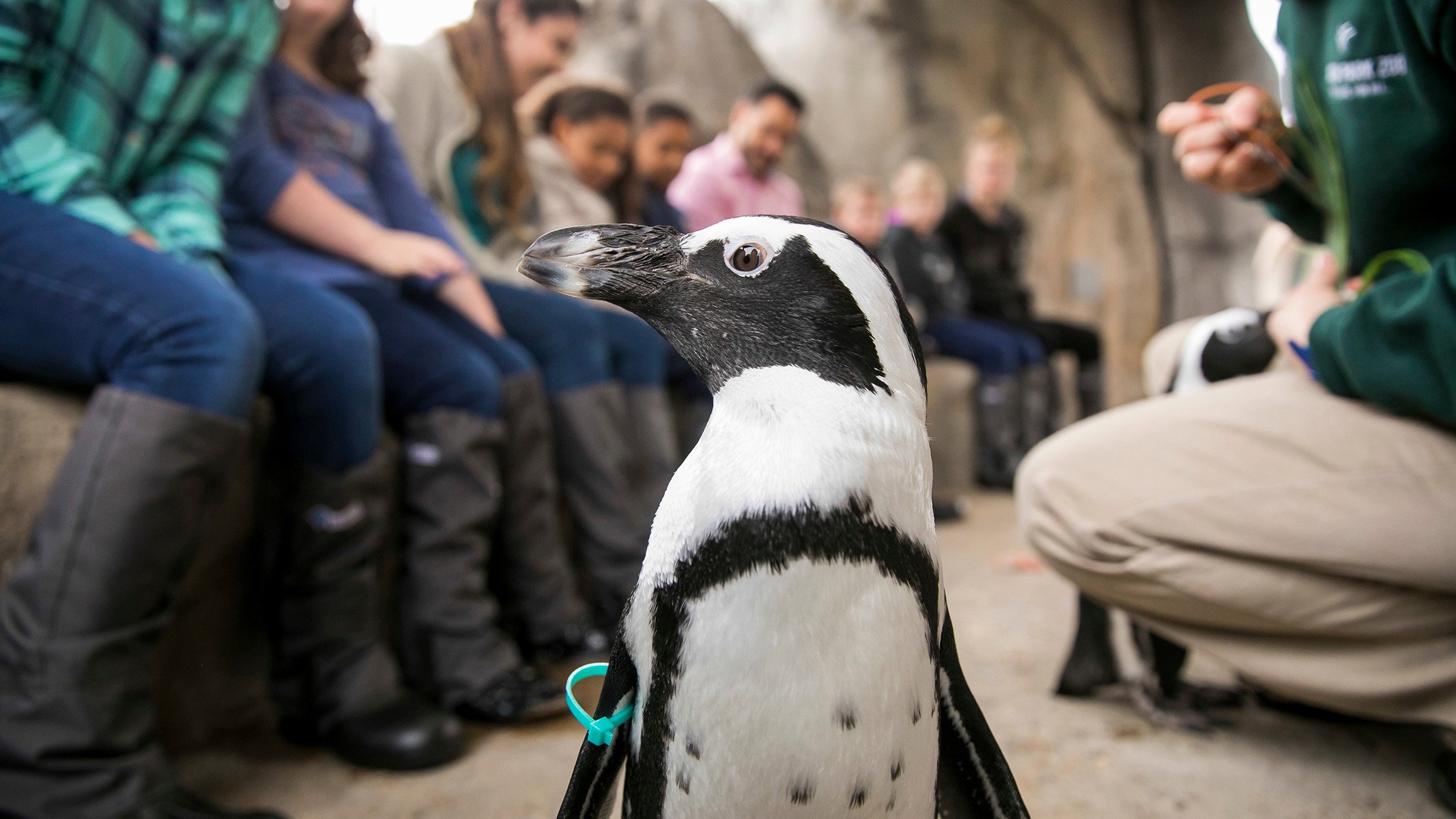 Behind the Scenes at Lincoln Park Zoo's New Penguin Encounter
July 24: For the first time, Lincoln Park Zoo is offering visitors a chance to get up close and personal with their African penguins. We meet three waddling, webbed-feet bachelors.
---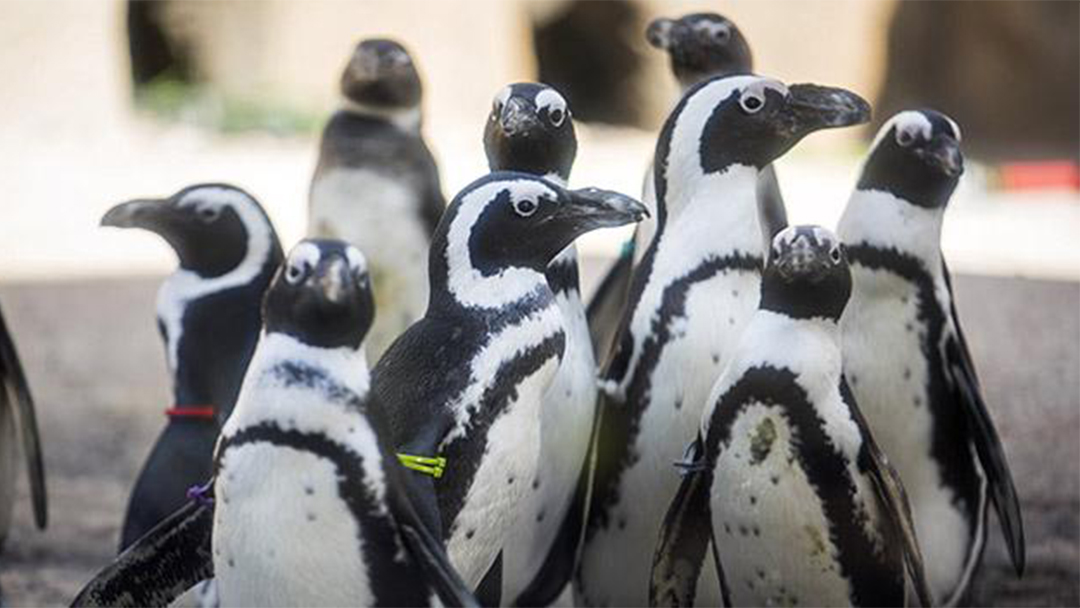 New Series 'All My Penguins' Captures Drama of Zoo's Penguin Colony
July 17: Lincoln Park Zoo recently launched a web series to chronicle the latest crushes, power struggles and other dramatic twists and turns surrounding the lives of its 15 African penguins.
---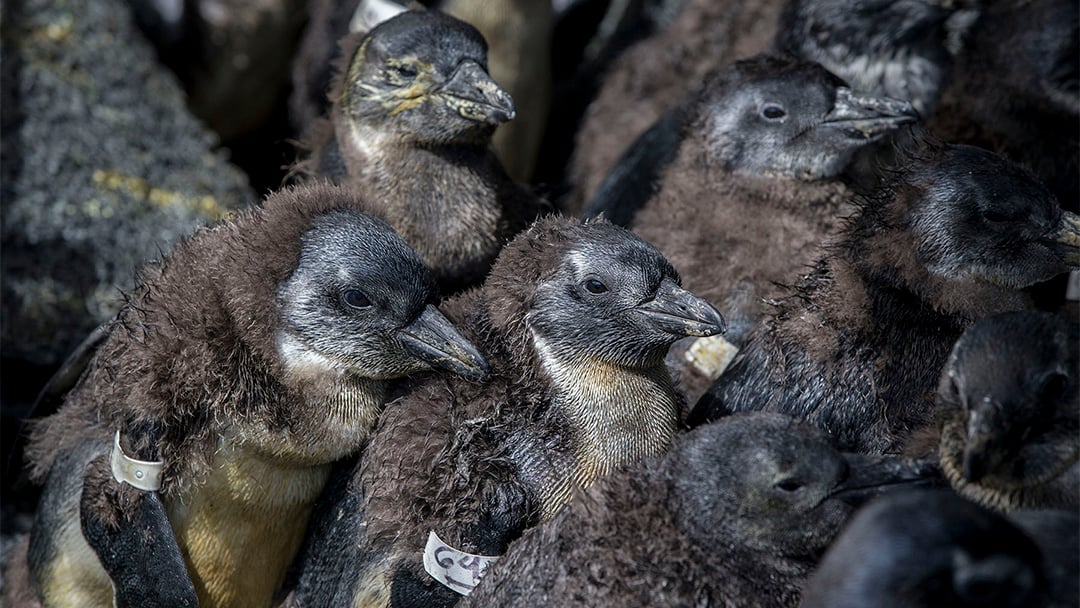 Shedd Staff Help Rescue Endangered Penguin Chicks in South Africa
Feb. 20: For the fifth year, members of Shedd Aquarium's Animal Response Team participated in a rescue mission of endangered penguin chicks in South Africa. Learn about their work.
---