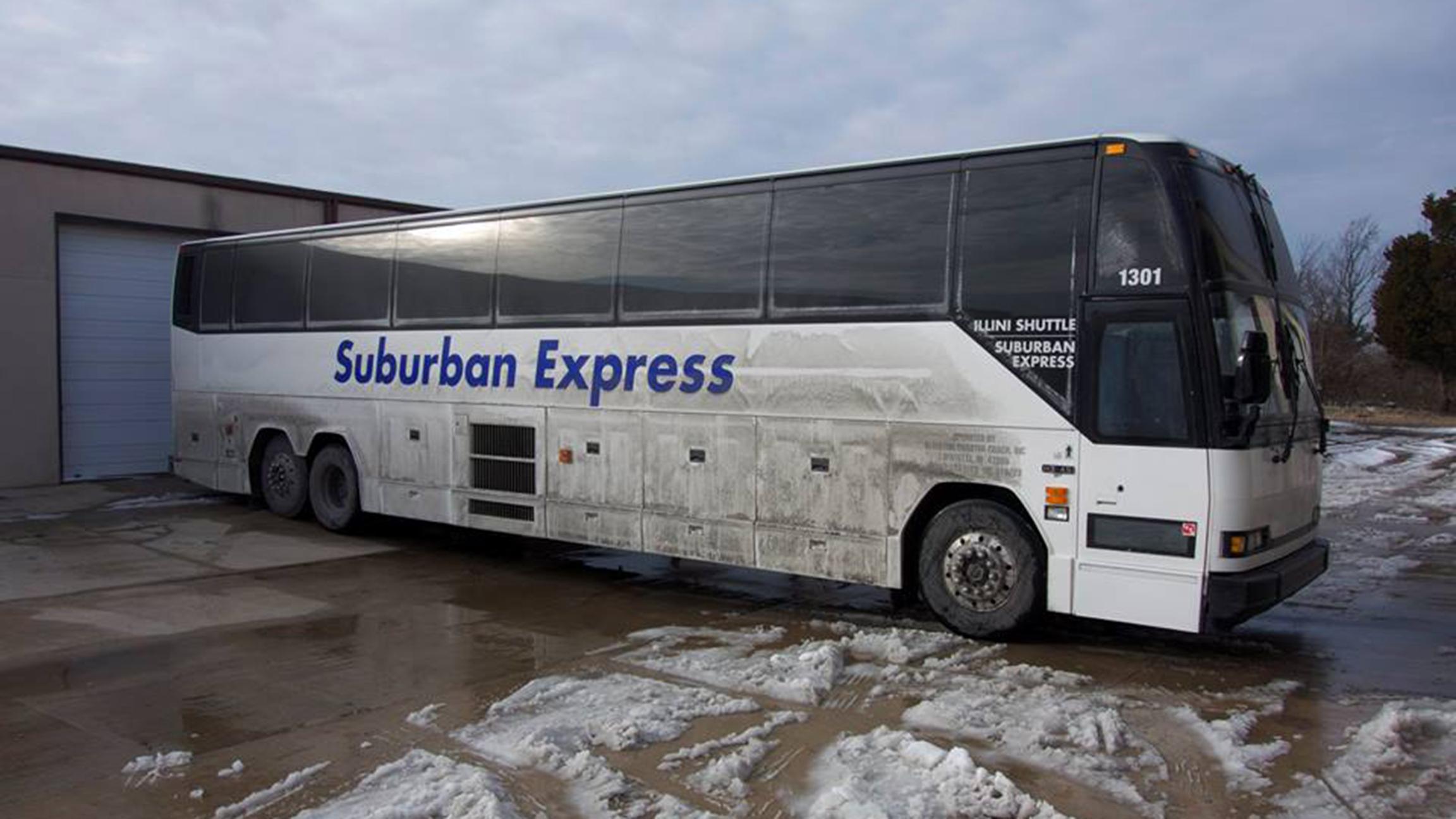 (Suburban Express / Facebook)
UPDATE: Suburban Express Issues New Apology for 'Grotesquely Xenophobic' Ad
A Champaign bus line that has been no stranger to controversy is again on the defensive following widespread backlash to an emailed ad that's been called "offensive, bigoted (and) insulting" toward Chinese and Asian students at the University of Illinois at Urbana-Champaign.
In an advertisement late last week, Suburban Express – which buses students from the Urbana-Champaign area to O'Hare International Airport and other destinations – told customers they'll be able to enjoy being seated near "passengers like you" on upcoming Christmas break rides.
"You won't feel like you're in China when you're on our buses," the ad states, apparently referring to the number of non-white students on campus.
Annie Thompson, a spokeswoman for Illinois Attorney General Lisa Madigan, said Monday afternoon her office is "extremely concerned" and is investigating Suburban Express.
By Monday evening, the company found itself on the receiving end of a state subpoena over possible civil rights violations.
"I am concerned this advertisement may reflect that Suburban Express is discriminating against potential customers," Madigan said in a statement.
The attorney general says that under Illinois law, access to transportation may not be impacted or restricted by a person's race or national origin.
The comment has also been met with criticism from university students and administration alike.
The Asian Pacific American Coalition – a student organization at the university that promotes cultural diversity and inclusion – condemned the mailer in a Facebook post Saturday, calling it "dehumanizing and disgusting to our Asian classmates and friends."
"When Suburban Express says that riding with them allows a rider to sit with 'students that look like you,' based on the demographics of the university, we can only assume that the 'you' references the largest university demographic, white students," the coalition said in its post.
"Spaces like this, where white students are given the option to avoid people that 'don't look like them' speaks to a much, much larger problem of racism and white supremacy in this nation."
About 43 percent of the university's 48,000 undergrad and graduate students are white, according to school data. Asian students make up about 15 percent and international students fill out another 20 percent.
The APAC also posted an image of an initial apology it says came from Suburban Express over the weekend, where the company derides the U. of I.'s financial mismanagement and claims the university has been forced to enroll "large numbers of international students" who pay higher tuition to help make up that gap.
"Nearly 20 percent of U of I students are natives of China," the company states, apparently implying all international students are Chinese, "and this high percentage of nonnative english (sic) speakers places a variety of burdens on domestic students."
The privately run bus line has operated since 1983, but university administration said Sunday it has a "long history" of taking advantage of students, staff and faculty.
Vice Chancellor for Student Affairs Danita Brown Young and other administrators said the ad once again demonstrated Suburban Express' "disregard and disdain" toward the school's values of inclusivity.
"We cannot prevent a private company from operating in our community," Brown Young and others said in their statement. "But we can, loudly and unambiguously, say that the opinions expressed by Suburban Express are offensive, bigoted, insulting and in direct opposition to the values of this university."
This isn't Suburban Express' first brush with controversy.
The company received backlash in 2013 after it filed more than 120 lawsuits against its own customers for terms of service violations. Many of those cases were later withdrawn, but the bus line also reportedly fined a grad student $500 and banned him for life after he went online to complain about a bus driver who made a derogatory comment to a non-English speaking passenger.
The following year, Suburban Express CEO Dennis Toeppen was arrested in Champaign and charged with two counts of electronic harassment amid claims he posted lewd remarks online about that same student. He was later found not guilty.
Oddly, Suburban Express continues to maintain a page on its website dedicated to this incident in which it calls the student "a hater" and questions whether he is "a selfless individual fighting for the rights of the oppressed, or is he just a narcissistic, self-promoting, troublemaking, attention-seeker?"
A Suburban Express employee declined to comment Monday and instead pointed to a second written apology on the company's Facebook page.
That statement references the company's past incidents, saying social media has allowed so-called "cheaters" – those who write bad checks or use counterfeit tickets – to "amplify their complaining and anger, and convince other cheaters that they have been wronged." Suburban Express had previously maintained a "Page of Shame" on its website, offering up the names and contact information of these "cheaters," but it appears the page is no longer active as of Monday.
The 2013 incident, Suburban Express claims, also led to Asian students opting to use other bus lines en masse.
"When we wrote a recent promotional email, we mentioned that Suburban Express riders would not encounter Chinese exchange students on our buses," the company said. "That's because they all ride our competitor now. It was an ill-advised statement to make, because it upset the very people we were sad to have lost."
That statement seems to use the terms "Chinese exchange students" and "students from countries in Asia" interchangeably.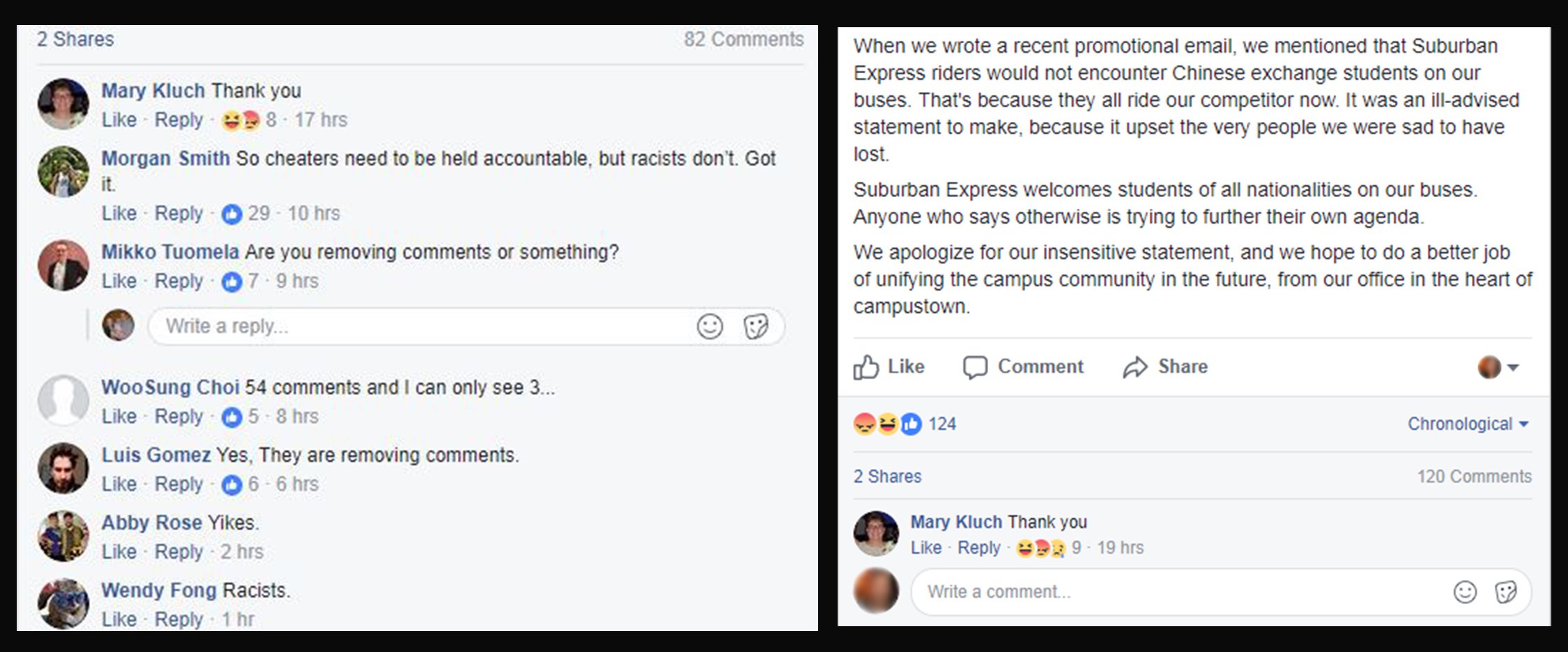 Screen grabs taken Monday from the Facebook page of Suburban Express show a number of responses to an apology (left), including accusations of racism and prior comments being removed. A short time later (right), only one comment is visible on the post.
Several responses to the post also accuse Suburban Express of being racists and scrubbing negative comments from Facebook, noting that only about a half-dozen of the more than 100 responses were actually visible.
By Monday afternoon, those comments too had apparently been removed.
This story has been updated.
Contact Matt Masterson: @ByMattMasterson | [email protected] | (773) 509-5431
---
Related stories: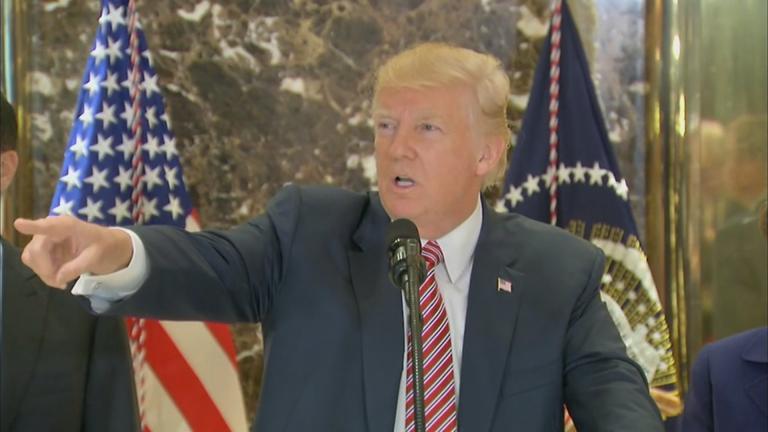 After Publicly Criticizing Trump, Chicago CEO Faces Racist Backlash
Aug. 23: Ravin Gandhi denounced the president's comments on Charlottesville in an op-ed, and now finds himself the target of racist invective. What he hopes will come out of the experience.
---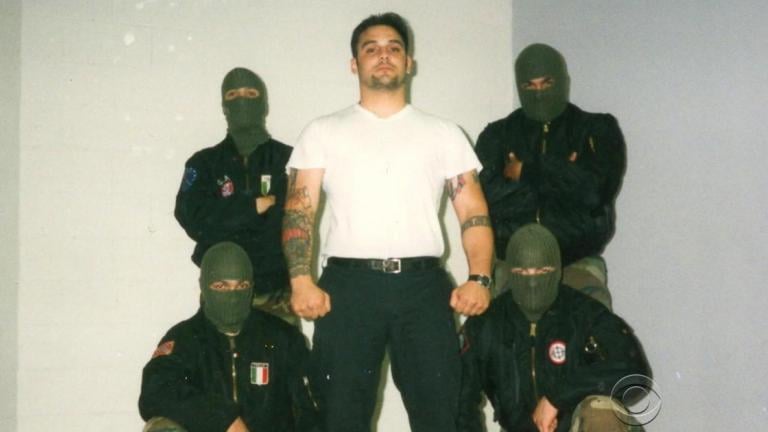 Former Neo-Nazi on White Supremacy: 'It's Terrorism'
Aug. 21: "Until the government starts to call it what it is – and that's terrorism – I'm not sure the point will fully come across as to how dangerous of a problem this is," said Christian Picciolini, a former neo-Nazi, of far-right extremism.
---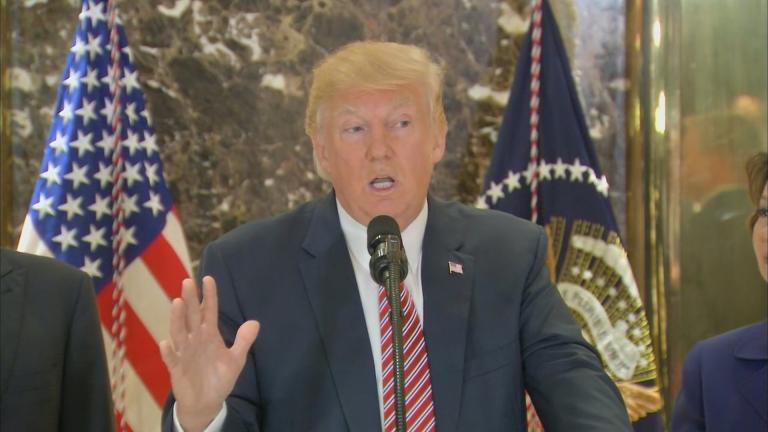 Trump's 'Both Sides' Comments Draw Harsh Local ReactionE
Aug. 16: Harsh local reaction Wednesday to President Donald Trump's comments that "both sides" are to blame for the riots in Charlottesville, Virginia.
---