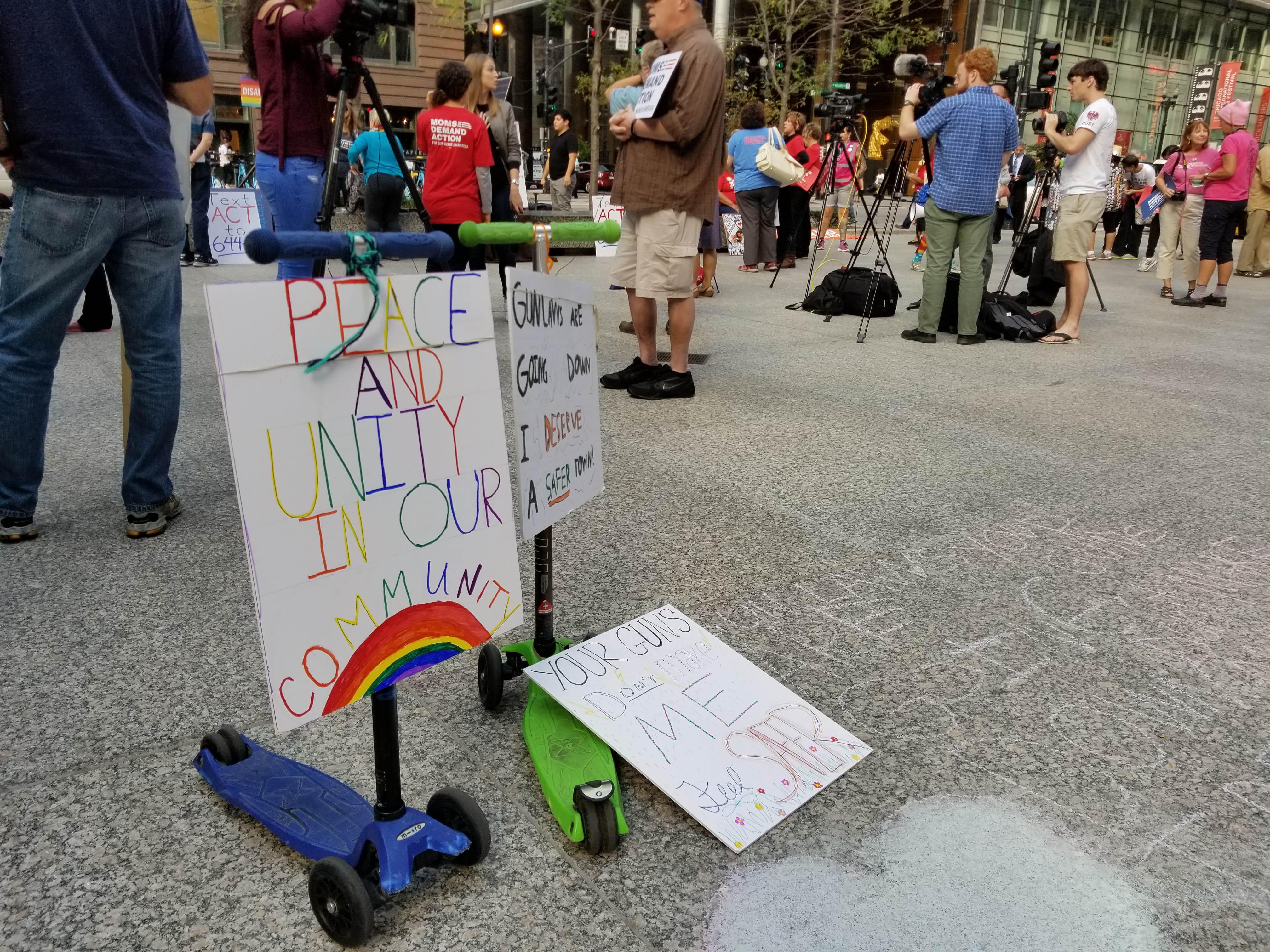 (Matt Masterson / Chicago Tonight)
Illinois Democrats and progressive organizations tired of waiting for substantive gun reforms say the time for action is now following the deadliest mass shooting in modern U.S. history.
Congressmen Mike Quigley and Jan Schakowsky joined Indivisible Illinois, Moms Demand Action for Gun Sense in America and other groups in calling for "common sense" gun reforms Monday at Federal Plaza during a "Reject the NRA" rally.
"It is not just the mass shootings – the horror and the tragedy and the heartbreak of Sandy Hook or Las Vegas," Schakowsky said. "It is the day-to-day violence that is wrought by the guns that we have. Five hundred people have died in the city of Chicago alone."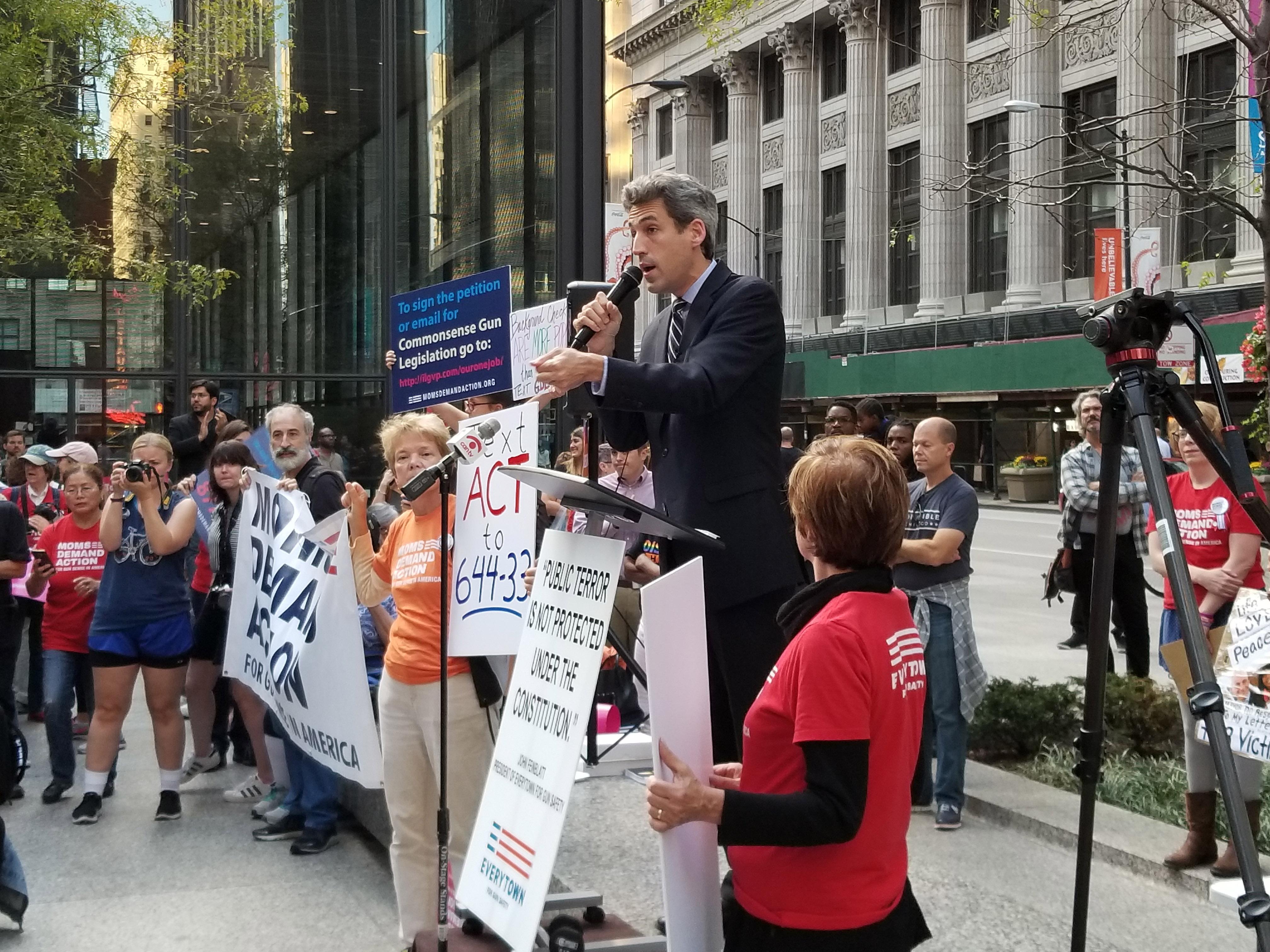 (Matt Masterson / Chicago Tonight)
The rally comes just over a week after 58 people were killed and more than 500 were injured in a mass shooting at a concert in Las Vegas. Gunman Stephen Paddock, 64, later killed himself as authorities closed in on his Mandalay Bay hotel suite. 
Paddock was found with 19 weapons, including a dozen rifles equipped with "bump stocks," an attachment that allows semi-automatic weapons to be fired more quickly.
Legislators on both sides of the aisle have since voiced support for new regulations limiting the availability or legality of bump stocks. The National Rifle Association over the weekend said it would likely oppose any outright ban on these attachments, but added they should be "regulated differently."
NRA Executive Vice President Wayne LaPierre and chief lobbyist Chris Cox also issued a statement saying that banning guns from "law-abiding Americans" will do nothing to prevent future attacks. They instead called on Congress to pass National Right-to-Carry reciprocity, which would allow anyone with a valid concealed carry license in one state to legally take that weapon across state lines.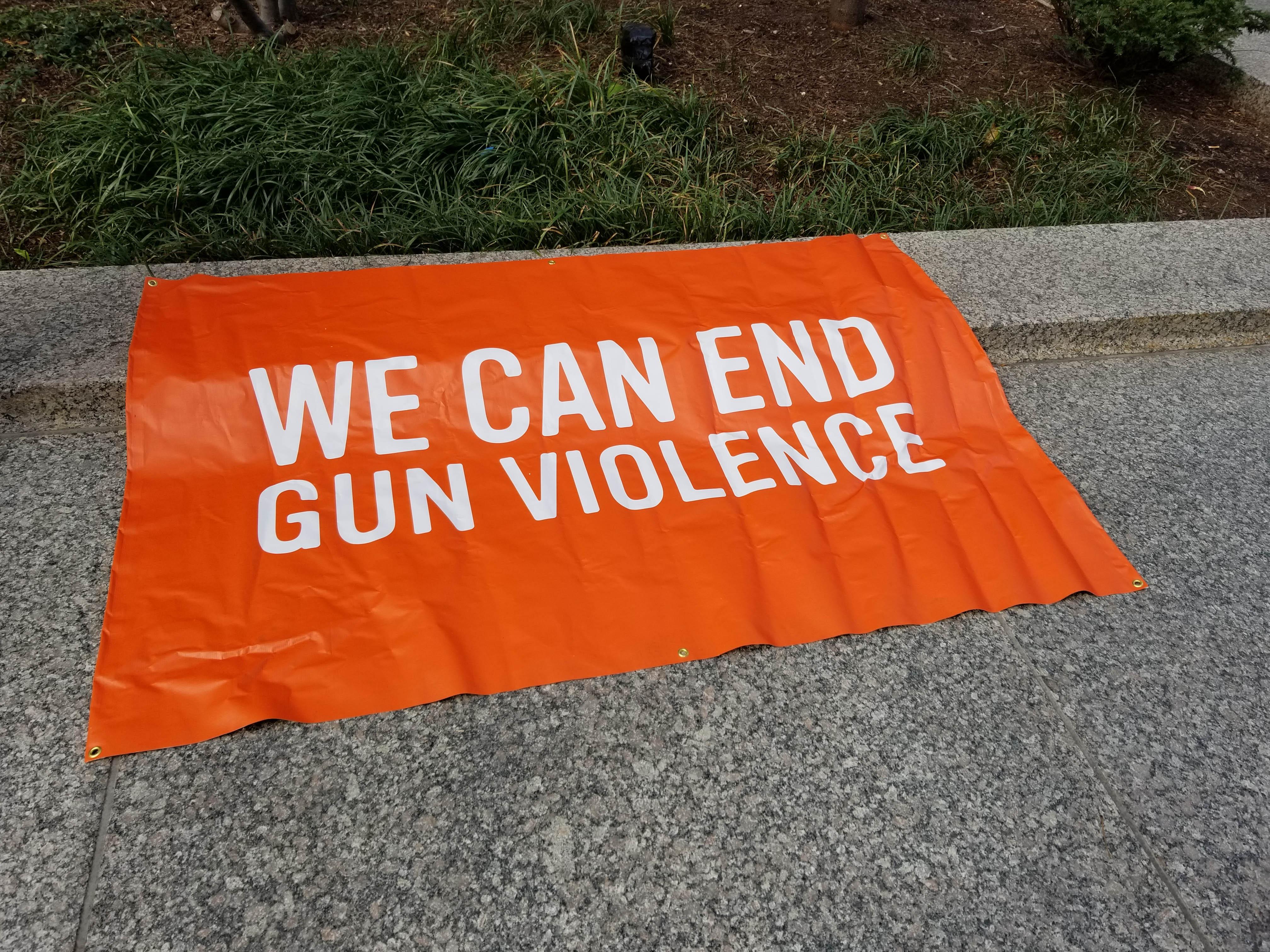 (Matt Masterson / Chicago Tonight)
But Schakowsky and Quigley say Congress needs to move in the other direction, banning not only bump stocks, but also any weapons they can be attached to.
"Does life mean that little to you?" Quigley said, after recounting his experience at an Indiana gun show where a high-powered rifle was being raffled off for $1 tickets. "To the NRA I ask, does life mean that little to you? To my friends who won't act, sadly my Republican friends in Congress, does life mean that little to you?
"We can't let the slaughter continue."
A bump stock allows shooters to fire at rates between 400 and 800 rounds-per-minute. I will work to close this loophole with @SenFeinstein. https://t.co/uBIdjtkesA

— Senator Dick Durbin (@SenatorDurbin) October 5, 2017
---
BREAKING: I sent a letter to @ATFHQ urging them to review legality of bump stocks following the Las Vegas tragedy. https://t.co/a668QT0BQx pic.twitter.com/eC5rQrmZnh

— Dean Heller (@SenDeanHeller) October 6, 2017
---
Las Vegas and federal authorities are still searching for a motive behind the shooting. Paddock had also scouted other venues, booking rooms inside a downtown Chicago hotel during Lollapalooza and researching hotels near Boston's Fenway Park, though it appears he did not travel to either city.
Among the hundreds in attendance Monday was Victoria Dietrich, a mental health professional who lives in downtown Chicago. She's tired of living in a city where she assumes everyone around her is carrying a gun.
"I've got a 13-year-old," she said. "We live downtown. I feel less safe. I work in the suburbs and I keep thinking, should I move?"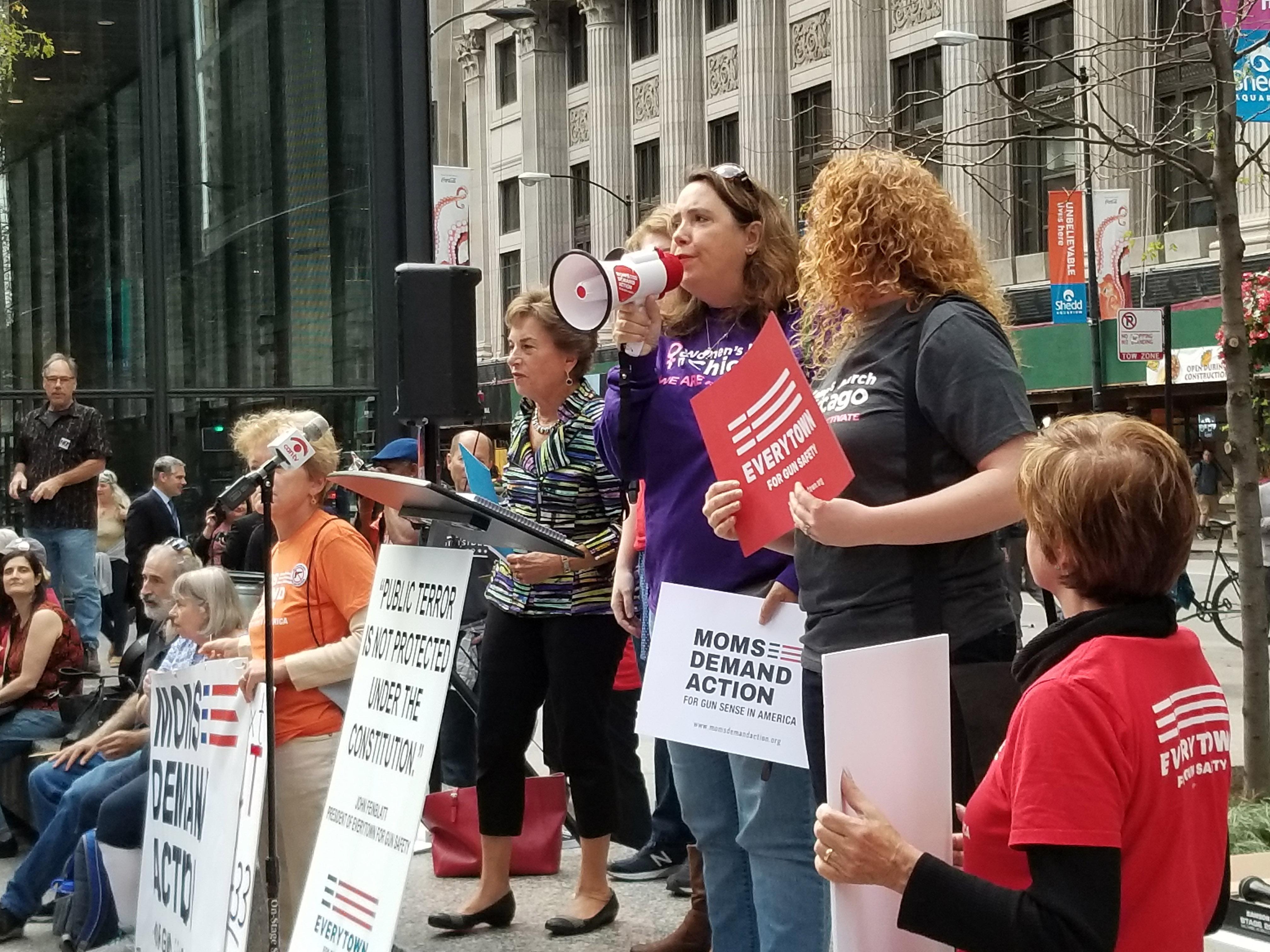 (Matt Masterson / Chicago Tonight)
Last week, Mayor Rahm Emanuel spoke out in favor of the Gun Dealer Licensing Act, which would ban gun stores from operating without a state license. Those calls were echoed by several speakers Monday. Dietrich also told Chicago Tonight she wants to see Congress adopt a stricter reading of the Second Amendment and drop legislation that would ease restrictions on the purchase of gun silencers.
"I feel like I'm constantly on the defensive and I'm trying to raise a 13-year-old and this is what I have to tell her – we have to just assume that everybody has a gun," she said. "That changes your mentality and it's wrong. It's just completely wrong."
Follow Matt Masterson on Twitter: @ByMattMasterson
---
Related stories: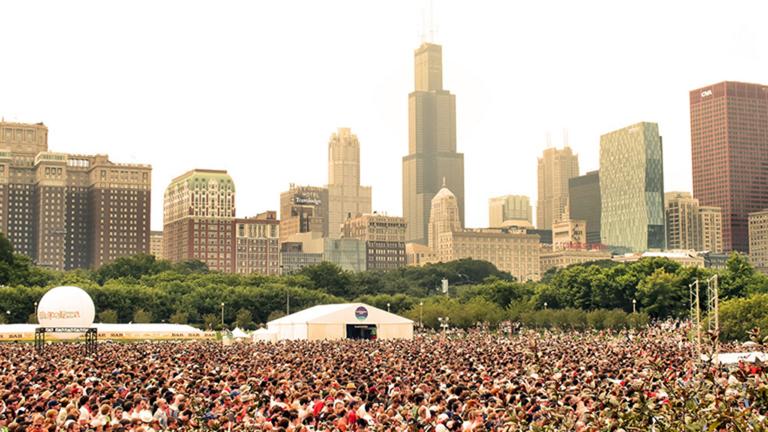 TMZ: Las Vegas Gunman Booked Rooms Overlooking Lollapalooza
Oct. 5: Stephen Paddock, the gunman who opened fire on thousands of concertgoers in Las Vegas late Sunday night, had booked two rooms in Chicago overlooking Grant Park in August, during Lollapalooza.
---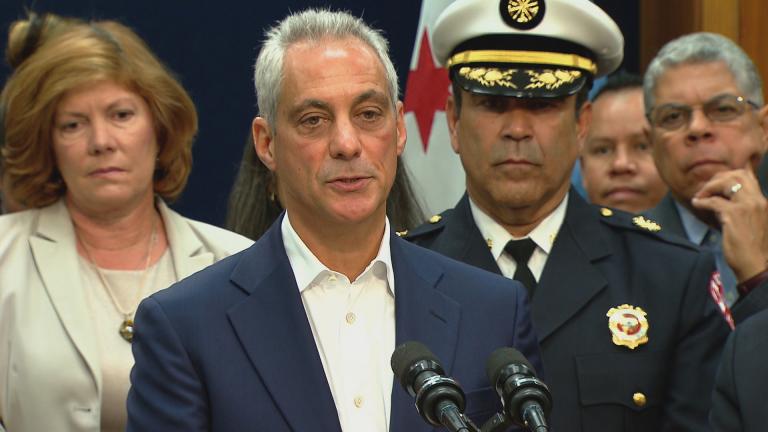 Local Officials React to 'Senseless' Las Vegas Shooting
Oct. 2: In the wake of the massacre of concertgoers in Las Vegas, Chicago is preparing to host one of its largest annual events, the Chicago Marathon, on Sunday. Mayor Rahm Emanuel says the city is ready.
---
Eyewitness: Las Vegas Shooter 'Wanted to Do as Much Damage as Possible'
Oct. 2: An eyewitness recounts what she saw in Las Vegas on Sunday night during what has become the deadliest mass shooting in modern U.S. history.
---