In the wake of the massacre of concertgoers in Las Vegas, Chicago is preparing to host one of its largest annual events, the Chicago Marathon, on Sunday.
Mayor Rahm Emanuel says the city is ready.
He says the city had already ramped up security after the 2013 bombing at the Boston Marathon as well as leading up to the Chicago Cubs' World Series run.
"We upped our game dramatically," Emanuel said Monday. "The city had, obviously, the World Series last year and so we also had to change and up our game form a security standpoint."
Emanuel says Chicago has had six active shooter response drills this year—its most—and that the drills have expanded to include 33 Chicago-area hospitals (not just those in the city) as well as the police, fire and emergency departments. 
"It is clear what happened is senseless. It's also clear the response has been heroic," Emanuel said.
Even as he sought to give assurances that Chicago is prepared to prevent and respond to emergencies, the mayor—a former congressman—said he hoped it would be a wake-up call to lawmakers to get behind tighter regulations on guns.
"I believe you can persuade people, not to change their views, but to realize whatever we're doing today is not working. It is not working," he said. "Both the Brady Bill—the five day waiting period—and the assault weapon ban, did work."
Other mass shootings—including when a gunman injured Republican U.S. Rep. Steve Scalise on a Virginia baseball field—likewise spurred calls for gun control, though none has advanced.
"We have to step back as a nation and ask a basic question: Can we protect the Second Amendment rights of every American yet draw reasonable lines at the types of weapons that are being sold? And say that there are some that have no legitimate, legal purpose," U.S. Sen. Dick Durbin said. "But we shouldn't let this pass by with grief, with outrage and then a week from now shrug out shoulders and say 'well we just can't do anything about this.' Yes we can."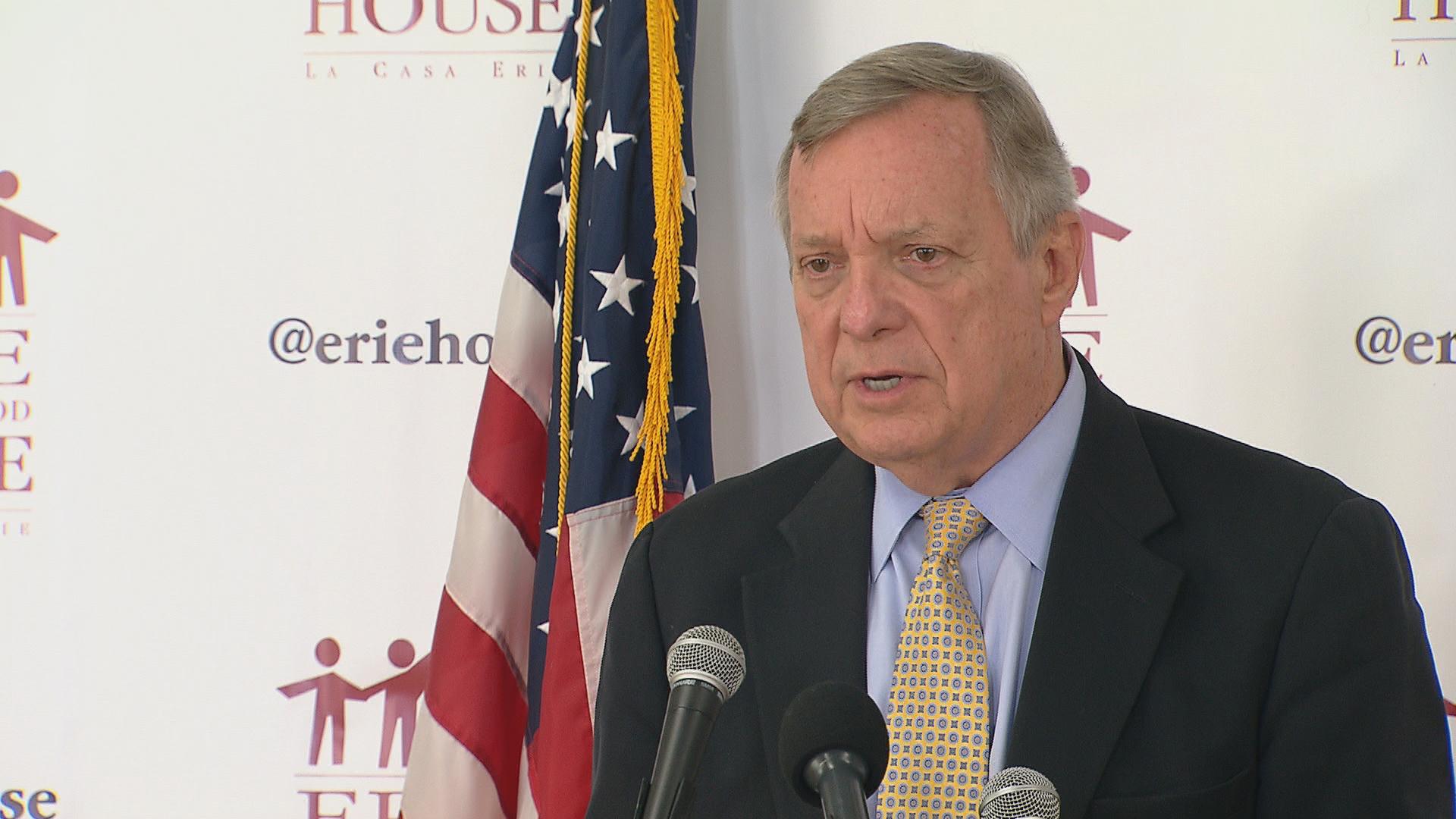 Durbin calls the Las Vegas shooting an act of "domestic terrorism."
"That's what this is. As we attack terrorism from overseas. Let's get serious about this," he said. "The people who died in Las Vegas last night and this morning are just as much victims of terrorism as someone who died on 9/11. They have been innocent people who have been brought into this and lost their lives because one person, or a group of people, had this determination to kill them. Are we going to stand back now as a nation and say we're helpless, helpless to defend ourselves? Is the Second Amendment a suicide pact? I don't think so."
While information about the now-deceased suspect in the Las Vegas shooting, Stephen Paddock, is forthcoming, Loyola University criminologist and psychiatry professor Arthur Lurigio says this attack appears to have been impersonal, given that Paddock shot his victims from a distance.
Such incidents often spur conversations about mental health, but Lurigio says mass murders typically don't have severe mental illness.
"Unfortunately this is difficult to prevent. This is not a lunatic," Lurigio said. "This isn't somebody who is psychotic. However, it is somebody with some character logical issues, as we call them ... we call personality disorders."
Lurigio says mass murderers typically fit a profile: "Mass murderers kill because of religious, ideological motivations … they kill for social, political, financial reasons. They kill for grudges that they're holding. For vengeance. Mass murderers are, as I call them, grievance killers. They have a grudge. The only recourse they see to even the score is to kill people."
Frightening as this all can be for adults, news of extreme violence can be even more troubling for children.
"I think sometimes parents underestimate the impact," Colleen Cicchetti, a pediatric psychologist at Ann & Robert H. Lurie Children's Hospital of Chicago and director fo the Center for Childhood Resilience. "Kids don't often understand like we do that that was something that happened last night, and far away. So they're watching it and they don't know where it is, they don't know what's happened. They see people screaming, they just hear gunshots. For a lot of them it's just a sensory input and 'what happened?' and 'mom am I safe?'"
Cicchetti recommends that parents turn off the TV when graphic footage is on the news, especially for younger children. 
For school-age kids, she says it's important to gauge what they may pick up on social media, in class, or even from friends. 
"Decide how much information your child will get out in the world today, and then you might want to be prepared ahead of time. So if you saw it this morning, you might be saying things like: 'When you go to school today, you might hear about a really scary shooting that happened. And it did happen. But it happened in Las Vegas, which is far away.  … Scary things are happening  and so the adults' job is to keep people safe, and we do everything we can do to that.' So highlighting that when this happened the fireman and police were right on the scene and the shooter is no longer a danger."
Cicchetti says it's important to not ignore the situation: It's better for kids to feel comfortable talking to their parents, rather than going on a fact-finding mission with their peers. 
Follow Amanda Vinicky on Twitter: @AmandaVinicky
---
Related stories:
Eyewitness: Las Vegas Shooter 'Wanted to Do as Much Damage as Possible'
Oct. 2: An eyewitness recounts what she saw in Las Vegas on Sunday night during what has become the deadliest mass shooting in modern U.S. history.
---
DHS Approves Illinois Grant to 'Off-Ramp' Potential Extremists
June 30: A new Illinois program aims to educate the public on how to identify individuals at risk of radicalization, a strategy critics say unfairly targets Muslims.
---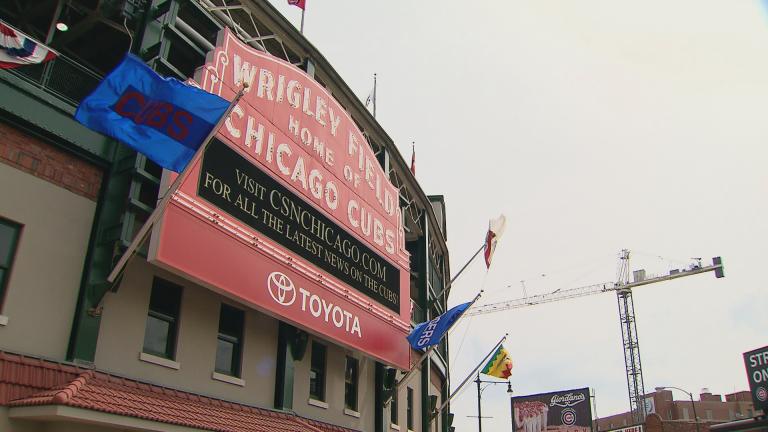 Eyes on Security at Wrigley Field, Other Potential Chicago Targets
June 7: Recent terror attacks in Manchester and London have cities with high-profile public targets eyeing their security for potential vulnerabilities.
---