It is an ongoing effort to make the city just a little more colorful. The Chicago Public Art Group has been adding murals to the cityscape for 45 years. We caught up with them under Lake Shore Drive as their latest addition neared completion.
TRANSCRIPT
Phil Ponce: At the underpass at Fullerton Avenue and Lake Shore Drive, an epic mural is taking shape on both sides of the street.
Renee Robbins, mural artist: The mural measures 14 feet high by 110 feet. It's about 1,600 square feet is what it amounts to, and that's what we use to calculate our supplies, how much paint to buy.
Steve Weaver, Chicago Public Art Group: Somehow, and it's probably because Chicago has so many underpasses, we get called upon to work in underpasses around the city. And they're really wonderful spaces in that they're often ugly and they often are an entry point to the neighborhood. So you want it to be something beautiful and inviting, but they're challenging because you get water damage coming through the wall, you have layers and layers of paint, you have cars, and pedestrians, and bikes coming through, so it can be a really challenging place to work.
Ponce: This mural is painted with acrylics and spray paint – its theme is the underwater flora and fauna of Lake Michigan.
And so far the word on the street has been positive.
Robbins: People drive by in cars and they yell out there windows "thank you!" everyone's saying "thanks" so I'm getting a lot of good response from people, people have a lot of questions, why am I here, who am I working with, what's the inspiration for the design, but it's been awesome being able to talk to people and hear what their responses are, and everybody's enjoying the process I think because they, a lot of people jog on the lakeshore right there so they either come here in the morning or maybe after work, and they're getting to see the whole process from start to finish.
Ponce: Chicago Public Art Group is also working with students from Harlan Academy High School at 96th and Michigan Avenue. And of course the muralist had to involve the city of Chicago in the early planning stages.
Weaver: We started a year ago working with some residents who wanted to transform this space. So you start planning and thinking and then figuring out an artist, and then there's a lot of logistics of getting permission from the Department of Transportation and getting the Department of Cultural Affairs to approve it, and the alderman and everyone has to come together to say, "We're gonna do this, we're gonna make it happen."
Ponce: It is a dream project for this artist who grew up near the lake in Indiana.
Robbins: This is a beautiful spot in Chicago. I feel so special and honored to have been invited to create a mural in this spot. I think it's such a great fit for me, with the Nature Museum and the zoo because I have such an interest in nature and also with Lake Michigan being right there, and those are a lot of my personal interests as an artist. I'm very inspired by nature, ranging from the microscopic to the telescopic. I think of it sort of as a parade underneath Lake Michigan.
Weaver: We bring together all the partners and the artists to connect to the community to make the art happen.
You kinda just jump in and tackle problems as they come and in the end hopefully you're gonna come up with a beautiful piece.
---
Related stories: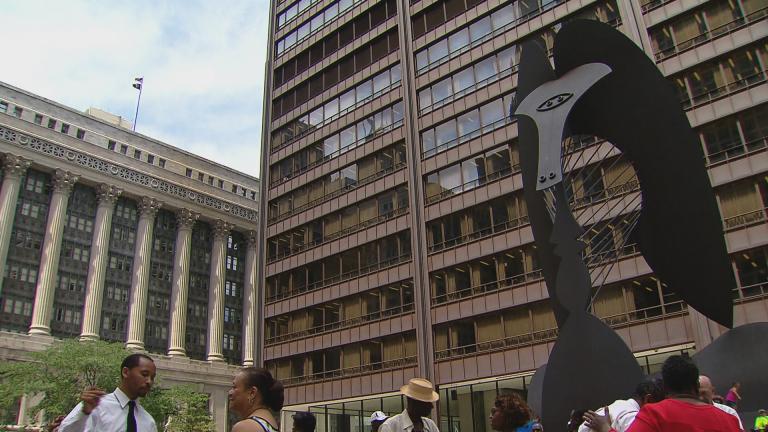 The Chicago Picasso Celebrates its 50th Anniversary
Aug. 8: "We dedicate this celebrated work this morning with the belief that what is strange to us today will be familiar tomorrow," former Mayor Richard J. Daley said at the statue's unveiling in 1967.
---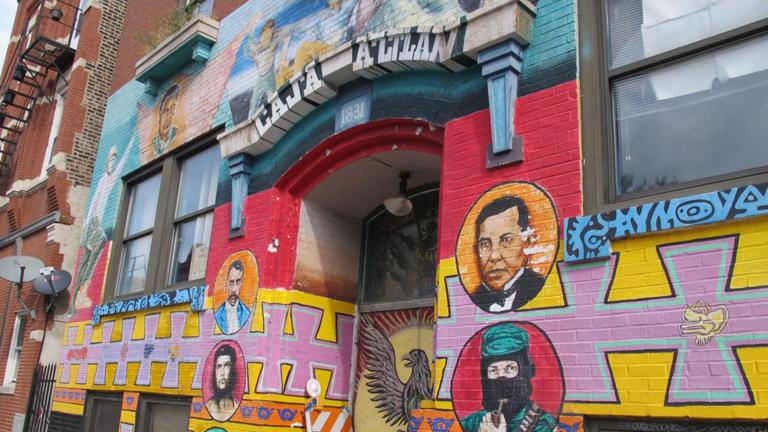 Loss of Iconic Pilsen Mural Sparks Outrage
July 6: When a developer painted over a beloved and iconic mural on a shuttered Pilsen community center last month, the response was swift and strong.
---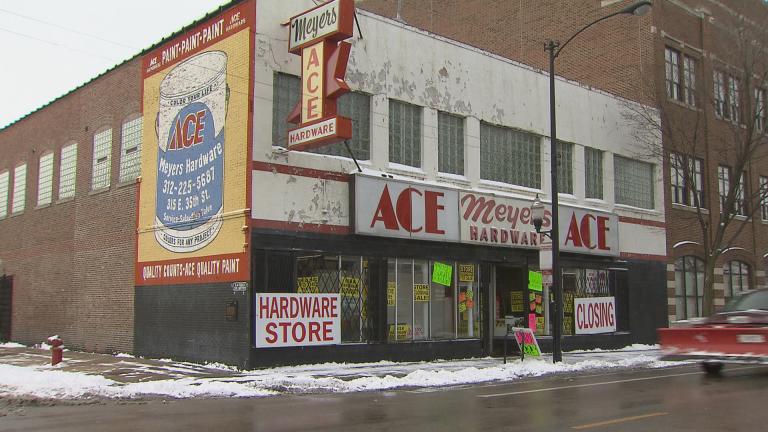 Hardware Store With a Jazzy Past Prepares to End its 95-Year Run
March 22: While the end of Meyers Ace Hardware is certainly a loss to its South Side community, it's also leaving a piece of Chicago's jazz history hanging in the balance.
---