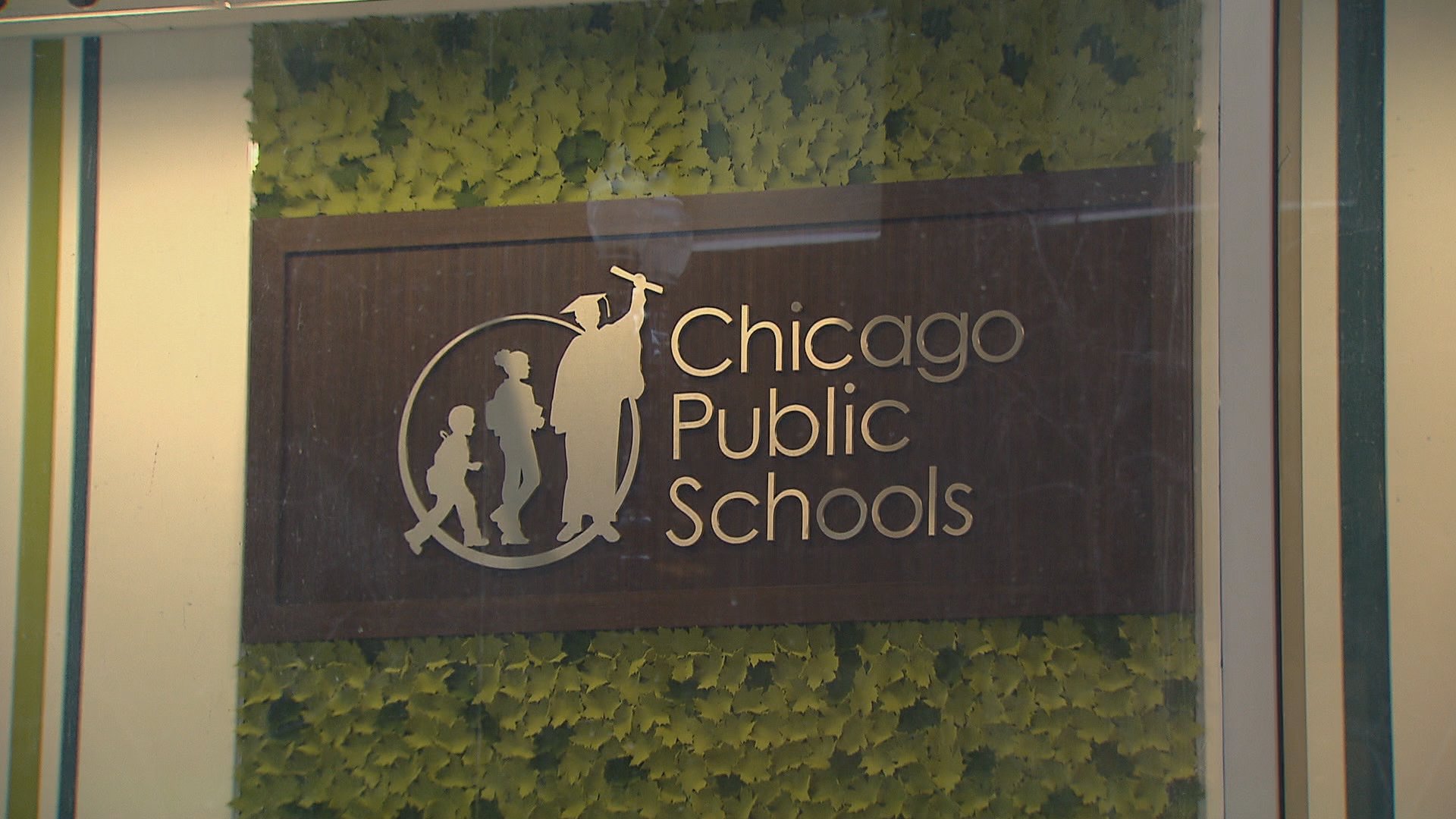 As the Chicago Board of Education works through its annual budgeting process for Chicago Public Schools, local teachers and education advocates have called on the board to reject the $5.7 billion spending plan until the district can find more reliable funding sources.
Speakers at the first of two CPS-led public hearings Wednesday repeatedly called on board members to vote down the district's budget proposal, and instead advocate more strongly for sustainable funding.
"This budget is the latest chapter in an ongoing man-made crisis in public education in Chicago," said Jerry Skinner, a teacher and local school council member at Kelvyn Park High School. "And it's man-made because this board refuses to consider the needed and practical ways to generate more progressive funding for our students. So please, I urge you, reject this budget. Stop CPS, stop Chicago Board of Education, being broke on purpose."
Most of the dozen or so speakers at the first hearing Wednesday afternoon were members of the Chicago Teachers Union and SEIU Local 73, which represents thousands of public service employees, including special education classroom assistants within CPS. Attendance at the second hearing was again largely comprised of CTU members, along with some students and parents.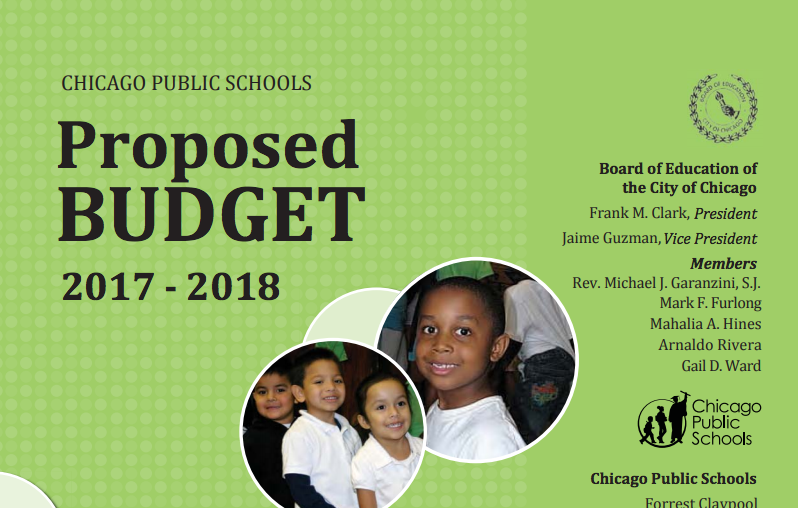 Click here to see the district's full budget proposal for FY18.
Union members want board members to advocate more strongly for additional funding, whether it be in the form of new taxes – on corporations, millionaires, ride-sharing services or hotels – or from the city's tax incremental financing (TIF) districts, somthing the CTU has sought extensively in recent years.
But board members pushed back against that notion, saying they do what they can to get additional funding, but don't have the power to determine how city taxes are collected or used.
"It's the aldermen who decide where TIF money goes," board member Mahalia Hines said. "It's the aldermen who decide where those taxes go. If we could decide, we'd be better off here.
"I can advocate all I want, but if I can't make that decision … you can advocate, but I'm not a decision maker."
It's also unclear just how much support TIFs can actually offer the cash-strapped district, while CPS officials argue that money won't provide a dependable, long-term funding source.
Budget Director Brian Hamer said under the district's proposed $5.7 billion operating budget, schools will receive $1.9 billion in student-based budgeting, adding that 97 percent of district positions this year provide direct support to the classroom.
But what remains to be seen is the source of $269 million in added city funds CPS is counting on to balance this year's budget.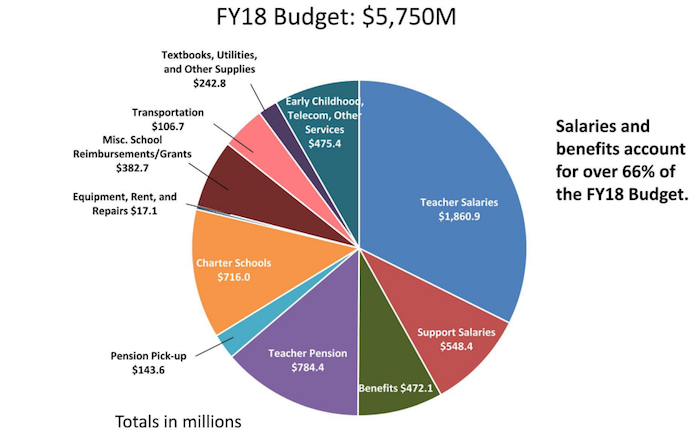 (Chicago Public Schools)
Included in the district's proposal is a $136 million capital spending plan, which includes $73 million in roofing and mechanical projects, $30 million for emergency or unanticipated repairs and $6 million in maintenance priorities.
That's a sizable drop in spending for the district, which last year included nearly $938 million in capital projects. Of that total, CPS says about $730 million worth of projects are currently underway across more than 140 schools, though the district also notes "some projects have been completed and work on others has yet to begin."
Click here to see the district's full capital spending plan.
Board President Frank Clark admitted the fiscal year 2018 capital total is "drastically low" and hopes a supplemental capital plan can be added later in the school year if and when additional funds materialize.
"This is a 'make due' (capital) budget that we fully expect we'll be able to augment," he said.
CPS officials offered spending presentations at both hearings Wednesday, showing that a $1.1 billion budget shortfall the district faced two years ago has since been cut in half, standing now at $544 million.
The district is also relying on $300 million from Springfield, which is dependent on the passage of Senate Bill 1 – the education bill Gov. Bruce Rauner has rewritten through an amendatory veto to redistribute millions in pension funding that had been earmarked for CPS to other districts across the state.
A House override vote on the veto that was scheduled Wednesday was later postponed as legislative leaders work toward a compromise on the nuts and bolts of the bill.
District and city leaders have repeatedly called on state legislators to pass the education funding reform bill that's on hold in Springfield. But even if it is approved, CPS says it will still be treated unfairly when it comes to pension coverage, receiving just $32 per student to cover its pensions compared to the $2,447 in state dollars every other school district gets per student.
"It's inequity," Clark said, "and an inequity I still believe will be rectified."
The board is scheduled to vote on a final version of the district's budget next Monday.
Follow Matt Masterson on Twitter: @ByMattMasterson
---
Related stories: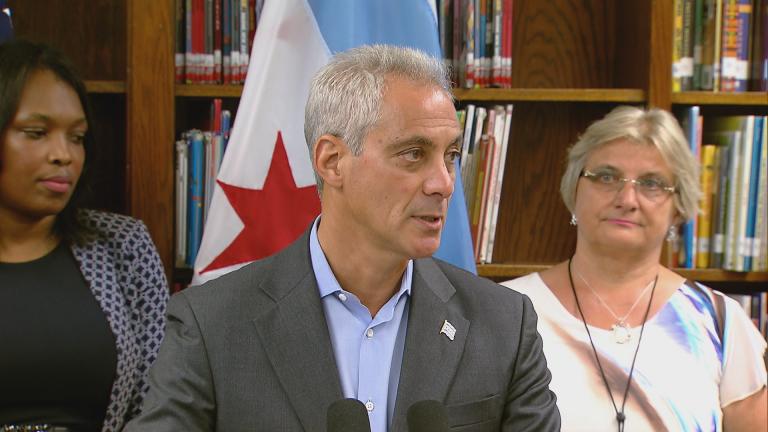 Emanuel, CPS Using Student Achievement in Fight for Funding
Aug. 22: Chicago Public Schools says its English language learners have significantly trimmed the achievement gap compared to native English speaking students – a data point Mayor Rahm Emanuel and district officials want to use in their ongoing fight for adequate funding from Springfield.
---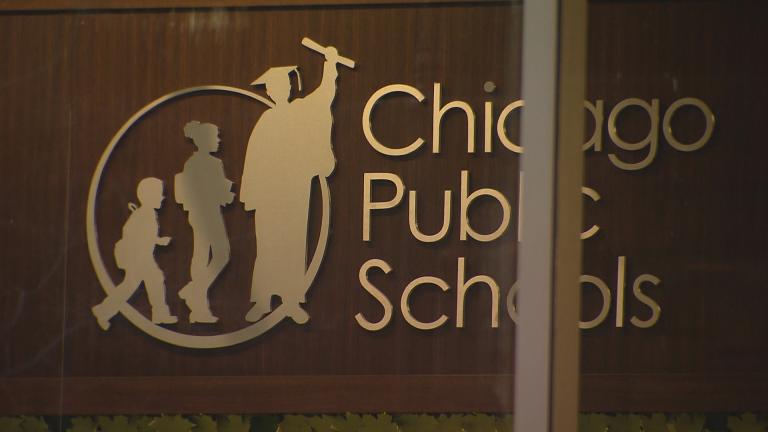 CPS Budget Hearings: Get Dates, Times for August Meetings
Aug. 15: Chicago Public Schools has five hearings scheduled on various aspects of its latest spending plan this month, beginning Monday with meetings on its capital budget. Get complete details.
---
CPS Counting on City, State Funding in Fiscal Year 2018 Budget
Aug. 11: Chicago Public Schools on Friday finally issued the framework of its operating budget for the 2017-18 school year, but the source of some of its revenue remains unclear.
---