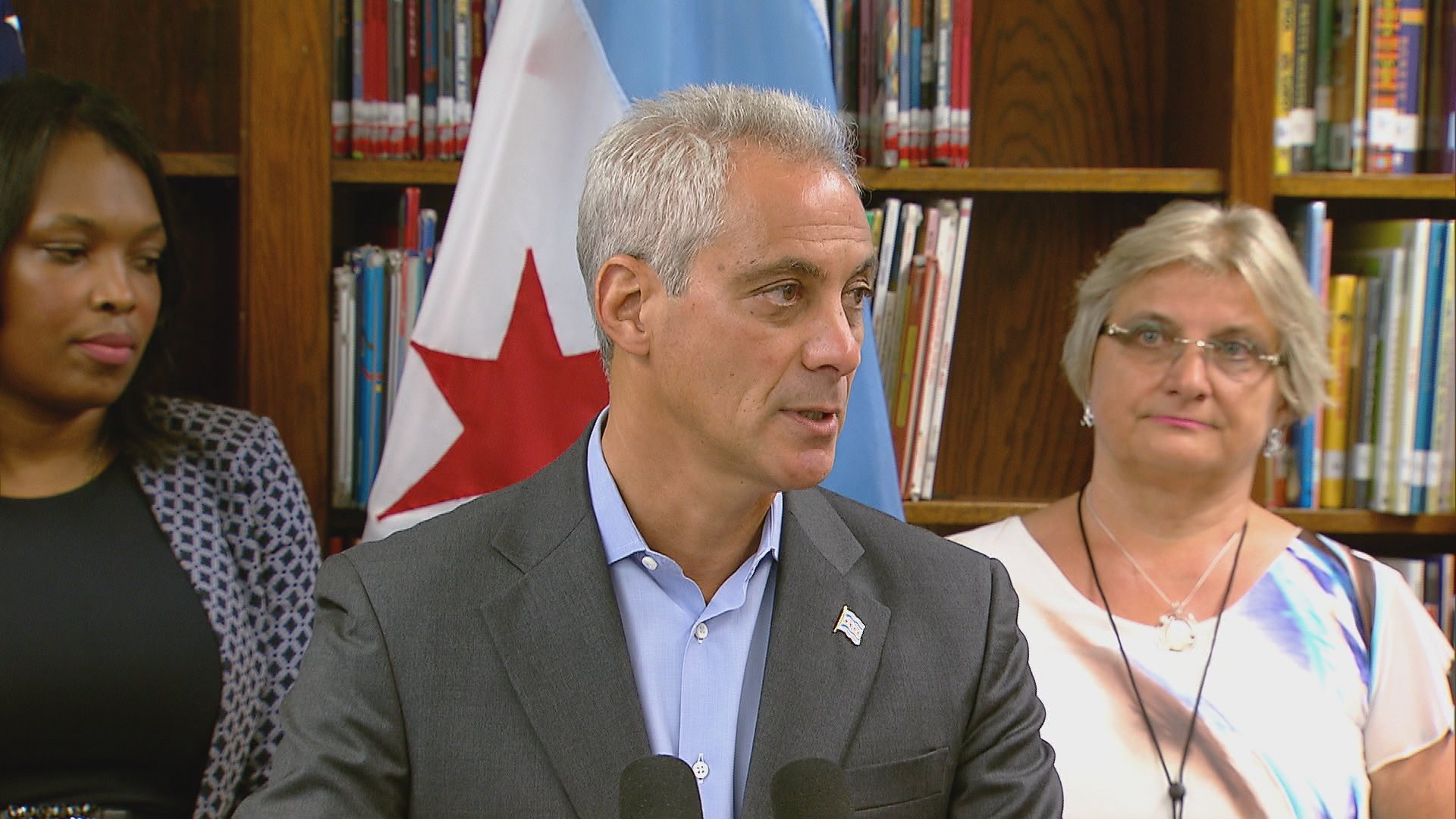 Mayor Rahm Emanuel said he wants to remind Gov. Bruce Rauner of Chicago Public Schools students' achievement, saying "our kids are breaking records." (Chicago Tonight)
Chicago Public Schools says its English language learners have significantly trimmed the achievement gap compared to native English speaking students – a data point Mayor Rahm Emanuel and district officials want to use in their ongoing fight for adequate funding from Springfield.
The mayor and CPS Chief Education Officer Janice Jackson presented data Tuesday showing the reading achievement gap between English language learners and native English speakers was reduced by 28 percent in reading and nearly cut in half in math, year over year, on a national exam.
"We're proud of that because Chicago and CPS is a diverse community and world class school district," Jackson told reporters during a press conference at Canty Elementary on Tuesday morning, "and we have to continue to embrace diversity in all of the different strengths that our students bring to the educational environment."
Those stats come courtesy of testing results on the Northwest Evaluation Association Measures of Academic Progress, an annual assessment taken by students in Chicago and across the country in grades two through eight.
The district also said its eighth-graders have improved by six scale-score points on the math portion of the exam since 2013, which it said is the largest growth in the nation among their urban district peers.
(Chicago Public Schools)
Last year, CPS had more than 65,000 English language learner students – making up more than 17 percent of its total student population – with a majority enrolled in grades K-4.
In announcing these results, Emanuel also called for adequate education funding coming from Springfield on the eve of a planned House override vote of Gov. Bruce Rauner's amendatory veto of Senate Bill 1.
"The governor always complains about that things are broken in Illinois," he said. "Well I would just like to remind him that here in Chicago, our kids are breaking records, they're breaking academic records."
Rauner has claimed the legislation – which would create a new evidenced-based education funding formula for the state – provides a bailout to a cash-strapped CPS and its teachers' pension fund. The mayor said a successful override would help correct 20 years of discriminatory funding brought about by the state's current funding model.
It's not the first time, even this month, Emanuel has used the testing results in his call for adequate funding from the state. Tuesday's announcement comes nearly two weeks after CPS first announced record-high reading and math achievement on the NWEA MAP exam, which Emanuel and CPS CEO Forrest Claypool pointed to as they called the district "a school system worth investing in."
What the mayor didn't mention Tuesday is the source of $269 million in city funding CPS is counting on to balance its fiscal year 2018 operating budget. Following the press conference, Ald. Nick Sposato told media he and his colleagues also remain in the dark about where those dollars will come from.
"I don't know," he said, when asked about funding sources. "The man (Emanuel) is smarter than me, he'll come up with the source I guess, we might have to figure this out, so it's not going to be an easy thing to figure out."
Emanuel has refused to discuss local funding options until the SB1 stalemate is resolved.
The Chicago Teachers Union referred to this as "phantom funding" and in a press release Tuesday blasting a possible school voucher program, once again called for an immediate end to mayoral control of Chicago's public schools.
Sposato said money in the city's tax incremental financing, or TIF districts, isn't enough to cover that $269 million total – saying it would only act as a "Band-Aid" rather than a long-term fix – adding that there may be no other choice but to simply borrow more money.
"You hate to keep borrowing, but right now there's not many options," he said. "I'm not willing to take borrowing off the table; I'm willing to leave it on the table. … It's probably one of the worst options, but I mean if we have to, we have to. We may have to, I don't know where we're going to get money fast if we need it."
Follow Matt Masterson on Twitter: @ByMattMasterson
---
Related stories:
CPS Counting on City, State Funding in Fiscal Year 2018 Budget
Aug. 11: Chicago Public Schools on Friday finally issued the framework of its operating budget for the 2017-18 school year, but the source of some of its revenue remains unclear.
---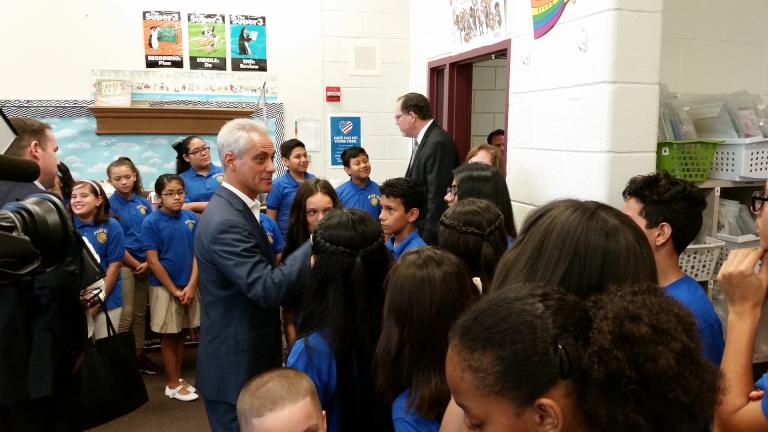 CPS, Chicago Focused on SB1 as Override Vote Looms
Aug. 10: Mayor Rahm Emanuel says Chicago Public Schools is prepared for the long term, but he's not willing to put the city in a "weakened position" by discussing education financing options outside of Senate Bill 1.
---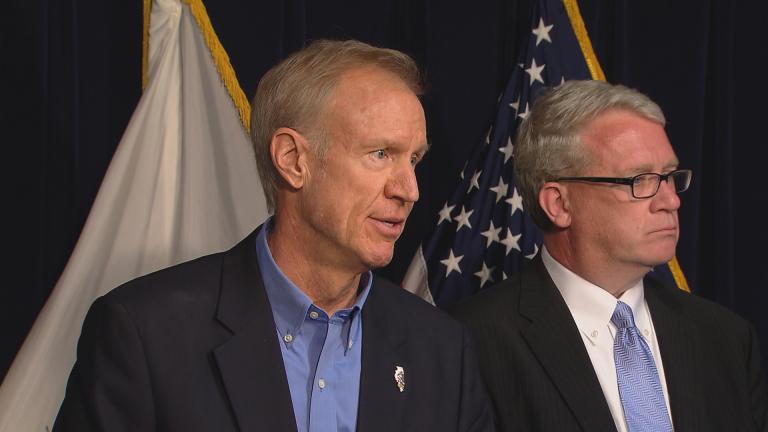 Rauner Issues Amendatory Veto of Education Funding Bill
Aug. 1: Gov. Bruce Rauner made generous use of his veto pen to redline money for Chicago Public Schools and to make other sweeping changes to a major revamp of education funding.
---