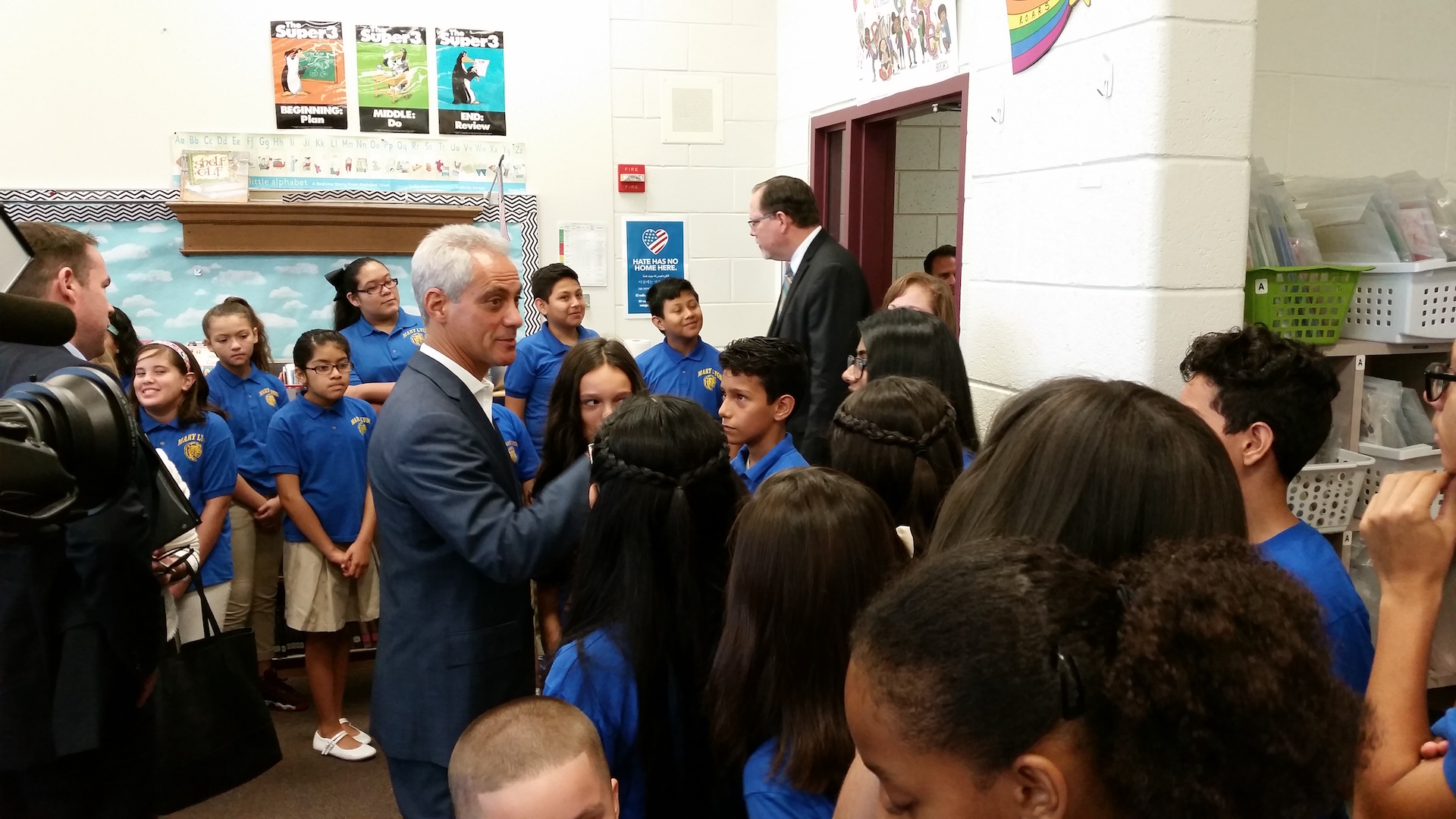 Mayor Rahm Emanuel meets with students at Mary Lyon Elementary on Thursday. (Matt Masterson / Chicago Tonight)
Mayor Rahm Emanuel says Chicago Public Schools is prepared for the long term, regardless of what happens with education funding reform in Springfield. But the mayor says he's not willing to put the city in a "weakened position" by discussing financing options outside of Senate Bill 1 right now.
"It would be a mistake for us to discuss any alternative that allows Springfield to continue to do what they've done for 25 years, which is underfund education and underfund the children of Chicago," he said Thursday when asked if he'd be willing to use additional city revenue to help fund CPS. "So I would never do that in the midst of this effort."
State legislators this weekend are set to make their push to override Gov. Bruce Rauner's amendatory veto of SB1. But it remains to be seen how successful that effort will be.
As written, the bill would create an evidence-based education funding model – replacing the state's current formula that's been called the least equitable system in the nation – and would add additional dollars to each of Illinois' 800-plus school districts.
Rauner's veto cuts out tens of millions of dollars in pension funding CPS would have received in the version of the bill passed both by the state House and Senate, distributing that money to other districts across the state.
And by delaying the approval process, it could threaten the ability of some school districts to open on time this fall. The Illinois State Board of Education – which is scoring the financial impact of Rauner's revised model – said some data needed to be resubmitted this week after a "significant error" was found relating to property wealth values.
An email obtained via open records request shows the Department of Revenue informed ISBE of the error, which was related specifically to the value of tax incremental finance districts in Chicago.
Emanuel's speech was held at Mary Lyon Elementary and came on the same day as a status hearing in the school district's ongoing discrimination lawsuit against Rauner and the state. That case was thrown out by a Cook County judge earlier this year, but CPS decided to refile shortly after.
The mayor actually complimented Rauner on his veto Thursday, saying it's helped create a sense of unity among school leaders and education advocates in opposition to the governor's plan.
"By playing divisive politics and pitting one type of child against another type of child, one type of community against another community, he has brought the entire state together," Emanuel said. "Educators of all diverse backgrounds together – something that's never happened in 30 years of education policy in the state of Illinois – and standing united with one voice."
When asked what the city plans to do if Rauner's veto is not overridden, Emanuel credited CPS CEO Forrest Claypool and Chief Education Officer Janice Jackson – also in attendance Thursday – with preparing for the long term.
He also reiterated CPS will open on time next month, but said he would not answer any hypotheticals about the situation in Springfield.
Rauner spokeswoman Laurel Patrick responded to the mayor's comments, calling on lawmakers to "cut the partisan bickering" and enact education funding reform that's fair to all students.
"Education can be a great equalizer. It doesn't matter where you come from or who your family is. With a great education, you can go anywhere in life. You can be whomever you want to be, get a good job and provide for your family," she said in an email. "It's bad enough that Democrats sat on Senate Bill 1 for two months and created this crisis in the first place; we cannot allow them to prolong it."
Thursday's event was held as the district announced record-high testing scores on the Northwest Evaluation Association Measures of Academic Progress. CPS says 61.4 percent of its students who took the exam met or exceeded the national average in reading, while 55.9 percent did so in math.
The test is administered to second- through eighth-grade students. The district said about a dozen schools had more than 95 percent of their kids exceed the national averages, but a school-by-school breakdown of results was not immediately available.
Both Emanuel and Claypool repeatedly pointed back to those results while speaking Thursday, saying it's proof CPS students are excelling even without adequate funding.
"This is a school system worth investing in," Claypool said. "And we're hopeful in the days to come that the leaders in Springfield will agree – not just for us, but for all districts throughout the state of Illinois."
Follow Matt Masterson on Twitter: @ByMattMasterson
---
Related stories: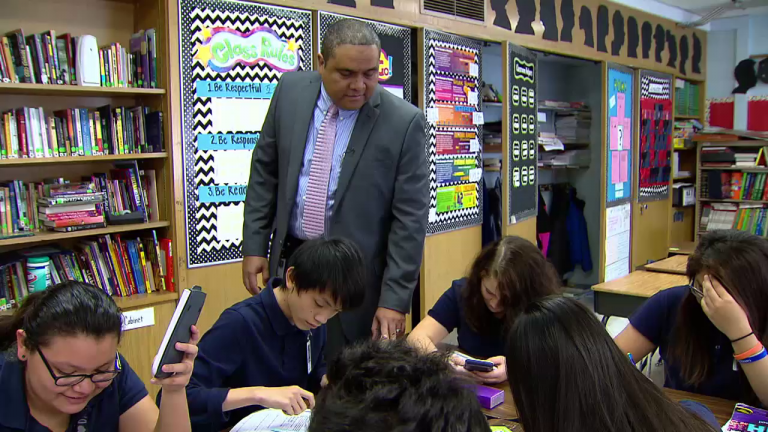 State Skipping Funding for Schools
Aug. 9: School superintendents weigh in on the education battle in Springfield.
---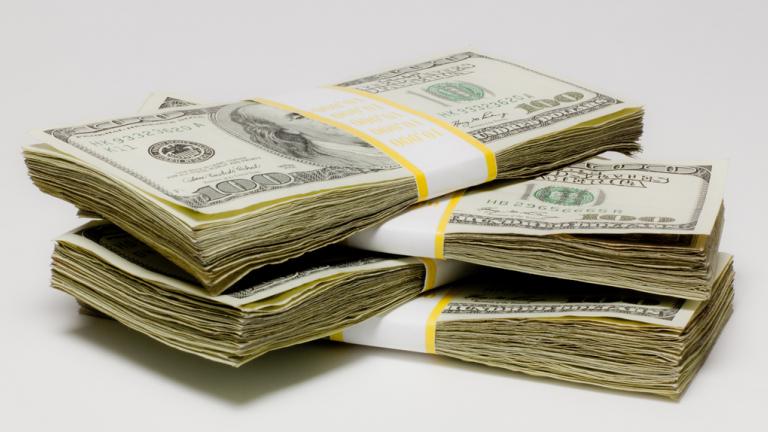 When Will Schools See State Cash? Wait and See
Aug. 2: Fresh off of a two-year budget crisis rooted in partisan tensions, Illinois is careening toward a new one – and this time, schoolchildren are left in the wake.
---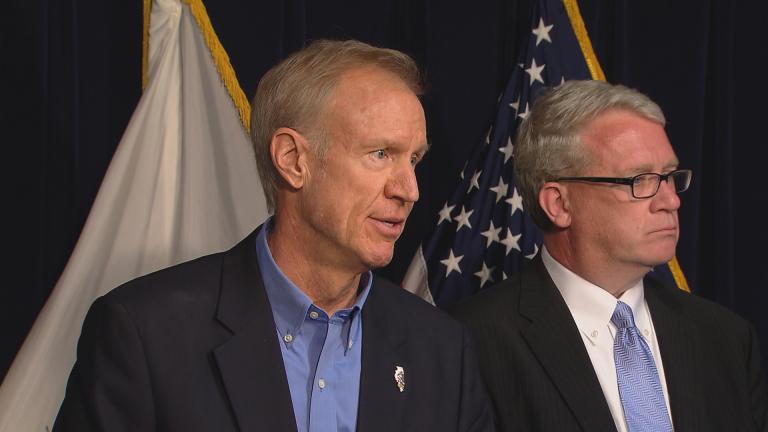 Rauner Issues Amendatory Veto of Education Funding Bill
Aug. 1: Gov. Bruce Rauner made generous use of his veto pen to redline money for Chicago Public Schools and to make other sweeping changes to a major revamp of education funding.
---