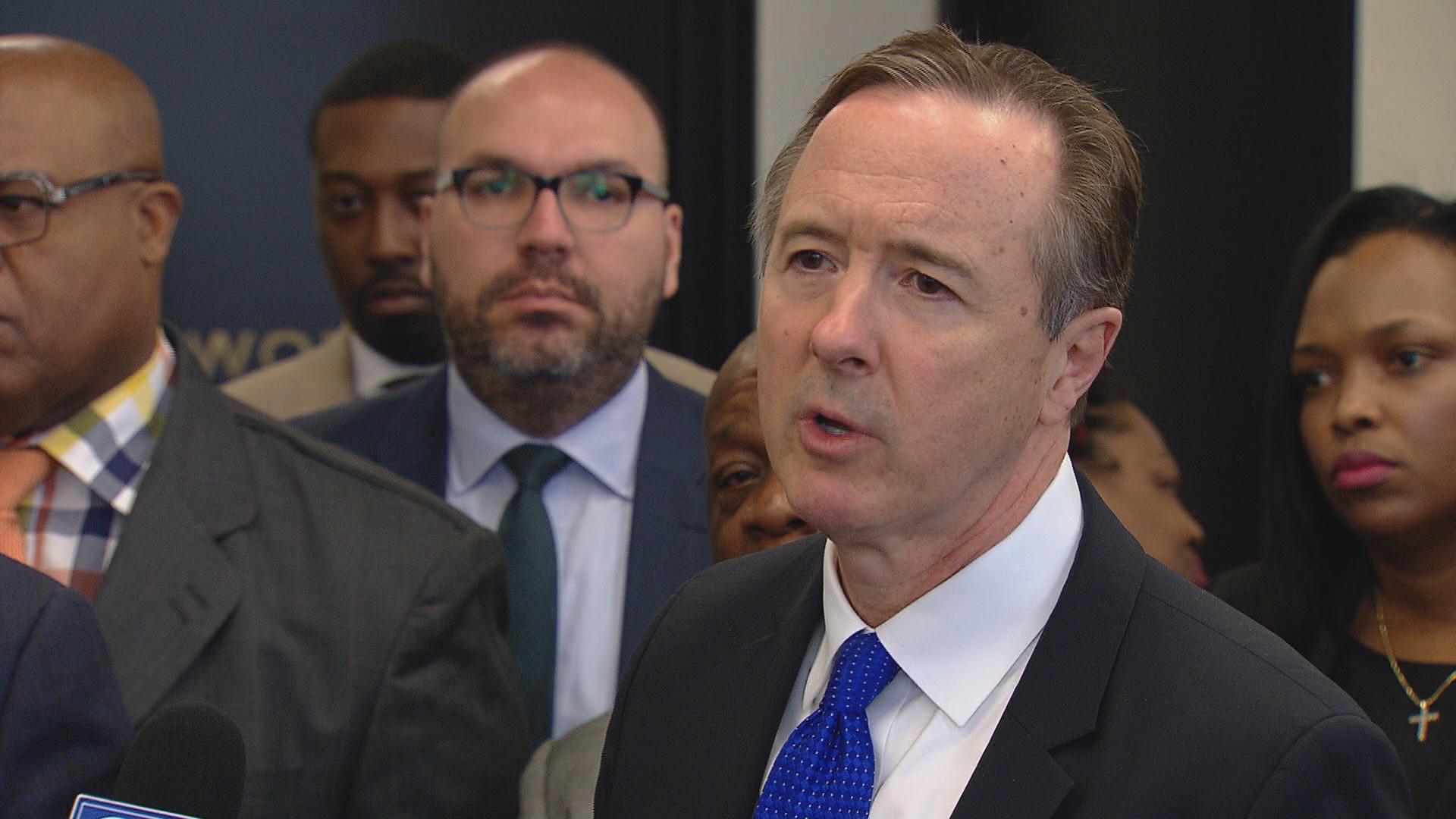 CPS CEO Forrest Claypool speaks to the press in April 2017. (Chicago Tonight)
As state legislators returned to Springfield on Wednesday following a call from Gov. Bruce Rauner, the head of the Chicago Public Schools once again called on the governor to sign Senate Bill 1, saying by not doing so, he is "standing in the schoolhouse door, blocking progress."
"By dividing the state, region against region, and playing the regrettable dog whistle politics of race, the governor and his surrogates are placing their own politics ahead of their responsibilities to the children of Illinois," CPS CEO Forrest Claypool said during a Board of Education meeting Wednesday.
The statement is the latest in an ongoing back-and-forth between Rauner and Chicago officials over the future of SB1 – the evidence-based education funding fix seen alternatively as a step forward by its proponents, and a Chicago bailout by its detractors.
CPS has about 20 percent of the state's students, but Claypool says the cash-strapped district receives only 15 percent of Illinois' K-12 education funding. He told the board Wednesday that SB1 would increase that total to 16 percent, which isn't a panacea, but is a "step in the right direction."
The bill itself remains on hold in the Senate despite repeated calls for action from Rauner, who wants the bill sent to his desk so he can amendatorily veto portions of the bill that would benefit CPS.
The veto would re-direct pension funding away from CPS toward downstate districts. The district last week claimed such a move would violate state law, but the governor's office says he is within his rights to make changes.
All school districts would still receive more state funding this year than they did in fiscal year 17, but CPS would receive $145 million less than it would under the current SB1 formula.
After state senators ignored a Monday deadline to send the education funding bill to Rauner's desk, the governor called a special session to draw legislators back to Springfield.
The state says it needs an answer on the funding formula by the end of this month in order to begin cutting checks to school districts on time.
"Bottom line: the bill passed on May 31st and Democrats have still not sent the governor the bill," Rauner spokeswoman Laurel Patrick said in an email. "That's putting politics ahead of our children. Governor Rauner is urging Democrats to send him the bill now so he can make the necessary changes to ensure fair and equitable funding for all our schools. As written, it places the CPS teacher pension burden on our rural and suburban school districts."
But SB1 remains in stasis, and legislators aren't expecting much in the way of results during the session this week.
"I expect to do nothing," Republican state Rep. Steve Andersson told Chicago Tonight this week. "We don't have a bill. The Senate's holding it. My hope is that they release it."
And without answers on what, exactly, is contained in Rauner's amendatory veto, a handful Democratic representatives are eschewing the call to Springfield entirely in favor of painting Chicago classrooms or meeting with local school councils.
The governor also issued a statement Wednesday afternoon, calling it "unconscionable" for the General Assembly to "play games with children's education."
"No child in Illinois should lose a single minute of their education for political gain," Rauner said. "Why wait until Monday to send me the bill? It's unconscionable. It's wrong. Our children deserve so much better than this. It's wrong to take money from school kids and send it to CPS pension payments."
The Chicago Teachers Union issued a statement of its own Wednesday morning, calling on Rauner and Mayor Rahm Emanuel to end the political posturing and "do your jobs."
"For someone who claims that zip code shouldn't be destiny, Gov. Rauner's actions speak louder than words," the CTU statement reads. "His political interests come ahead of students' and families' educational needs every time. He is fanning the flames of a funding shortfall that hurts hundreds of thousands of Chicago students counting on Springfield to finally put the needs of ordinary people ahead of political posturing."
Follow Matt Masterson on Twitter: @ByMattMasterson
---
Related stories: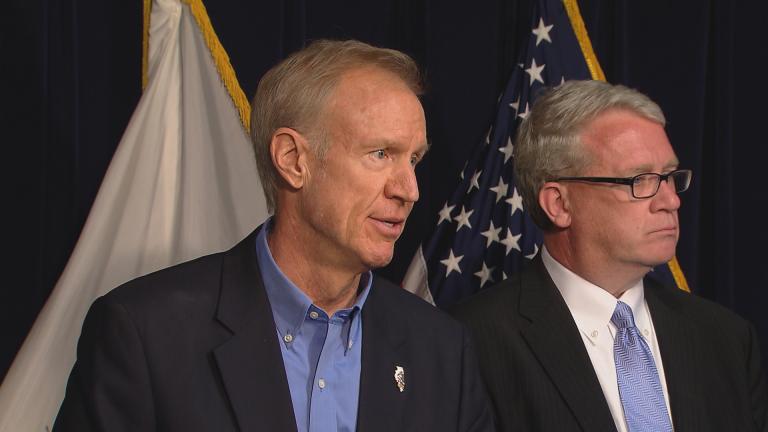 Rauner Calls Lawmakers Back to Capitol for Education Funding Battle
July 24: Lawmakers will have much to discuss during yet another special session, this time on education spending. Three Illinois teachers weigh in.
---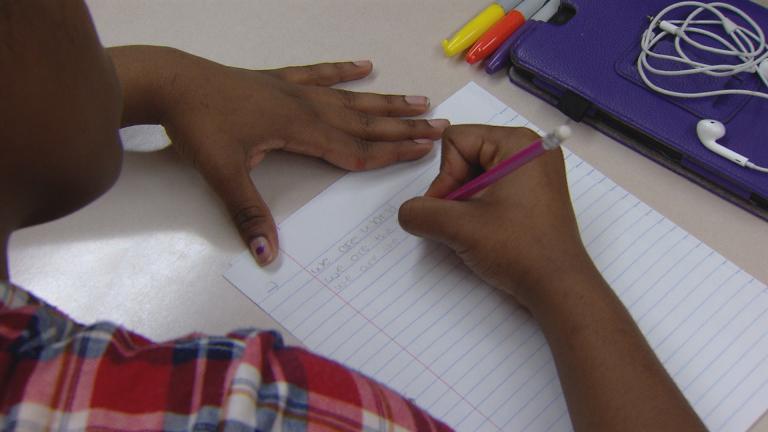 Education Funding Fight Could Prompt Special Session
July 21: Schools are caught in the crossfire between Democrats and Republican Gov. Bruce Rauner, who said Friday he'll call legislators back to Springfield if they don't release Senate Bill 1 to him by noon Monday.
---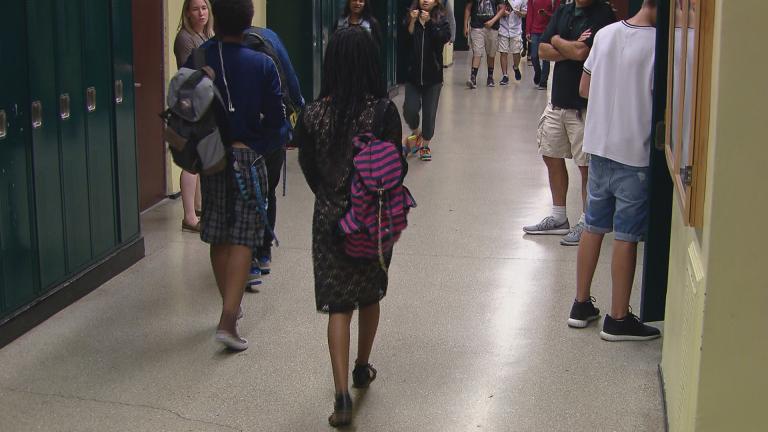 Enrollment Down, Per-Pupil Spending Inches Up in New CPS Budgets
July 20: Despite the fight in Springfield over education funding, Chicago Public Schools leaders say they will open to students in the fall—but with fewer students.
---