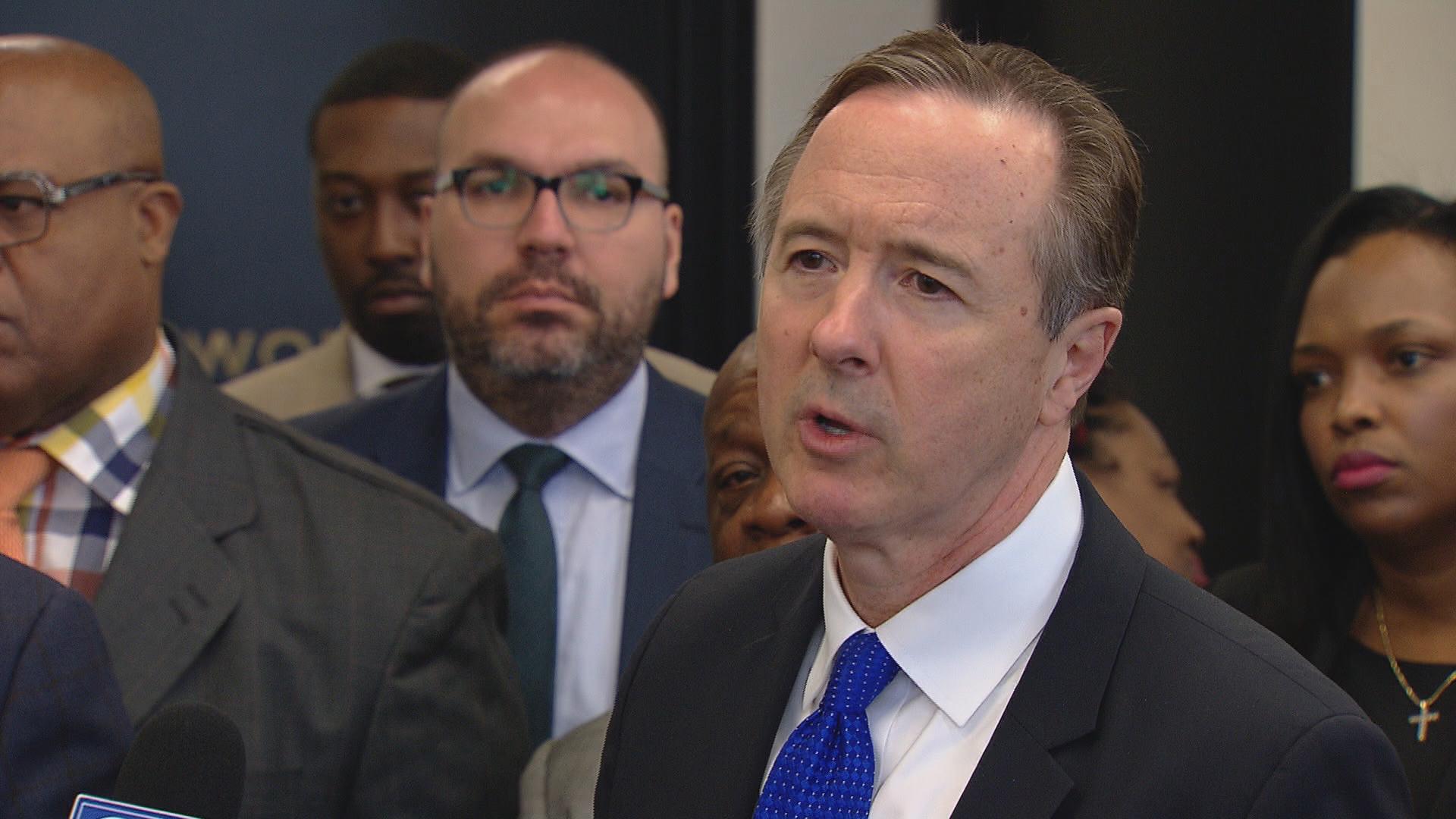 CPS CEO Forrest Claypool speaks to the media on April 19, 2017. (Chicago Tonight)
As the city and Chicago Public Schools scramble to find funding to keep classrooms open through the end of the school year, the Chicago Teachers Union is taking up a staff-wide referendum vote of no confidence in district CEO Forrest Claypool.
The union's House of Delegates moved for the vote at its monthly meeting last week, only days after a Cook County judge tossed a discrimination lawsuit Claypool and CPS brought against the state of Illinois, as well as an injunction seeking additional state funding for the cash-strapped school district.
CTU's approximately 800 delegates passed their own no-confidence vote in February and called on Claypool to resign immediately. But the union wants to send a stronger message.
Those same delegates will now take full roster votes of CTU members within schools early next week, similar to the way the union held a strike vote last fall.
"Some people have greatest hits and some have greatest misses, and the list of Forrest's greatest misses is long—from his dire threats of 5,000 layoffs, cutting our members' pay by seven percent and ending the school year three weeks early, to his sick day witch hunt and that ridiculous lawsuit against the state," CTU President Karen Lewis said in a statement Friday.
In a letter to teachers earlier this week, Lewis said the results of that vote will be released sometime "in the upcoming weeks." Delegates hope this broader move will also allow teachers and staff to organize conversations about Claypool and his treatment of union employees at individual schools.
"Instead of creating a sideshow, CTU should be fighting along side us in the courts and in Springfield, where the union continues to let Gov. Rauner off the hook for his racially discriminatory funding of CPS," Claypool said in a statement. "Unlike Karen Lewis and Bruce Rauner, I don't believe that fighting for the civil rights of 400,000 school children is 'ridiculous.'"
CPS Chief Education Officer Janice Jackson echoed Claypool's sentiment Friday afternoon, telling Chicago Tonight she believes the focus should instead be on finishing out the school year and working to find more funding for the district.
"To me that's a distraction from what really matters, which is we need more revenue so that our schools can be healthy," she said when asked about the union vote. "I don't have anything to say on that except I am going to keep my eye on the ball and my eye on the progress our district is making and try to protect that as much as possible."
After filing the lawsuit in February, Claypool threatened to close schools nearly three weeks early if CPS did not receive additional funding from the state. After it was thrown out, Mayor Rahm Emanuel announced the city would step in and keep classrooms open through the scheduled year-end date of June 20.
How exactly that will occur, though, remains to be seen.
Aldermen had expected to be briefed this week on a city rescue package, but that plan has been delayed while CPS and Mayor Rahm Emanuel's office continue working "around the clock" to go through possible funding solutions, according to a mayoral spokeswoman.
"This is utterly ridiculous," Ald. Carlos Ramirez-Rosa said Tuesday. "Schools apparently do not have the funding that they need to stay open. The mayor has promised that he has a plan to accomplish that, yet he hasn't shared with the public, the alderman, teachers, parents or students the details of that plan."
Ramirez-Rosa, along other aldermen and various community organizations, held a press conference at City Hall where they called on Emanuel and the City Council to use tax incremental financing (TIF) dollars and a corporate head tax to help fill the school district's remaining $129 million operating budget shortfall.
That amount comes on top of a $720 million payment the district owes to the Chicago Teachers Pension Fund by the end of next month. Another $467 million in block grants from the state to CPS have also reportedly been delayed during Illinois' ongoing two-year budget impasse.
The no-confidence vote comes as the Chicago Sun-Times reported Monday on growing tensions between Emanuel and Claypool – who have worked together in various roles for several years – over the school funding issue.
The mayor responded Friday afternoon in a statement saying: "For nearly two years Forrest Claypool has continued to improve the academic success of our students, all while the governor has continued to fail our students.
"Forrest has handled a difficult job incredibly well, a job that is made even more difficult given the governor's refusal to treat our students the same way he treats students everywhere else in the state. Forrest has my complete confidence. The person who doesn't is Bruce Rauner, and when it comes to the education of our students that's where our collective energy should be focused."
This story has been updated to include comments from Mayor Emanuel, Forrest Claypool and Janice Jackson.
Follow Matt Masterson on Twitter: @ByMattMasterson
---
Related stories: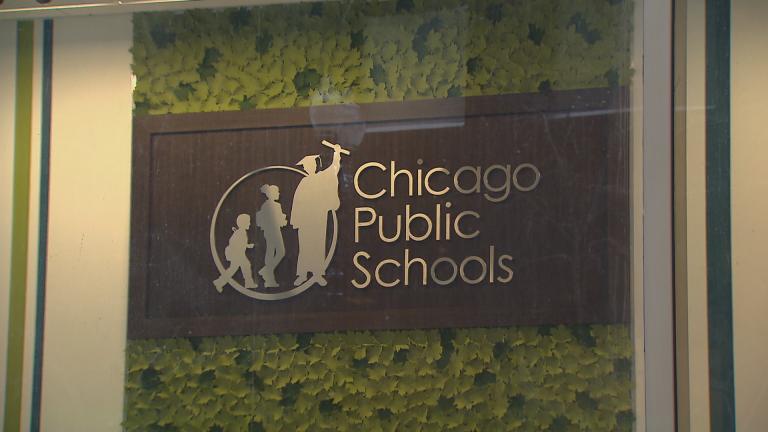 How Will the City Pay For Schools to Stay Open?
May 2: It's still the unanswered question even though the Mayor Emanuel says schools will remain open until the end of the school year.
---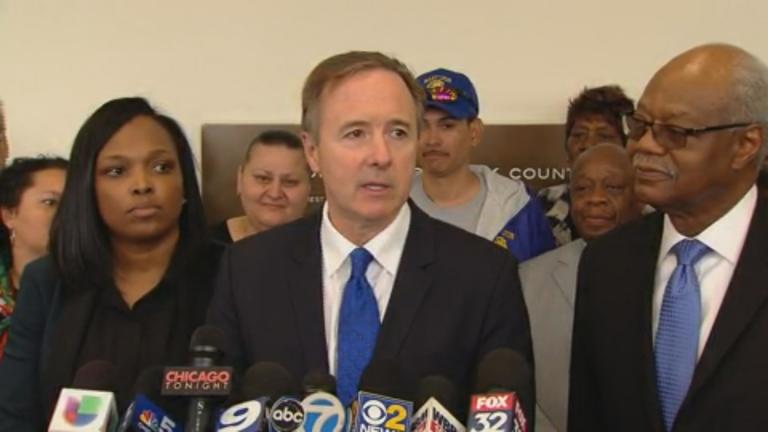 Court Tosses CPS Discrimination Lawsuit Against State
April 28: A Cook County Judge has dealt a financial setback to Chicago Public Schools – stating that the school district's complaint is "not the vehicle to address [the state's] inequity" in education funding.
---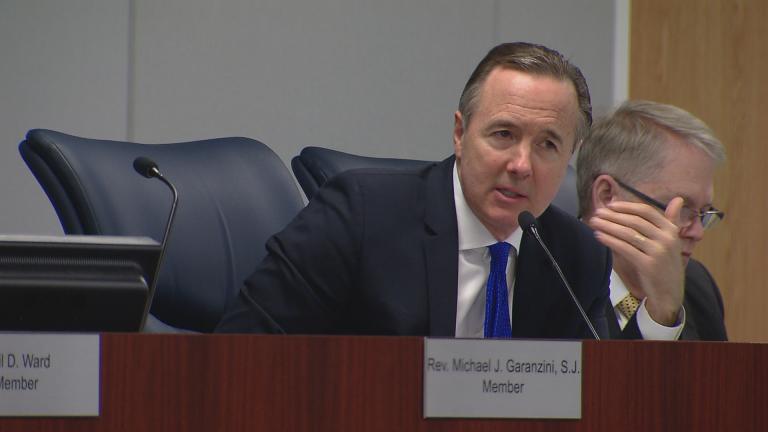 Parents, Advocates Want Details On CPS Plan For End of School Year
April 26: "This could be a critical week for the future of our schools," CPS CEO Forrest Claypool said Wednesday at a Chicago Board of Education meeting. "Ending school early would be a tragedy for Chicago students."
---