Senate Minority Leader Christine Radogno and House Minority Leader Jim Durkin filed legislation that would direct future property tax receipts from a possible Thompson Center redevelopment to Chicago Public Schools. (Ken Lund / Flickr)
Gov. Bruce Rauner says property taxes generated from the sale of the James R. Thompson Center could top $45 million per year, and Republican-backed legislation introduced Friday would send every one of those dollars to Chicago Public Schools.
But Mayor Rahm Emanuel's office says that's not the "quick fix" the governor is pitching it as.
Senate Minority Leader Christine Radogno, R-Lemont, and House Minority Leader Jim Durkin, R- Western Springs, each filed legislation that would direct future property tax receipts from a possible Thompson Center redevelopment to the cash-strapped school district.
"The legislation would provide CPS with a stable source of additional revenue for years to come," Durkin said in a statement, "and would let Illinois off the hook for hundreds of millions of dollars in repairs and maintenance costs on a dilapidated building we can no longer afford."
The 16-story Thompson Center could be torn down and reinvented as a 115-story mixed-use tower proposed by the Adrian Smith + Gordon Gill architectural firm. Rauner says this would generate hundreds of millions in revenue from the sale itself, along with an additional $1 billion in dedicated revenue for CPS by 2040.
Rauner held a press conference inside the Thompson Center on Friday morning, where he decried the ongoing cost of maintenance for the 32-year old building.
"The JRTC is sucking up valuable space, time, and money," he said. "No one likes working here. It's expensive to maintain and it's a drain on taxpayer resources. The legislation introduced today gives us yet another reason to move swiftly in selling this building. Every day of delay just postpones Chicago's ability to earn millions in property taxes."
Rauner and Emanuel have butted heads over sale plans this week and what that could mean for the Clark/Lake CTA station located in the Thompson Center's lower levels. Emanuel says he doesn't want city residents covering the cost of rebuilding one of the city's busiest L stations.
The mayor's office also said CPS wouldn't see any money from this deal until after the existing building is torn down and a new building is planned, designed and actually constructed – which could take up to a decade.
"Suddenly (Rauner's) interested in funding CPS? That's rich," Emanuel spokesman Adam Collins said in an email. "This (is) a fraction of the amount of funding the governor vetoed for our school children a few months ago. Don't be fooled. The governor is using this as a shiny object to distract from his own failure to fund education fairly and his failure to propose a balanced budget the entire time he's been in office."
Rauner did veto $215 million in state funding CPS had counted on in its fiscal year 2017 budget, saying those dollars were tied to statewide pension reforms that haven't been accomplished. The district chose to furlough staff and freeze school spending to help fill that gap, even going so far as to threaten a shortened school year if it didn't receive more money from the state.
CPS also filed a lawsuit against Rauner, claiming the state's education funding model discriminates against Chicago's predominantly minority student population. But last week, a Cook County judge tossed out that suit, along with an injunction that would've forced the state to send additional funding to CPS.
The district has not yet said if it plans to re-file. Emanuel promised parents the school year will not be cut short but has not yet said how that will be accomplished.
Follow Matt Masterson on Twitter: @ByMattMasterson
---
Related stories: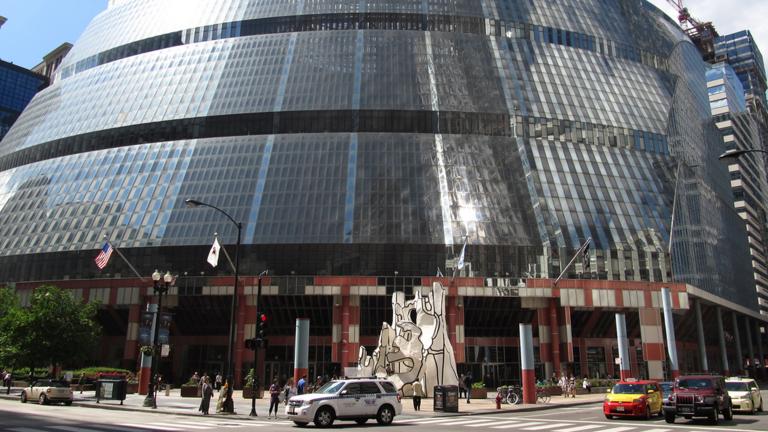 Rauner, Emanuel Butt Heads Over Thompson Center Plans
May 3: What does the future hold for Helmut Jahn's 16-story Loop office building?
---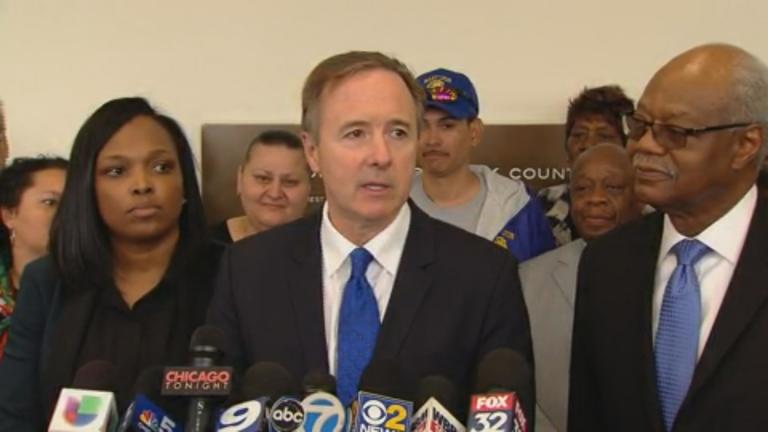 Court Tosses CPS Discrimination Lawsuit Against State
April 28: A Cook County Judge has dealt a financial setback to Chicago Public Schools – stating that the school district's complaint is "not the vehicle to address [the state's] inequity" in education funding.
---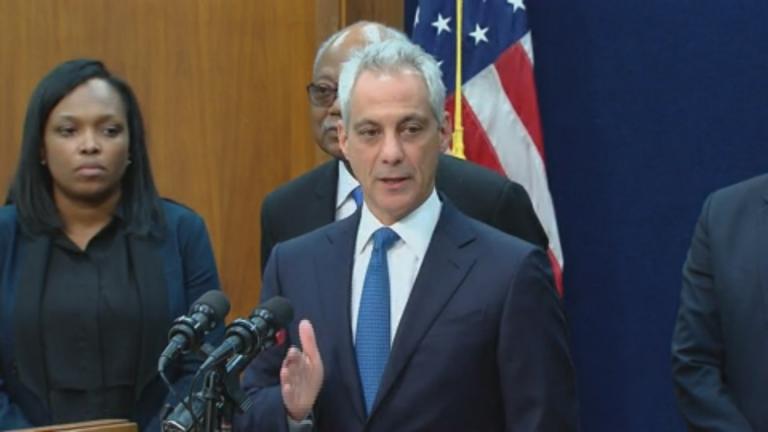 Mayor: CPS to Stay Open Despite Funding Setback
April 28: Chicago Public Schools will stay open until June 22, the end of the regular school year, instead of closing early on June 1. "We will be here working to find the resources," said Mayor Rahm Emanuel.
---