Scott Simon, host of NPR's "Weekend Edition," is a widely admired and respected writer and broadcaster.
He is a Peabody and Emmy Award-winning journalist who has been a contributor to NPR for more than 30 years. But aside from all that, he has another identity -- that of a lifelong superfan of the Chicago Cubs.
For almost all his life that meant inevitable heartache. But last November all that changed.
Simon joins Chicago Tonight to talk about that and his new book.
Below, an excerpt from "My Cubs: A Love Story."

I have this dream. It's the seventh game of the World Series, bottom of the ninth inning, Cubs against the Yankees, and the bases are loaded. The score is 2–1, Cubs, but the Yanks are threatening. (The Yankees haven't been a great team for years, but they're still satisfying to beat in dreams.) Wrigley Field boils and churns with cheers, claps, and fans on their feet waving "W" flags.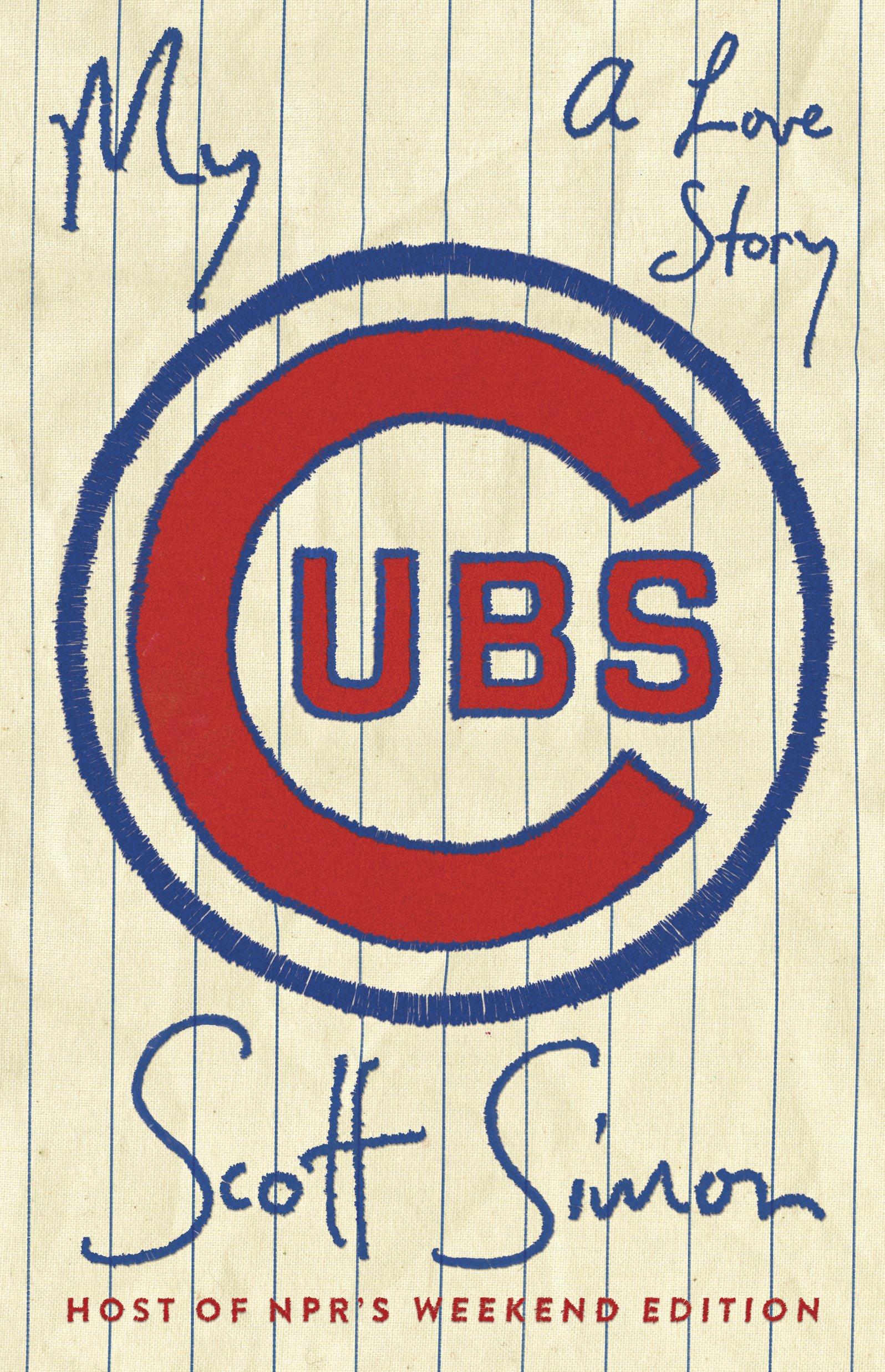 The green field glows. The ivy on the walls gleams under the bright white light and rustles in the crisp lake wind. The Cubs are an out away from winning a World Series, against all odds. But they've run out of pitchers. Fergie Jenkins, Kerry Wood, Jon Lester, Kyle Hendricks, Greg Maddux, and Mordecai "Three Finger" Brown (an improbable all-era roster of Cubs all-stars) have all thrown brilliantly. But the bullpen is almost bare. The manager (a gray-haired, knob-nosed fusion of Joe Maddon, Charlie Grimm, and Joe McCarthy) is downcast and flummoxed. Then a light goes on in his eyes.
"It's a crazy idea, I know," he tells his coaches. "But I got a feeling . . ."
I hear my name crackle over the old tin speakers and echo over the slatted green seats and scuffed concrete stairs. Astonishment rolls through the crowd. The announcers (who sound like Joe Buck and Bob Costas) are stupefied, if not quite speechless. "A move no one could have predicted . . ." I take slow, deliberate strides over the electrified green grass and look down to see my arms in white sleeves with Cubby blue stripes.
I reach the mound. Some of the astounded hubbub dies. The catcher (all grit and spit, a grizzled combination of Randy Hundley, Gabby Hartnett, and David Ross) hands me the ball. "No need to go over signs," he says through a chaw and a grin. He knows I have just one pitch: a fat, slow dodo of a throw that catches the wind like a candy wrapper, darts, floats, curves, and is preposterously difficult to hit.
My catcher returns to crouch behind home plate. In the broadcast booth, Joe and Bob sputter to explain this stunning turn. "He's a fan. But he knows a lot about the franchise, and he's been practicing his pitch at the gym. And the Cubs must have seen something they liked, because here he is . . ."
The Yankee batter glowers and spits. He's not Derek, Gehrig, or the Mick, but some malevolent, swearing, gob-spitting, steel-bearded, pinstriped brute. In fact, let's call him the Brute. He tells our catcher, "Look what the cat dragged to the mound." Then the Brute glares at me: "Time for batting practice, rook."
I take a deep breath. The seats at Wrigley roil with 43,000 Cubs fans who take a sudden deep breath at the same time and fall silent. I look to my right to see the all-star Cubs spirits of Kris Bryant and Ron Santo dance on their toes at third, and Addison Russell, Ernie Banks, and Joe Tinker at short. I glance to my right: Javy Báez and Ryno Sandberg are on patrol at second base, while Anthony Rizzo and Mark Grace spit and pound the pockets of their gloves at first.
I look in to my catcher. I draw back my arms. I twist slightly to put my power into the psoas muscle (as my yoga trainer has taught me) and bring my right arm through above my shoulder, snapping off the throw with my right hand.
All action seems to slow. I see the ball hang in the night air, snag the lake wind, then float and weave, its red seams whirling. The Brute spits, then swings mightily. But the fat of his bat misses by six inches, and I hear—43,000 fans hear—his swing whiff the air like a tree cracking and falling.
"Stee-rike!"
The Brute steps back to spit and swear. He wipes his huge, grimy hands across his pinstripes and yells out to the mound, "Try that again, meat. I got your number now."
My wife, Caroline, our daughters, Elise and Paulina, our dog, and my late mother sit together in grandstand seats along the third base line. All but our dog, Daisy, have their heads lowered in anticipated embarrassment. (Daisy believes.) My mother tells all nearby, "Well, you know, darlings, all that writing stuff came later. Pitching for the Cubs is really what he's always wanted to do. I just hope . . ."
I shake off my catcher's sign, but it's an act; I'll throw the same pitch, and hope he won't see it coming. I rear back, thrust forward, and let the ball go from the tips of my fingers. It bobs and weaves as capriciously as the flight of a firefly. The Brute holds back for an instant, addled and confused, then tries to punch the ball with his bat.
The gesture looks desperate and pathetic. The Brute misses by a foot. The roar of the crowd is so loud I can only read the lips of the ump as he bellows, "Stee-rike two!"
Up in the booth, Bob and Joe agree as one. "Nothing quite like this has ever been seen in baseball history. The Chicago Cubs—historically one of the most beloved, but easily the most cursed, hexed, and jinxed franchise in sports history—are a strike away from winning the World Series and have bet it all on a longtime fan with a freakishly effective pitch. How amazing! How utterly . . . Cub-like!"
Ernie Banks trots in from short to hold up a single, slim finger. "Just one more, Scooter, one more!" Ron Santo and Kris Bryant pound their gloves at third, while Javy and Ryno draw their toes around second base. I shake off a first sign. Then a second, then a third. My catcher, who knows this plan, gives his plump brown glove a last thump and holds it over the heart of the plate. I rear back and rock my psoas. But this time, I don't snap off a last floater of a pitch—what the Brute, the NSA, the KGB, MI5, and thousands in the stands and sixty million people tuned in at home expect. Instead, I bring my right arm through with the power of a rocket burst. The seams on the ball whizz and whirr into a blinding blur.
The crowd inhales. The Brute rocks back on his heels, too astonished even to lift his bat from his shoulders.
The radar gun flickers before it glows with three numerals: 101 mph. My fastball smacks the catcher's mitt like a crack of lightning. The Brute thumps his hitless bat on the ground in defeat and frustration, where it leaves an angry gash the size of a canal. The ump cries, "Strike three!" Joe and Bob sputter, "I can't believe it! I can't believe it! Against all odds, and after more than a century . . ." as Ernie, Ron, Ryno, Kris, Javy, Gabby, David, Fergie, Kyle, Jon, and Kerry pile all over me on the mound and a sea of Cubby blue fills the Friendly Confines of the greatest and greenest old brick ballpark, with her ivy-covered walls.
I am a Cubs fan. A husband and father, an American, a Chicagoan, and a Cubs fan. My politics, religion, and personal tastes change with whatever I learn from life. But being a Cubs fan is my nature, my heritage, and probably somewhere in my chromosomes.
If you prick me, I'm quite sure I'll bleed Cubby blue.
Excerpted from MY CUBS: A LOVE STORY by Scott Simon. Published by Blue Rider Press, an imprint of Penguin Publishing Group, a division of Penguin Random House LLC. Copyright © 2017 by Scott Simon.
---
Related stories: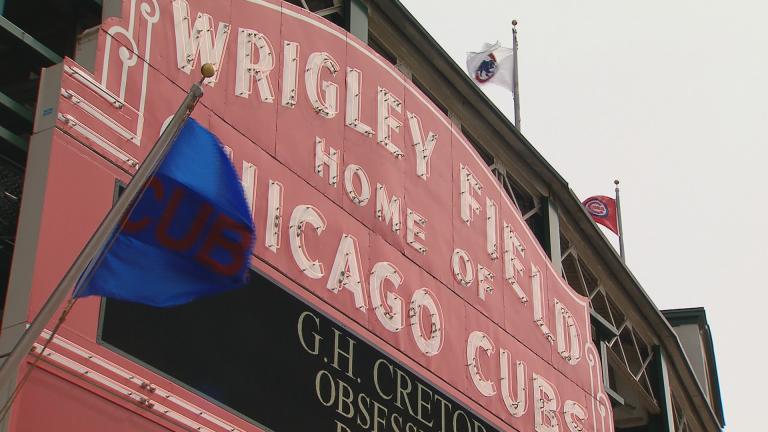 Cubs Open Park at Wrigley
April 10: The Cubs unveil the new Park at Wrigley as the team plays at home for the first time as World Series Champs.
---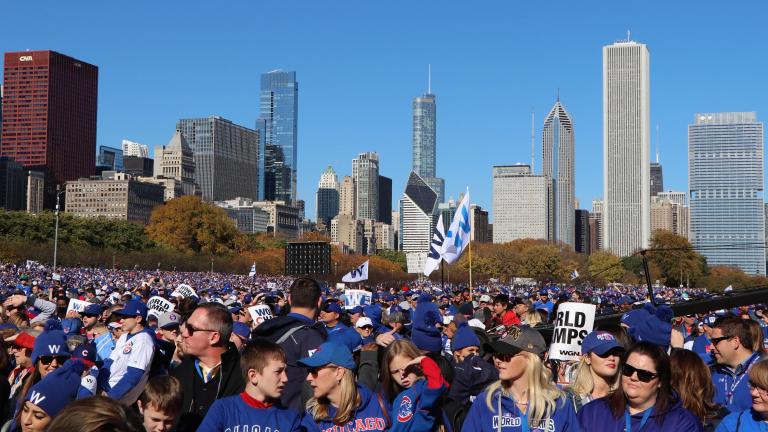 Ask Geoffrey: Was That Really 5 Million People?
Nov. 16: The Cubs rally brought throngs of fans to Grant Park. But was it really the biggest gathering ever in Chicago? Geoffrey Baer counts heads in this week's Ask Geoffrey.
---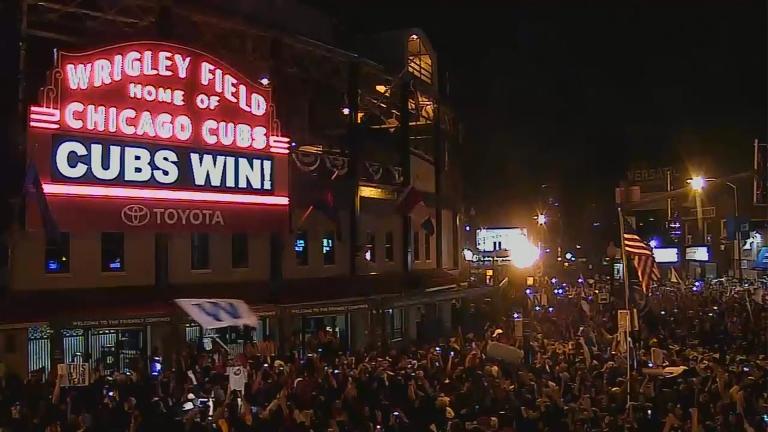 Cubs Fans Celebrate Win for the Ages
Nov. 3: The Cubs win the World Series in a dramatic Game 7 that will go down as a legendary moment in Chicago sports history. We have a full recap and reaction from fans and the Cubs' top brass.
---