The 108-year wait is over. The Cubs are World Series Champions.
The euphoria from Wednesday night's thrilling Game 7 victory carried over Thursday at Wrigley Field, where jubilant Cubs fans soaked in the atmosphere and paid tribute to loved ones who were not able to be there.
They came from all around the country as if on a pilgrimage to a sacred shrine, because to so many people, Wrigley Field is exactly that. They came with family members; they came bearing souvenirs and memories of Cubs greats like Ernie Banks, Ron Santo and Billy Williams.
It was a festive atmosphere all day. Fans lined up outside the various merchandise stores near the field to get their hands on apparel that would perhaps serve as tangible proof that, yes, this has really happened. And beyond the outfield wall, an impromptu memorial sprang up, with fans coming from far and wide to write names in chalk, names of long-suffering Cubs fans who did not live long enough to see this day come.
To so many fans Thursday, this was more than just a curse-breaker, more than just a win, this was a core moment in their lives that made them think of the people they had shared so many other moments with.
Longtime Cubs Fan Brian McDonald signed the name of his deceased sister on the wall, who he said was a die hard.
"She passed away a few years ago; she was a big Cubs fan. She couldn't be here to see this, I know she would have loved it," he said.
Jim Roe came to Wrigley with his mother, Mary, and two sisters. Mary carried a framed photograph of her late husband with their favorite player, Ernie Banks.
"Dad's looking down on us now, he passed away a few years ago, he'd be having the time of his life," said Roe. "And he said the last six months of his life: 'I can't go before they win! I can't go before they win! But he finally did, he would be thrilled to death."

To so many fans, this was more than just a win. This was a core moment that made them think of the people they had shared so many other moments with.
---
Among the revelers soaking in the atmosphere Thursday was Cubs President of Business Operations Crane Kenney. He waxed philosophical about what this meant to the hundreds like Harry Caray, Lou Boudreau and Jack Brickhouse, who helped build the Cubs legend. But then he seemed a bit bittersweet, thinking, the Cubs have just won the World Series. What do we do now?
"I'm worried about the future, we all know why we got up every day for 20 years, for me, and now, what is the next mountain to climb?" Kenney said. "When you think about it, whether you were missing your kids birthday party, or not getting enough sleep, or whatever the topic was, you knew why you did it. Now the question is, why do you do it?"
Kenney also spoke about the importance of the revenue-generating projects like the hotel, the new plaza and office building and other things to be able to afford the keep the talented nucleus of players around.
"We gotta have the resources to make sure, when it is free agent time, that we can keep the players we want and then add to this team," he said. "Theo Epstein and Jed Hoyer leave Monday for general manager meetings, so one of the things about playing this deep in the season is, next year is here. Literally, we have a board meeting tomorrow to talk about next year's plan. So we're not catching our breaths much."
And of course this is a story that has caught the imagination of the entire country. President Barack Obama said it was a big deal for him even as a South Sider, because it had been so many years for Cubs fans.
"Thomas Edison was alive, and they hadn't invented sliced bread yet," Obama said. "So you know the expression, 'This is the greatest thing since sliced bread?' This for Cubs fans is indeed the greatest thing since sliced bread. So I want to congratulate the Chicago Cubs on a great season."
And fans erupted Wednesday night outside Wrigley field when the marquee had indicated the game was over and the Cubs had actually won.
Hundreds of thousands streamed out of the establishments that were packed to the gills hours before the game and charging heavy covers just to get in.
You sensed the weight of 108 years on the backs of every fan as the tension built throughout the night, and manager Joe Maddon addressed why he and the players did not feel that weight.
"I totally respect what's happened in the past and I totally respect our fan base," Maddon said. "But if you want to carry the burden around, this would never happen. So for me, it was about trying to define this thing and running toward pressure and running toward expectations."
There is, of course, a cost to all of this winning. Ticket prices will go up next year, as the Cubs say they kept them mostly flat through the lean years.
Follow Paris Schutz on Twitter: @paschutz
---
Related stories: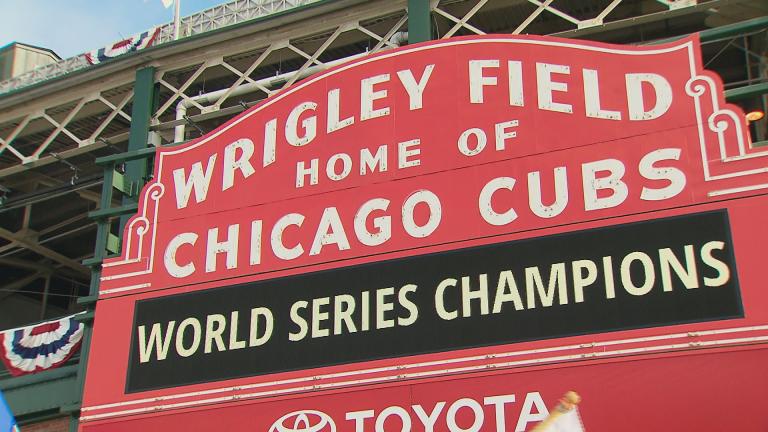 Cubs Grind Out Game 7 to Win World Series
Nov. 3: Before the locker room champagne showers, there were 10 innings of fever-pitch drama. We take you through the twists and turns of World Series Game 7.
---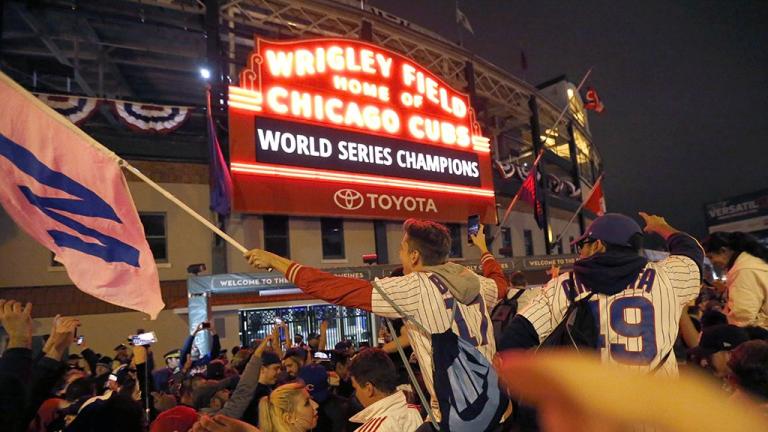 Cubs World Series Parade, Rally Set for Friday
Nov. 3: The 2016 World Series Champions will celebrate their historic win on Friday. Here's what you need to know.
---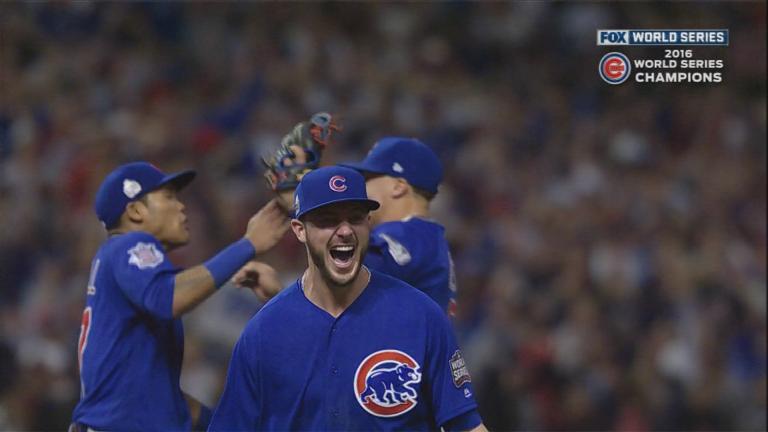 Holy Cow! Cubs Win the World Series!
Nov. 3: In almost poetic fashion, it took the Cubs extra innings to vanquish a 108-year drought. At times on this historic night, it seemed like the team would succumb to its snakebit history.
---