Some big changes at Wrigley Field as the Cubs take play at home for the first time since becoming World Series Champions. What do the changes mean for the community? Will anyone be able to drive or park around the ballpark anymore? And did Cubs brass throw some shade on a few Chicago politicians Monday?
One alderman in particular was the subject of the subtle shade, but he didn't seem to mind.
First, to the traffic situation at Wrigley Field for Monday night's game: Clark and Addison are shut down to truck traffic two hours before and one hour after game time, and there will be checkpoints to slow down traffic at the intersections of Clark, Sheffield and Newport; Clark and Grace, Addison and Halsted and Addison and Racine.
Earlier Monday, the team officially opened the new Park at Wrigley on that triangular parcel of land that used to house a McDonald's. Now that area houses team offices, merchandise stores, bars, restaurants and a Starbucks.
The park is akin to a Wrigleyville town square, featuring music performances from the Old Town School of Folk Music on Tuesday nights, movie nights curated by the Music Box Theatre, farmers markets and ice skating in the winter.
Top Cubs brass were none too subtle to remind everyone that they've paid for the $500 million renovation of the area on their own dime, when local governments have been a little more generous to other teams.
"The mayor made clear the city could not give us the kind of financial support the White Sox got in rebuilding Comiskey Park, or the Bears got renovating Soldier Field," Cubs President of Business Operations Crane Kenney said at the official ribbon cutting Monday. "The Braves are opening a new ballpark, they got $350 million to help build that. The Rangers are now opening a new ballpark, and their number is roughly around $350 million to $400 million."
The Cubs did get the city to allow them to expand their outfield walls onto Sheffield and Waveland for free – so it isn't as if they haven't gotten some benefit.
But the entire project, which will eventually include an addition to the stadium at Sheffield and Addison and a new hotel on Clark, will not be finished until 2018. And there are other things the Cubs would like from the city, such as the ability to shut down Waveland and Sheffield every game to have a bazaar-type atmosphere.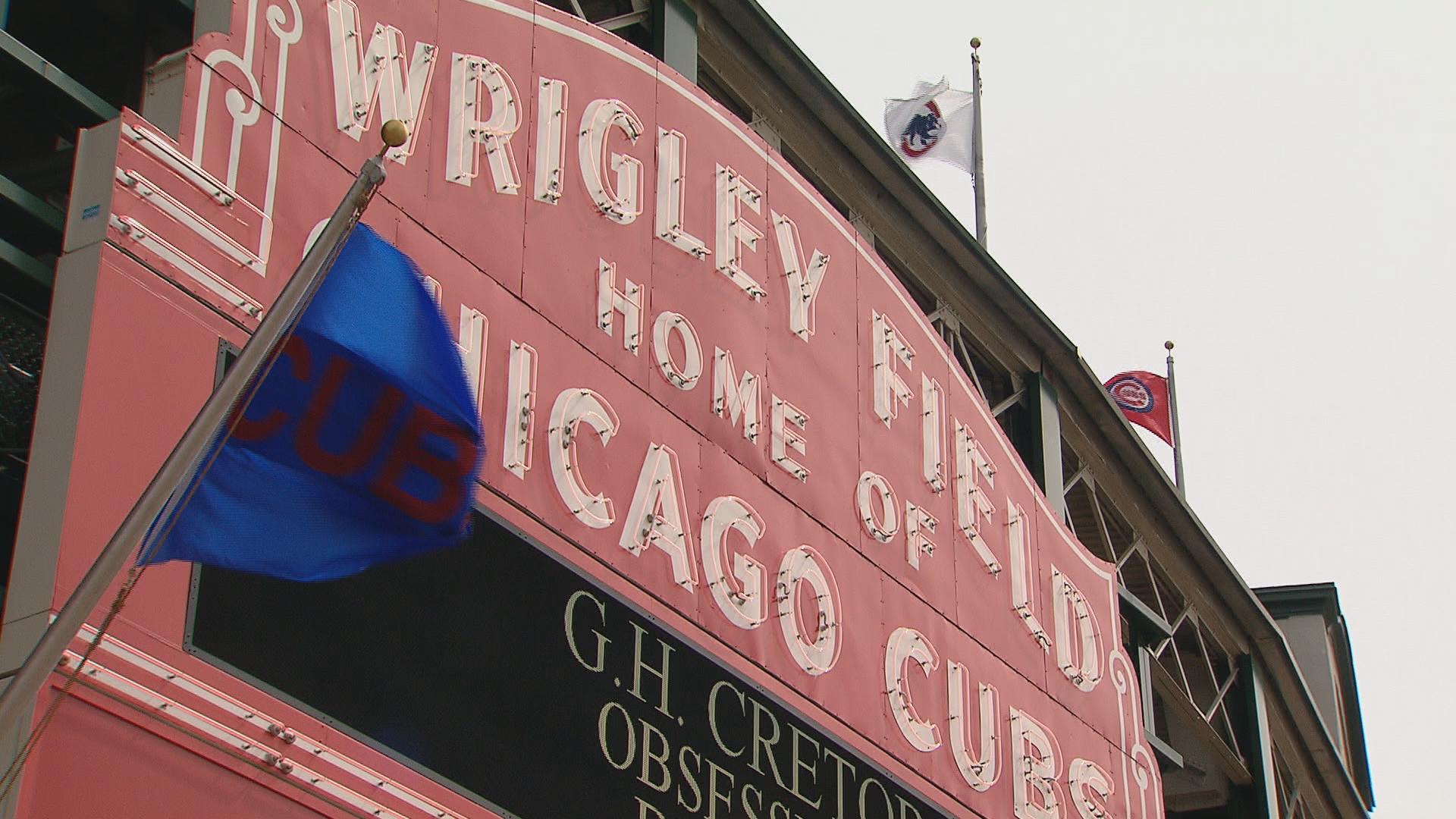 With regard to the new plaza, Lakeview Ald. Tom Tunney fought and won some tough restrictions. On game day, only patrons with game tickets can take part in the festivities – namely drinking – on the plaza.
"It's a three-year ordinance, two hours before the game starts, the plaza will only be available to ticketholders," Tunney said. "And that's really to manage, to see how this thing works, how it interfaces with the stadium and to see how it works with the community – all the people and drinking. We're very concerned about it."
The Cubs have clearly been irked by this rule. They think that anybody – ticket or no ticket – should be able to come onto the park and plaza and enjoy the merriment.
Cubs officials view the whole thing as Tunney trying to protect the other drinking establishments in the neighborhood.
"I want to apologize to our fans when they show up today, they're going to see bike racks and other things that channel them in and out of the park, rather than walk in and let them enjoy it," Kenney said. "So we'll try that for the first year and see how that works. Nobody has more to lose than we do if something happens that is untoward, and so we'll police like we do everywhere else around Wrigley Field."
The team clearly wants to revisit this policy. Tunney – not so much. They were quick to offer praise for Mayor Rahm Emanuel, who has helped broker deals between the city, where Tunney has been more intransigent.
Another thing to note: parking meters will institute what's called "surge pricing" in the streets directly around the ballpark, where the rates will shoot up during the hours in and around game time.
Follow Paris Schutz on Twitter: @paschutz
---
Related stories: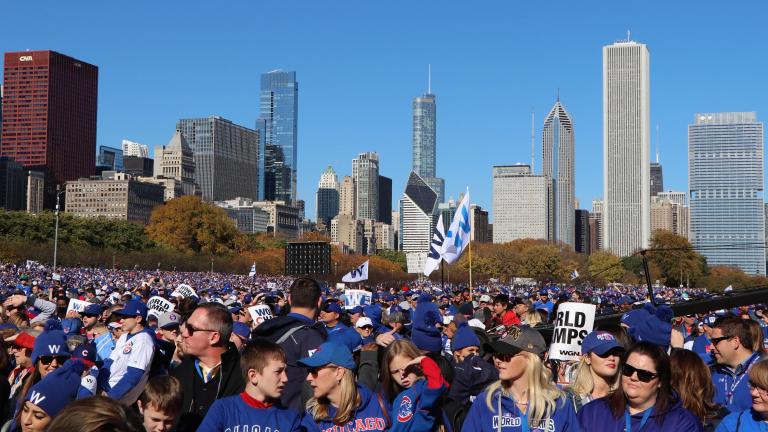 Ask Geoffrey: Was That Really 5 Million People?
Nov. 16: The Cubs rally brought throngs of fans to Grant Park. But was it really the biggest gathering ever in Chicago? Geoffrey Baer counts heads in this week's Ask Geoffrey.
---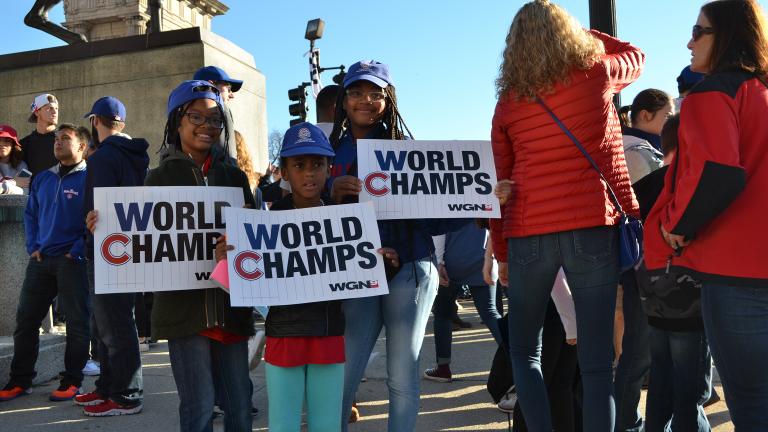 Cubs Newbies Weigh in on World Series Win
Nov. 4: What does it feel like to be part of the Cubs' new tradition of forever flying the W? We asked a few Cubs newbies who attended the championship rally.
---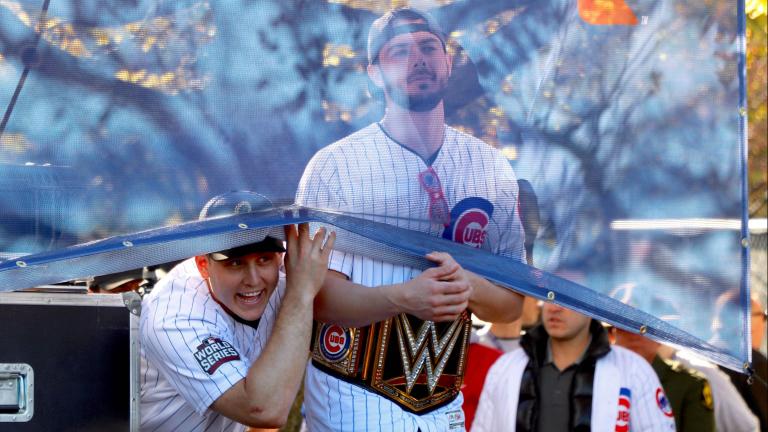 Photos: Cubs World Series Rally, Parade
Nov. 4: Scenes from the massive celebrations Friday in honor of the historic Chicago Cubs win.
---