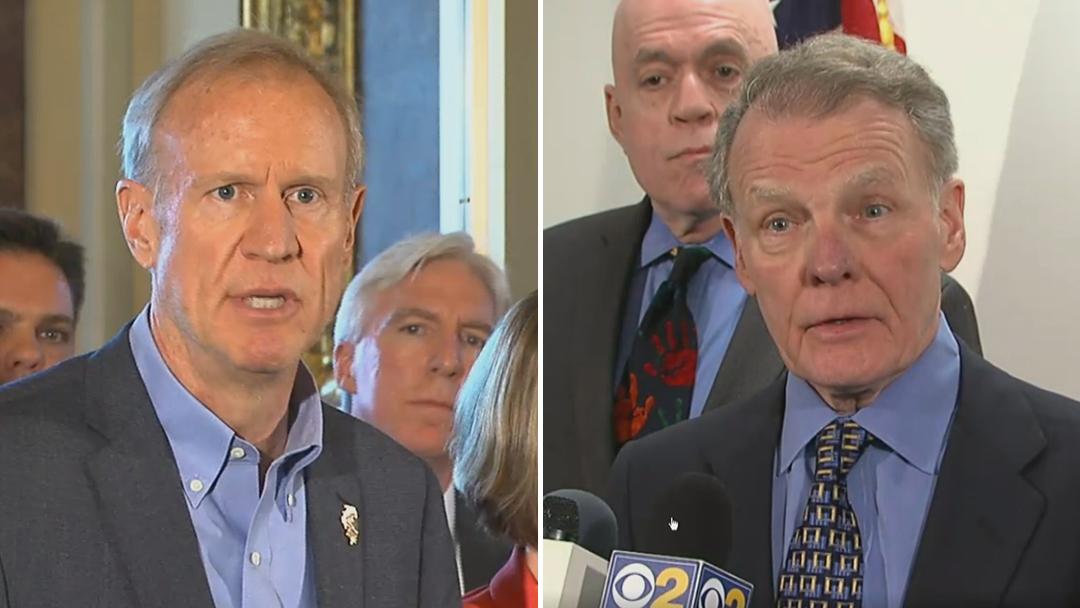 Gov. Bruce Rauner and the Republican Party he largely funds have spent months and millions trying to frame Illinois House Speaker Michael Madigan as a master puppeteer who's responsible for molding state government to his advantage at the detriment of taxpayers and the budget.
Rauner seems to have been successful – a new poll from the Paul Simon Public Policy Institute pegs Madigan's disapproval rating at 61 percent.
But Rauner appears to be dragging himself down at the same time: His own disapproval rating has sunk to 58 percent, a significant slide from the 31 percent of statewide voters who disapproved of his performance in March 2015, shortly after he became governor.
"The Governor is focused on getting Illinois back on track, not poll numbers," Rauner spokeswoman Eleni Demertzis said in a statement.
Rauner is facing what's expected to be a tough re-election fight next year.
The battle between Rauner and Madigan stands to bleed over into legislative races as well. Last year, Republicans successfully took four seats from Democrats' control in the House, meaning Madigan maintains a 67 to 51 majority, but that he lost what had been a veto-proof supermajority. The stakes of the General Assembly's 2018 election are high, as that legislature will be responsible for approving a new electoral map.
The poll – which surveyed 1,000 voters in early March and has a 3.1-percent margin of error – comes as Illinois is midway through its 21st month without a real budget.
According to the poll, 36 percent of voters statewide approve or strongly approve of Rauner's job as governor, and nowhere in the state are more voters pleased with him than they are displeased – even downstate, where he does best, Rauner's disapproval is at 56 percent.
The governor is least popular where Madigan does best: the city of Chicago – though Madigan is by no means popular in the city of his birth and district, either.
There, 64 percent of voters disapprove of Rauner and 31 percent approve, while 60 percent of voters disapprove of Madigan and 28 approve.
The popularity of Illinois' other top legislative leaders is nebulous, though none of them earn a majority approval rating either:
• Senate President John Cullerton's disapproval is 39 percent, approval is 25 percent, and 32 percent aren't sure.
• Senate Republican Leader Christine Radogno's disapproval is 26 percent, approval is 27 percent and 45 percent aren't sure.
• House Republican Leader Jim Durkin's disapproval is 36 percent, approval is 31 percent and 29 percent aren't sure.
The Rauner/Madigan faceoff is as the root of the impasse.
The governor says he'll only agree to a tax hike to balance the budget if legislators first pass legislation to make "long-term, structural changes," while Democrats continue to oppose what was long referred to as Rauner's "turnaround agenda." Without détente, the state has muddled on, to varying degrees of detriment.
Rauner says the measures he's advocating for will spur job growth and the economy, but in so doing would also loosen Democrats' grip on power: By insisting on term limits and changes to how legislative districts are drawn, Rauner's agenda would alter the political landscape on which Democrats have in recent years amassed majorities in the General Assembly, and by hindering Democrats' labor union and trial lawyer allies. 
Unions are threatened by Rauner's plans to make it optional for governments to pay the prevailing wage and to implement a state workforce contract with the American Federation of State, County and Municipal Employees that allows for volunteers to abet state workers and by his backing a lawsuit that could to permit public workers to opt out of paying fair share fees. Likewise, trial lawyers are rankled by Rauner's objective of overhauling the workers' compensation system. 
Reducing the costs of caring for injured workers is a prime request of Rauner's business base, who say they're losing manufacturing jobs and a competitive edge because Illinois' regulations are onerous and expensive compared with neighboring states.
Though Madigan has largely stayed out of the public eye this year, thoughout the long-running stalemate he has frequently characterized Rauner's plans as anti-middle class.
The governor has recently moved away from what had been a "must" – his five-point turnaround agenda – in favor of a "grand bargain" negotiated by Cullerton and Radogno.
However, Rauner and Senate Republicans loyal to their governor (and to his impressive campaign war chest) have yet to fully back it, leading Democrats to question their support.
The governor has largely refrained from weighing in on the aspects of the plan he does and does not like, beyond saying that the Senate leaders' package doesn't curb expenses enough to balance the budget and saying that if there is to be a permanent income tax hike it should be paired with a permanent freeze (barring a local referendum) in municipal property taxes.  Businesses have also griped about the workers' compensation changes in the "grand bargain," and Rauner has likewise hinted that more work is needed on that front.
The Paul Simon Public Policy Institute is part of Southern Illinois University Carbondale, and employed Customer Research International of Texas to conduct the poll. According to a press release, roughly 60 percent of those sampled were reached by cell phone, the questionnaire was available in Spanish, and respondents were roughly half men, half women.
"Clearly, both political leaders are taking a beating with voters," said Jak Tichenor, who is leading the institute on an interim basis, in a statement. "It's not good news at all for either man, both of whose political fortunes are at risk heading into next year's elections."
Follow Amanda Vinicky on Twitter: @AmandaVinicky
---
Related stories: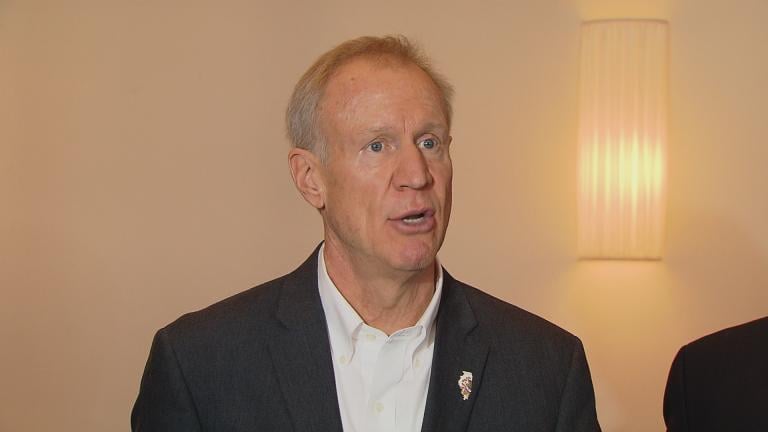 Rauner: 'No Reason to Wait' on CPS Funding
March 15: Under pressure to send Chicago Public Schools cash following a social media lashing from Chance the Rapper, Gov. Bruce Rauner's administration is intensifying pressure on Chicago Mayor Rahm Emanuel and Democrats to act.
---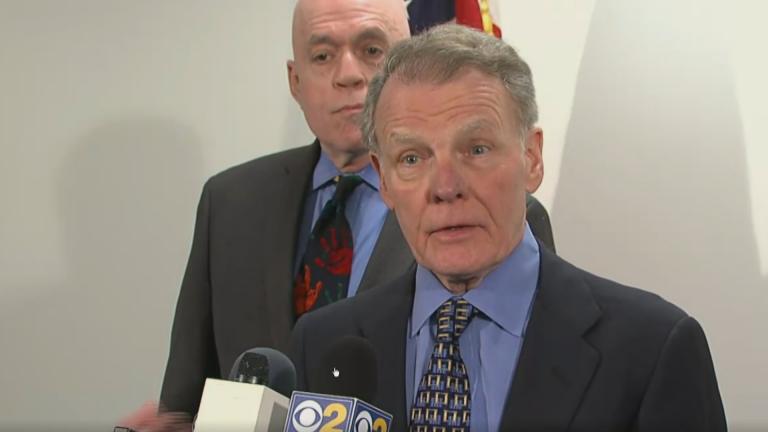 A Portrait of Michael Madigan
Feb. 21: Reuters reporter Dave McKinney takes an in-depth look at House Speaker Michael Madigan's role in Illinois' budget woes.
---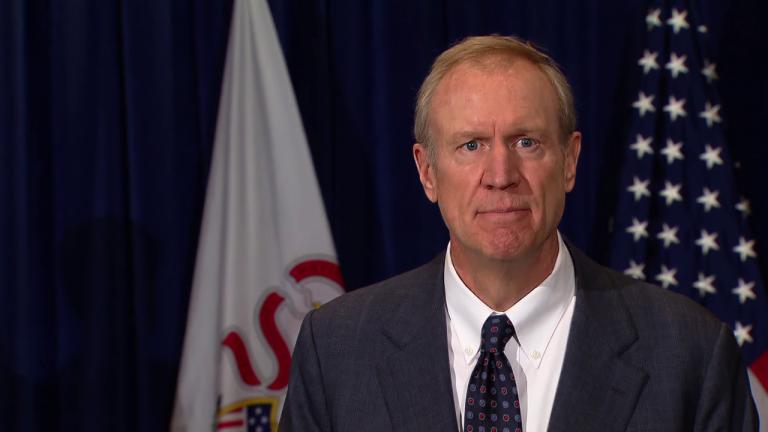 Rauner on 2-Year Anniversary: 'I Will Never Give Up'
Jan. 12: "We made some wonderful progress, also had some frustrations with lack of progress on some key items," Gov. Bruce Rauner said of his tenure Thursday as he took to Facebook Live for a two-year review.
---