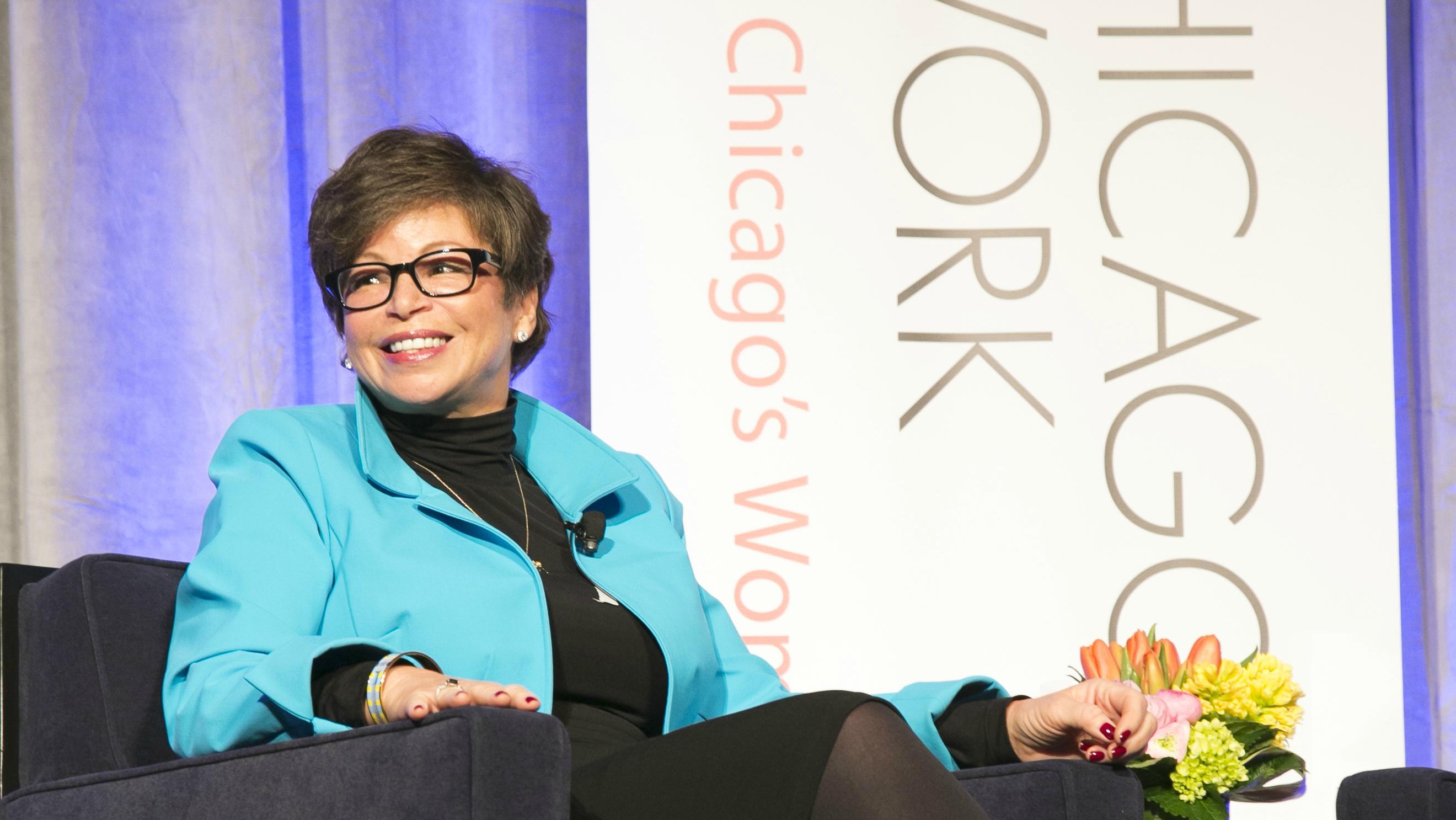 Valerie Jarrett (Courtesy of The Chicago Network)
It's a question many women ask themselves in the pursuit of work-life balance: Can I have it all?
Valerie Jarrett, former senior adviser to President Barack Obama, says her answer to that question is "evolving."
"I initially thought yes, but not all at the same time," Jarrett said Friday to an almost exclusively female audience of 1,600 at the annual Chicago Network's Women in the Forefront lunch.
"At different parts of your life, I think you have to do an assessment as to what is happening as it means to you, and to recognize that you're going to make trade-offs. There's going to have to be some sacrifices along the way."
As a young mother, Jarrett said she received lots of help from her family but even then she felt like she was "holding on by [her] fingertips." That's why she says women, especially younger women, need to be "realistic" about their expectations.
"The other way I look at it is at each stage of your life, you should try to be a whole person," she said.
During her time at the White House, Jarrett said she worked every day and although she admits she didn't have work-life balance, she did try to exercise every day and join friends for lunch on Sundays.
"There really was no balance in my life when I was in the White House," she said. "But I did have kernels in my life that made me feel grounded."
While women should be cognizant that their decisions have repercussions, Jarrett said they should remember "life is an adventure.
"It's OK to zig and zag, and I think the world is much more accepting of those zigs and zags today than when it was when we started out."
After graduating from Stanford University, Jarrett had a 10-year plan: Go to law school, join a law firm, get married by age 25 or 26, and have a child by age 30. Ten years later, she was right on track, working at a law firm in the Sears Tower.
In her "beautiful" office that overlooked Lake Michigan, Jarrett said she would cry.
"I was miserable. I thought, 'Whose life is this?'" she said. "But I was on this path. I thought it would be a failure to get divorced. … I thought it would be a failure not to become a partner in a law firm."
A good friend of Jarrett's convinced her to try something else, suggesting she join Harold Washington's administration and if she didn't like it then she could return to law.
"The first day I walked into [City Hall] I felt like I was part of something bigger than myself," Jarrett said. "I felt like I was home."
While working at City Hall, Jarrett interviewed a prospective employee named Michelle Robinson. "About 15 minutes into a scheduled 20-minute interview, I realized I was no longer interviewing her. She was interviewing me," Jarrett said to audience laughter.
Jarrett said she was so impressed with Robinson that she offered her a job. "Being the wise person she is, she said, 'Let me think about it,'" Jarrett said.
When Jarrett followed up a few days later, Robinson said she had bad news: Her fiancé, Barack Obama, thought it was a "pretty dreadful idea," because as a community organizer he rallied against city government, meaning he could be rallying against Robinson.
Rather than say no outright, Robinson and Obama invited Jarrett to dinner. She accepted.
"Good decision," Jarrett said, as the audience laughed. "I think it was a very important dinner and I think it began a lifelong friendship."
Reflecting on her eight years in the White House, Jarrett said one thing she'll never forget was the day the United States Supreme Court justices ruled 5-4 that all states must recognize and grant marriage licenses to same-sex couples.
As soon as Jarrett heard the ruling, she called then-President Obama, who was writing a eulogy for the funeral of Rev. Clementa Pickney, one of nine people killed in the shooting at Emanuel African Methodist Episcopal Church in Charleston, South Carolina.
Jarrett planned to attend the funeral with the Obamas  later that day.
"I call the president—and this is just an extraordinary moment how the world is bending towards justice—so he answers the phone, 'What?'" Jarrett said. "I respond to 'What' – which was a little off-putting—with, 'The marriage equality decision came down 5-4!' Long pause. 'Who won?'"
After telling the president the ruling was in their favor, he said, "It's a good week."
Later that day as Jarrett traveled with the president and first lady to Charleston, the president made an announcement.
"He goes to the first lady and to me, 'I think I'm going to sing. I just want to brace you all. … I'm going to sing Amazing Grace,'" Jarrett said.
During the service when the president stood up to deliver his remarks, "you could feel the energy," Jarrett said. "The congregation was alive."
Shortly after Obama began singing, the rest of the congregation joined in. 
---
At the end of the day, Jarrett returned to D.C. to see the White House illuminated in the rainbow colors of the LGBTQ flag.
"That night, to stand outside and see thousands of people congregate and look at the White House in a shade I've never seen before – that will remain iconic of a key accomplishment of the president and so many thousands and thousands of people who worked for decades across our country," she said. "That was an extraordinary day."
Follow Kristen Thometz on Twitter: @kristenthometz
---
Related stories: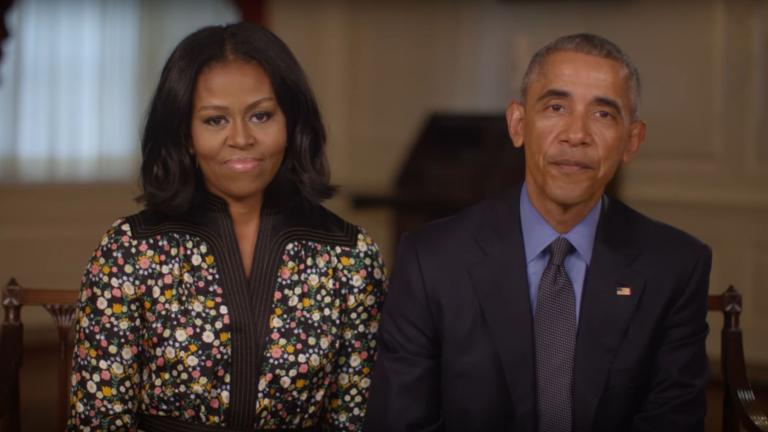 Obama Library to be 'Center for Citizenship'
Jan. 20: Hours before the inauguration of Donald Trump, President Barack Obama and first lady Michelle Obama released a video outlining their plans for the future Obama Presidential Center.
---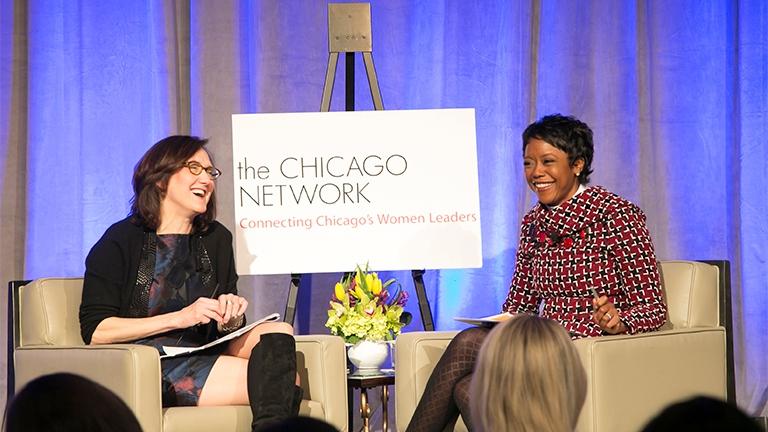 Mellody Hobson on Her Career, Marriage to George Lucas
April 19, 2016: "Bravery means that you're fearful," Ariel Investments President Mellody Hobson said to an audience of 1,600 during the annual Women in the Forefront luncheon last week. "You cannot be brave without fear. I think that's more important than anything else, especially for women."
---
---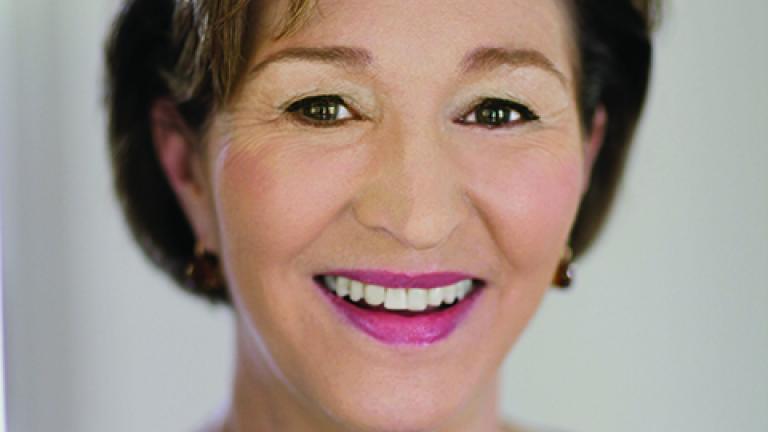 Anne-Marie Slaughter: Thinking Differently About 'Work-Life Balance'
Oct. 12, 2015: Anne-Marie Slaughter's article in The Atlantic, Why Women Still Can't Have It All, is now the most-read piece in the magazine's history. Her new book "Unfinished Business" expands upon the ideas in the article, and calls for a new valuation of caregiving and a change in the structure of the workplace. Slaughter joins us to discuss her new book.
---