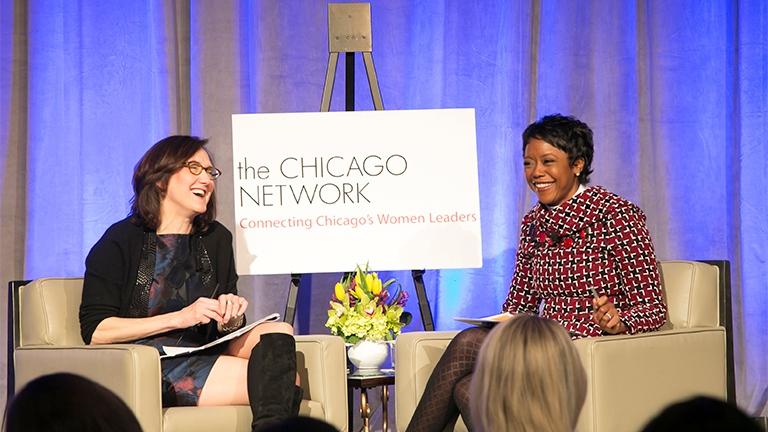 Mellody Hobson, right, speaks with Sally Blount during the Women in the Forefront luncheon on April 15. (Courtesy of The Chicago Network)
"Bravery means that you're fearful," Ariel Investments President Mellody Hobson said to an audience of 1,600 during the annual Women in the Forefront luncheon on April 15. "You cannot be brave without fear. I think that's more important than anything else, especially for women."
Hobson, 47, has been working at Ariel Investments since her graduation from Princeton University. She also serves on multiple boards, including the Lucas Museum of Narrative Art, DreamWorks Animation SKG, Inc., After School Matters, The Chicago Public Education Fund and Sundance Institute.
On her first day of work, she got some unforgettable advice from Ariel Investments' founder John W. Rogers, Jr. 
"He said to me, 'I want you to understand something, you're going to be in rooms where people have big titles and make a lot of money. But it does not mean that your ideas are not as good. I want to hear your ideas. It is beholden upon you to make sure you speak up,'" Hobson said.
"That was something that I thought was a very generous and thoughtful thing to say, and when you're 22 years old and you're going into the big world of finance and you know nothing about nothing, it was a very reassuring and compelling comment to give me as a young person."
Oftentimes, Hobson would be the only female and African-American in those rooms, but that didn't stop her from speaking up. She admits, at first, it wasn't easy.
"I got better over time. Sometimes my voice would quiver but I said it, and the more authentic I was, the more successful I became," she said. "My goal was to be original. And I had a friend who once told to me, 'To be original there's no one like you.'"
In 2014, Hobson gave a TED talk titled, Color blind or color brave? Watch it below.
For Hobson, originality and self-confidence were cultivated at an early age.
"My oldest sister is two decades plus older than me. … My family made sure I knew that I was not planned," Hobson said. "Because I was the only child in this family of six kids, in some ways, I was very comfortable being different and standing out and having my own opinion.
"My mother in her own way even encouraged it, even though she was very wedded to her own beliefs. She was very tolerant of my inability to be controlled."
One thing that Hobson's learned to control is how she presents her opinions.
"Because my opinions come out so strong and because I can sound so sure and confident, it can stifle other people's opinions," she said. "I have to work really hard at thinking about how to balance that, how to still be authentically me but not create a scenario where others feel fear in not agreeing with me."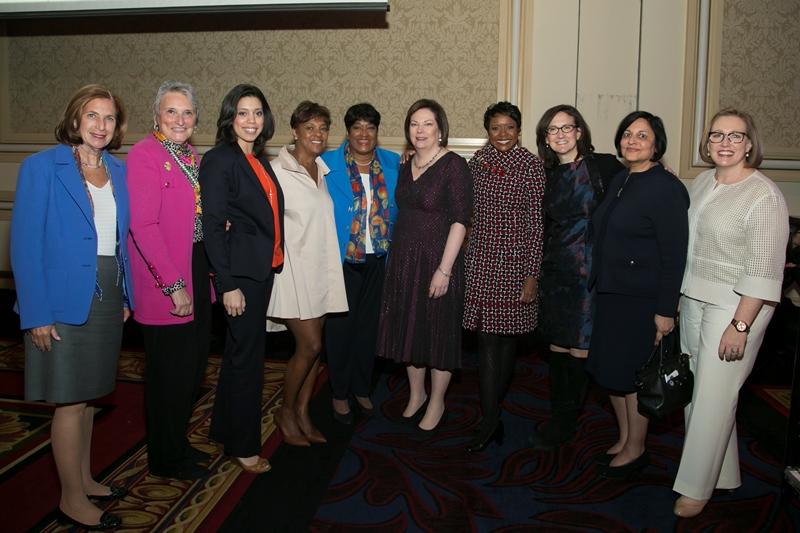 Guests at the Women in the Forefront luncheon from left to right: Ilene Gordon, Carla Michelotti, Jamie-Clare Colvin, Kym Hubbard, TCN Board Chair Donna Thompson, TCN President & CEO Kate Bensen, Mellody Hobson, Sally Blount, Kapila Anand and Elizabeth Hartigan Connelly. (Courtesy of The Chicago Network)
Though it may not seem obvious, Hobson says she's "failed miserably at times." During the economic downturn a couple of years ago, Ariel Investments was losing clients every day.
"My whole sense of self was wrapped up in Ariel. When Ariel was successful, I felt successful," she said. "When Ariel wasn't performing, I felt like a failure."
At the time, she was dating movie mogul George Lucas (the two married in 2013), who offered some advice using a metaphor quintessential of Chicago winters: snowstorms and blizzards.
"In a blizzard, you never look up. You're always watching your feet. If you look up at the storm, you're going to fall. But if you just watch your feet and just go from one place to the next, you will succeed. You will keep walking," Hobson said of Lucas' advice.
It's that wisdom generations of Star Wars fans have come to know.
"When you have an idea that lives and thrives for 40 years with multiple generations of people and those messages stand the test of time, it's because those messages are very wise and very deep," Hobson said.
On Aug. 9, 2013, Hobson and Lucas welcomed a baby girl, Everest Hobson Lucas, via gestational surrogate.
"Watching him with our 2-year-old sing [and] play–it's stunning," Hobson said. "I'm the better storyteller. I'm more patient. … But he's good with other things, like singing and playing with her. We're a good combination."
Follow Kristen Thometz on Twitter: @kristenthometz
---
Related stories from "Chicago Tonight"
McCormick Place East Proposed as New Site for Lucas Museum
April 15: A new lakefront location for the Lucas Museum of Narrative Art is being proposed in Chicago. Mellody Hobson, wife of movie mogul George Lucas and board member of the Lucas Museum, calls it a "good idea."
---