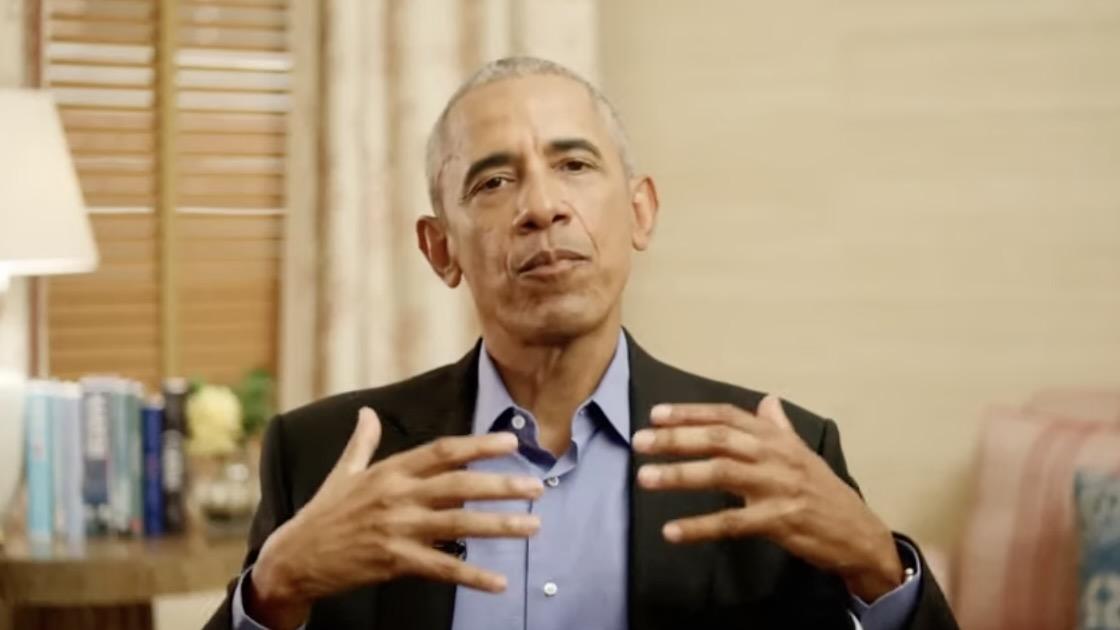 Former President Barack Obama addresses the Economic Club of Chicago, June 4, 2021 (Credit Economic Club of Chicago)
Former President Barack Obama warned Chicago's business leaders Friday afternoon that American democracy is imperiled by persistent economic inequality and structural racism, and said corporate America has a responsibility to call out voter suppression efforts.
The former president's participation in a virtual gathering of the Economic Club of Chicago was the latest in a string of public appearances he has made in his adopted hometown in an effort to train the spotlight that follows him everywhere on plans to build the Obama Presidential Center in Jackson Park.
But many of the questions Obama fielded from Chair Debra A. Cafaro reflected a growing concern that American democracy has been seriously and significantly weakened by the Jan. 6 insurrection led by a mob of pro-Trump supporters at the U.S. Capitol and efforts by the Republican Party to enact new laws designed to restrict voting rights.
Obama said he had been "sobered" by a worldwide trend of increasing authoritarianism that has weakened democracies. That trend was accelerated and cemented by the Great Recession, which boosted the economic fortunes of those who were already wealthy and made it harder for those struggling to get a firm foothold in the economy, the former president said.
That created "stress, anger, resentment" that congealed into a "toxic brew" that fueled left- and right-wing populism, said Obama, who did not mention former President Donald Trump by name in his remarks, referring to him only as "the person who was occupying the White House."
Obama acknowledged, as he did the first volume of his memoir "A Promised Land," that his response as president to those conditions was insufficient.
"We did not effectively enough address very real concerns ... about economic inequality fast enough," Obama said. "We have to go more quickly to give people some sense that if they work hard, they are able to succeed, and their kids will be doing as well if not better than they are."
Democracy is threatened when people feel like politics does not include them or make sense as part of a larger national story, Obama said.
"At times, technocratic policymakers neglected to recognize that it is not just about policy but about how you feel," Obama said. "The hard right has tapped into this sense of identity that is based on nativism, or anger, or resentment, or racial status. Combating that is just as important as delivering on economic policy."
The Biden administration "is right on track" in fighting those forces, Obama said.
Saying he was "trying not to be too partisan," Obama said he was dismayed to see one of the major American political parties "not only fail to condemn" the insurrection but also "embrace a patently false narrative about the election being stolen."
It is alarming to see Republicans embrace laws that allow partisan state legislatures to decide whether to certify an election and to "institute voter suppression" efforts targeted at cities like Atlanta — which is home to a majority of African American residents, Obama said. There should not be "two different sets of rules" for different voters in the same state, he added.
"That is the kind of dangerous behavior that we're going to have to push back on," Obama said. "And the corporate community has a responsibility to at least call folks out on it."
Otherwise, America's diverse, multiracial democracy is in peril of breaking, Obama said.
"And that's not going to be good for business, not to mention good for our soul," Obama said.
To prevent that from happening, "institutional changes" are necessary, Obama said, decrying political gerrymandering. 
Hours before Obama spoke, Gov. J.B. Pritzker signed into law new maps of districts for the state legislature, Illinois Supreme Court and Cook County Board of Review, defying an earlier pledge that he would reject any map drawn by legislative leaders or their surrogates.
Rules that require 60 votes in the U.S. Senate to end a filibuster should be "significantly modified" to allow new laws designed to reduce climate change, immigration and voting rights, Obama said.
"We're going to have to break through this logjam to make things work," Obama said, calling on Congress to expand access to the ballot box. 
Obama also decried the media ecosystem, which he said had been "turbocharged by social media" that has undermined traditional journalistic ethics that rewards people for "just making stuff up."
"Democracy can't work if we can't agree on the facts in front of us," Obama said.
Nearly five years after Obama picked Jackson Park for his presidential library, work began in April to transform the historic South Side park into the home of the $500 million Obama Presidential Center. A formal groundbreaking is set for the fall, and construction is likely to take four years, according to the Obama Foundation.
Obama told club members that his presidential center, set to include a four-building campus, branch library, plaza, play areas, pedestrian and bicycle paths and landscaped open space, would be different from traditional presidential libraries that "can be backwards looking" and "kind of a mausoleum."
Instead, the Obama Presidential Center is designed to be an "alive and vibrant" part of the city that will serve as a "powerful engine" that will fight economic inequity in Chicago and breathe new life into the South Side, which has faced decades of disinvestment, Obama said.
Chicago has "acutely" experienced the economic and racial divide that is confronting America, dividing it into two cities, Obama said. That division is holding Chicago back, Obama said.
"That is the millstone," said Obama, adding that businesses need to be shown that it is safe — and profitable — to locate not just downtown or on the North Side.
Valerie Jarrett, the former president 's longtime friend who served as a senior adviser in his White House who now serves as the president of the Obama Foundation, said nearly $900 million had already been raised for the center, including $266 million toward a goal set by foundation officials to raise $400 million from Chicagoans and Chicago firms.
"It's going really well, despite the pandemic," Jarrett said. "But we have a ways to go."
Contact Heather Cherone: @HeatherCherone | (773) 569-1863 | [email protected]
---