A big test is expected this week on state Senate leaders' plan to break the gridlock in Springfield.
Senate President John Cullerton says he and the state's top Republican, Christine Radogno, negotiated throughout the weekend.
Cullerton refrained from sharing exactly what they've changed since the broad parameters of the "grand bargain" were first unveiled in early January – even legislators don't yet know those details, though they'll be apprised Tuesday when the General Assembly returns to Springfield.
However, he says an increase in the minimum wage is no longer attached to the rest of the take-it-or-leave-it, linked series of a dozen bills. Included are a plan, as sought by Gov. Bruce Rauner, to sell the James R. Thompson Center in downtown Chicago, and a new method for funding schools.
Education funding is tricky: Legislators have spent years talking about dispersing state funds in a way that's more fair (or at least in a way that directs more money to the poorest school districts), and just last week a task force formed by the governor to study the topic issued a final report that failed to identify a specific path.
Cullerton and Radogno's package doesn't only cover school funding; it also features an income tax hike, gambling expansion, a property tax freeze, changes to workers' compensation and reductions to state pension benefits.
"Illinois has never gone this long without a budget," Cullerton said Monday during a speech at the City Club of Chicago. "Getting out of this mess is not going to be easy. Lawmakers need to take tough votes. Trust me. Lawmakers don't like taking tough votes. And it certainly doesn't help when, for the past few weeks, every interested lobbyist in the state has been telling them 'this part or that part of the plan is a deal breaker.' "
Even lobbyists and organizations that have been clamoring for an end to the impasse are taking issue with the only currently viable fix: Public employee unions like AFSCME hate the part that will cut their pensions, the Chamber of Commerce demands altering the workers' compensation system so it's less expensive for businesses, but doesn't like how it's done in the Senate's version. Current casino owners don't want more competition, and cities that aren't slotted to get a new casino as part of the bargain are jealous of those that are and jockeying to get in on the action.
Whether the measure has a chance given the vast pushback remains to be seen. Given that, Cullerton and Radogno should have pull with Democratic and Republican members respectively.
"It's really refreshing," Cullerton said. "If you saw the people coming in to testify against this bill, they know that both leaders are for it. And the members, even questioning each other in committee, are more respectful because it's bipartisan by definition."
But cautious legislators, many of whom who complain that the package is either too grand or that elements aren't grand enough, may be unwilling to agree to so many tough votes, given that its future beyond the Senate chamber is even more uncertain. Rauner hasn't endorsed the deal, and expectations are that it won't fly in the House (the spokesman for House Speaker Michael Madigan has refrained from weighing in on the deal while it's still in flux).
Such concerns have previously delayed votes on the package, but Cullerton on Monday committed to running it sometime over the three days the Senate is scheduled to meet in Springfield.
Cullerton says the stakes are too high to not try. The current "grand bargain" proposes an income tax of 4.99 percent. About the possibility of waiting until after the 2018 election, Cullerton said, "I don't even want to speculate what the tax rate would need to be to try to dig out of that hole."
Not to mention he says that without immediate action, Illinois' credit rating will by then be junk, teachers will get laid off, programs that have already been cut will fall to the wayside and several state public universities will have closed.
"If not this plan, then what? And if not now, then when?" Cullerton asked.
His position got a nudge from Standard & Poor's. While the ratings agency refrained from endorsing the proposal, its analysts issued a report that says passage of the bipartisan Senate plan "could put the brakes on the state's credit decline."
"S&P Global Ratings believes that legislation providing additional revenue and enhanced funding certainty could improve the state's near-term fiscal outlook relative to its trajectory otherwise," the report reads. "If lawmakers were to begin asserting governing control over state finances, that could help alleviate some of the pressure currently bearing down on Illinois'' credit quality."
Cullerton challenged Rauner to present an alternative next week, during his Feb. 15 budget address, but when the governor appeared recently before the Chicago Tribune's editorial board, he indicated he will not introduce specific cuts.
A recent column asserted that the impasse has prompted Cullerton to contemplate stepping down in the near future.
"I'm not resigning. I don't think it's a good idea to start talking about the 2019 Senate president race," Cullerton said.
But he hinted that his political future will hinge in part on the success, or not, of the "grand bargain."
"If we're successful it makes it that much easier to make that decision," he said. "It's not as much fun when you're in this embarrassing situation. Where we're the laughingstock of the nation and we have all this terrible tragedy that's occurring right now and it's frustrating. So we take this seriously, we all do. Every senator. And it's … you just have to provide leadership … leadership is not getting people to vote for easy votes. That's not leadership. It's getting people to vote for stuff that they don't really want to vote for. And so that's what both Sen. Radogno and I are attempting to do. And it's harder and harder in this world these days. The way people get their news and the way campaigns are funded. It just makes it more difficult."
Follow Amanda Vinicky on Twitter: @AmandaVinicky
---
Related stories: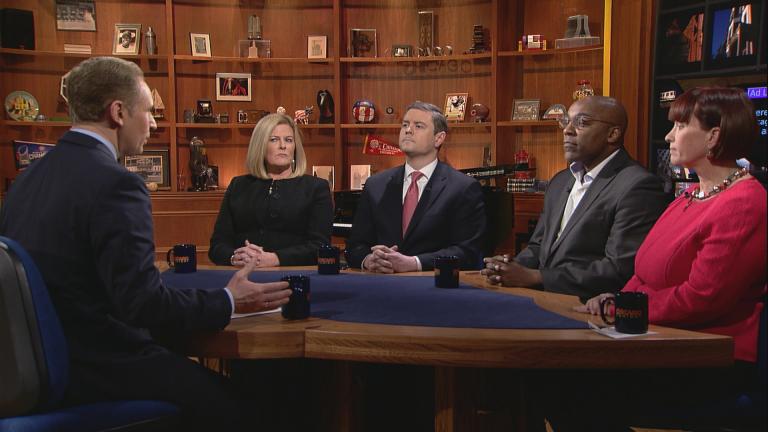 Senate Negotiations on 'Grand Bargain' Budget Continue
Feb. 1: What progress have state senators made on negotiating a budget deal, and how will Gov. Bruce Rauner and House Speaker Michael Madigan react if it passes?
---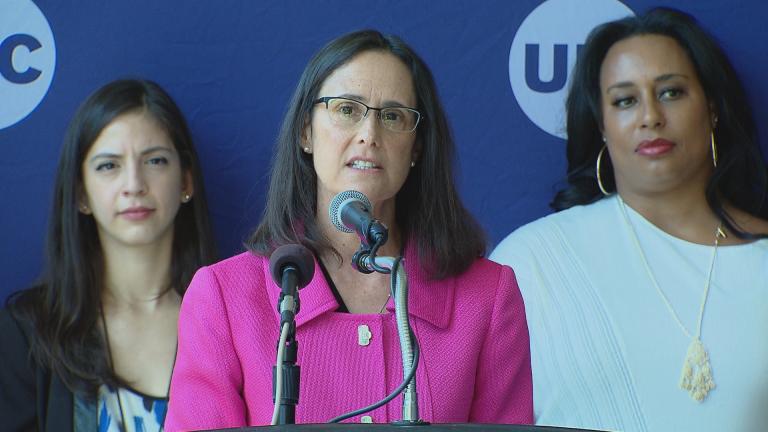 AG Madigan Files Motion to Stop State Workers' Pay Until Budget Passed
Jan. 27: Attorney General Lisa Madigan took legal action Thursday night that could bring an end to Illinois' long-running budget imbroglio, by initiating either a shutdown or a compromise.
---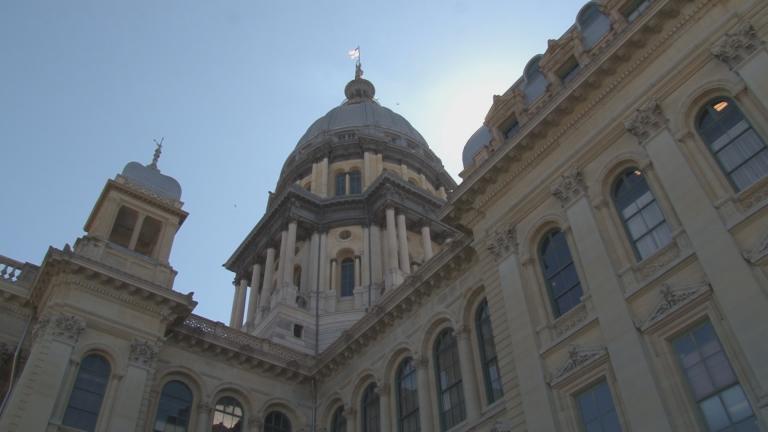 Bipartisan 'Grand Bargain' Hits Pause in Springfield
Jan. 24: Illinois residents would pay a personal income tax rate of 4.99 percent under the latest incarnation of a bipartisan proposal proffered by Senate leaders.
---