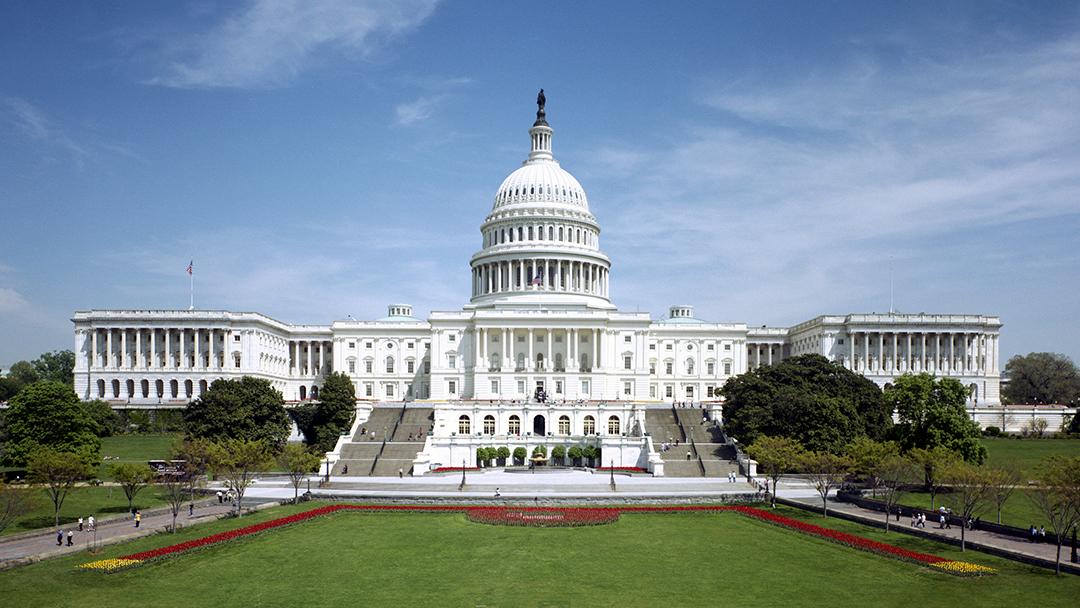 Protesters and immigration lawyers rushed to O'Hare International Airport this weekend in response to President Donald Trump's executive order temporarily banning immigrants from seven predominantly Muslim countries from entering the United States.
By Monday morning, a majority of Illinois' congressional members had reacted to the order through written statements and/or social media posts. We've compiled their responses below.
NOTE: As of noon Monday, Chicago Tonight had not received statements from U.S. Reps. Bobby Rush (Democrat, 1st District), Peter Roskam (Republican, 6th District), Danny Davis (Democrat, 7th District), Rodney Davis (Republican, 13th District) and Darin LaHood (Republican, 18th District).  
Jump to your district: District 2 | District 3 | District 4 | District 5 | District 8 | District 9 | District 10 | District 11 | District 12 | District 14 |District 15 | District 16 | District 17

U.S. Senators Dick Durbin and Tammy Duckworth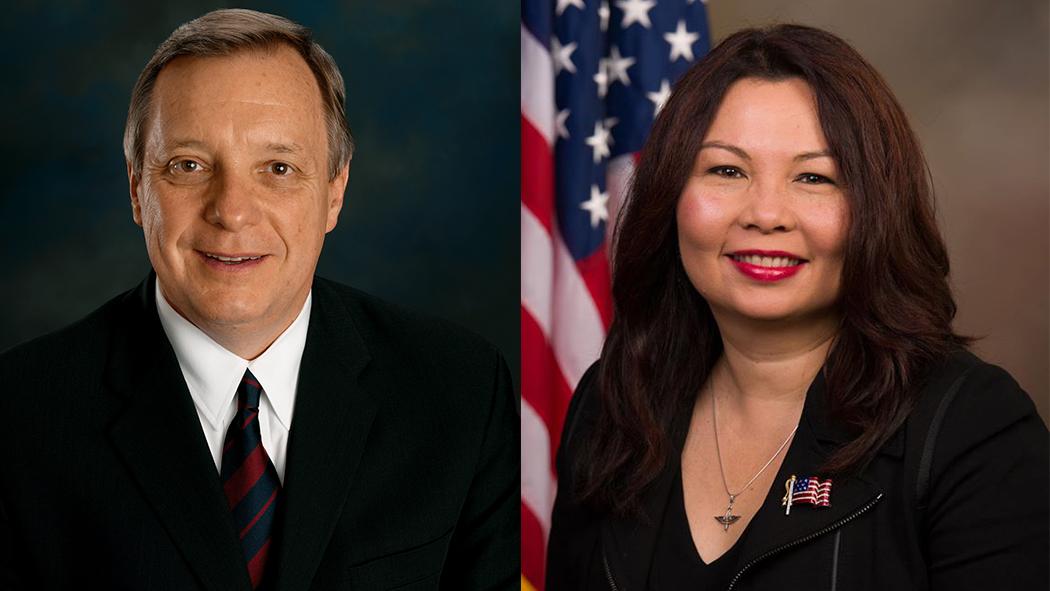 U.S. Sens. Dick Durbin and Tammy Duckworth
The two issued a joint statement Sunday calling on the Department of Homeland Security's Office of Inspector General to investigate DHS' "potentially illegal implementation" of Trump's executive order. 
"We are deeply concerned by [Customs and Border Protection's] failure to respond to time-sensitive Congressional oversight inquiries and allegations that the agency refused to permit attorneys to meet with detained LPRs at O'Hare and other airports across the country," Durbin and Duckworth said in the statement.
Read their full statement here
The senators also issued separate statements on Friday, when Trump signed the order.
"As a child, I witnessed the refugee crisis borne out of people fleeing the Khmer Rouge and Pathet Lao in Southeast Asia with my own eyes," Duckworth said. "I'm proud that our nation acted during that crisis to take in refugees, but I remain motivated by the knowledge that we could have done much, much more ... The America that I know is not one that slams its doors on families and children fleeing barbarism and terror, but one that shines brightly as a beacon of hope for all human beings. Giving in to our fears, as the President has done, is not the action of a strong country."
Read Duckworth's full statement here
Durbin's statement called on congressional Republicans reject Trump's executive order.
"History will judge where America's leaders stood today," Durbin said. "Faced with the humanitarian crisis of our time, the United States cannot turn its back on children fleeing persecution, genocide, and terror. During the Holocaust we failed to fulfill to our duty to humanity. We cannot allow mindless fear to lead us into another regretful chapter in our history."
Read Durbin's full statement here

U.S. Rep. Robin Kelly (Democrat – 2nd District)
Kelly joined protesters Sunday at O'Hare and denounced Trump's order on Facebook and Twitter.

U.S. Rep. Dan Lipinski (Democrat – 3rd District)
On Twitter, Lipinski said he opposed the executive order and said his office was "open to assist all individuals and families with immigration-related issues."

U.S. Rep. Luis Gutierrez (Democrat – 4th District)
Gutierrez issued a statement Friday responding to Trump's order.
"Man up, Mr. President," he said. "Have faith in the strength of your own country and the vitality of her citizens and culture. A nation of 300 million people that has blazed a trail for the world for more than 240 years can withstand 50,000 moms, dads and children fleeing for their lives. We always have and we always should."
Read his full statement here

U.S. Rep. Mike Quigley (Democrat – 5th District)
Quigley issued a statement Saturday.
"President Trump's executive order creating a Muslim ban undermines the foundational ideals of the United States, a nation founded by immigrants," he said. "I call on the Administration to immediately rescind this shameful order, which will have very real and dangerous consequences."
Read his full statement here

U.S. Rep. Raja Krishnamoorthi (Democrat – 8th District)
On Saturday, Krishnamoorthi joined protesters at O'Hare.

U.S. Rep. Jan Schakowsky (Democrat – 9th District)
Schawkowsky joined protesters at O'Hare on Sunday after participating in a rally and "Know Your Rights" event for Iraqi and Syrian immigrants and refugees.
"If the President wants to kick out our immigrant brothers and sisters, we'll link arms and stand in the doorway," Schakowsky said on Facebook. "If the President wants to block legal residents and visitors from entering our nation of immigrants, we'll be at the airports to bring them home."

U.S. Rep. Brad Schneider (Democrat – 10th District)
Schneider issued a statement Friday denouncing the order.
"Today's executive order is a disgraceful and callous attempt to ban members of one religion by instituting a de facto religious test for entry," he said. "This discriminatory order does nothing to target the root causes of terrorism, does not make our country safer, and undermines the very values that define our nation."

U.S. Rep. Bill Foster (Democrat – 11th District)
Foster responded Saturday on Twitter.

U.S. Rep. Mike Bost (Republican – 12th District)
Bost issued a statement through a spokesperson but did not denounce Trump's order.
"Congressman Bost believes the top priority of the federal government is to keep the American people safe," said Bost's Communications Director, George O'Connor, via email. "It has become clear that we need a top-down review of our vetting process, and that it can be conducted in a manner that respects the rights of law-biding citizens. In the wake of terrorist attacks in Paris and elsewhere, Congressman Bost voted for bipartisan legislation to pause the intake of refugees from certain high risk locations until our screening systems are improved. Given the world we live in today, taking steps to strengthen our national security is simple common sense."

U.S. Rep. Randy Hultgren (Republican – 14th District)
Hultgren said it's "prudent" to review and strengthen the country's visa screening processes but called Trump's executive order "overly broad," noting "its interpretation has been inconsistent and confused."
"I believe that the vetting within the refugee program is already extensive and thorough—it is currently the most difficult and lengthy process to get into the United States, typically taking 18 months or more for a vulnerable family to survive while they wait approval to enter our country. I expect the rigor of the vetting process to be confirmed during the 120-day review of our current visa policies regarding refugees," he said.

U.S. Rep. John Shimkus (Republican – 15th District)
Shimkus issued a statement Sunday that was mostly in support of Trump's order.
"This temporary halt will give Congress and the new Administration time to evaluate and improve the vetting process, and in the meantime gives Secretary Kelly authority to grant exceptions to the restrictions as needed," he said.

U.S. Rep. Adam Kinzinger (Republican – 16th District)
On Sunday, Kinzinger responded with a statement stressing the importance of national security in the "generational fight against radical Islamist terrorism." But he also called on the administration to provide clarity on the order and said the reported detention of green card holders was "unacceptable." 
"I support a comprehensive look at our vetting process, and I believe it's something every new administration would be expected to do," he said. "However, reports of green card holders and those who assisted us in the war on terror being denied or delayed entry is deeply concerning. Such detention is unacceptable and must be remedied immediately."

U.S. Rep. Cheri Bustos (Democrat – 17th District)
Bustos published a statement Saturday rejecting the executive order.
"Once again, President Donald Trump's impulsive behavior has put lives at risk – this time it's innocent victims fleeing ISIS terrorists and Iraqis who stood with our military," she said. "Donald Trump's hastily drafted executive order diminishes America's superpower role as a global example for democracy while undermining our national security by breaking the trust between American troops in the field and the foreign fighters they count on every single day."
---
Related stories: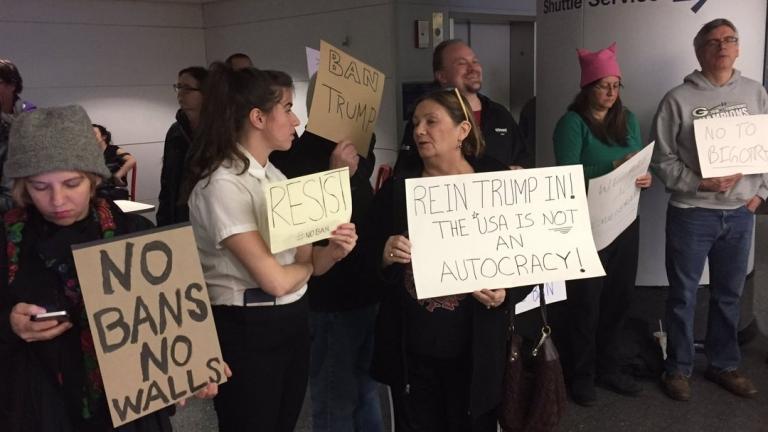 Refugees, Visa and Green Card Holders Detained, Turned Away at O'Hare
Jan. 29: What began as a regular Saturday at O'Hare International Airport grew into a dizzying scene of demonstrators and attorneys working feverishly to release travelers who had been detained by U.S. customs and border patrol officials.
---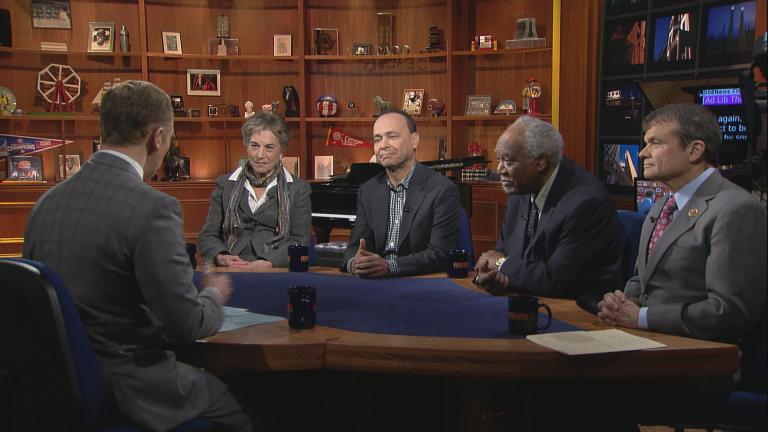 New Reality: 4 Progressives Report on Congress
Jan. 26: Republican lawmakers help President Donald Trump in his first whirlwind week in office. Democratic Congress members join us with their reactions.
---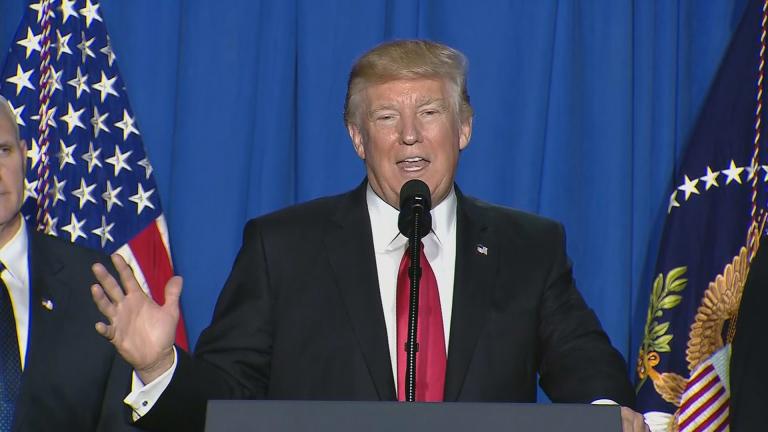 Women's March Inspires Trump Taxes March Chicago
Jan. 26: Thousands have expressed interest in a march urging Donald Trump to release his tax returns. "We want to see your taxes, Mr. President," said organizer Taran Brar.
---