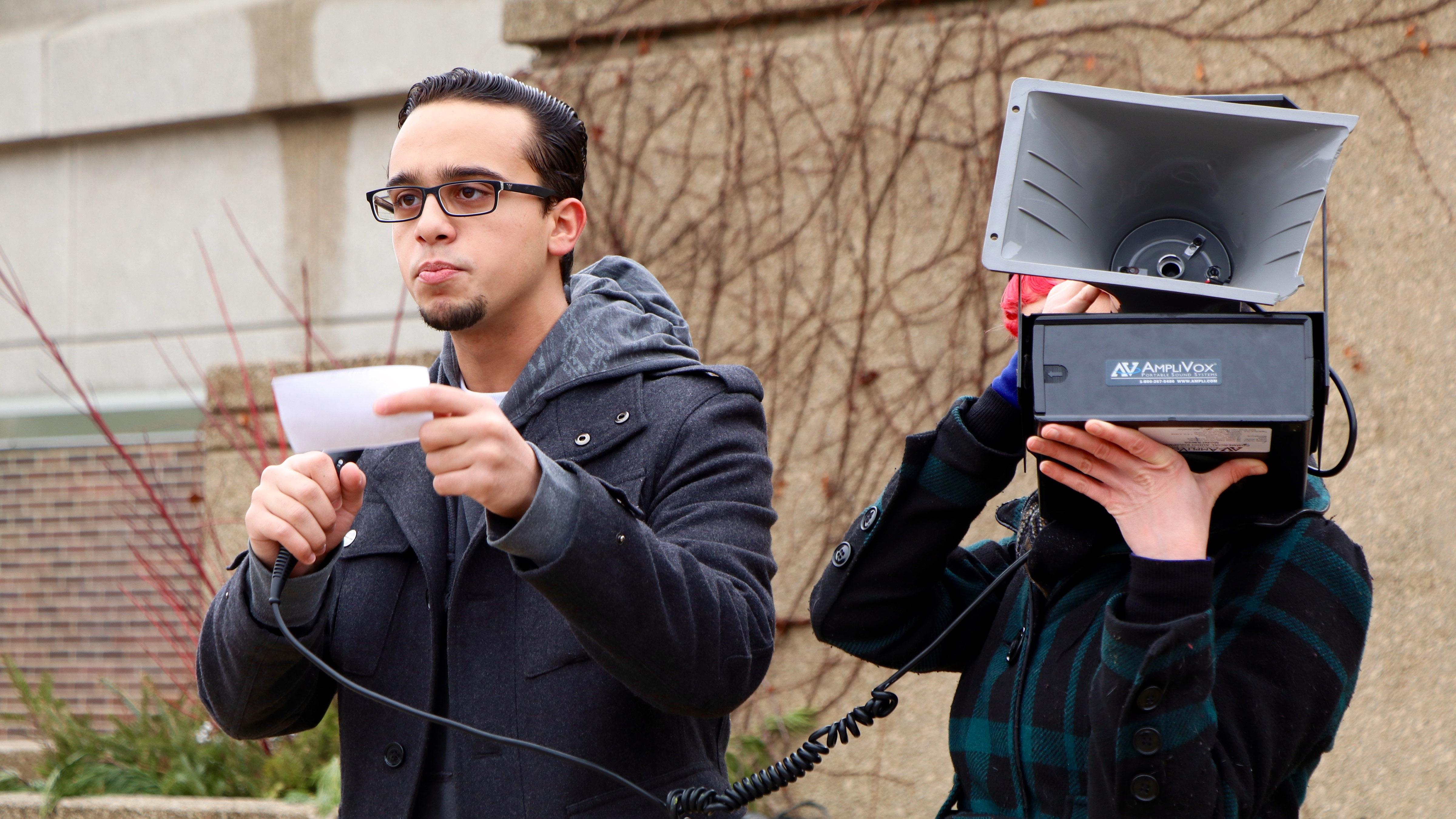 An organizer from University of Illinois at Chicago's Muslim Student Association speaks about diversity and tolerance at an anti-Trump protest held Friday. (Evan Garcia / Chicago Tonight)
Students at the University of Illinois at Chicago walked out of classrooms Friday morning to protest the inauguration of Donald Trump.
The event, which drew about 100 to 200 people, was arranged by several student organizations and activist groups at UIC, which ranks among the most ethnically diverse universities in the country.
Protesters gathered in the school's quad, shouting in unison, "not my president" and, "no hate, no fear, immigrants are welcome here."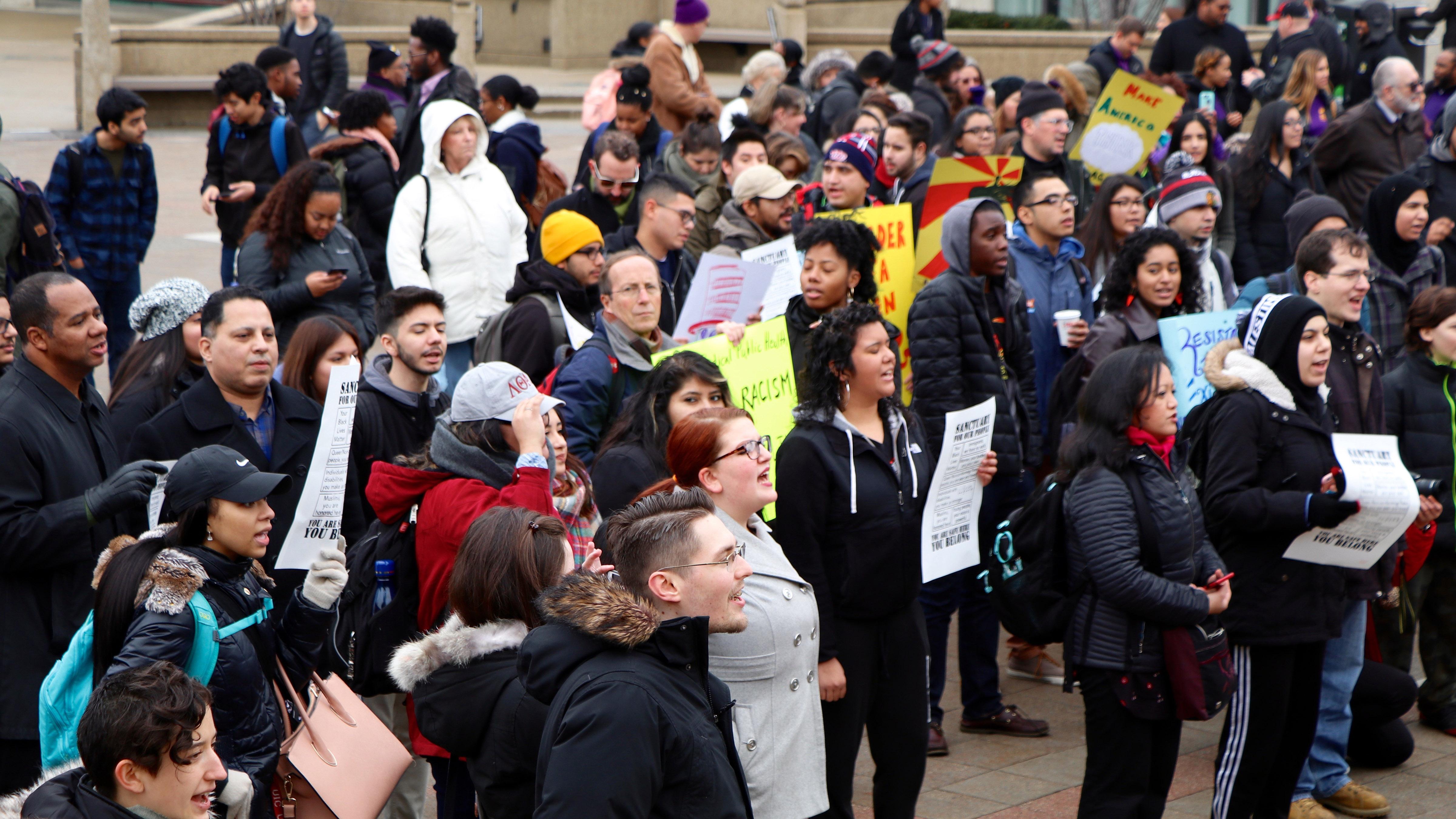 Spectators and protesters gather at the anti-Trump student walkout demonstration at UIC on Friday. (Evan Garcia / Chicago Tonight)
In between chants, speakers discussed concerns stemming from Trump's past campaign rhetoric and his stances on immigration, health care, policing and other policies.
The president of UIC's Black Student Union, 21-year-old Sam Adeleke, said demonstrations aren't enough to enact change.
"Protesting is a really good idea, but I think sometimes things get lost behind that idea of protesting as the last stop," said Adeleke, a junior studying economics.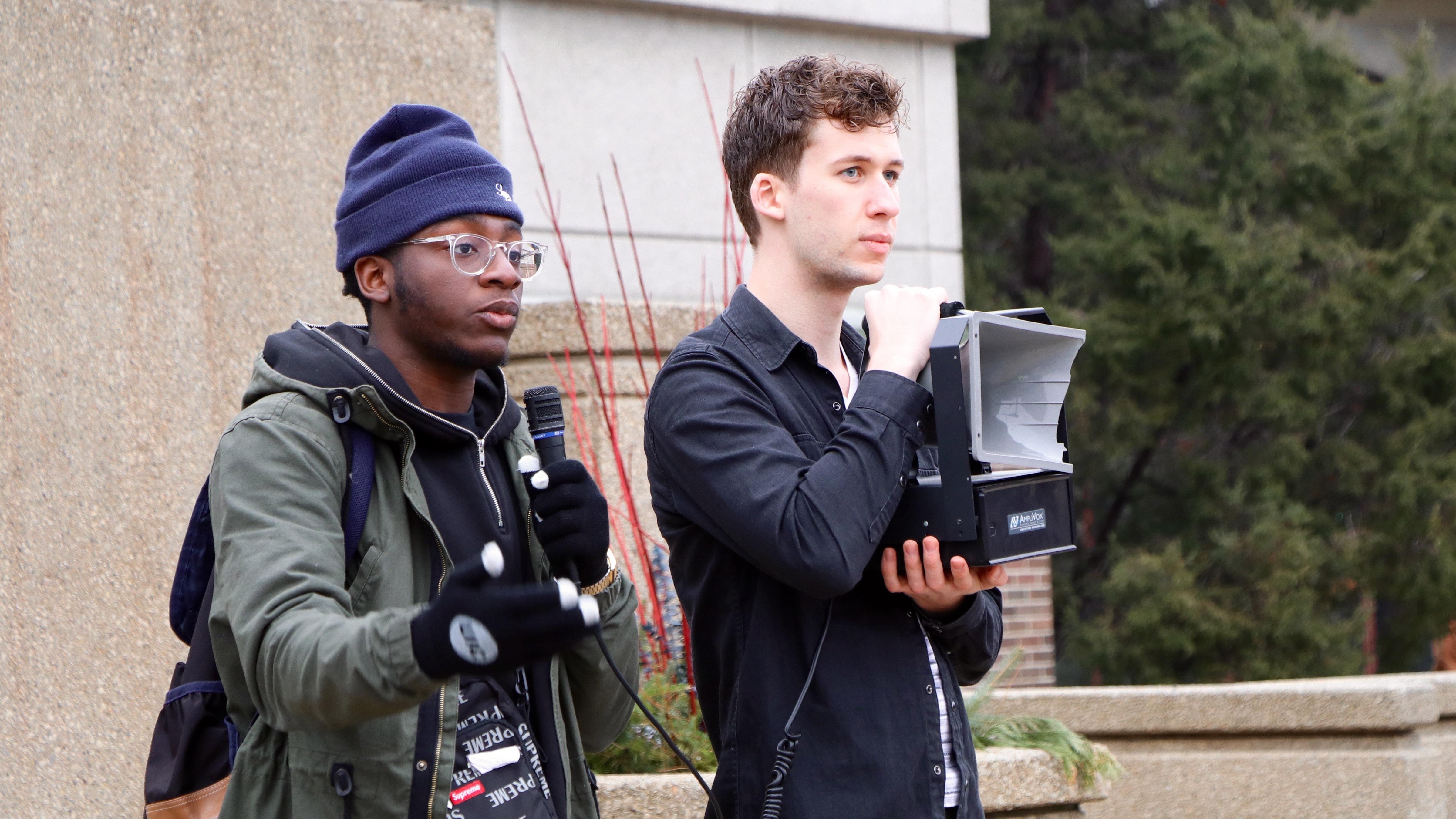 Sam Adeleke, president of UIC's Black Student Union, speaks about the need for students to contact government officials with their concerns. (Evan Garcia / Chicago Tonight)
Adeleke said young people worried about the Trump administration must put pressure on local politicians to represent their ideals because "those are the ones who can make an actual difference."
At one point during the rally, two young men began counter-protesting from the back of the crowd while waving an American flag. They were almost immediately swarmed by attendees of the rally.
Tempers remained relatively calm after several minutes of shouting matches back and forth.
Wearing a "Make America Great Again" hat, Saleh Askar, a 21-year-old psychology student, was on his way to class when he decided to instead join the counter-protest.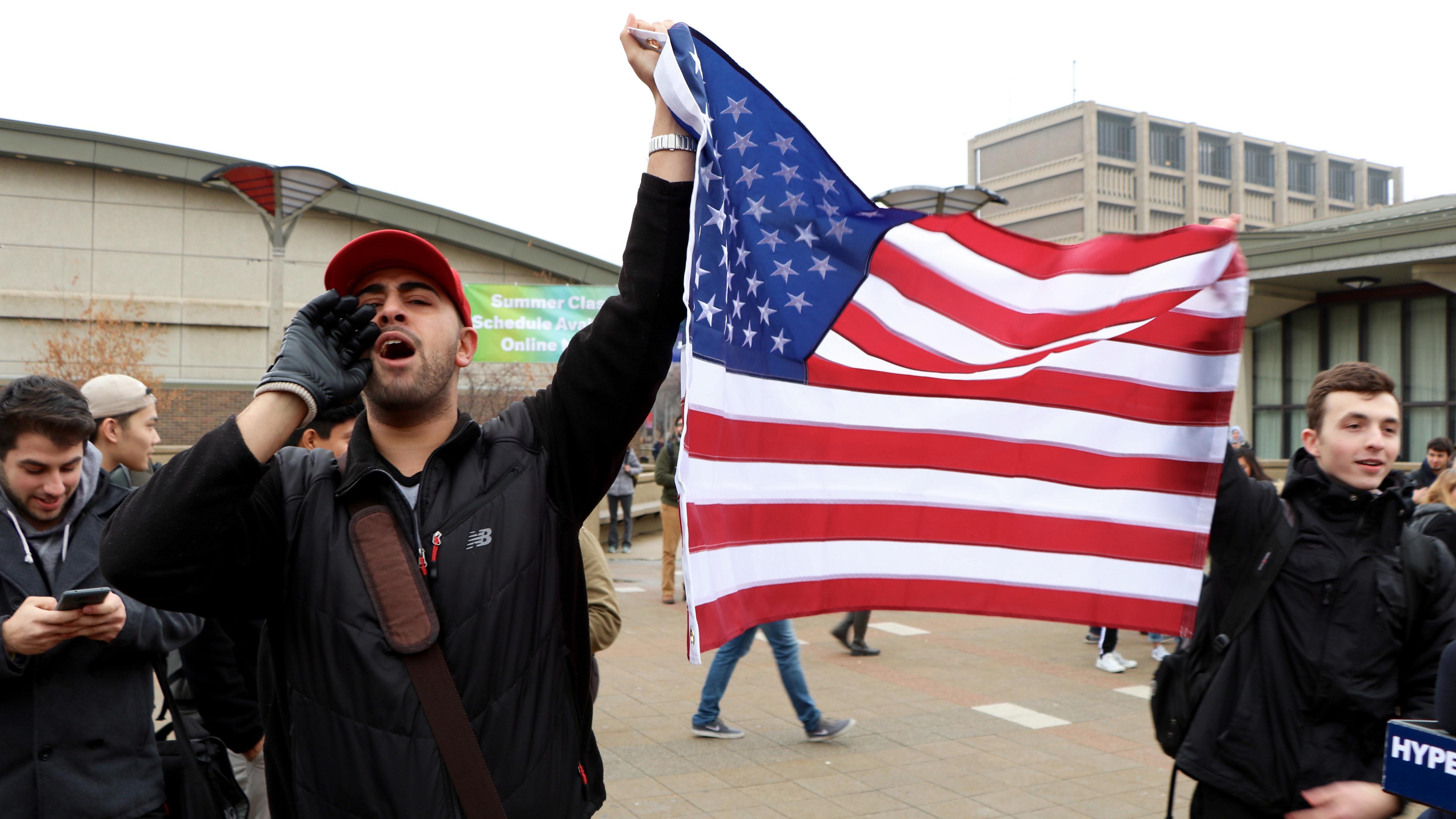 UIC student Saleh Askar, left, said he's been a Trump supporter since the then-Republican presidential candidate had plans to speak at UIC in March 2016. (Evan Garcia / Chicago Tonight)
"I just feel like Trump can do a lot of good for this country and I'm anxious to see what he'll do," Askar said.
Askar, who is Muslim and a first generation Jordanian-American, said he doesn't think Trump will follow through on his campaign trail proposal for a ban on Muslims entering the country.
"I feel like he personally doesn't believe that stuff, although he may say so," Askar said.
"If other Trump supporters have problems with Muslims in America, then they don't understand what America is all about."
Kait McIntyre, a 28-year-old political activist and UIC alumnus, leads the crowd in a protest chant. (Evan Garcia / Chicago Tonight)
Another student and child of immigrants felt differently.
Patrick Paniagua, a 21-year-old senior at UIC studying political science, said his parents came to the U.S. from Mexico as undocumented immigrants in the 1980s to escape violence.
He said joining the protest was important on a personal level in the face of anti-immigration sentiment.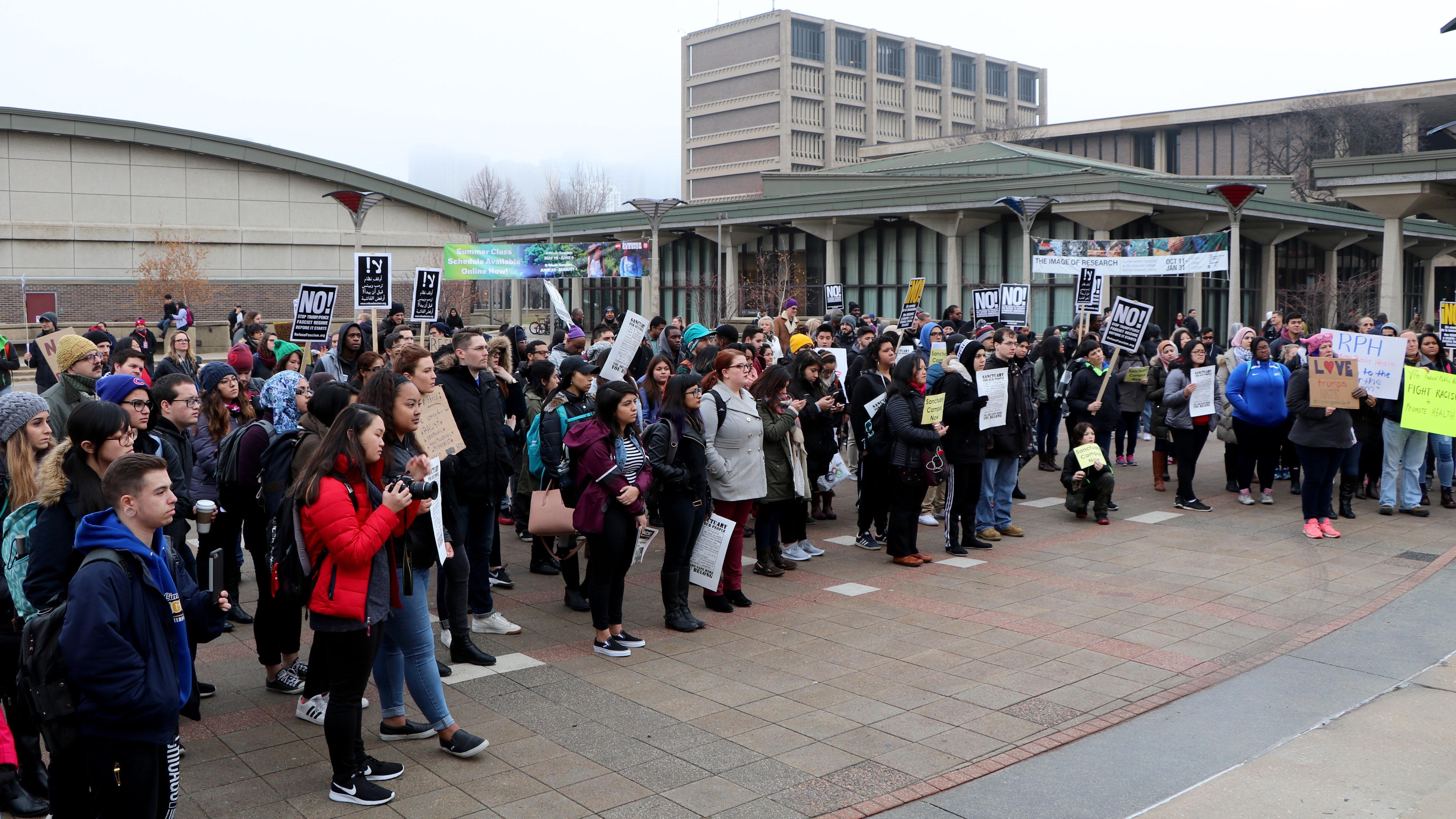 Attendees of the anti-Trump rally gathered in the center of UIC's campus, on the quad. (Evan Garcia / Chicago Tonight)
"Donald Trump and other people on the right have demonized Mexican immigrants and immigrants in general," Paniagua said. "I think it's a way to reclaim my humanity."
Student protesters and activists plan to meet at Wabash Avenue and Wacker Drive downtown before joining the citywide anti-Trump demonstration in front of Chicago's Trump Tower at 5 p.m. on Friday.
---
More photos from Friday's protest: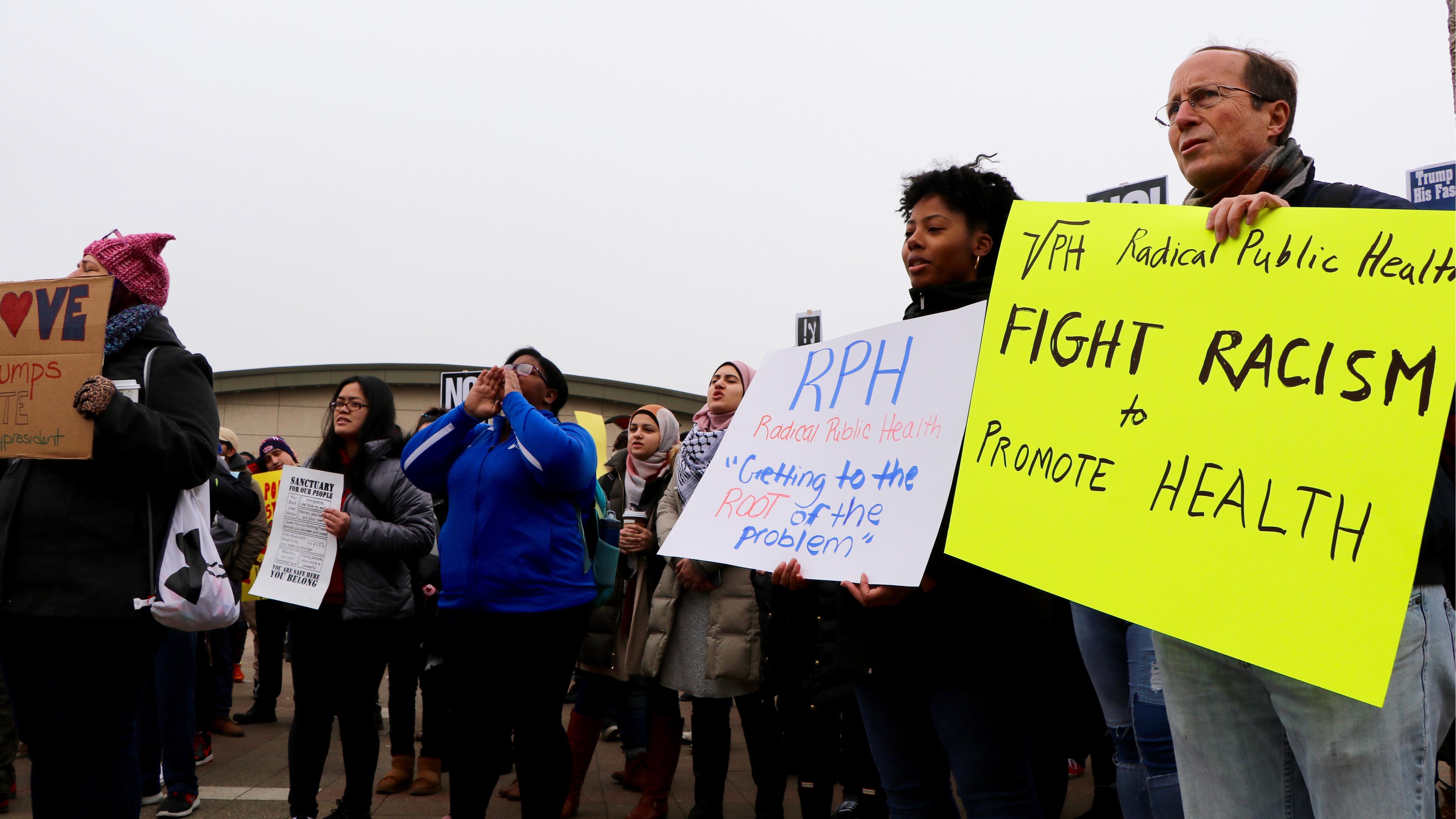 Protesters with the UIC organization Radical Public Health hold signs calling for health care reform. (Evan Garcia / Chicago Tonight)
---
A protester in the crowd holds a "Love Trumps Hate" sign. (Evan Garcia / Chicago Tonight)
---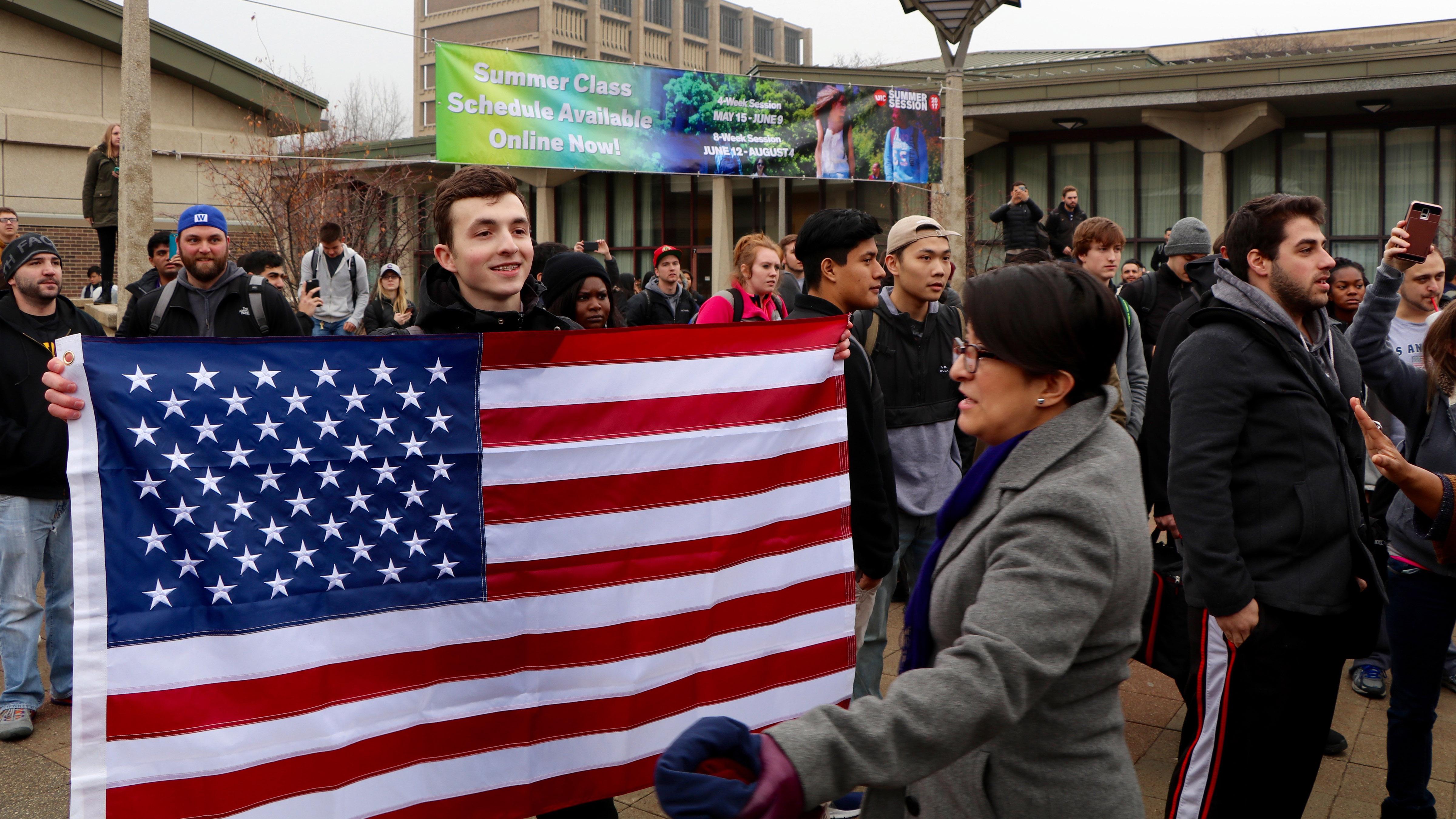 A woman stands between a Trump supporter holding an American flag and a group of protesters. (Evan Garcia / Chicago Tonight)
---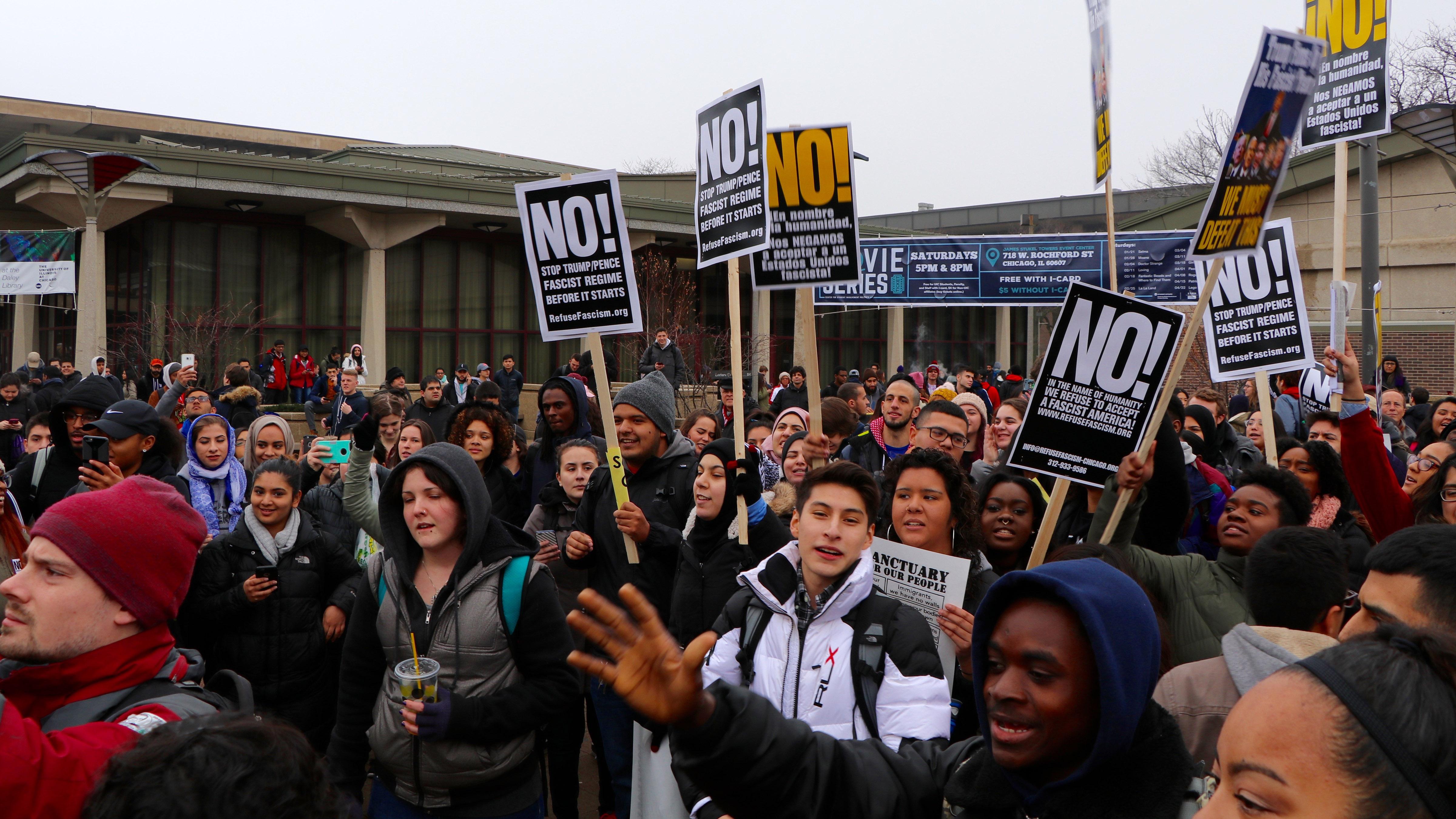 Protesters almost immediately swarmed around two Trump supporters once they made their presence known. (Evan Garcia / Chicago Tonight)
---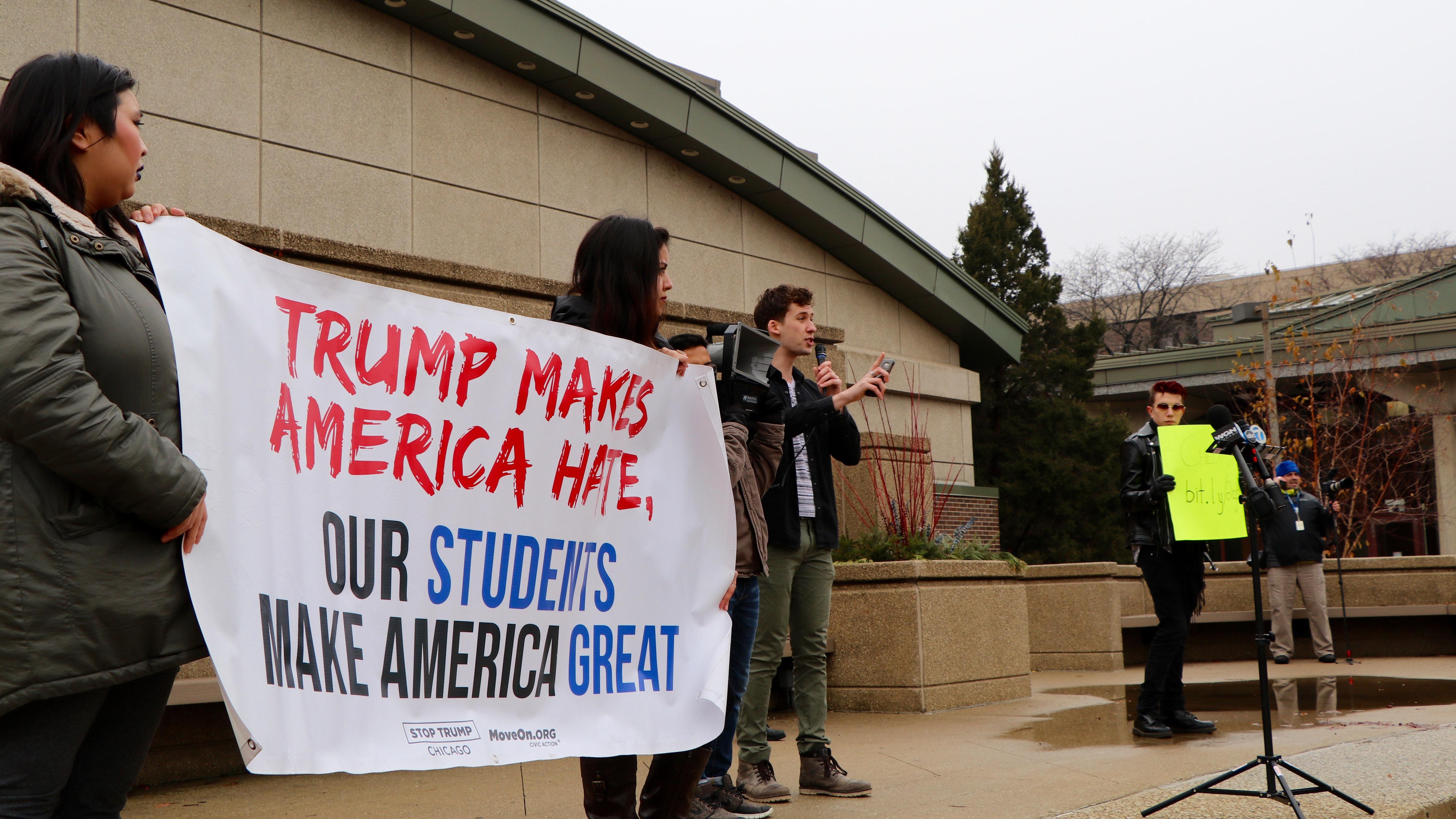 Student protesters hold a sign reading "Trump Makes America Hate, Our Students Make America Great" at Friday's rally. (Evan Garcia / Chicago Tonight)
Follow Evan Garcia on Twitter: @EvanRGarcia
---
Related stories: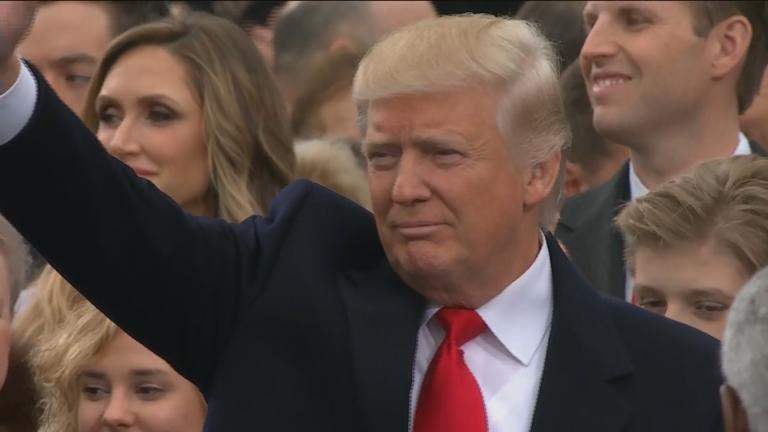 6 Illinois Democrats Skipping Out On Swearing-In
Jan. 20: At Donald Trump's inauguration Friday as the 45th president of the United States, some of Illinois' congressional representatives will be most noticeable for their absence.
---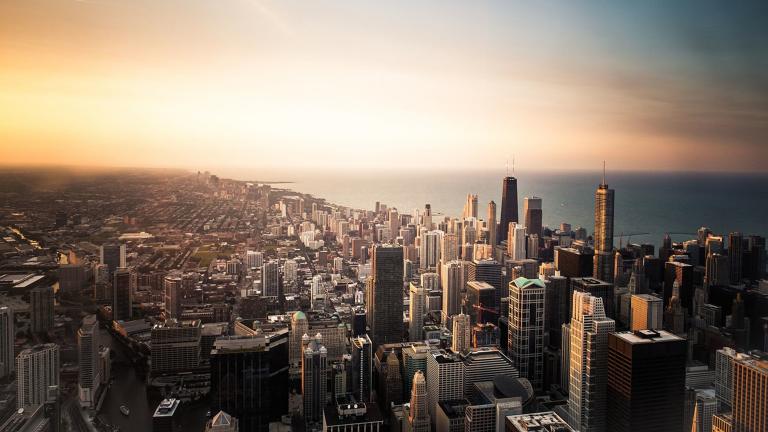 Updated Details Released for Women's March on Chicago
Jan. 19: With more than 50,000 people now expected to attend Saturday's march and rally, organizers of the Women's March on Chicago are moving the rally for the second time. Get complete details.
---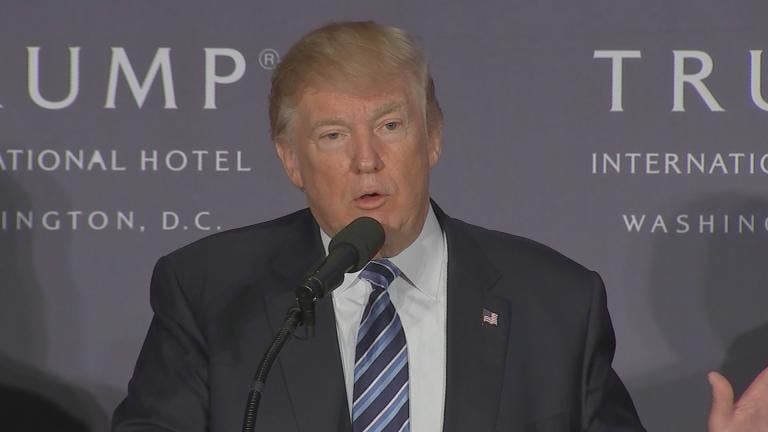 What Past Presidents Tell Us About Trump's Inaugural Speech
Jan. 19: After a contentious campaign and a surprising outcome, how will President Donald Trump utilize his inaugural address?
---