It's a new day in Springfield, with a fresh of legislators sworn into office Wednesday, making up Illinois' 100th General Assembly.
But Democrat Michael Madigan will continue to serve as the speaker of the House, for a 17th term. And the Republican Party is already undermining its own leaders' calls for bipartisanship.
Madigan isn't only the longest-serving House speaker in Illinois history. He's crossed a threshold that makes him the longest-serving statehouse speaker in the nation, at least going back a century. Save for a short, two-year break when Republicans had control of the House in the mid-'90s, Madigan has been speaker since 1983.
Though there was never a true challenge to his leadership, the Illinois Republican Party has relentlessly attacked Madigan – the conservative Illinois Policy Institute hosted an anti-Madigan protest outside the inauguration (though it was upstaged by a dueling, anti-Rauner protest organized by labor unions).
The GOP has likewise attacked Democratic legislators who've supported Madigan in the past, which bred an underlying sense of unease amongst Democrats already looking to the 2018 election.
While Democrats' 67 to 51 majority allowed Madigan to easily clinch the speakership, one of his members, Rep. Scott Drury (D-Highwood), took the unheard-of action of instead voting "present."
"I am confident that my vote represents the view of the vast majority of my constituents. In that respect, the decision was easy. Unfortunately, I have learned that what is popular with constituents does not always align with what is popular in Springfield. In the end, I chose the public over politicians," Drury wrote in a statement. "Illinois is in a free-fall into the abyss. My action today should give hope to the hopeless that a new day is on the horizon."
Drury said he's been asked if he fears repercussions for what could be perceived as crossing Madigan.
"With history as a guide, the answer is yes," Drury wrote.
Though inaugural ceremonies are formal affairs in which rank-and-file lawmakers don't typically give speeches, another Democrat, Rep. Stephanie Kifowit, said she felt compelled to speak up.
"We are voted to be a public servant, we are voted to do a public servant job," she said, calling the budget impasse an "exercise in stubbornness that needs to end."
Kifowat called for an end to the gridlock that's left Illinois without a true budget since July 2015, and for greater transparency.
"We have to do better than what we have been doing the past two years. I personally am disgusted that we do not have a budget for two years," she said. "I am appalled personally by the backroom deals that I have seen in the two years. Secret committee meetings of which I was not even told who of my colleagues were on these meetings and private working groups of which I am not invited to."
Still, Kifowit voted for Madigan, which prompted the Illinois Republican Party to include her in a barrage of press releases criticizing Democrats.
"Stephanie Kifowit today chose to put the political machine ahead of the people. She voted to elect Mike Madigan to a record 17th term as Speaker, extending Madigan's decades of power for another two years. Kifowit's refusal to stand up to Boss Madigan makes clear that the only way to get a new Speaker in Illinois is by getting rid of legislators like Stephanie Kifowit in Springfield," said Illinois Republican Party spokesman Steven Yaffe in a statement.
The release reached reporters' inboxes as House Republican Leader Jim Durkin was beseeching Democrats to end phony tactics, and to work in bipartisan fashion.
"We may disagree, but exercise tolerance and respect," Durkin said in his remarks as the GOP press releases rolled in. "I am a firm believer in bipartisan solutions. It has been said that, 'bipartisanship helps to avoid extremes and unbalances. It causes compromises and accommodations.'"
The Illinois Republican Party, which is largely funded by Gov. Bruce Rauner, said in a statement it will continue to "hold accountable" legislators who "empower" Madigan.
Video: Interview with a union worker in Springfield, one of hundreds who showed up to protest. "We have a right to a living wage," he said.
---
Just as in the House, the top leaders in the Senate held onto their positions: Senate President John Cullerton will continue to lead a supermajority of 37 Democrats, and Sen. Christine Radogno will serve as the minority leader for 22 Republicans.
Cullerton and Radogno on Monday announced a "grand compromise" they say could bring an end to the budget stalemate, and as soon as the new General Assembly was officially formed, more than a dozen bills were introduced that comprise much of the package.
The leaders likewise took a step further in demonstrating their commitment to the deal, by encouraging their members to adopt a significant change in the chamber's rules – a limit on how long senators can serve in those leadership roles.
It's a major nod to Rauner, who has demanded legislative limits in exchange for negotiating on the budget.
The rule change doesn't carry the weight of a constitutional amendment, nor is it a law that requires action by the Illinois House. Likewise, it doesn't apply to the House, so a decade-clock is not running on Madigan's continued ability to be speaker.
But the vote does serve to put pressure on Madigan.
"It has been two years since our last inauguration. Two extremely difficult years. Two years where we disagreed much, and worked to find the worst in each other," Madigan said. "Let me suggest that as we move forward, let us work to end the acrimony to find the best in each other. I think we can all agree that we would all like to solve the Illinois governmental budget deficit problem."
Madigan has thus far refused to attach any of Rauner's agenda to a budget, but in his inaugural remarks (as well as in an op-ed that ran Wednesday in Springfield's State Journal-Register) signaled a desire to make Illinois more competitive.
But he says Rauner is going about it all wrong, and Democrats will put out their own agenda. So far, the specifics he's offered retread proposals he has offered up before to no avail, including slashing Illinois' corporate income tax rate and a tax on income over $1 million to fund education.
In a statement, Rauner's office called it a "positive step."
Rauner, who presided over the Senate inauguration, wasn't scheduled to make any remarks, but he offered some nonetheless.
"As my grandfather used to tell me every time I'd come to get advice, he'd say 'Bruce, reasonable people can reasonably disagree.' There are different ways to solve problems, different ideas, different solutions," the governor said. "We all need to battle for what we firmly believe is right, but I hope the Good Lord grants us the wisdom to find common ground ... to listen and respect to (sic) the other ideas, to come to the solution for a better future."
Follow Amanda Vinicky on Twitter: @AmandaVinicky
---
Related stories: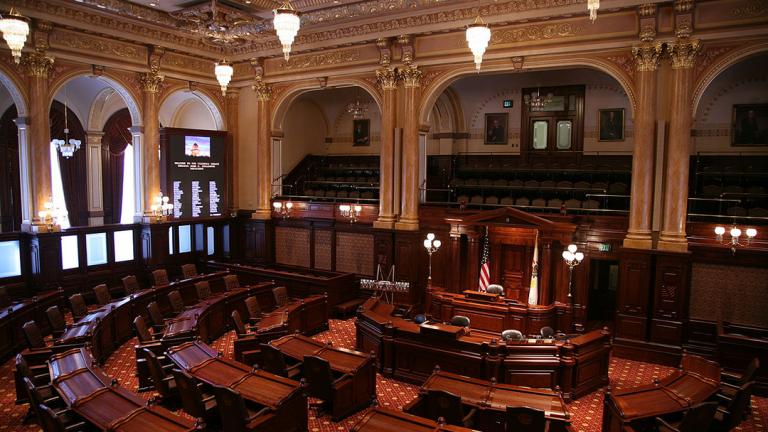 In Springfield, Lawmakers Adjourn for Good, Without a Budget
Jan. 10: Illinois' 99th General Assembly has wrapped up for good, without ever having passed a complete state budget.
---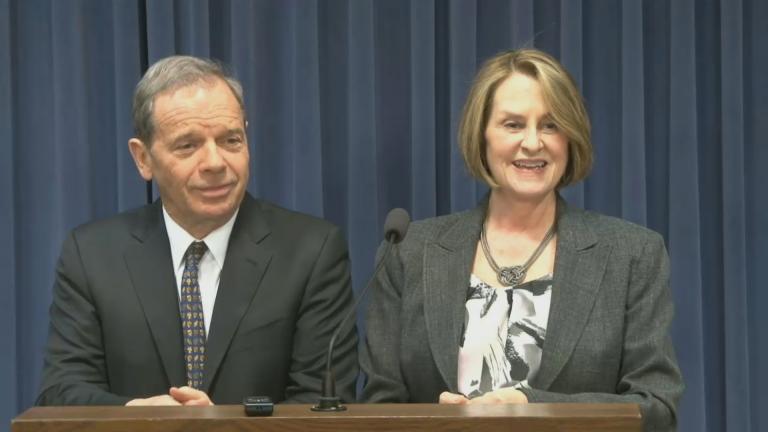 Budget Deal Backed by Illinois Senate Has Slim Chance in House
Jan. 9: While Illinois' impasse thus far has been caused by a partisan divide, divergent approaches by the House and Senate to the state's yearslong political stalemate serve to create a new potential rift.
---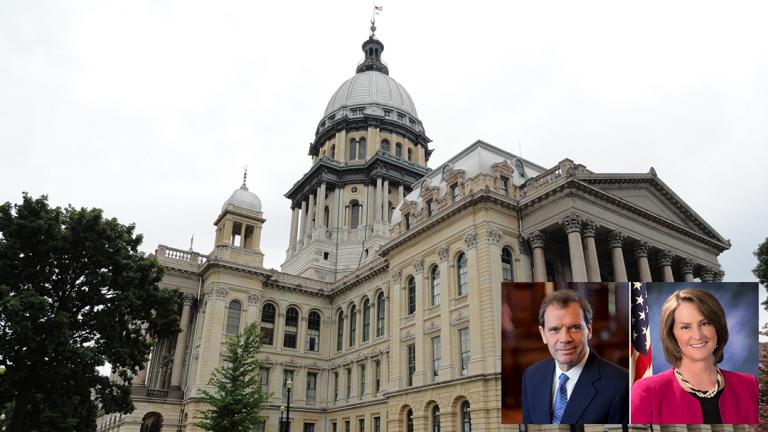 Budget 'Grand Bargain' Shaping Up in Springfield
Jan. 9: After nearly two years of budget gridlock, spiraling deficits and political acrimony in Springfield, a grand bargain on the budget is coming together in the Illinois Senate.
---