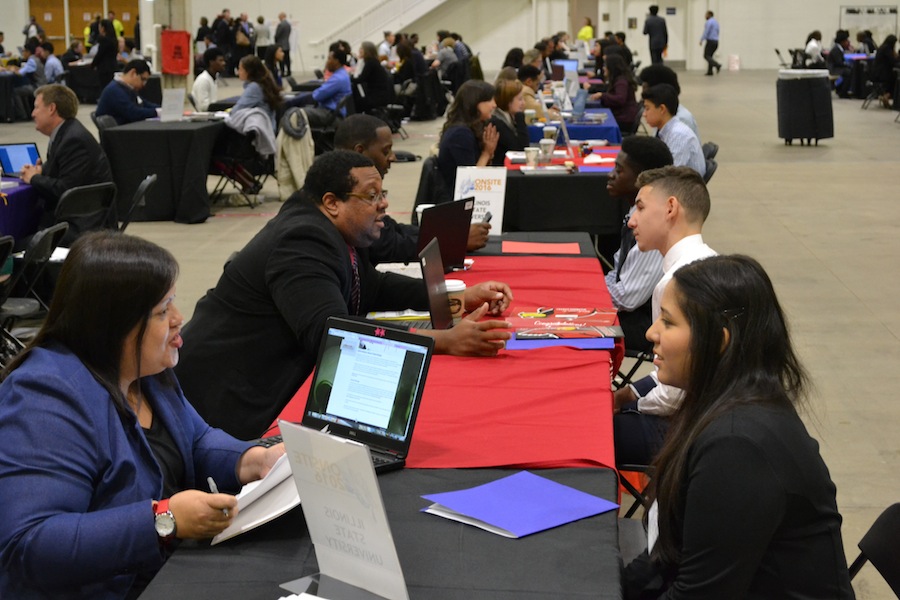 College admissions officers from across the country held more than 5,000 interviews and offered on-the-spot admission to more than 700 Chicago high school students Tuesday. (Matt Masterson / Chicago Tonight)
Jacob Naszke said he almost screamed when he heard the news.
Seated in Navy Pier's Festival Hall with hundreds of high schoolers and college admissions officers Tuesday morning, the Jones College Prep senior had just been offered a scholarship to attend Loyola University Chicago.
"I'm so happy. It feels like an accomplishment," he said. "I feel like all that hard work I put in throughout high school, to get into this program and to have all the setbacks that I've had in life, and to get accepted into college – not only a college, but a great college – is probably the most fantastic, most relieving thing right now."
Naszke was among nearly 1,000 Chicago high school seniors who spent their day interviewing with more than 170 colleges and universities from across the country for a chance at on-the-spot admission during Chicago Scholars' Onsite 2016 event.
A locally based mentoring and development program for first-generation college and low-income high school students, Chicago Scholars offers support and career development as students move from high school to college and into the workforce.

By 2 p.m., schools had collectively offered more than $34 million in scholarship awards.
---
Naszke struggled with dyslexia throughout his life, which forced him to work harder and spend more time in school and doing homework to keep up with his peers. But, holding his acceptance letter in hand, he said all those extra efforts had paid off.
"Knowing that I have somewhere to go, somewhere that has a spot for me and someone who wants me, who will give me money to go there," he said. "It's just amazing."
This is the 10th year Chicago Scholars has held the Onsite event. Already hosting the largest group of students in its history, the program has also teamed up with more than 30 other community-based organizations in Chicago to extend the reach of Tuesday's event to include neighborhoods from across the city.
Forty scholars had enrolled at Northwestern prior to this year's event. Over the years, almost 150 signed up at the University of Illinois-Urbana-Champaign while hundreds more entered the collegiate realm at the University of Chicago, Loyola, DePaul and the University of Illinois-Chicago.
But the reach of the program extends far beyond the borders of Illinois.
Stanford. Columbia. Johns Hopkins. Notre Dame. Cornell. All had admissions officers in attendance Tuesday. By 2 p.m., all schools had collectively run more than 5,200 interviews, offered more than $34 million in scholarship awards and had granted admission to 700-plus students.
Ebenezer Neequaye, a senior at Holy Trinity High School, received admission letters from Holy Cross and Valparaiso University in Indiana.
"It means a lot. I didn't expect the schools to – I heard they would accept for some of them – but I didn't expect it right off the bat as soon as we started interviewing," he said. "They basically told me and congratulated me. It's a really big deal."
Neequaye will be the first member of his family to attend college in the United States. After re-locating from Ghana when he was four years old, he credited Chicago Scholars with easing his transition into the American education system.
As excited as he was by the news, Neequaye expected an even bigger reaction from his parents.
"It probably means more to them than even me because they've been expecting this, they've been wanting me to achieve more than what I've been at right now," he said. "They've just (had) a lot of belief, so it'd be a relief."
As high school graduation rates have increased across both Chicago and the nation as a whole, so too has the need for remedial education at the college level.
Just last year, the Illinois State Board of Education reported nearly half of high school graduates who enrolled in Illinois' community college required remedial help in at least one course. Updated numbers will be made available next week when the annual Illinois Report Card is released.
Nikyla Stanton, also a senior at Holy Trinity, said the Chicago Scholars program helped to focus her sights beyond high school and onto her path to higher education.
"I'm like, 'Oh I just have to get through my senior (year) and then college is going to happen,'" she said. "It started in summertime when (program mentors) made sure we were on everything, like you have to be on your A-game – knowing your colleges, knowing what early action was and regular decision – it was just really helpful."
Ray Deatherage of Peoples Gas introduces 30 Little Village students to a new hands-on vocational program inside the utility's training facility Tuesday morning. (Matt Masterson / Chicago Tonight)
But a future in college isn't possible for everyone.
At the same time Chicago Scholars was holding its first college interviews Tuesday, about nine miles west, students from Little Village Lawnsdale High School were getting their first taste of hands-on vocational training through Chicago Public Schools new partnership with People's Gas.
"My family is from low income and they've always wanted me to do something with my life and college doesn't look like a viable option," said Jose Pena, a senior at Little Village. "I feel like this could really help me out."
Students from Little Village, Fenger and Dunbar high schools will be trained as utility workers through a integrated, multi-phase program including monthly field trips, hands-on after-school training courses and a six-week summer internship.
Thirty percent of high schoolers in Illinois do not enroll in college within a year of graduation. But rather than preparing these students to enter the workforce, Nicole Divittorio – a science teacher at Little Village – believes training programs like this have been pushed to the side in favor of a more standard rubric with college as an end goal.
"I just think it gives our kids more of an opportunity for postgraduate employment," she said of the new program. "It's not minimum wage (jobs), not all of our kids are college bound. It's just something positive, like we know for sure they'll have a plan when they leave."
Her school could only bring 30 students along Tuesday, and Divittorio said kids were fighting to be included.
Within CPS, more than 80 percent of students are classified as "economically disadvantaged" and in the 2015 school year, only 58 percent of graduates went on to enroll in college.
For Pena, who has worked landscaping jobs with his father since he was 10 years old, and students like him, a vocational training program offers a path ahead after high school.
"Most of my (classmates), they don't look like college as a viable option when they come from low-income families," he said. "They feel like this is their hope, their savior, so it's their plan after high school (and) it's a viable option."
Follow Matt Masterson on Twitter: @ByMattMasterson
---
Related stories:
U.S. High School Grad Rate Reaches Record Mark
Oct. 17: Illinois students are outpacing the U.S. average, while Chicago Public Schools says its graduation rate is growing at three times the national rate.
---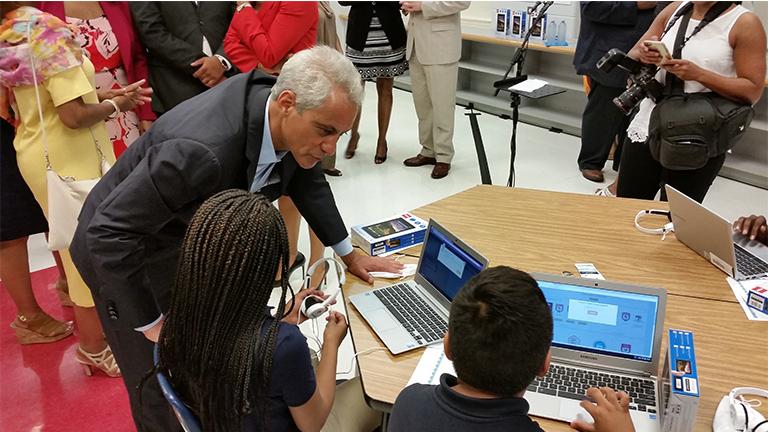 CPS Progress Report Highlights Gains in On-Track, Dropout Rates
Sept. 7: Students at Chicago Public Schools have steadily improved their attendance and on-track-to-graduate rates while trimming back their annual dropout rate over the past five years, according to a new district progress report.
---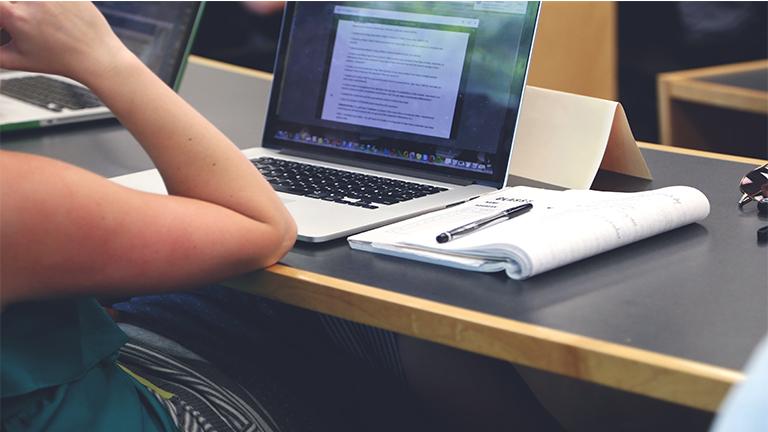 Fewer Than Half of Students Proficient in Math, English on Statewide Exam
Aug. 25: As schools across the state begin to administer the controversial PARCC test to students, parents and legislators are pushing a movement and legislation to allow parents to let their children opt out of the test.
---