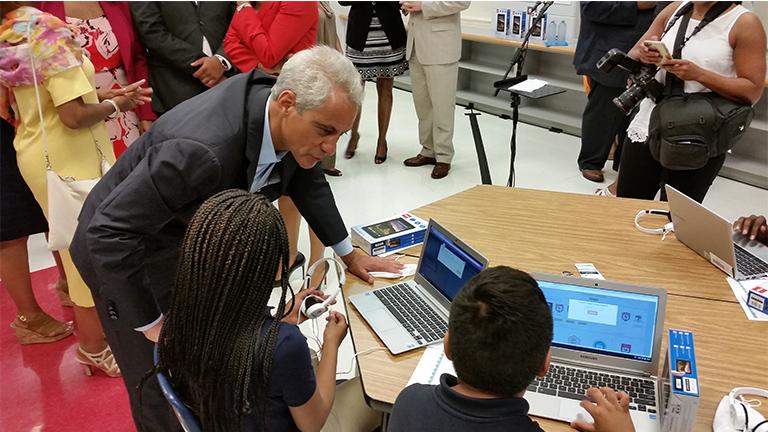 Chicago Mayor Rahm Emanuel chats with students Wednesday morning at Brunson Elementary. (Matt Masterson / Chicago Tonight)
Students within Chicago Public Schools have steadily improved their attendance and on-track-to-graduate rates while trimming back their annual dropout rate over the past five years, according to a new district progress report.
The report – a first of its kind for CPS – details student performance and participation across math, reading and the arts, as well as other metrics related to student achievement.
"We want to make sure that every family and every child has the exact learning experience we want to see," Mayor Rahm Emanuel told reporters Wednesday morning at Brunson Elementary.
Included in the progress report is the district's freshman-on-track-to-graduate rate – the percent of ninth-graders who earn five or more credits and fail less than one core class – which stands at a record-high 87.4 percent after the 2015-16 school year.
That's up more than 18 percent over the 2011 numbers, according to the district, and stands four points above the state average. According to the University of Chicago, on-track freshmen are nearly four times more likely to graduate than their off-track counterparts.
"What is clear is that no matter how a school increases on-track rates in ninth grade, graduation rates improve three years later," the university's 2014 report "Preventable Failure" states regarding freshman on-track rates. "When schools concentrate their efforts on helping students make a successful transition to ninth grade, it results in dramatic increases in graduation."

Click to enlarge table. (Chicago Public Schools)
Additionally, the dropout rate for CPS students has dropped more than 4 percent over the last five years, down to 6.8 percent in the 2015-16 school year.
CPS previously announced record-high graduation and attendance rates, both of which were also included in the progress report.
"We're really proud to show that we're moving in the right direction," CPS Chief Education Officer Janice Jackson said. "And that trajectory is going in a very positive way for Chicago Public School students, not on one side of town, but from every corner from the North Side to the South Side and every geographic network."
Neither Emanuel nor Jackson took questions from the media following their press conference Wednesday morning.
CPS announced Monday 73.5 percent of the class of 2016 – 20,438 total seniors – had graduated this year, an increase of more than 16 percent since 2011.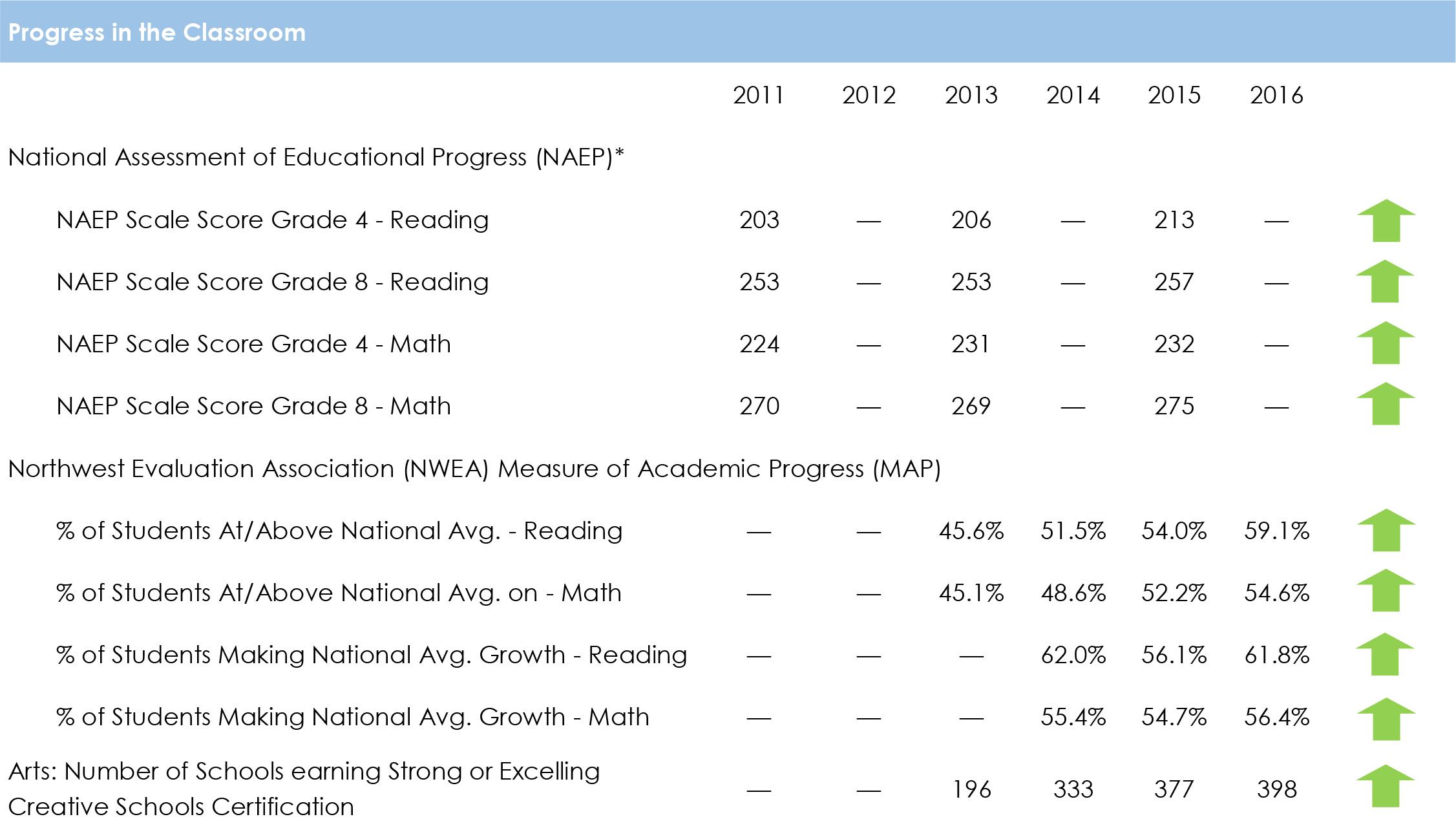 Click to enlarge table. (Chicago Public Schools)
The progress report also breaks down metrics charting student and school achievement.
In arts, the district says it has doubled the number of schools earning a "strong" or "excelling" Creative Arts Certification. In math and reading, CPS states its students saw record-high scores on both the National Assessment of Educational Progress and the Northwest Evaluation Association Measure of Academic Progress.
"Parents at schools throughout the city have seen dramatic improvements at the school level in recent years, and the report issued today provides a clear picture of how CPS as a whole has transformed in a short period of time to be a national leader in urban education," CPS CEO Forrest Claypool said in a press release.
Follow Matt Masterson on Twitter: @ByMattMasterson
---
Related stories: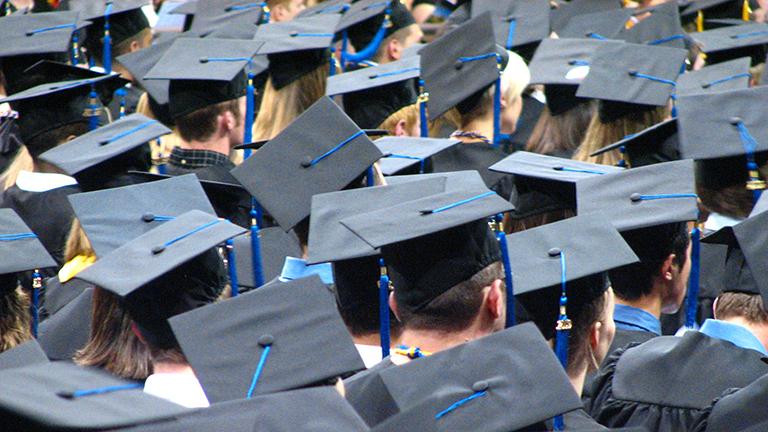 CPS Announces Record-High Graduation Rate for Class of 2016
Sept. 5: Nearly three out of four seniors within Chicago Public Schools earned their diplomas in 2016 – a district record – as graduation rates increased across neighborhood, charter and traditional high schools.
---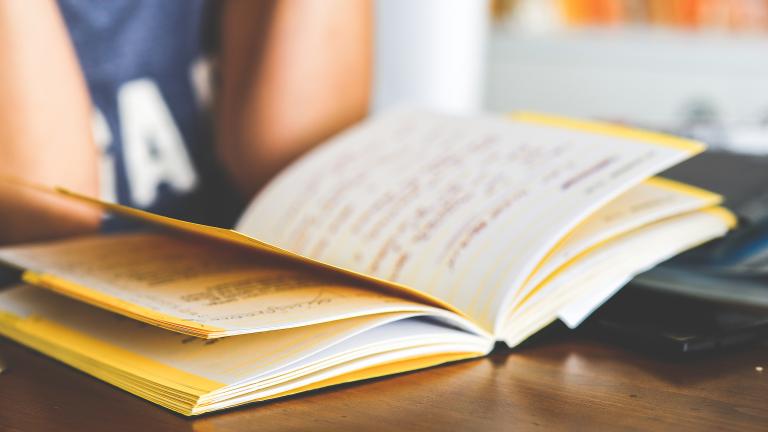 Ranking Chicago's Schools and Public Education Innovators
Aug. 31: Chicago magazine is out with a new ranking of the best public schools in the Chicago area. We discuss the list, the methodology and public education innovators with features editor David McAninch.
---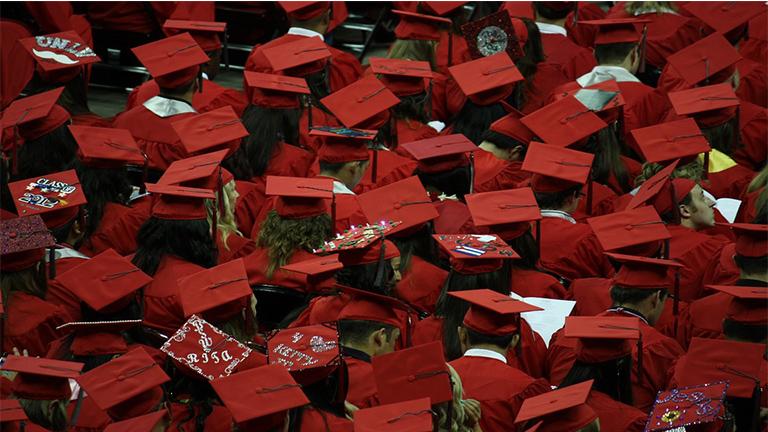 New State Bill Seeking to Cut Remediation in Higher Education
Aug. 9: State lawmakers hope newly passed legislation will help better prepare Illinois high schoolers for the rigors of a college education.
---