"America's Test Kitchen" is expanding its reach with a new venture called Cook's Science.
In addition to a recently launched website with articles, videos and recipes all grounded in the science of food, there is also a new book with more than 300 recipes that claim to be "engineered for success."
Joining host Phil Ponce to talk about the project are two of the key collaborators behind the Cook's Science project: Molly Birnbaum, executive editor of Cook's Science at "America's Test Kitchen" and also the project editor of the New York Times bestseller "The Science of Good Cooking"; and Dan Souza, also an executive editor of Cook's Science who is also an on-screen test cook for "America's Test Kitchen."
Related event
Cook's Science: The Burger Tour takes place at 8 p.m. Thursday at the Athenaeum Theatre, 2936 N. Southport Ave. The 90-minute event features Cook's Science executive editors Molly Birnbaum and Dan Souza and aims to answer the question, What makes a burger so good?
Recipe: Bistro Style Flank Steak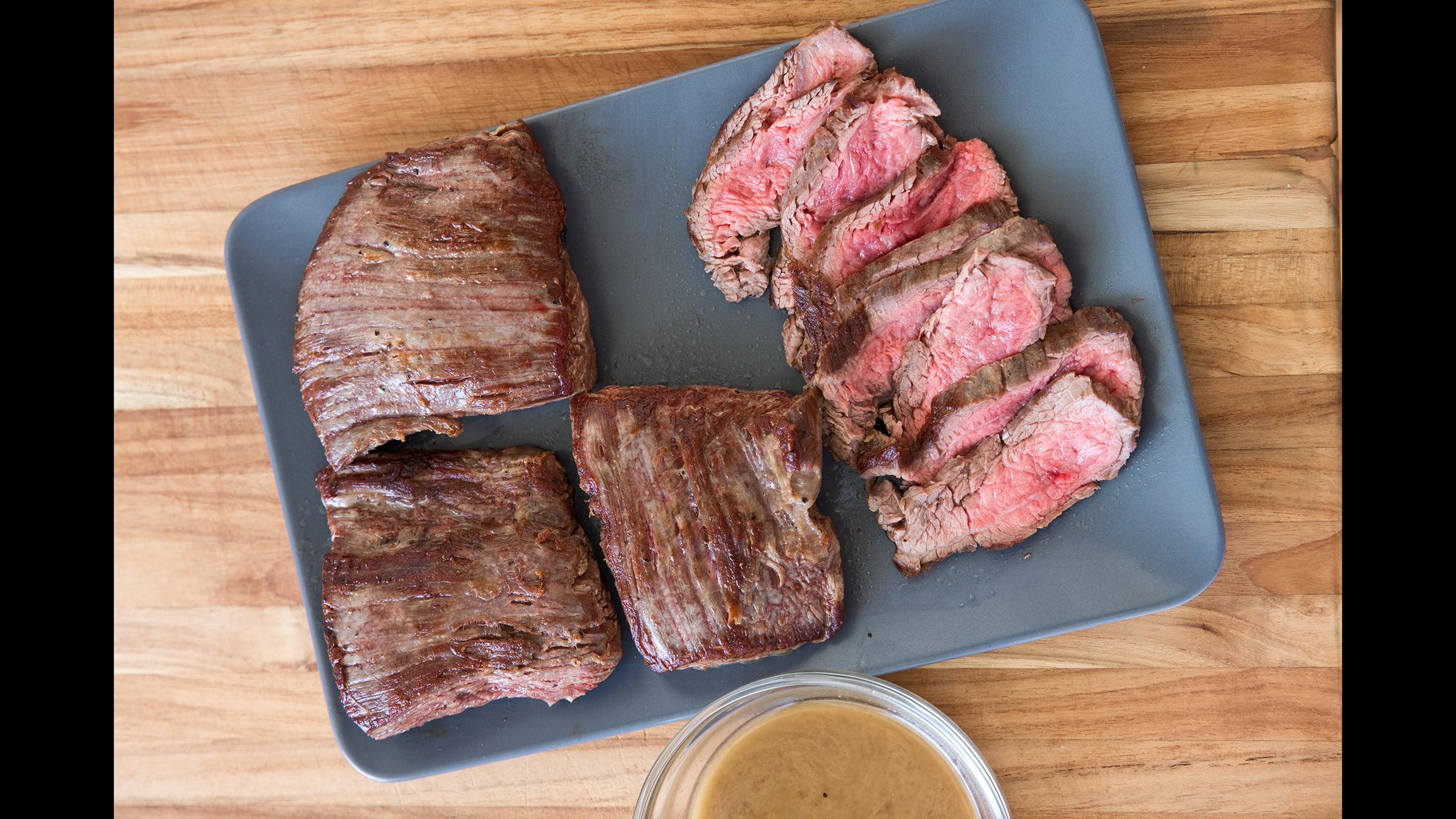 Bistro Style Flank Steak (Courtesy Cook's Science)
Why This Recipe Works: This rustic French restaurant dish is typically made with hanger steak, which can be hard to find in the United States. We wanted to get juicy bistro-style steaks without breaking the bank—or hunting down obscure cuts of meat. We immediately turned to flank steak, which is both common and affordable. But flank steak is not designed to sear as individual steaks in a sauté pan. Our solution? By cutting a 2‑pound piece of meat into four portions, we create thick steaks perfect for pan searing.
BROWN THOSE STEAKS         
We browned the steaks in a skillet to create a crust and then finished them in the oven to prevent the fond (the browned bits on the bottom of the pan) from burning. Later, we used the pan drippings to create a simple sauce of shallot, white wine, and butter.
LET THEM REST         
When the steaks were medium-rare, we let them rest. In the test kitchen, we rest most meat and poultry after cooking. The theory is that resting—or allowing the meat to sit undisturbed for a time before serving—allows the juices to redistribute themselves more evenly throughout the meat. As a result, meat that has rested will shed much less juice than meat sliced straight from the grill or the oven. To test this theory, we grilled four steaks and let two rest while slicing into the other two immediately. The steaks that had rested for
10 minutes shed 40 percent less juice than the steaks sliced right after cooking. Here, the steaks rested while we made a pan sauce. Be sure to cut the steaks against the grain.
Serves 4
After cutting the meat into pieces, you should have four steaks with the grain (the long striations) running parallel to the long side. The amount of time that the steaks need in the oven will depend on the thickness of the meat—use an instant-read thermometer to check. Be careful when making the pan sauce, as the skillet handle will be hot.
1 (2‑pound) flank steak, trimmed
Salt and pepper
2 teaspoons vegetable oil
3 tablespoons unsalted butter
1 large shallot, minced
3/4 cup dry white wine
1. Adjust oven rack to middle position and heat oven to 400 degrees. Cut steak in half lengthwise with grain, then cut each piece in half crosswise against grain to make 4 equal-size steaks. Pat steaks dry with paper towels and season with salt and pepper.
2. Heat oil in 12‑ inch skillet over medium-high heat until just smoking. Add 1 tablespoon butter and swirl to melt. Lay steaks in pan and cook until well browned, 3 to 5 minutes per side. Move skillet to oven and cook until steaks register 125 degrees (for medium-rare), 3 to 5 minutes. Transfer steaks to plate and tent with aluminum foil.
3. Return skillet with drippings to medium-high heat (skillet handle will be hot). Add 1 tablespoon butter and shallot and cook until shallot is browned, about 2 minutes. Add wine and any accumulated beef juices from plate and bring to boil, scraping up any browned bits. Continue to boil until slightly thickened and reduced to about 1/2 cup, about 5 minutes.
4. Remove sauce from heat and swirl in remaining 1 tablespoon butter until melted. Season with salt and pepper to taste. Slice steaks thin against grain on bias and serve with sauce.
---
Related stories: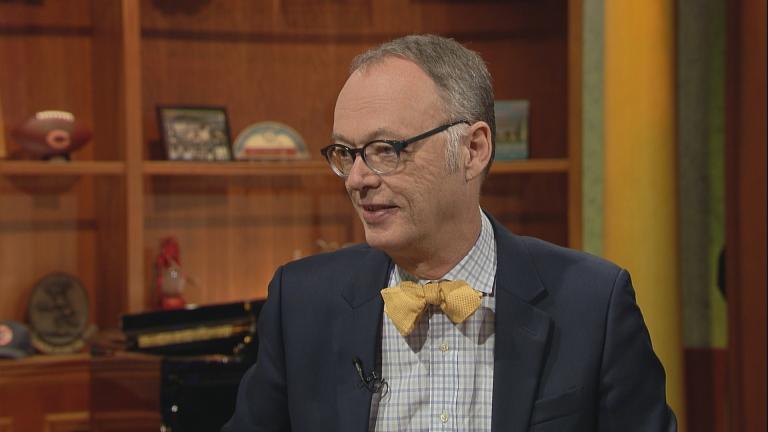 Christopher Kimball Dishes on New Milk Street Kitchen Project
Oct. 5: The founder and former host of "America's Test Kitchen" is back with a new project and a broader vision.
---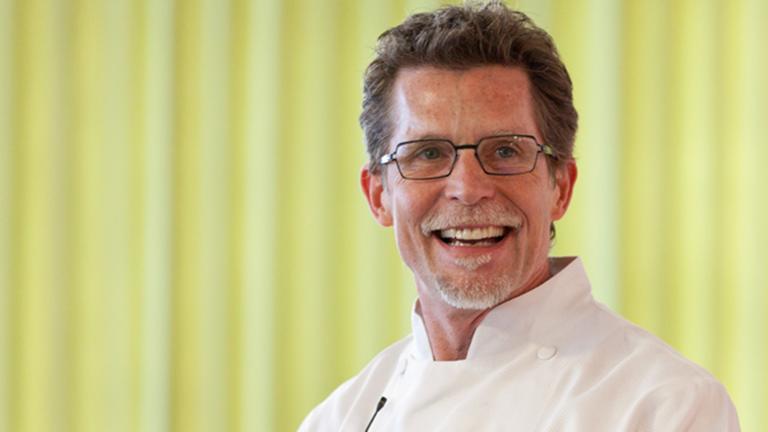 Cooking with Chef Rick Bayless
Sept. 29: Chef Rick Bayless joins us with recipes for pork tacos and a tequila-based cocktail of his own invention.
---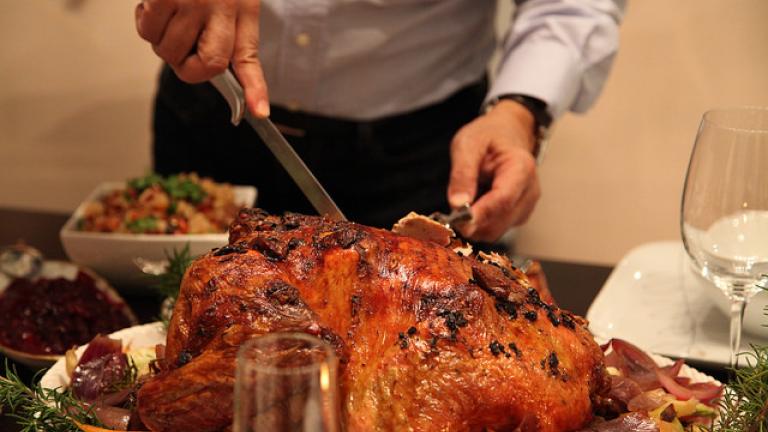 Thanksgiving Recipes: Turkey, Side Dishes and Desserts
Nov. 20, 2015: Thanksgiving's so close you can almost taste it. In anticipation of the marathon day of eating, "Chicago Tonight" asked local chefs and foodies for their favorite Thanksgiving recipes. Dig in!
---