The video cannot be displayed.
You may know Lisa McManus as the official gadget guru for America's Test Kitchen here on PBS.
She's also the executive tasting and testing editor at Cook's Illustrated and Cook's Country magazines.
"Cast-iron pans are terrific because they're one of the only pieces of equipment that you can buy and use for years and years and years and it just gets better," McManus said. "It doesn't wear out. It's not possible to wear this thing out. And it's not expensive and it has lots of different uses, so it's really a pretty ideal piece of kitchen equipment." 
She'll give us some cast iron cooking tips and to talk about the newest book from Cook's Country: "Cook It in Cast Iron: Kitchen-Tested Recipes for the One Pan That Does It All."
"We pick up recipes that people are trying to make and that maybe don't work very well, and we try to figure out what it is about it that make it foolproof," she said of the decision to include a recipe for a chocolate chip cookie. "This is something people had heard of doing. We thought it was interesting and we really worked on it to make it come out beautifully."
Watch the video below for tips on how to properly season, clean and care for cast-iron cookware.
---
Below, some recipes from the book.
Crisp Roast Butterflied Chicken With Rosemary and Garlic from Cook It in Cast Iron
Serves 4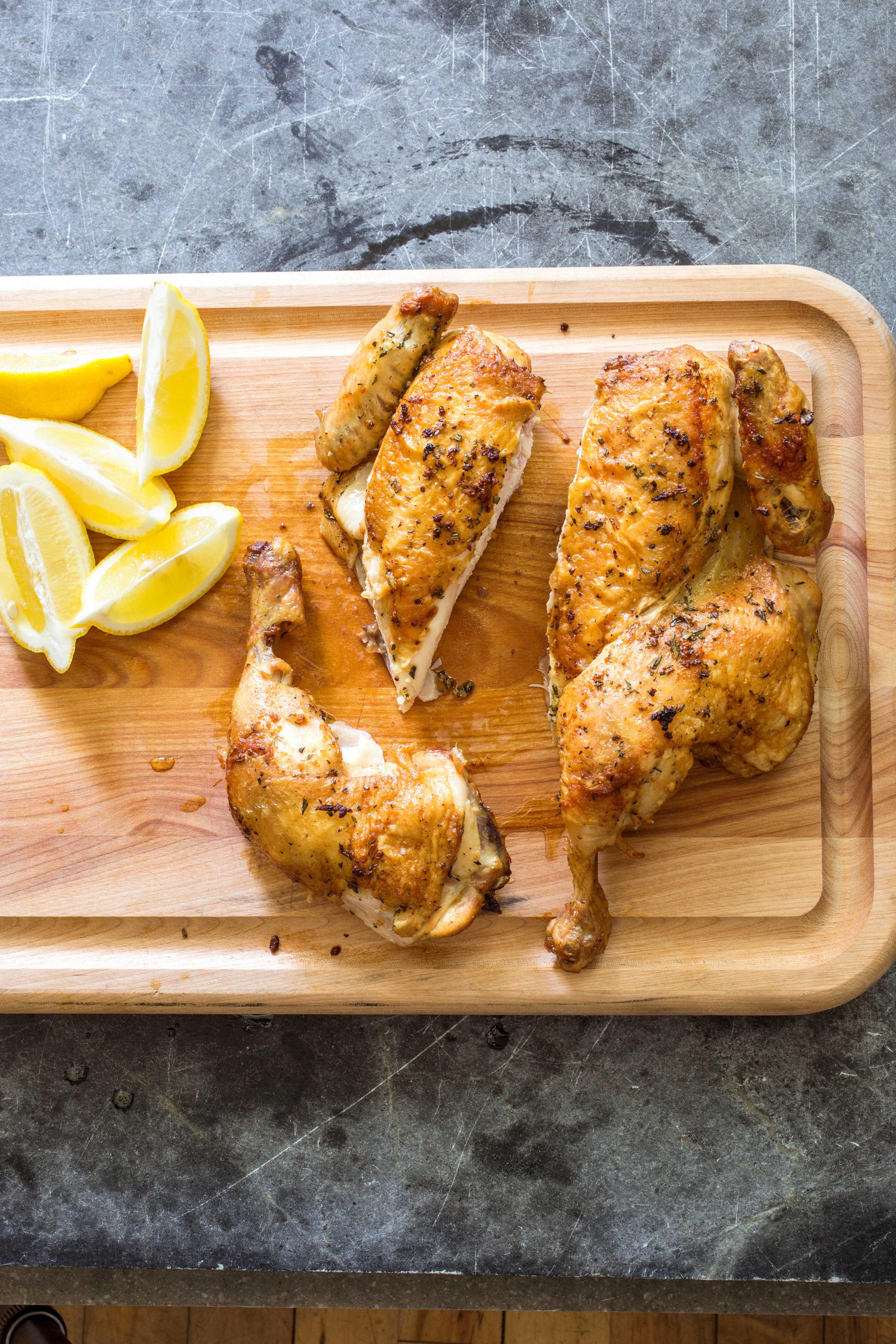 Why This Recipe Works: A butterflied chicken cooks considerably quicker than a traditional whole bird. Flattening the chicken also encourages crisp skin, since most of the skin is in contact with the hot pan. Achieving crisp skin is even easier with a cast-iron skillet, because the pan is able to maintain very high cooking temperatures. However, during our testing we found that after initially crisping up, the skin turned soggy as the chicken continued to cook skin side down in its own juices. We set out to produce perfectly cooked chicken with crisp skin that could be on the table in less than an hour. We started by heating a skillet in a very hot oven. We then put the chicken into the preheated skillet skin side down and cooked it until the skin was golden brown. Flipping the chicken over for the remainder of the cooking time allowed us to take advantage of the hot, dry air of the oven to ensure that the skin remained crisp and intact. A simple mixture of extra-virgin olive oil, rosemary, and garlic brushed on the chicken during roasting elevated the flavor and crisped the skin further. We had four-star, perfectly browned roast chicken with spectacular skin on the table in under an hour, thanks to the great heat retention of the cast-iron skillet; and as a bonus, the butterflied bird was a cinch to carve. Be aware that the chicken may slightly overhang the skillet at first, but once browned it will shrink to fit; do not use a chicken larger than 4 pounds. Serve with lemon wedges.
            2          tablespoons extra-virgin olive oil
            1          teaspoon minced fresh rosemary
            1          garlic clove, minced
            1          (3 1/2- to 4-pound) whole chicken, giblets discarded
                        Salt and pepper
1. Adjust oven rack to lowest position, place 12-inch cast-iron skillet on rack, and heat oven to 500 degrees. Meanwhile, combine 1 tablespoon oil, rosemary, and garlic in bowl; set aside.
2. With chicken breast side down, use kitchen shears to cut through bones on either side of backbone; discard backbone. Flip chicken over, tuck wingtips behind back, and press firmly on breastbone to flatten. Pat chicken dry with paper towels, then rub with remaining 1 tablespoon oil and season with salt and pepper.
3. When oven reaches 500 degrees, place chicken breast side down in hot skillet. Reduce oven temperature to 450 degrees and roast chicken until well browned, about 30 minutes.
4. Using potholders, remove skillet from oven. Being careful of hot skillet handle, gently flip chicken breast side up. Brush chicken with oil mixture, return skillet to oven, and continue to roast chicken until breast registers 160 degrees and thighs register 175 degrees, about 10 minutes. Transfer chicken to carving board, tent loosely with aluminum foil, and let rest for 15 minutes. Carve chicken and serve.
---
Sausage Lasagna from Cook It in Cast Iron
Serves 6
Why This Recipe Works: A big, bubbling lasagna is the pinnacle of comfort food. We wanted a version that could be made quickly, with minimal effort (and minimal dishes) and without sacrificing any flavor. We started building a flavorful sauce by sautéing onion, garlic, and red -pepper flakes. We then browned some sausage and added tomatoes, simmering only briefly to meld the flavors yet keep it fresh tasting. After cooking the sauce, we emptied the skillet and layered the lasagna as we would in a casserole dish with the tomato-sausage sauce, a ricotta-egg mixture, no-boil lasagna noodles, and plenty of Parmesan and mozzarella. Once our lasagna was assembled, we topped it with extra cheese and transferred the skillet to the oven. After a short 30-minute stint, we had the bubbly, cheesy top and perfectly cooked pasta we were looking for, all made in a single pan. Do not use nonfat ricotta or fat-free mozzarella here.
            3          (14.5-ounce) cans whole peeled tomatoes
            2          tablespoons extra-virgin olive oil
            1          onion, chopped fine
                        Salt and pepper
            3          garlic cloves, minced
            1/4      teaspoon red pepper flakes
            1          pound hot or sweet Italian sausage, casings removed
            12        ounces (1 1/2 cups) whole-milk ricotta cheese
            1          large egg yolk
            1          teaspoon minced fresh thyme or 1/4 teaspoon dried
            8          ounces mozzarella cheese, shredded (2 cups)
            1/4      cup grated Parmesan cheese
            12        no-boil lasagna noodles, broken in half
            3          tablespoons chopped fresh basil
1.  Adjust oven rack to middle position and heat oven to 400 degrees. Pulse tomatoes and their juice in food processor until coarsely ground, about 10 pulses.
2. Heat 12-inch cast-iron skillet over medium heat for 3 minutes. Add oil and heat until shimmering. Add onion and 1⁄2 teaspoon salt and cook until softened and lightly browned, 5 to 7 minutes. Stir in garlic and ­pepper flakes and cook until fragrant, about 30 seconds. Add sausage and cook, breaking up meat with wooden spoon, until no longer pink, about 5 minutes. Stir in processed tomatoes, bring to simmer, and cook until sauce is slightly thickened, about 10 minutes; transfer to bowl.
3. In separate bowl, combine ricotta, egg yolk, thyme, 1⁄2 teaspoon salt, and 1⁄2 teaspoon pepper. Combine mozzarella and Parmesan in third bowl.
4. Spread 3⁄4 cup sauce over bottom of now-empty skillet. Shingle 7 noodle halves around edge of skillet and place 1 noodle half in center. Dollop one-third of ricotta mixture over noodles, then top with ­one-quarter of mozzarella mixture and one-third of remaining sauce (in that order). Repeat layering process twice, beginning with noodles and ending with sauce. Top with remaining mozzarella mixture.
5. Transfer skillet to oven and bake until cheese is golden brown and lasagna is bubbling around edges, 30 to 40 minutes. Let lasagna cool for 10 minutes, then sprinkle with basil and serve.
---
Chocolate Chip Skillet Cookie from Cook It in Cast Iron
Serves 8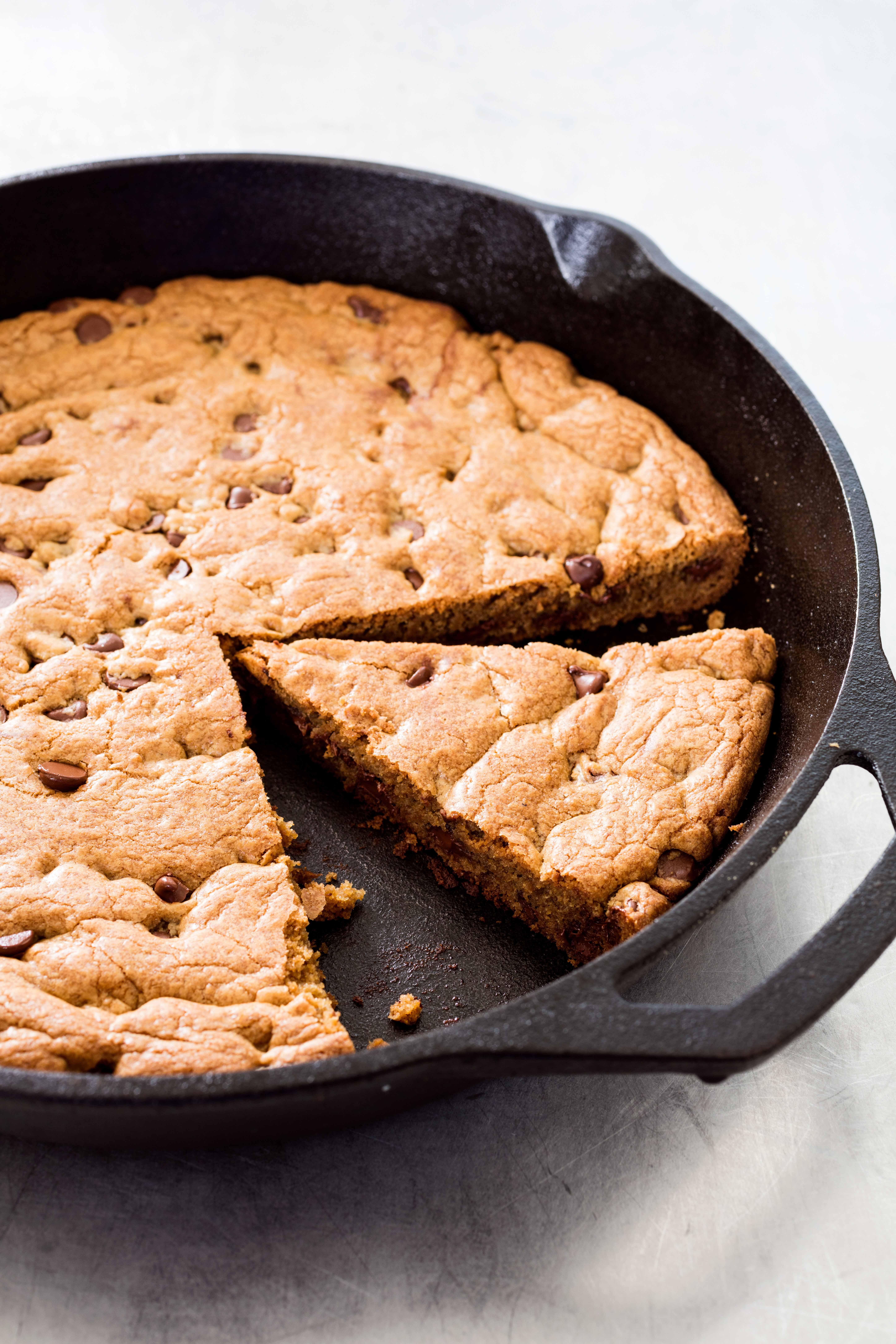 Why This Recipe Works: A cookie in a skillet? We admit this Internet phenom made us skeptical . . . until we tried it. Unlike making a traditional batch of cookies, this treatment doesn't require scooping, baking, and cooling multiple sheets of treats; the whole thing bakes at once in a single skillet. Plus, the hot bottom and tall sides of a well-seasoned cast-iron pan create a great crust on the cookie. And this treat can go straight from the oven to the table for a fun, hands-on dessert—or you can slice it and serve it like a tart for a more elegant presentation. What's not to like? We cut back on butter and chocolate chips from our usual cookie dough recipe to ensure that the skillet cookie remained crisp on the edges and baked through in the middle while staying perfectly chewy. We also increased the baking time to accommodate the giant size, but otherwise this recipe was simpler and faster than baking regular cookies. Top with ice cream for an extra-decadent treat.
12 tablespoons unsalted butter
¾ cup packed (5 1/4 ounces) dark brown sugar
½ cup (3 1/2 ounces) granulated sugar
2 teaspoons vanilla extract
1 teaspoon salt
1 large egg plus 1 large yolk
1 ¾ cups (8 3/4 ounces) all-purpose flour
½ teaspoon baking soda
1 cup (6 ounces) semisweet chocolate chips
1. Adjust oven rack to upper-middle position and heat oven to 375 degrees. Melt 9 tablespoons butter in 12-inch cast-iron skillet over medium heat. Continue to cook, stirring constantly, until butter is dark golden brown, has nutty aroma, and bubbling subsides, about 5 minutes; transfer to large bowl. Stir remaining 3 tablespoons butter into hot butter until completely melted.
2. Whisk brown sugar, granulated sugar, vanilla, and salt into melted butter until smooth. Whisk in egg and yolk until smooth, about 30 seconds. Let mixture sit for 3 minutes, then whisk for 30 seconds. Repeat process of resting and whisking 2 more times until mixture is thick, smooth, and shiny.
3. Whisk flour and baking soda together in separate bowl, then stir flour mixture into butter mixture until just combined, about 1 minute. Stir in chocolate chips, making sure no flour pockets remain.
4. Wipe skillet clean with paper towels. Transfer dough to now-empty skillet and press into even layer with spatula. Transfer skillet to oven and bake until cookie is golden brown and edges are set, about 20 minutes, rotating skillet halfway through baking. Using potholders, transfer skillet to wire rack and let cookie cool for 30 minutes. Slice cookie into wedges and serve.
---
Related 'Chicago Tonight' content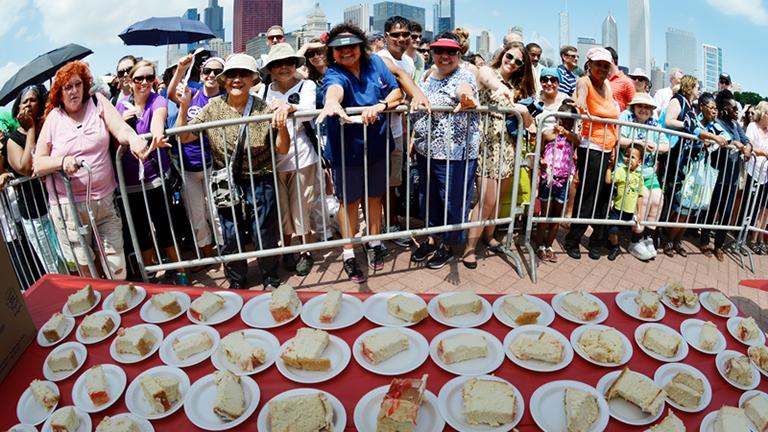 New Book Serves Up Eli's Cheesecake History, Recipes
Feb. 11: The long and delicious history of the company is told in a new book, "The Eli's Cheesecake Cookbook: Remarkable Recipes from a Chicago Legend." Maureen Schulman, one of the book's authors, shares this sweet tale and tips for making the perfect cheesecake.
---
Dr. Andrew Weil Talks Healthy Lifestyle, Recipes in New Book
Nov. 17, 2015: The holistic health pioneer, a Harvard-trained medical doctor and botanist, is the author of 15 best-selling books. He joins "Chicago Tonight" to talk about his newest book, "Fast Food, Good Food: More than 150 Quick and Easy Ways to Put Healthy, Delicious Food on the Table."
---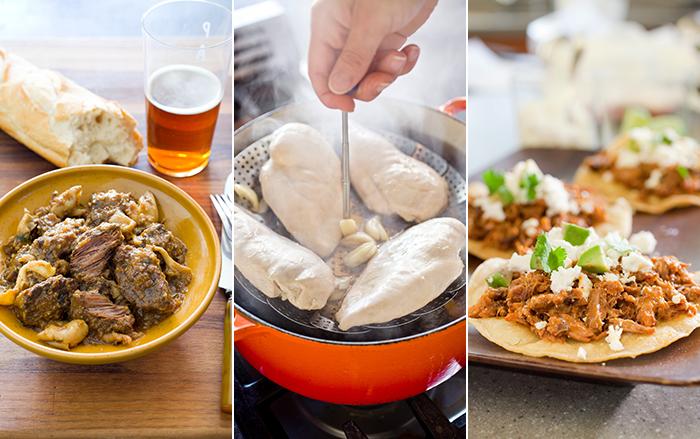 America's Test Kitchen's Jack Bishop on the Essential Recipes
Oct. 21, 2015: Jack Bishop from America's Test Kitchen gives us a look at their new book that aims to help you cut through the recipe clutter. Also, learn how to make Perfect Poached Chicken Breasts and other dishes from ATK.
---