The Chicago Teachers Union formally submitted its 10-day strike notice to the Chicago Board of Education on Thursday.
Parents and teachers have started preparing for a potential shutdown of classes starting Tuesday, Oct. 11 after the union announced Wednesday that they're ready to walk off the job that day.
But Mayor Rahm Emanuel on Thursday sounded confident that the two sides will be able to reach a deal in the next 10 days.
The mayor was flanked by CPS CEO Forrest Claypool and Chief Education Officer Janice Jackson. He calls the strike one of choice, not necessity, reiterating that teachers union leadership nearly accepted this offer several months ago and that an independent arbiter ruled that it was fair.
At issue for teachers is the fact that they are being called to pay 7 percent more of their paycheck toward pensions – ending the practice of the so-called pension pickup. They say it amounts to a pay cut, but Emanuel says that teachers will see a 13-percent raise to more than counteract that over the life of their contract.
Teachers also say they want the mayor to unlock more money from Tax Increment Finance districts so that it can go to the financially troubled school system. But the mayor says the city has already spent massive amounts of TIF money on schools.
"If you add up every year we've used TIF surplus to help Chicago Public Schools, it's close to three quarters of a billion dollars," Emanuel said. "The primary recipient of TIFs are the public schools. But don't mistake long-term stability with a short-term, one-time (fix). That's all TIFs are. The taxpayers being asked to step up was not one time."
The mayor is referring to the fact that taxpayers are on the hook for more than $200 million more in property taxes for CPS this year and every year after.
Claypool says CPS will come out with the specifics on strike contingency plans next week. During the last strike four years ago, schools and park district buildings were open for kids during the school day for day care type activities while teachers picketed. But school officials say they still don't think they'll need to go this route.
"We think a strike can be averted," said Jackson. "I think that's what educators and parents want to hear. Obviously a strike is disruptive to the parents and the students and it means the student is missing out on valuable education."
We spoke to a smattering of CPS parents about the anxiety they're feeling as the strike date looms less than two weeks away.
"You think about what happens to the students. They really just picked up after having a brain drain over the summer, and then they've had a few weeks under their belt, and they're going to be home for a few weeks, hopefully for a few days, and then they'll have to pick up where they left off," said Nicole Heller, a parent of students at Skinner North Elementary.
"How do I keep my kids occupied? They just got started with school and they have projects and plans, and having a disruption like this kind of messes up the whole family," said Skinner North parent Liz Krebs.
The mayor, school officials and parents were on hand to celebrate Skinner North on the Near North Side  as it received the blue ribbon award as a top school from the U.S. Department of Education. Meanwhile, Gov. Bruce Rauner weighed in on the potential work stoppage – calling a strike a tragedy and heaping blame on the administration of CPS.
"A strike would be terrible for the children of Chicago, terrible for the hardworking families in Chicago, it would be a very tragic event," Rauner said. "Unfortunately, Chicago Public Schools has been financially and structurally mismanaged for decades, and the mismanagement is coming home to roost."
Rauner's comments came at an event calling for state House lawmakers to pass a bill that would give state IDs to ex-offenders recently released from prison – it passed the Senate. On hand with the governor were two African-American Democratic lawmakers who offered high praise for his work on criminal justice reform. The governor said it could lead to more such harmonious moments on issues like the state budget.
Follow Paris Schutz on Twitter: @paschutz
---
Related stories: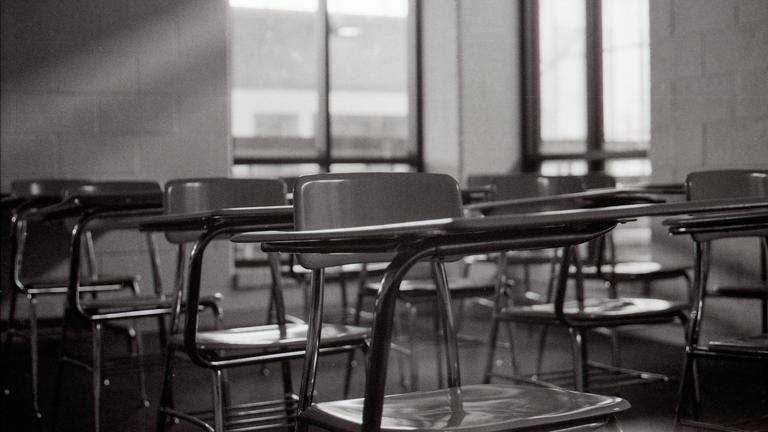 As Teacher Strike Looms, Parents Make Plans for Kids Missing School
Sept. 29: Some parents are skipping family events and stockpiling paid time off to make sure they're able to watch children during a possible teacher's strike next month.
---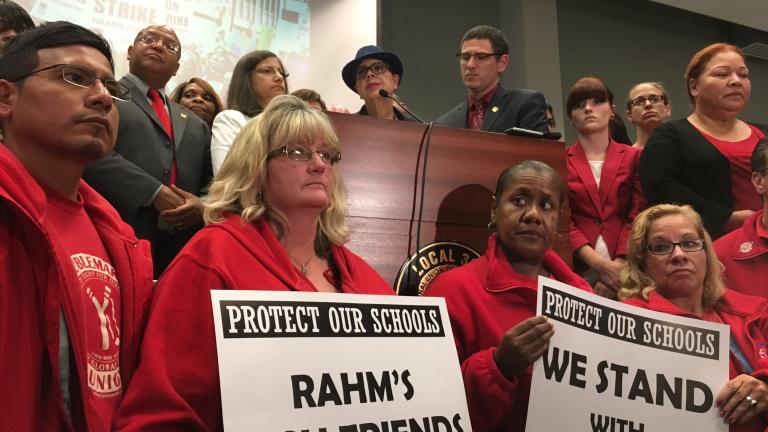 CTU Sets October Strike Date if No Contract Agreement Reached
Sept. 28: The CTU plans to serve CPS its 10-day strike notice Thursday for a possible Oct. 11 walkout. We hear more about the plan from CTU Vice President Jesse Sharkey.
---
CTU Overwhelmingly Votes to Authorize Teacher Strike
Sept. 26: More than 95 percent of Chicago Teachers Union members who participated in last week's three-day authorization vote said they were in favor of another work stoppage.
---