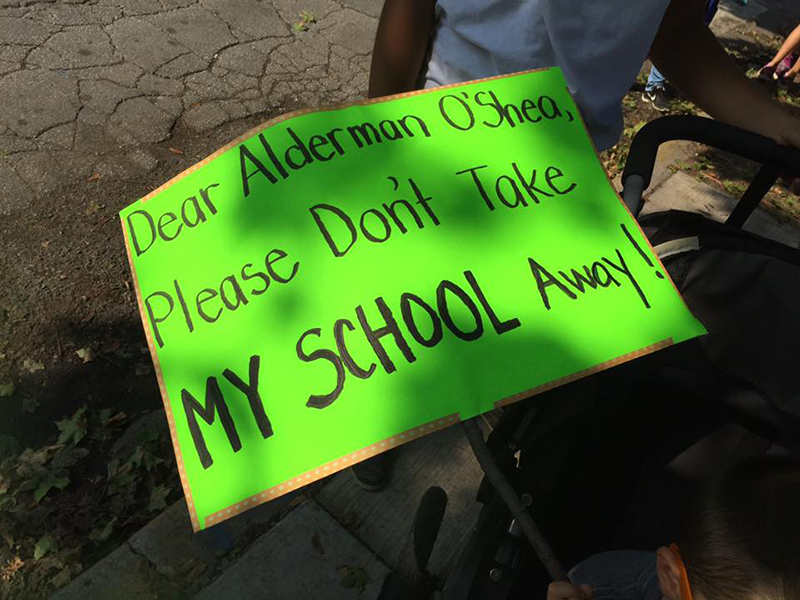 More than 200 parents, students and Beverly residents turned out Saturday for a unity walk from Kellogg Elementary to Ald. Matt O'Shea's office. (Scott Smith)
A Chicago alderman's multi-phase plan to resolve overcrowding at Mount Greenwood Elementary has been met with disdain by local parents who say the proposal limits diversity and hinders minority students, offering a solution to an imaginary enrollment problem at other area schools.
Earlier this month, Ald. Matt O'Shea (19th Ward) joined with State Sen. Bill Cunningham (D-Chicago) to release a wide-ranging plan dealing with what he called "shifting enrollment" by shuffling around students in multiple school buildings within the Beverly neighborhood.
Essentially, the alderman's plan would merge students from Kellogg Elementary into Sutherland Elementary – two Level 1 schools with predominantly black students. Students from Keller Regional Gifted Center would then move into the Kellogg building, allowing Mount Greenwood Elementary – a predominantly white school located a half-mile away – to use the Keller building as part of an enlarged dual campus to eliminate overcrowding.
---
That process would be done in steps over the course of one or two years, moving children grade-by-grade from Kellogg into Sutherland.
But critics say this would cramp classes inside the merged Kellogg/Sutherland school and force the remaining students attending a dying Kellogg to be left without necessary resources caused by minimal enrollment.
Parents have come out in force against the plan, including more than two dozen who turned up at Wednesday's Board of Education meeting to rail against the proposal.
"Trying to relieve the overcrowding of a predominantly white school by creating an overcrowding situation in two diverse neighborhood schools that are doing well is the wrong approach to me," John Gross, the father of three Kellogg students, told the board.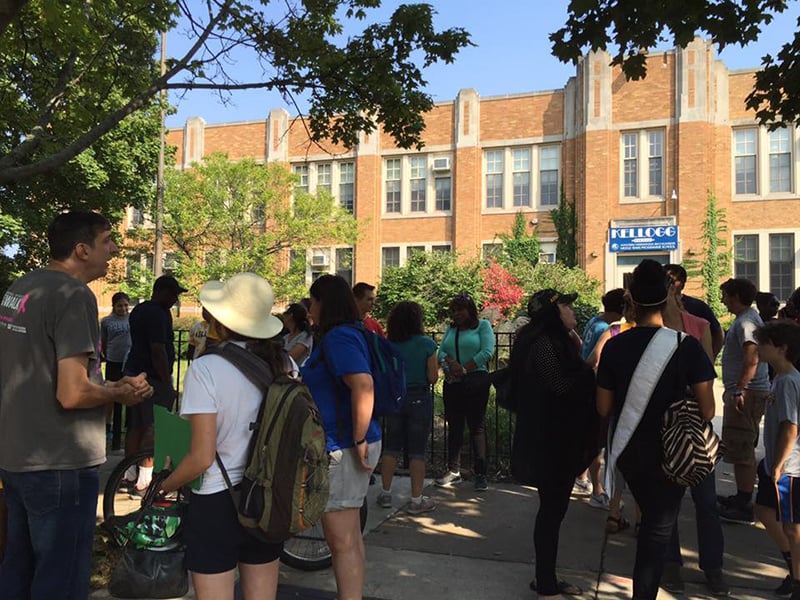 Scores of concerned citizens gathered over the weekend to protest a plan that would merge Kellogg and Sutherland elementary schools. (Scott Smith)
Mount Greenwood is indeed overcrowded, with more than 1,100 students inside a building O'Shea says was built to accommodate just 990.
Wednesday's demonstration was not the first for parents opposed to the alderman's plan. Around 250 concerned residents took part in a "Save Kellogg Unity Walk" from Kellogg to O'Shea's office this past weekend, and a Change.org petition to halt the proposal has received more than 700 signatures online.
On top of forcing two student populations together, concerns have also been raised about limiting school choice opportunities for students, according to Emily Lambert, a parent representative of Kellogg's local school council.
Because they are high-performing schools, Kellogg and Sutherland each participate in Chicago Public Schools' Options for Knowledge program, which allows them to draw students in from outside their attendance boundaries if open seats are available.
Lambert says O'Shea's plan would essentially shut down the option program at the school.
"We are concered that we have these schools that have racial and economic diversity, and we want to maintain that and to keep our strong options for everybody in our neighborhood, everybody in our ward, but also in the city of Chicago who would like to have access to our schools," Lambert said
Multiple attempts at reaching O'Shea for comment were unsuccessful Wednesday. In his email announcing the proposal earlier this month, he said it's his duty as an alderman to provide the best possible options for students and residents within his ward.
"To meet the changing demands of our community we must re-examine the existing landscape to ensure we are making the best use of our resources," he wrote in the Sept. 6 email. "Therefore, in an effort to enhance performance, balance enrollment, and address infrastructure needs throughout the community, I am proposing a comprehensive plan to expand, move, merge, and ultimately improve our local elementary schools."
Moving Keller – a selective enrollment school with students from across Chicago – would have a minimal effect on its student body, according to O'Shea, that may even reduce the daily commute for many who already live closer to the Kellogg building. The Keller building would then provide an "ideal capacity" for a second Mount Greenwood campus.
He has also cited census data, saying enrollment at Kellogg is slated to decline sharply down to just 151 students by 2021. But parents claim they've refuted that number using district projections that peg the school's enrollment in 2021 at 236 students.
Kellogg matched its CPS enrollment projection of 248 students for the 2016-17 school year, according to the district's 10th-day enrollment figures, while Sutherland came in 56 students below its projection, at 614 students. Both totals are down slightly over the 2015-16 school year.
Margaret LaRaviere, whose son attends Kellogg, told Chicago Tonight in an email she and other parents have asked O'Shea to create a task force of concerned stakeholders. That request has thus far gone unanswered.
While the proposal has been discussed thoroughly by the public, it has not yet been brought for review before the Board of Education. Board President Frank Clark said no board members have been briefed on O'Shea's proposal, but added that parents at the meeting voiced their concerns loud and clear.
"We take our input," he said. "Obviously we listen to the elected officials that you elect, we also listen very carefully to what the public has to say. Frankly, I'm more than slightly impressed by the turnout and the passion and in some cases … the thoughtfulness of your comments."
Follow Matt Masterson on Twitter: @ByMattMasterson
---
Related stories: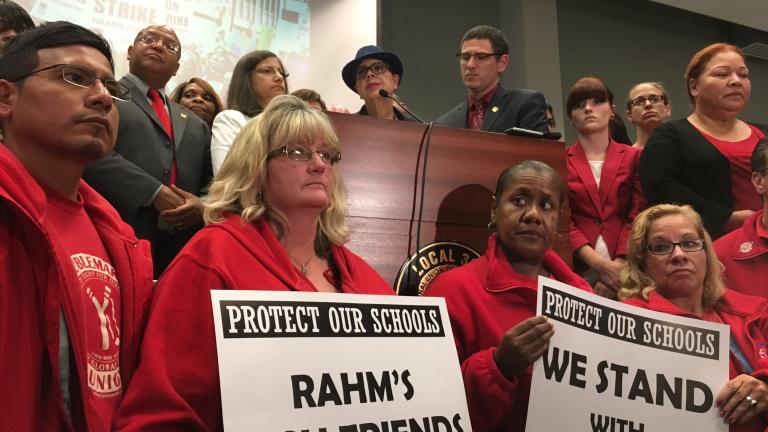 CTU Sets October Strike Date if No Contract Agreement Reached
Sept. 28: Chicago public school parents wondering how close their kids' teachers are to going on strike now have an answer.
---
CTU Overwhelmingly Votes to Authorize Teacher Strike
Sept. 26: More than 95 percent of Chicago Teachers Union members who participated in last week's three-day authorization vote said they were in favor of another work stoppage.
---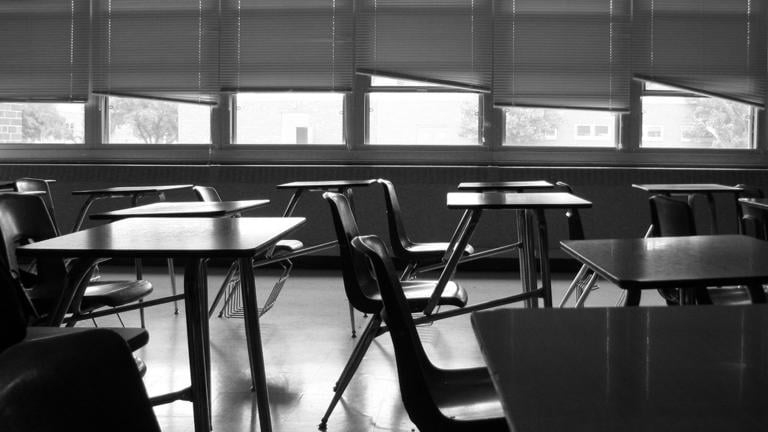 CPS Data Show Minority Students More Likely to be Suspended, Expelled
Sept. 22: More than 96 percent of district suspensions and 99 percent of expulsions affected minority students last school year.
---
Dyett High School Reopening 1 Year After Activist Hunger Strike
Sept. 1: Doors at the school will reopen next week in Bronzeville for the first time since the 2014-15 school year. Chicago Public Schools announced last fall the school would be transformed into a neighborhood school focused on arts.
---