Dyett High School for the Arts' new Innovation Lab is among an array of modifications made at the Bronzeville-area school set to reopen next week. (Matt Masterson / Chicago Tonight)
School is back in session at Dyett High School, one year after a group of parents and activists refrained from eating solid food for weeks to help save it from closing.
Doors at the school will reopen next week in Bronzeville for the first time since the 2014-15 school year. Chicago Public Schools announced last fall the school would be transformed from a traditional high school into a neighborhood school focused on arts.
"I am so excited," new principal Beulah McLoyd said during a media tour of the school Thursday afternoon. "I told (CPS Chief Education Officer Janice) Jackson that after eight or nine months (of preparation) it's like giving birth to a baby."
CPS says it has spent $14.6 million refurbishing the school – now called Dyett High School for the Arts – adding on theater tech/fashion rooms, a dance studio, a digital media lab and an Innovation lab.
The district initially expected 125 freshmen to enroll for the 2016-17 school year. But CPS says Dyett is now projected to have 150 students – 85 percent of whom are from the neighboring community – when its doors reopen next week.
That's more than 10 times larger than the school's previous graduating class, made up of just a dozen seniors.
In 2011, the district cited Dyett's poor academic performance in opting to phase out the under-enrolled school over a three-year period.
Parents and activists responded by holding a 34-day hunger strike last fall to try and save the school. CPS eventually changed its course, agreeing to turn Dyett into the open enrollment, arts-themed neighborhood high school it is today.
"I think the lesson is something that I've always known and it's reflective in my leadership style, which is that you have to engage the community and listen to the community," Jackson said when asked about the hunger strike. "Everybody chooses a different mechanism, obviously that was dramatic and garnered a lot of attention, but I think there are countless other examples … where we have shown under this administration we are listening more to the community."
CPS Chief Education Officer Janice Jackson (left) and Dyett Principal Beulah McLoyd took media on a tour through the re-opening school Thursday afternoon. (Matt Masterson/Chicago Tonight)
But that decision did not immediately placate many of the activists, who felt the district didn't consider input from community members who sought to convert Dyett into a Global Leadership and Green Technology academy.
"We were never opposed to some kind of marriage between arts and sustainability," said Jitu Brown, a member of the Coalition to Revitalize Dyett who took part in last year's hunger strike. "We were opposed to the former political leadership in this area locking us out of the process when we knew we were the ones who had fought for this school."
A 2012 CPS presentation on the school's closing showed that two out of three Dyett students did not graduate, 15 out of 16 students weren't meeting standards on state tests, and only 25 percent of students within the boundary area chose to attend the high school.
But Brown took issue with CPS labeling the school as "underperforming," after he said Dyett saw the biggest increase in the number of students going to college and biggest decrease in arrests and suspensions across the district between 2008 and 2009.
Dyett also received a $4 million athletic facility makeover in 2011 after winning ESPN's RISE UP award.
Now the national director for the Journey for Justice Alliance coalition, Brown called Dyett's reopening an "enormous victory" for Bronzeville, one that also taught local residents a couple of lessons about their community.
"It debunks the really racist stereotype that black parents from working and low-income families do not care, will not fight for our children, because we will, we do and we did," he said in a phone interview Thursday. "It's also a lesson for Chicago on how we truly have two Chicagos. In order to for us to get a state-of-the-art school where (CPS) invested millions of dollars … look at what lengths we had to go to."
On top of reaching into the community with mailings and outreach, McLoyd said recording artists John Legend and Common have also done endorsements for the school.
Dyett is slated to serve between 600 and 800 students at full enrollment, according to CPS, with local residents getting the opportunity to enroll first. No teachers were retained from the old Dyett High School. Class sizes are expected to be between 28 and 30 students, who will attend class three days a week to simulate the college experience, according to McLoyd.
Activists recognized the one-year anniversary of the hunger strike with an event last month. McLoyd said the school is also planning to memorialize the school's history on its campus, but did not say Thursday whether or not that would include references to the strike.
---
More than a year after its contract with CPS expired, the Chicago Teachers Union is considering a more traditional strike sometime this fall if a new deal is not finalized soon.
Negotiations have been hung up on a proposal to phase out the teachers' 7-percent pension payment the district currently picks up.
Jackson had little new to add Thursday on negotiations between CPS and the union. She did reference a January contract offer the district made, which she believes made several quality of life concessions to teachers and shows they are willing to engage in a "meeting of the minds."
"I think teachers want a resolution," she told reporters, "I think parents and students deserve one, and I think it'll make our jobs much more easier if we have something documenting our commitment to our teachers. So we have to find a resolution."
Follow Matt Masterson on Twitter: @ByMattMasterson
---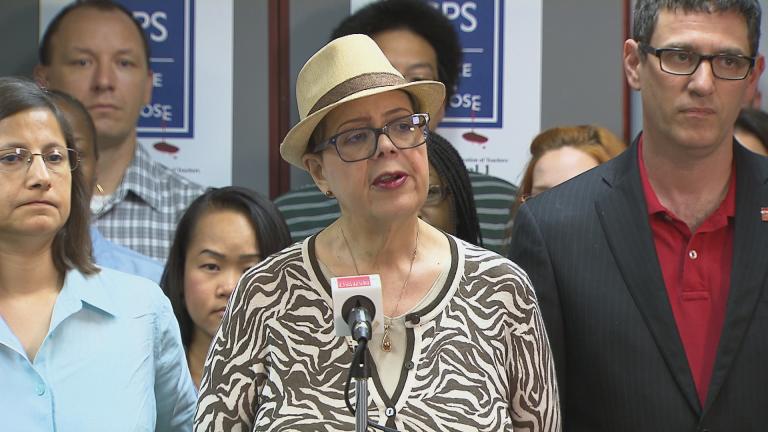 CPS Releases Budget for Coming School Year, Counts on CTU Contract
August 8: Now that Chicago Public Schools has released its budget plans for the coming year, can the district and the Chicago Teachers Union finally nail down a contract agreement?
---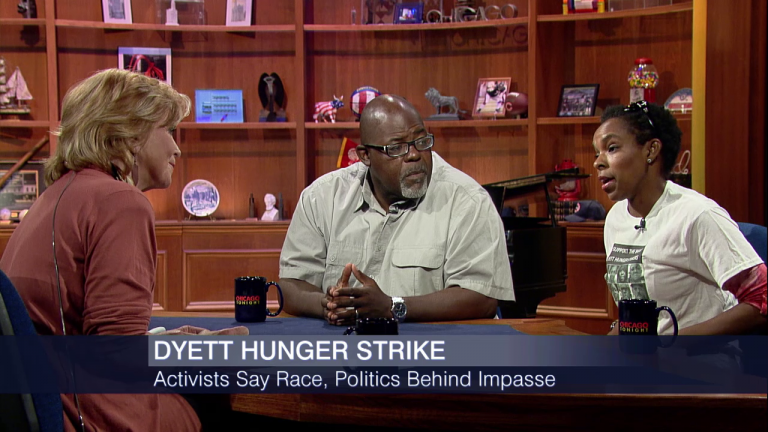 Dyett High School Hunger Strike Continues, Despite CPS Announcement
August 5: It's day 31 of the Dyett High School hunger strike and there's still no sign of a deal that could end the standoff. Two activists participating in the strike explain what triggered their actions.
---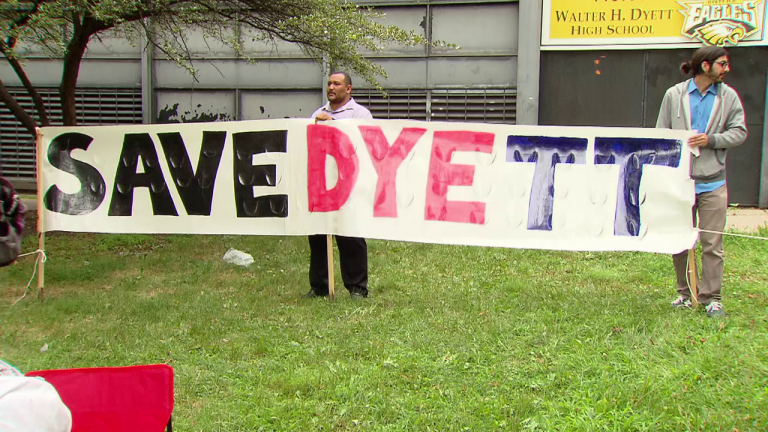 The Fight Over Dyett High School
August 31, 2015: The fight to reopen a South Side high school has caused 12 parents and activists to go on a hunger strike to get Chicago Public Schools to hear their concerns.
---