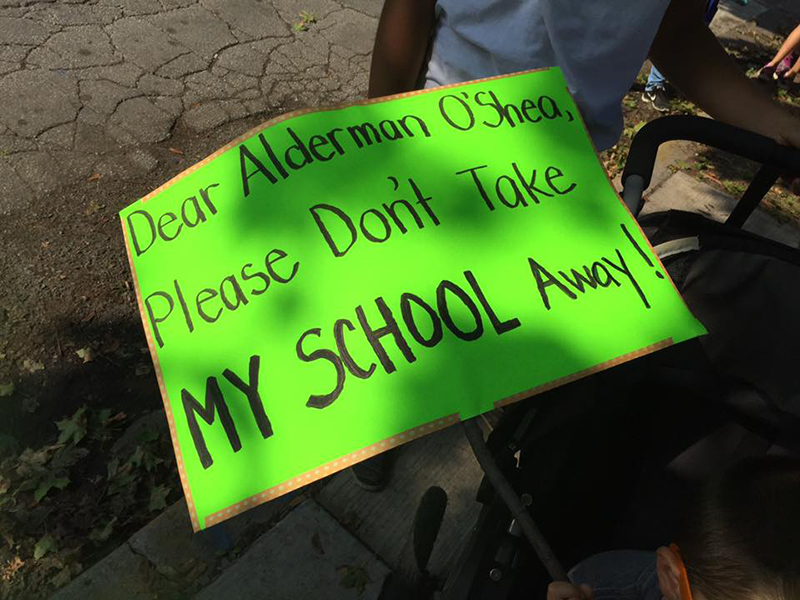 Ald. Matt O'Shea said he will drop a proposed merger of Kellogg and Sutherland elementary schools that had parents in his ward up in arms last month. (Scott Smith)
A Beverly neighborhood alderman dropped his controversial plan to combine two elementary schools within his ward, but some parents are still concerned about what the rest of his proposal could mean for other schools in the community.
In an email to 19th Ward residents Monday, Ald. Matt O'Shea said he will no longer push ahead on his plan to combine students from Kellogg and Sutherland elementary schools.
"After visiting each of the impacted schools, it is evident that parents at Kellogg and Sutherland Elementary Schools do not believe that a merger is in the best interests of their children," he said in the email. "As such, I will not pursue this component of the proposal."
Under the plan, students from Kellogg Elementary would be merged into Sutherland Elementary. Students from Keller Regional Gifted Center would have then moved into the Kellogg building, allowing Mount Greenwood Elementary – located a half-mile away – to use the Keller building as part of an enlarged dual campus to eliminate overcrowding.
---
O'Shea and State Sen. Bill Cunningham (D-Chicago) announced the wide-ranging plan last month, but it was immediately met with scorn from local parents. Community stakeholders turned out in droves at last month's Chicago Board of Education meeting, where they unanimously denounced the plan, saying it would limit diversity within the schools and negatively impact minority students.
Emily Lambert, a parent representative of Kellogg's local school council, was thrilled by the news Kellogg is no longer facing elimination this year.
"We've all basically devoted the last six weeks to fighting off this proposal," she said, referring to parents across the 19th Ward, "and I was glad that he stepped back from it."
In the email, O'Shea said he still believes the plan makes the best use of "limited resources" and would significantly improve education options across his ward. One school absent from the email was Keller – a selective enrollment school with students from across Chicago – leaving the alderman's plans for a future relocation of that school unclear.
"That's definitely an unanswered question," Lambert said, "and there are definitely parents concerned that that is still on the table."
A message seeking comment from O'Shea's office was not immediately returned Tuesday afternoon.
Overcrowding remains a concern to the alderman – more than 1,100 students at Mount Greenwood currently fill a building sized for just 900 – and he plans to work with local school councils from both Kellogg and Mount Greenwood to seek out other possible remedies.
On top of overcrowding concerns, O'Shea also wants district money to upgrade facilities at Esmond Elementary. In the email, he said he has asked CPS to explore options to address overcrowding at Mount Greenwood while also allowing for a "significant capital investment" at Esmond.
One of the benefits from this ordeal, according to Lambert, was that it brought local parents together in opposition of O'Shea's plan, leading to the creation of a new 19th Ward Parents United organization. Large community turnouts are not uncommon at board meetings, but Board President Frank Clark said last month he was "more than slightly impressed" by the number of Kellogg parents and activists there.
Lambert had said previously 19th Ward parents would come to board meetings each month until the merger proposal was off the table. Though Kellogg appears safe, she still expects plenty of parents to turn up later this month on behalf of Keller.
"The rest of us who are part of this parents group will definitely be supportive of," she said. "Me as a Kellogg parent, at least if I go to the Board of Education meeting, I'm going to go knowing that my school is not on the chopping block for this year. And that, for me, is huge."
Follow Matt Masterson on Twitter: @ByMattMasterson
---
Related stories: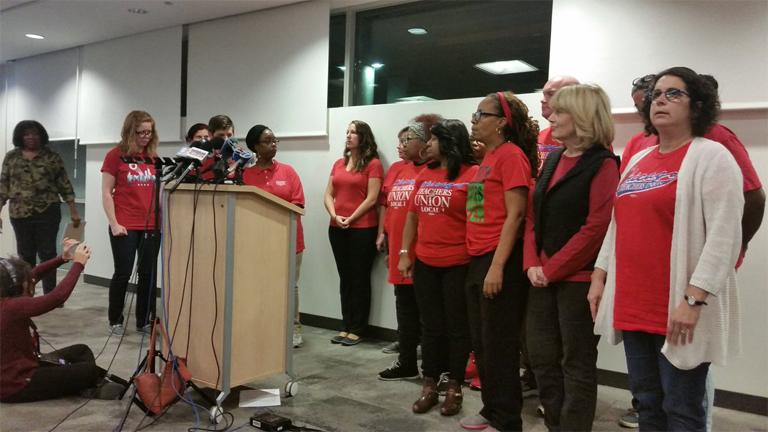 CPS, Teachers Union Reach Tentative Deal to Avert Strike
Oct. 11: A strike by Chicago Teachers Union members has been averted after the union reached a tentative agreement with Chicago Public Schools and the Board of Education.
---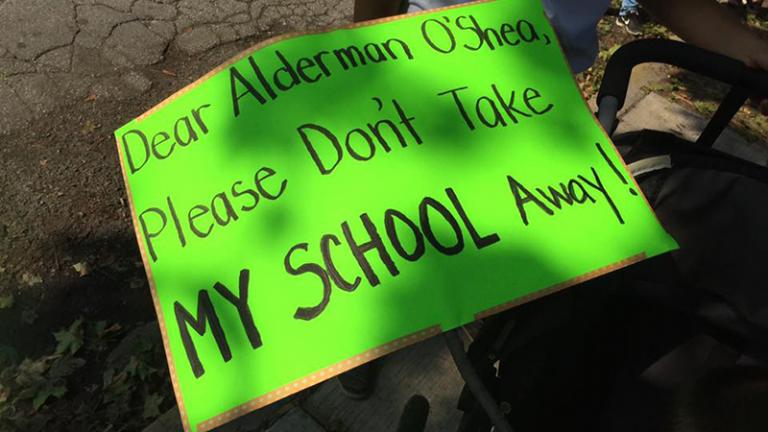 Plan to Merge Kellogg, Sutherland Schools Met With Parent Scorn
Set. 28: A proposal designed to eliminate overcrowding at Mount Greenwood Elementary by shuffling around neighboring schools has been met with disdain by local parents.
---
Dyett High School Reopening 1 Year After Activist Hunger Strike
Sept. 1: Doors at the school will reopen next week in Bronzeville for the first time since the 2014-15 school year. Chicago Public Schools announced last fall the school would be transformed into a neighborhood school focused on arts.
---