The video cannot be displayed.
Former Secretary of State Hillary Clinton on Tuesday became the first woman in the history of the U.S. to earn a major party's nomination for president.
South Dakota put Clinton over the top of the 2,383 delegate votes needed to secure the nomination. Illinois cast 98 votes for Clinton and 74 for Vermont Sen. Bernie Sanders, with Clinton's childhood best friend from Park Ridge, Betsy Ebeling, reading the delegate vote for the state. 
It's a job normally reserved for high-level public officials or others looking to climb the political ladder. Delivering the official roll call vote is a ceremonial and dramatic moment at a political convention, as each state gets its turn in the spotlight to cast its delegate votes.
When Illinois came around, all eyes in the arena and around the world fell on Ebeling.
"In honor of Dorothy and Hugh's daughter and my sweet friend," Ebeling shouted into the microphone. "This one's for you, Hil! 98 votes. Yes!" 
Ebeling formally nominates Clinton: "This one's for you, Hil" pic.twitter.com/XGLmQD3tv2

— Paris Schutz (@paschutz) July 26, 2016
---
"Chicago Tonight" caught up with Ebeling on the convention floor and asked her about the experience.
"It was very personal for her, of all of us," she said, standing next to their other childhood friend, Patsy Bowles. "It was time."
"We're all so over the moon about this," said Bowles. "I'm just so thrilled Betsy could be the one to deliver the nomination for her in Illinois."
Ebeling and Bowles said they have maintained a close, personal relationship through all the turns Clinton's life has taken.
"She's always there for us in hard times," Ebeling said. "We're always there for her too."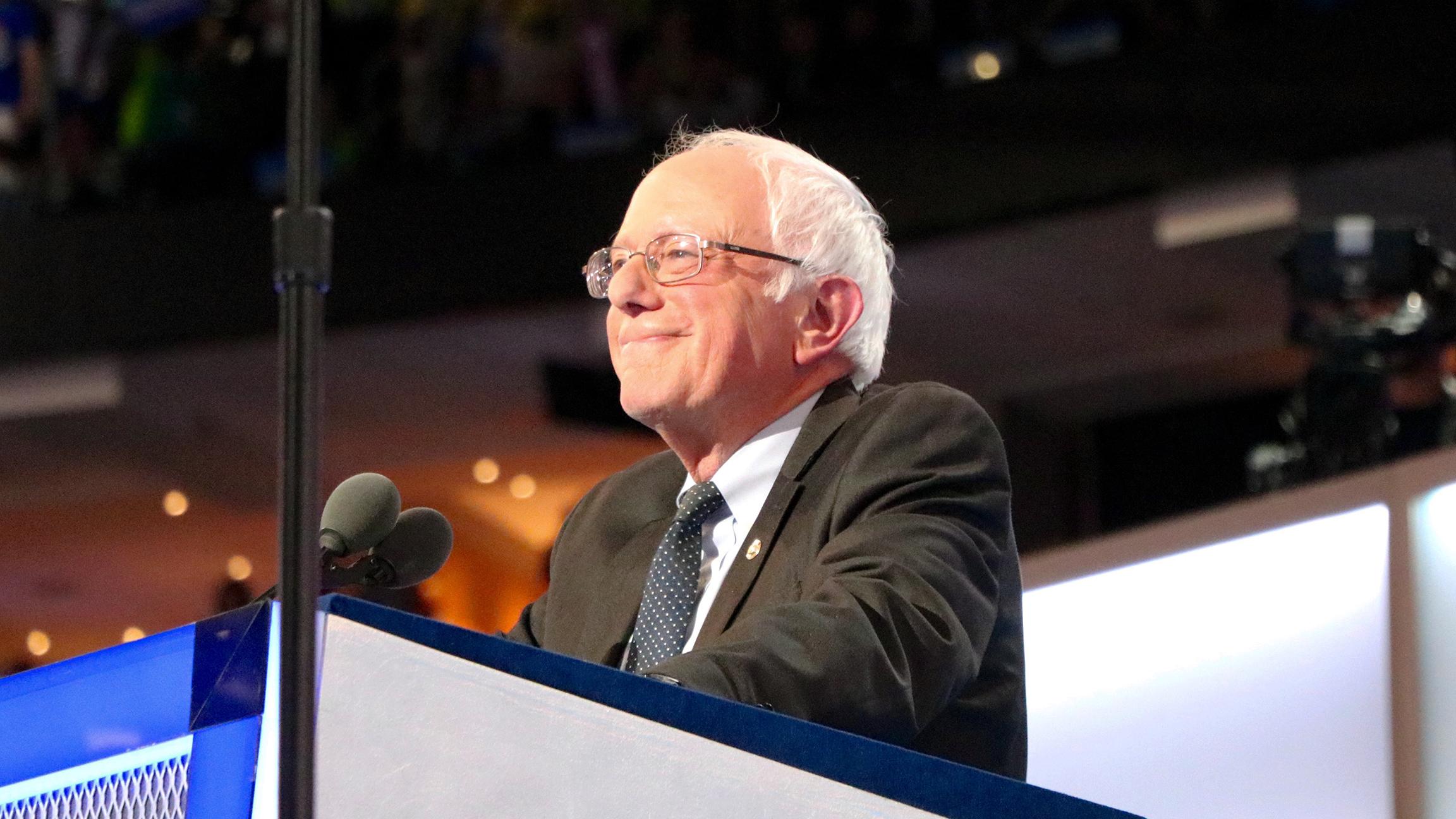 Former Democratic presidential candidate Bernie Sanders speaks Monday at the Democratic National Convention. (Evan Garcia / Chicago Tonight)
Vermont was the final state in the roll call and cast four of its 26 votes for Clinton. Following his state's roll call, Sanders rose to speak and was greeted by chants of "Bernie, Bernie, Bernie!"
"I move that the convention suspend the procedural rules. I move that all votes cast by delegates be reflected in the official record. I move that Hillary Clinton be selected as nominee of the Democratic Party for president of the United States," Sanders said as the crowd cheered.   
Nominating speeches for both Clinton and Sanders took place before the role call vote, with Sanders supporter U.S. Rep. Tulsi Gabbard (D-Hawaii) speaking first.
"This movement of love and compassion is bigger than any one of us," said Gabbard. "Because this is a movement fueled by love, it can never be stopped or defeated."
"We will never stop working for a future we believe in," said Vermont delegate Shyla Nelson, who seconded the nomination. "And we will never forget the man who leads us."
Former President Bill Clinton will deliver the keynote speech Tuesday evening. Sanders, first lady Michelle Obama and Massachusetts Sen. Elizabeth Warren spoke on Monday night.
The convention got off to a rocky start Monday, due in part to fallout from the release of thousands of Democratic Party emails by WikiLeaks on Friday. The leak led to the resignation of Democratic National Committee Chairwoman Debbie Wasserman Schultz and speculation by the Clinton campaign that Russia was involved in the hack. The FBI is investigating the incident.
Sanders supporters on Monday protested in Philadelphia and showed loyalty to their preferred candidate through boos and cheers during keynote speeches, waving signs that read, "Bernie" and "A future to believe in." Many supporters were shown crying as Sanders took the stage to talk about causes ranging from higher education to income inequality and environmentalism, and ultimately, to urge voters to support Clinton in November.
Questions of party unity and whether the "Bernie or bust" crowd will eventually support the Democratic nominee are at the forefront of the convention. Paris Schutz joins us with reaction from Illinois delegates.
Join "Chicago Tonight" for continued coverage of the Democratic National Convention all week.
Follow Paris Schutz on Twitter: @paschutz
---
Sign up for our morning newsletter to get all of our stories delivered to your mailbox each weekday.
---
Related stories
Talk of Chris Kennedy for Illinois Governor Heats Up on Day 2 of DNC
July 26: Once again, the buzz among the Illinois Democratic delegation at breakfast Tuesday was the 2018 race for governor–and finding a challenger to take on Gov. Bruce Rauner.
---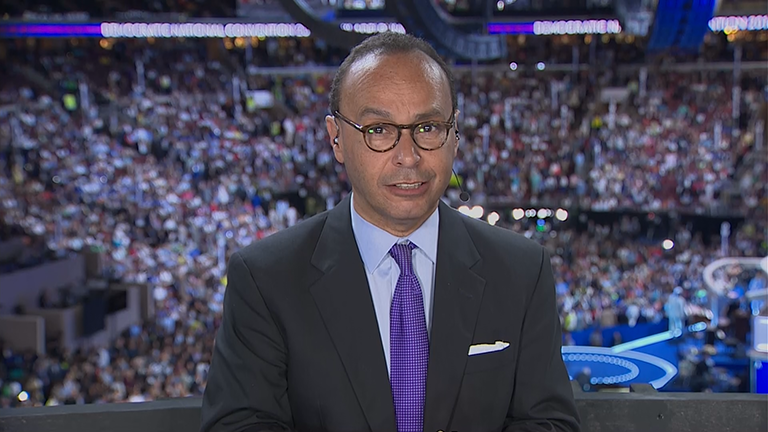 US Rep. Luis Gutierrez Addresses DNC, Party Unity
July 25: While the Democratic National Convention began with fissures in the party, U.S. Rep. Luis Gutierrez says "people are coming together."
---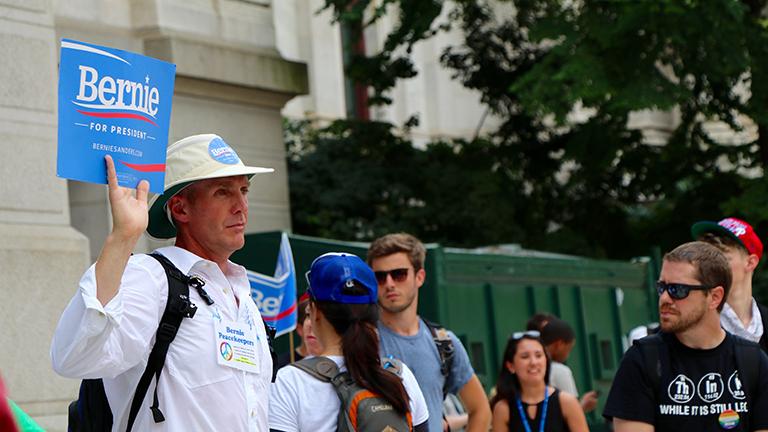 Sanders Supporters Vocal on Day 1 of DNC
July 25: The Illinois delegation is divided among Hillary Clinton and Bernie Sanders supporters, and the latter are divided on whether or not to get behind the party's presumptive nominee. 
---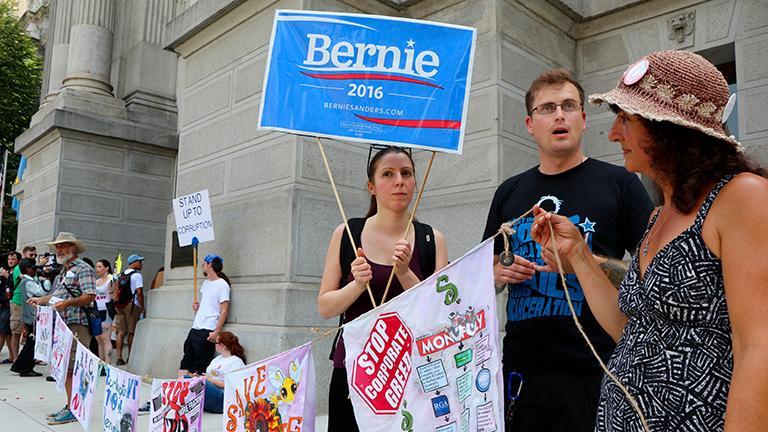 Photos: DNC Convention 2016, Day 1
July 25: The Democratic National Convention on Monday got off to a dramatic start in Philadelphia, as crowds booed outgoing DNC Chairwoman Debbie Wasserman Schultz, supporters of Bernie Sanders took to the streets and temperatures reached a sweltering 96 degrees.
---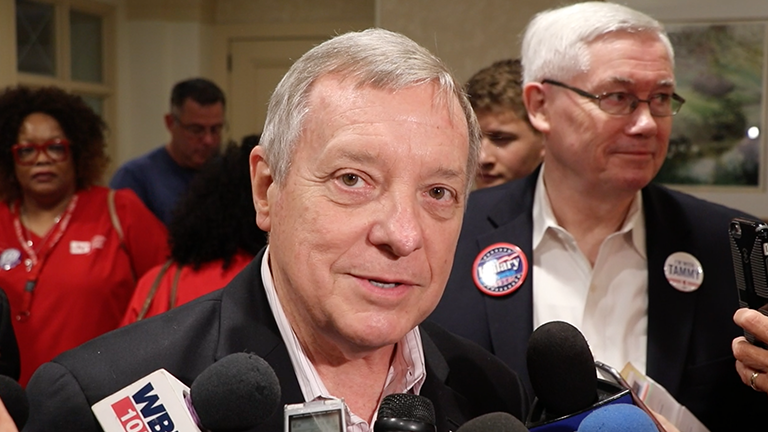 Illinois Democrats Urge Dick Durbin to Run for Governor
July 25: Gov. Bruce Rauner's agenda and finding a Democratic challenger to take him on in 2018 was the focus of the opening breakfast of the Illinois delegation on Monday at the Democratic National Convention in Philadelphia.
---