The video cannot be displayed.
Gov. Bruce Rauner's agenda and finding a Democratic challenger to take him on in 2018 were the focus of the opening breakfast of the Illinois delegation on Monday at the Democratic National Convention in Philadelphia.
"You need a Democratic governor in this state," shouted Connecticut Gov. Dan Malloy, a Democrat, who was a special guest speaker.
The call was echoed by the event's emcee, Cook County Recorder of Deeds Karen Yarbrough, who promptly shot a glance over to U.S. Sen. Dick Durbin, sitting to her right on the podium. Some delegates then started chanting, "Run, Dick, Run!"
Durbin, after repeated questions, refused to rule out such a run, but sought to downplay any talk of 2018.
"There is an election cycle that follows this one, and that will deal with governor," Durbin said. "In this election, I'm focused on electing Hillary Clinton president and (Democratic Congresswoman) Tammy Duckworth senator."
Sources close to Durbin say he is waiting to see how the election turns out in November–and whether or not his party regains a majority in the U.S. Senate–before he decides whether or not to run. Sources also say he is not particularly close to Clinton, and might still want to run regardless of the outcome in November.
Durbin says he has watched Illinois' budget mess unfold over the last year and is upset by it.
"The temporary budget was good, but not good enough," he said. "Everyone should focus their efforts on getting a full-time budget."
But the wheels on a Durbin candidacy might already be in motion. House Speaker Michael Madigan said he talked with Durbin about the prospects of a run "a couple months ago."
"His record in the United States Senate, his record in Illinois government is exemplary," Madigan said. "I think he'd be uniquely qualified."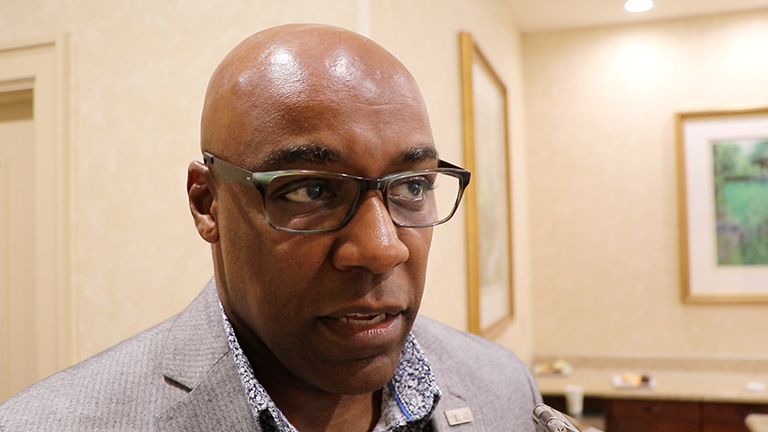 State Sen. Kwame Raoul (D-Chicago) (Evan Garcia / Chicago Tonight)
Other public officials have expressed interest in exploring a run for governor in 2018, including state Sen. Kwame Raoul (D-Chicago), who is a Clinton delegate.
"I wouldn't run away from any job that would put me in a position to solve problems, and our state has a lot of problems," Raoul said. "I'm in such a position now, however I'm one in 59 in my chamber, so certainly, being chief executive puts you in a better position to solve the state's problems."
State Sen. Andy Manar (D-Bunker Hill), also a Clinton delegate, has also expressed interest in a future run, but refused to answer questions on the topic Monday morning. Manar has spearheaded the move in the Illinois Senate to change the way Illinois allocates state funding for education, with the goal of prioritizing money for lower income school districts.
Chicago Ald. Ed Burke (14th Ward) threw another name into the mix, saying he hopes Valerie Jarrett, top aide to President Barack Obama, would consider a run for governor.
Democratic sources all say that Durbin, if he chooses to run, would be the consensus candidate and would likely clear the Democratic field. They say a decision has to be made soon, given Rauner's massive $15.2 million campaign war chest.
Monday morning's breakfast was sponsored by the Chicago Federation of Labor, and featured labor leaders rallying delegates to vote for Clinton as the best choice to strengthen workers' rights.
Join "Chicago Tonight" for continued coverage of the Democratic National Convention all week.
Follow Paris Schutz on Twitter: @paschutz
---
Sign up for our morning newsletter to get all of our stories delivered to your mailbox each weekday.
---
Related stories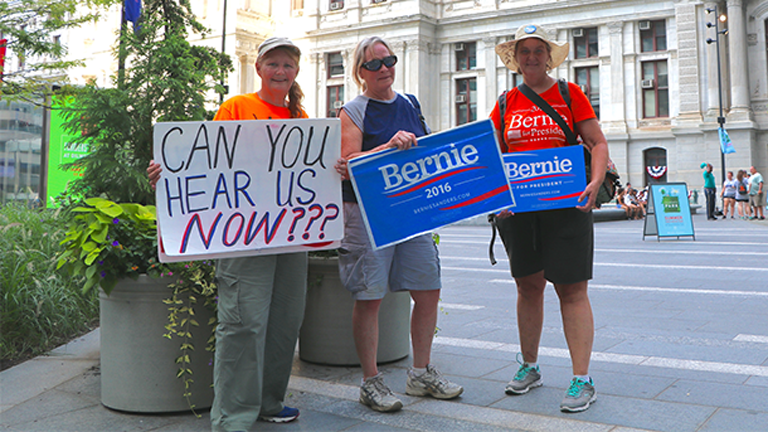 Bernie Sanders Supporters March Through Heat on Eve of DNC
July 24: A heat wave that struck Philadelphia on Sunday didn't keep Bernie Sanders supporters from marching the city's streets on the eve of the Democratic National Convention.
---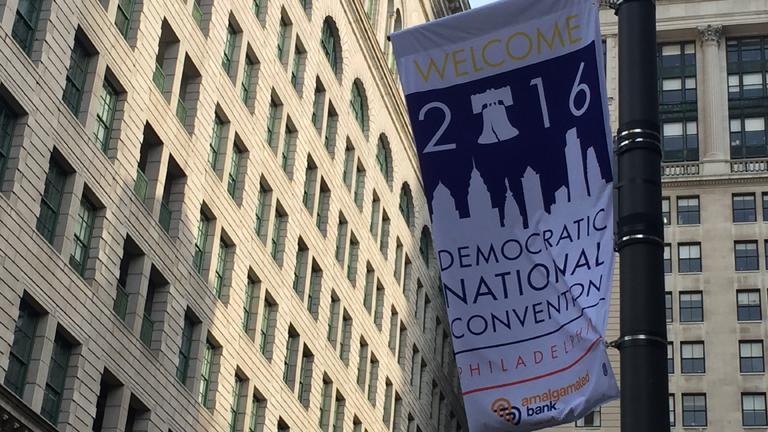 DNC: Powerful, Disjointed Illinois Democrats Arrive in Philadelphia
July 24: Though the Illinois delegates may be united by party title, they represent a cross section of differing philosophies that in some cases are bitterly at odds with each other.
---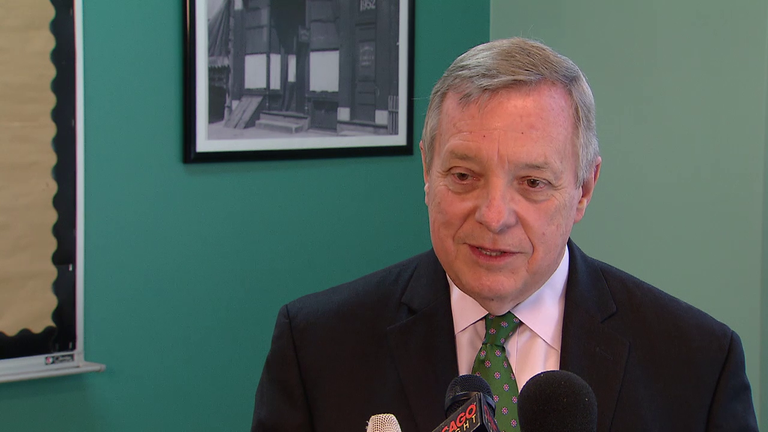 Dick Durbin Responds to Speculation He'll Run for Governor in 2018
May 23: Democratic Sen. Dick Durbin of Illinois did not entirely shoot down rumors that he's considering a run for governor in 2018, but he did ask those speculating to "cool it" and focus instead on a state budget.
---