The video cannot be displayed.
Once again, the buzz among the Illinois Democratic delegation at breakfast Tuesday was the 2018 race for governor–and finding a challenger to take on Gov. Bruce Rauner.
The assembled delegates, public officials and members of organized labor heard an impassioned pitch from another prominent figure: former University of Illinois board chairman Chris Kennedy, son of the late Robert F. Kennedy. In his speech, Kennedy slammed Rauner's tenure and offered himself as an alternative to attracting business to Illinois.
"I know what it takes to get companies to move to Illinois and expand once they arrive," Kennedy said. "Not one of the 5,000 or so tenants and exhibitors I dealt with (at the Merchandise Mart, which Kennedy ran and was owned by his family) ever asked me about prevailing wage, redistricting, tort reform or workers' comp," he said, in reference to the items in Rauner's "turnaround" agenda.
Kennedy referred to Rauner's philosophy as a "dark force" in government, aimed at dismantling public institutions and privatizing them.
"To be successful in their privatizing narrative, it must be that government, which belongs to all of us, is broken beyond redemption and needs to be cut to the bone, its institutions destroyed and critical public assets sold at auction.
"This governor's so-called turnaround agenda is part of the misdirection, part of the narrative that government doesn't work so he has to privatize it.
"Chaos, uncertainty and the unknown are the enemies of our economy, and they've been brought to our doorstep by our governor and his political allies," Kennedy added. "The suffering and chaos he's unleashed on the people of Illinoisan needs to end.
"I believe in the future of our state, I believe in the greatness of our major city, Chicago."
Kennedy has been floated as a candidate for governor in the past. House Speaker Michael Madigan says he has met with Kennedy about it, and said he would make an "excellent candidate." He was seen shuttling into meetings with Madigan staffers at the Philadelphia Courtyard Marriott on Tuesday morning, the hotel where the Illinois delegation is staying.
After his speech, Kennedy refused to take any questions from the media about whether or not he'd declare himself a candidate, looking frustrated as reporters' questions on the topic kept coming.
The Democratic National Convention is a type of one-stop shopping for politicians looking to gain favor and recognition from other elected officials, fundraisers, and business and labor groups. Tuesday morning's speech was at a breakfast sponsored by the laborers' trade union.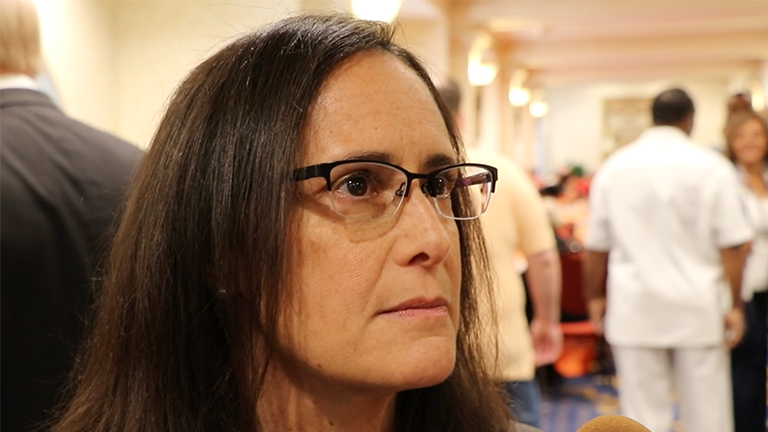 Lisa Madigan (Evan Garcia / Chicago Tonight)
Another familiar name and one-time gubernatorial candidate is being mentioned again as a possible challenger to Rauner in 2018. Attorney General Lisa Madigan ended her bid three years ago because she said that she did not want to serve if her father, Michael Madigan, was still in office. On Tuesday, she refused to rule out another run.
"It's a tough job, but it's not an impossible job," Madigan said. "There are so many issues this state needs to work on that have not been attended to because of the budget problem, and because of the chaos that has been created. We need serious leadership."
But Madigan admitted that her father, who shows no signs of slowing down as speaker of the House, weighs on her desires to seek that office.
"Obviously, he's a factor," she said, without elaborating on what exactly that meant.
On Monday, Illinois delegates amped up calls for U.S. Sen. Dick Durbin to get in the race, as state Sens. Kwame Raoul and Andy Manar addressed speculation that they too were exploring runs.
Join "Chicago Tonight" for continued coverage of the Democratic National Convention all week.
Follow Paris Schutz on Twitter: @paschutz
---
Sign up for our morning newsletter to get all of our stories delivered to your mailbox each weekday.
---
Related stories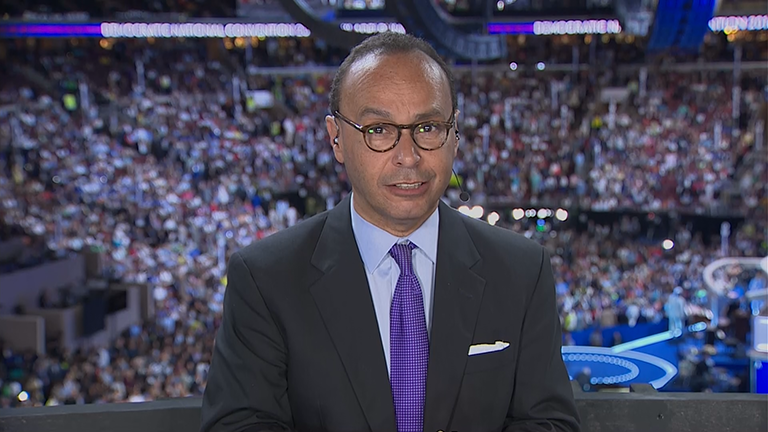 US Rep. Luis Gutierrez Addresses DNC, Party Unity
July 25: While the Democratic National Convention began with fissures in the party, U.S. Rep. Luis Gutierrez says "people are coming together."
---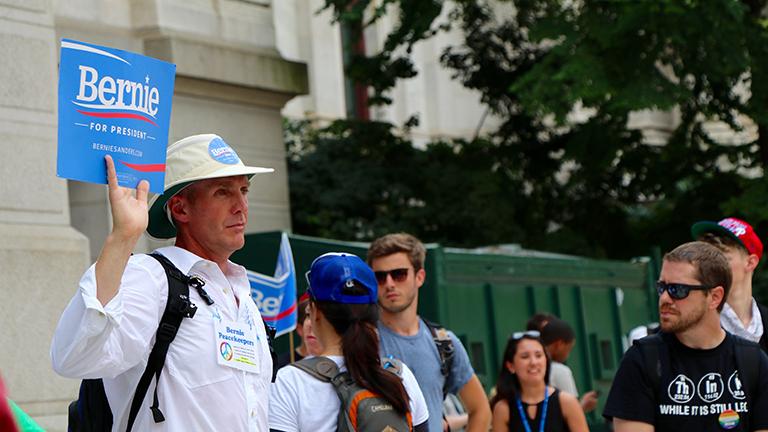 Sanders Supporters Vocal on Day 1 of DNC
July 25: The Illinois delegation is divided among Hillary Clinton and Bernie Sanders supporters, and the latter are divided on whether or not to get behind the party's presumptive nominee. 
---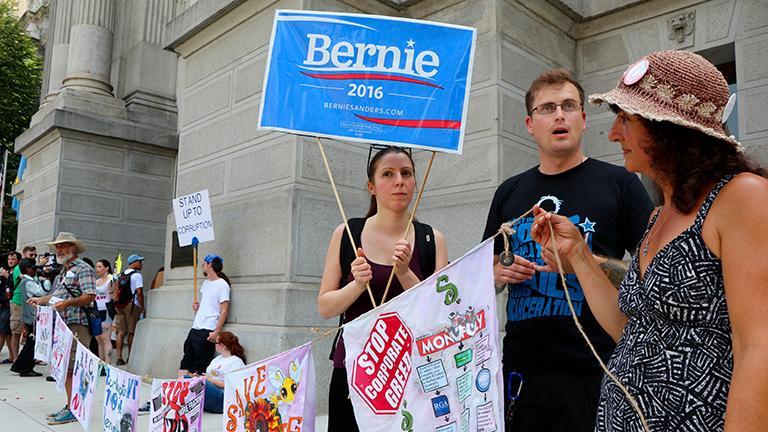 Photos: DNC Convention 2016, Day 1
July 25: The Democratic National Convention on Monday got off to a dramatic start in Philadelphia, as crowds booed outgoing DNC Chairwoman Debbie Wasserman Schultz, supporters of Bernie Sanders took to the streets and temperatures reached a sweltering 96 degrees.
---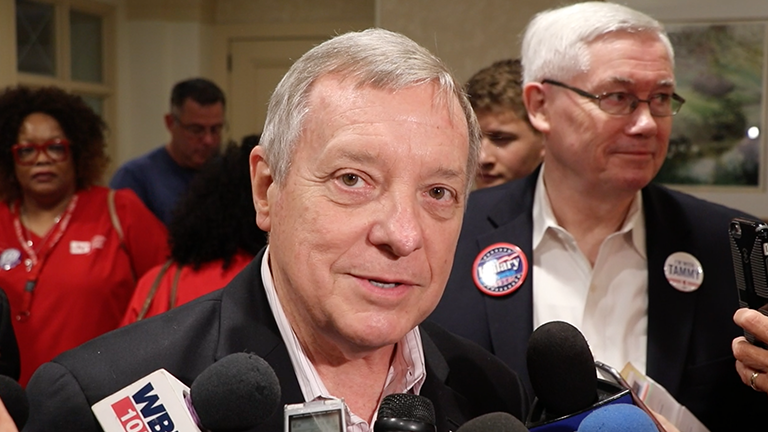 Illinois Democrats Urge Dick Durbin to Run for Governor
July 25: Gov. Bruce Rauner's agenda and finding a Democratic challenger to take him on in 2018 was the focus of the opening breakfast of the Illinois delegation on Monday at the Democratic National Convention in Philadelphia.
---