There's little progress out of Springfield on a budget or funding for education, but there are no lack of words being hurled back and forth between Gov. Bruce Rauner and Mayor Rahm Emanuel, who has in recent days likened his one-time friend to Donald Trump, while Rauner on Monday called Emanuel his "greatest disappointment" since taking office.
Emanuel sat down with "Chicago Tonight" political correspondent Paris Schutz for a one-on-one interview to discuss the budget impasse, school funding, the city's high homicide numbers, police accountability, pension funding and more.
Crisis at CPS?
The mayor cited a recent University of Chicago study that shows record graduation rates in Chicago when asked by Schutz whether there is a "crisis" of principals leaving CPS because of the state budget impasse.
"That's really great news," Emanuel said of the study. "And the reason we're getting that is our school principals."
Teachers, however, face their share of educational challenges and "should not have an extra burden on the finances," Emanuel said, adding that the financial uncertainty has not yet reached the level of a crisis, but that "Illinois must meet its primary function" of funding education.
Emanuel said a budget proposed by House Democrats last month that was promptly slammed by Gov. Bruce Rauner and Republicans "reverses inadequate and inequitable funding," but agreed there must be compromise.
"There'd have to be tax revenue, to pay for part of that," Schutz added.
"The toughest issue is people have already agreed there has to be revenue," he said. "What's holding everything up is this additional burden that's being put on the budget called the Turnaround agenda."
Budget battle
Emanuel said items in Rauner's so-called Turnaround agenda "are not necessary to be done right now. The primary job is to pass a budget that invests in our future." Workers' comp and collective bargaining, for example, have held the budget process up, he said.
"Piling up billions of dollars of unpaid bills while kids are being forced out of schools, where principals are rethinking whether they're going to stay is not about a Turnaround agenda. Things that are challenging have gotten far worse in the last 19 months under his tenure," Emanuel said.
"In private, the president and the mayor are very supportive of our reforms," said Gov. Bruce Rauner on Monday.
On Monday, Rauner had the following to say about Emanuel:
"For a year, I've proposed to the mayor and the president and the speaker: Let's get reforms. Let's get a balanced budget and we'll have the money to put in to our school system," Gov. Bruce Rauner said. "So far the president and the mayor have rejected our proposals. They don't want reforms. In private, the president and the mayor are very supportive of our reforms.
"But in public, they've stood behind the speaker. They've stayed behind the speaker. The speaker's been clear: He doesn't reforms, so if I have one major disappointment in the last 18 months, it's with the mayor."
Emanuel said he's supported workers' comp in public, referring to an appearance by Rauner at City Council last May, after which Emanuel stated his support for reform. "That's not behind closed doors," he said. "I can't help it if he can't make a budget and lead the state."
Emanuel also questioned his status as Rauner's "greatest disappointment."
"You're saying your greatest disappointment isn't that you've tripled the unpaid bills for the state? Isn't the fact that kids aren't going to colleges in your state? Isn't that parents are now looking for daycare that you're not funding?
"Maybe for my wife, Amy, I may be your greatest disappointment," Emanuel quipped. "But for the governor? I would suggest to him that he may want to reevaluate his priorities."
Chicago violence a national issue
Emanuel addressed Chicago's image in the wake of an article from The New York Times about the city's gun violence. He cited Chicago's uptick in tourism, and events like the Copa America international soccer game and the America's Cup sailing race, as positives for the city's reputation.
"Obviously, my first concern is also the quality of life in our neighborhoods. There's a lot of strengths to the city," the mayor said.
"What we need to do is deal with this in a comprehensive way. The last four months, our police officers have been affected by what's going on. They need to be held up when they do right. They need to be held accountable when they're not. There are individual officers who are not holding up the highest standard. But the lion's share of our officers are doing their job and doing it well. And getting between the Gangster Disciples and the Vice Lords stopping them from shooting is the Chicago Police Department. And they need our support to know that their work of doing preventive policing is effective," Emanuel said.
But, Emanuel added, "We will continue to build Chicago as a business destination and for tourists." 
The mayor said the recently released video and audio files showing some instances of apparent police brutality do not represent the entire police department.
"As much as you may not like what you see on an individual video about an individual office … if you see an officer doing a good job – who are mentoring kids, [starting] basketball leagues, going the extra mile to help somebody – hold them up, compliment them. They need that support to know that they are doing a good job," Emanuel said.
---
Related from 'Chicago Tonight'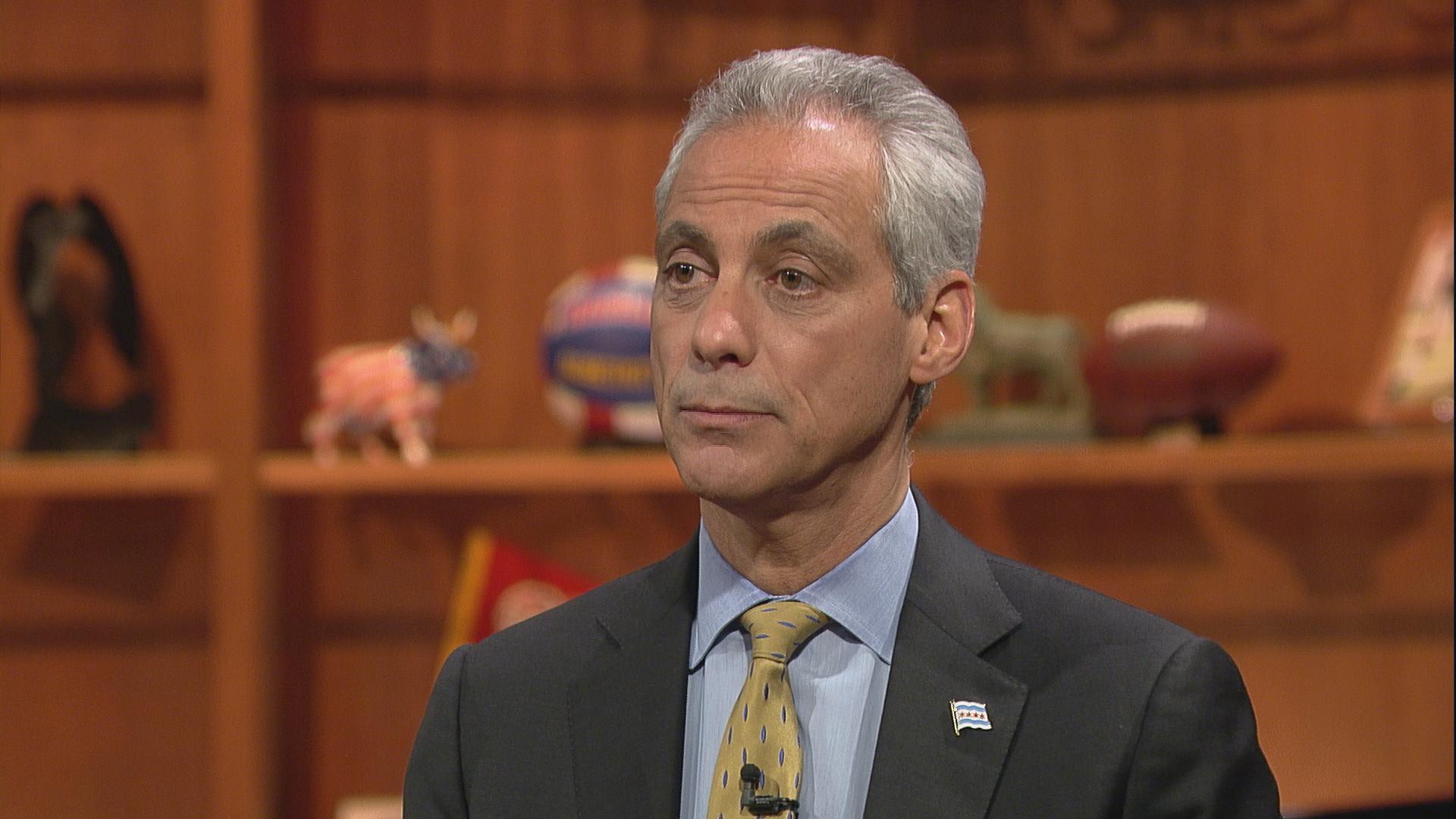 What Questions Do You Have for Mayor Emanuel?
June 6: Mayor Rahm Emanuel joins "Chicago Tonight" for a one-on-one interview with Paris Schutz on Tuesday. What are your questions for the mayor? Share them with us.
---