The video cannot be displayed.
Chicago-based artist Kerry James Marshall has long been the focus of international attention.
From his art studio in Bronzeville, he makes paintings sought after by museums and galleries around the world. The images are often meditations on American history.
His works are in the collections of the Smithsonian, the National Gallery and the Art Institute.
Now the artist is being recognized with a career retrospective at the Museum of Contemporary Art, called "Kerry James Marshall: Mastry." We caught up with him at the opening.
TRANSCRIPT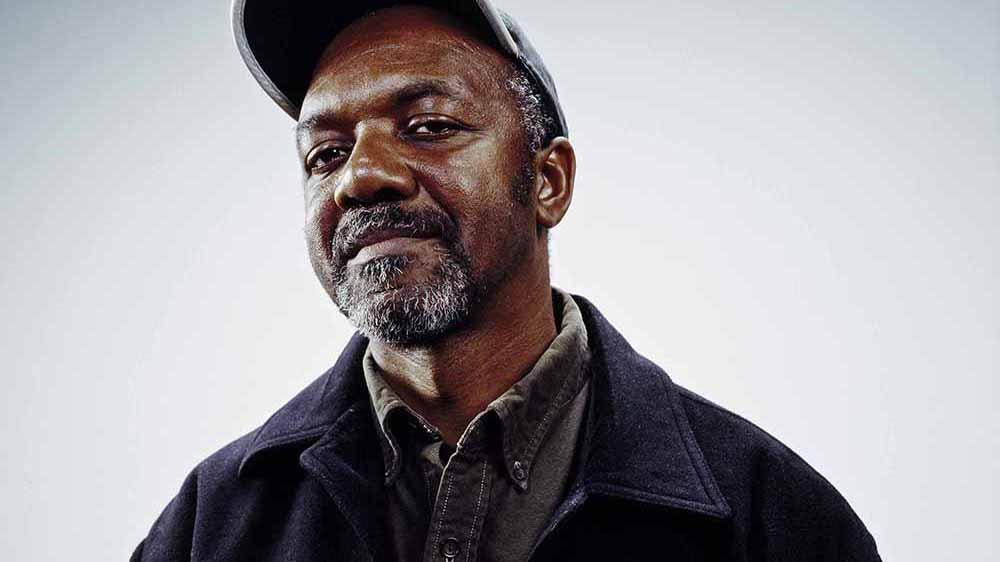 Kerry James Marshall (Cameron Wittig, Walker Art Center, Minneapolis)
Phil Ponce: The paintings of Kerry James Marshall fill the fourth floor galleries at the MCA Chicago. Large canvases present modern themes painted in classical art traditions. His dissections of matters of race can be provocative: The figures often gaze directly at the viewer. Their skin tones are strikingly black. The pictures conjure a strange magic.
We asked the artist what it feels like to see his life's work assembled.
Kerry James Marshall: It does make you a little dizzy sometimes, wandering around through the parts of your past, things you've done a long time ago. I have some things that I haven't seen in 25 years in here, and so it's always really a pleasure to see things that you can still feel comfortable with and confident about and that you actually made some things even when you were younger that you can be proud of.
Ponce: Born in Birmingham, Alabama, and raised in the Watts neighborhood of Los Angeles, Marshall now lives and works in Bronzeville, where "Chicago Tonight" visited him in 2009. Some of what he was working on then is now in the retrospective at the MCA – including an ongoing comic book project, "Rythm Mastr," in which African statues come to life to help a neglected Chicago neighborhood.
Nearby are intense reflections on the Civil Rights era and even kitsch-inspired works.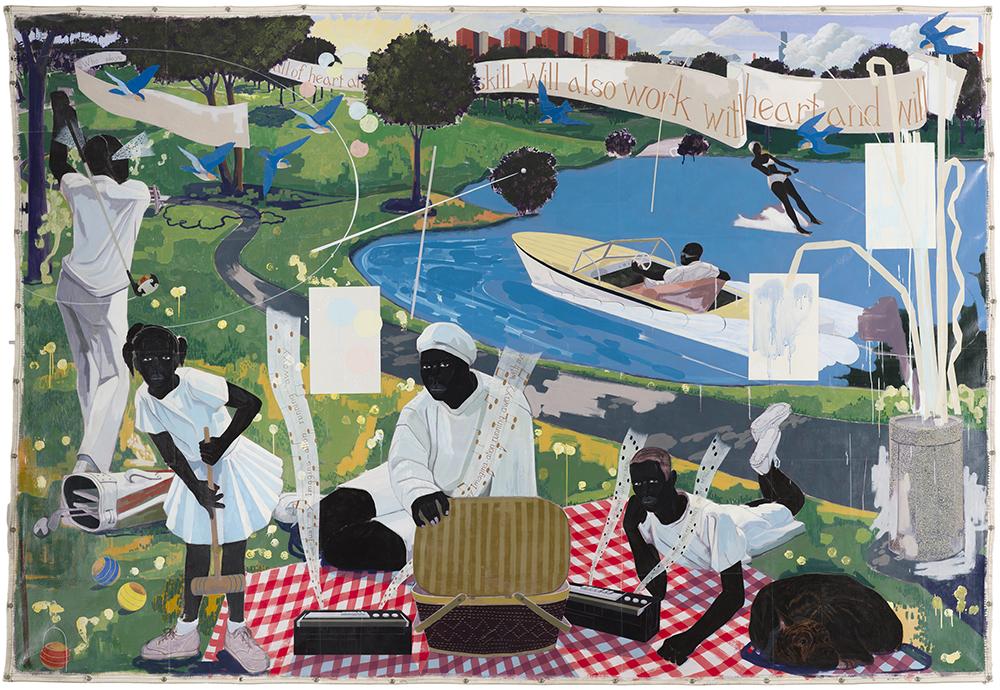 "Past Times," 1997. (Courtesy of the MCA)
Madeleine Grynsztejn, director of the MCA: Kerry James Marshall is a master of painting. He has taken it upon himself to become a master of every genre of painting, from landscape paintings to still lifes (like you see behind me), to history paintings. You will see in this exhibition and the entire trajectory of Kerry's career, a focus on the black figure, very black figure. Kerry has devoted himself, a kind of one-man-band in the commitment to entering the black figure into the history of art.
When you go to most museums, most encyclopedic museums, most museums of modern art, you actually don't see a lot of black people on the walls, and Kerry is single-handedly committed to sort of course-correcting that absence.
Ponce: We asked Marshall about the emphatic black tones he uses for the figures in his paintings and drawings.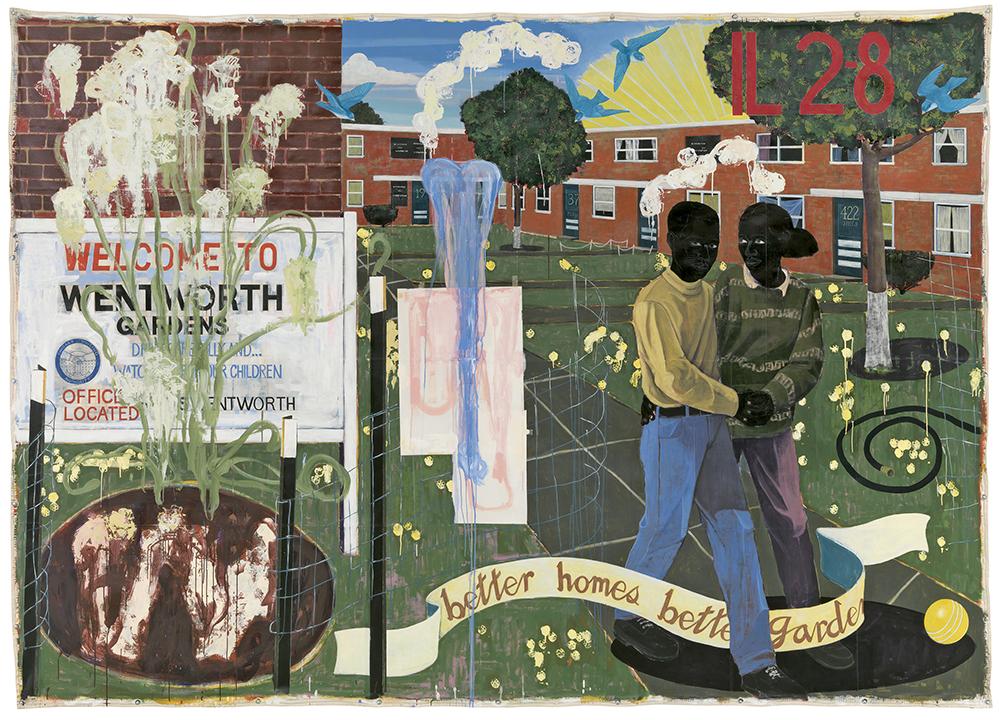 "Better Homes, Better Gardens," 1994 (Courtesy of the MCA)
Marshall: When I first arrived at this black figure as the subject, I started using it as a rhetorical device. And so if you think about the ways which we use language – and picture-making is a language system as well – that rhetorically when we talk about blackness or we talk about black people or talk about white people, we're not describing the nuances that might be present within a collection of people or a population. And the reason you do that is because at the rhetorical extremes, this is where you gather the most power and where you have the most impact. And so if I'm going to be addressing the subject of blackness and representation, and its either presence or absence within the historical narrative of painting, what I want to do is gather the most power and to be able to deliver it with the most intensity. So that's why I started using the blackness as a primary color.
I also wanted to be unequivocal that when you see a figure in a painting, that you immediately identify that figure as black, and once you identify that figure as black then you no longer have to think about that, now you can go on to consider all of the other things about the context in which you see the figure.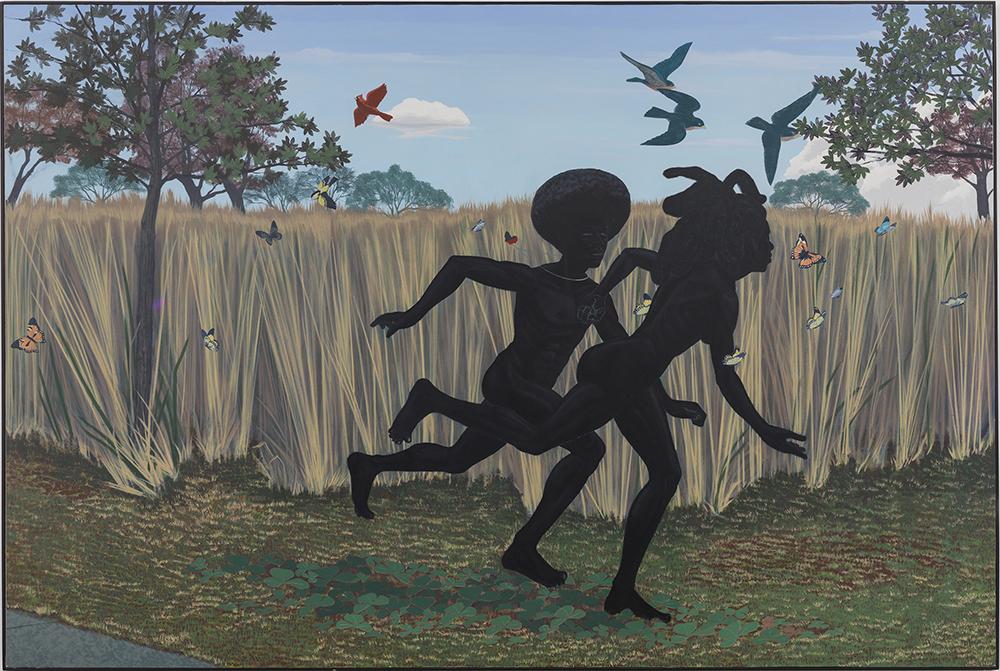 "Better Homes, Better Gardens," 1994 (Courtesy of the MCA)
Within that blackness there are levels of complexity in the blackness, they are not just flat black. I mean they may have started out that way, started out as silhouettes and shadows but over time what I think I've been able to demonstrate is that, even within the extreme of that blackness, you can involve levels of complexity that require people to look more closely at the thing and not simply assume when they see it that there's even more absence within the black subject, as it's represented.
Ponce: We also asked him about the sometimes monumental scale of his works.
Marshall: Scale matters. When I make a picture like this, I'm interested in calling attention to the picture and the subject within it because I think the subject is that important. It's important enough to notice, and I don't want to make pictures that you can easily overlook or easily pass by without at least taking account of it.
Ponce: Among his recent paintings is a wedding portrait of Harriet Tubman. He gave his reaction to the news that she will be featured on the $20 bill.
Marshall: It's an interesting development. What I'm glad about is that they finally decided not to take Hamilton off the 10, which didn't make any sense to me, and to replace Andrew Jackson, which made a lot more sense. And that Harriet Tubman is the person they chose is pretty exciting I think.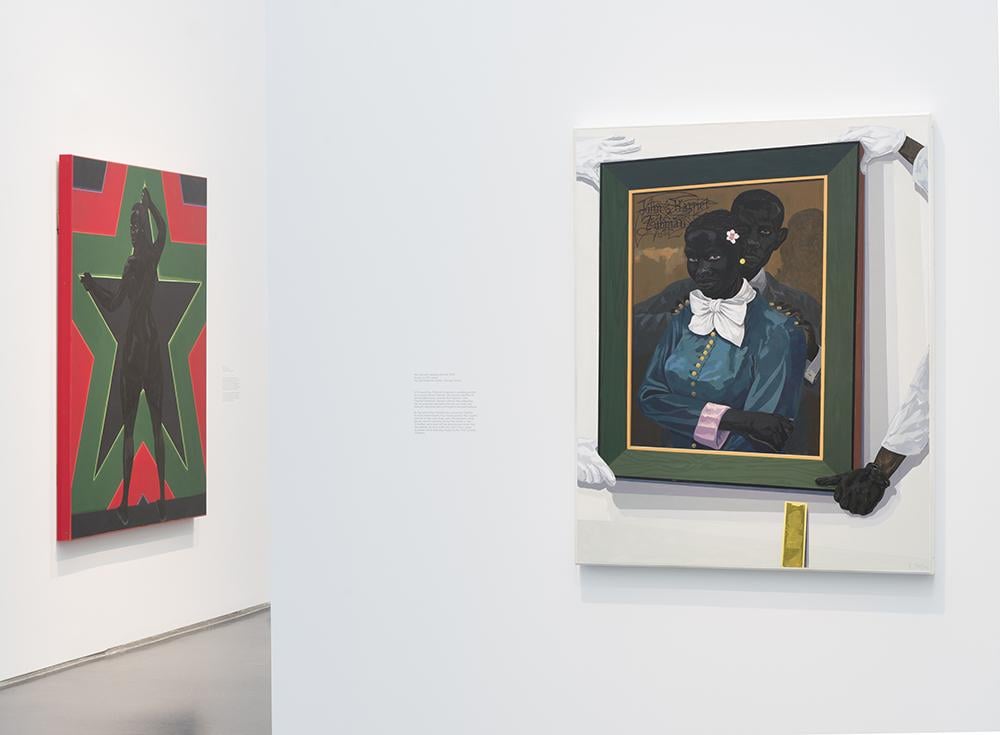 On the right, "Wedding Portrait of John & Harriet Tubman" (Courtesy of the MCA)
Grynsztejn: This is such a great moment for this artist, Kerry James Marshall, but it's also a great moment for the city of Chicago because it has in its ranks a fantastic, fantastic artist who has international acclaim. And an indication of that is after we close this exhibition here in September, it travels New York City's Metropolitan Museum and after that to Los Angeles's Museum of Contemporary Art. So this is the moment to come to the Museum of Contemporary Art and see a living, great artist, one of the greatest living American artists anywhere, who happens to be from Chicago. It's one of the moments to come here, see all of his work, and also see how Chicago itself informs his practice.
Ponce: Marshall has a clear view of his artistic practice.
Marshall: I see everything through the filter of possibility, and the possibilities that knowledge emboldens you to be engaged with. That's how I see the world.
---
The "Kerry James Marshall: Mastry" exhibition recently opened at the Museum of Contemporary Art Chicago and runs through Sept. 25. 
---
Related stories from "Chicago Tonight"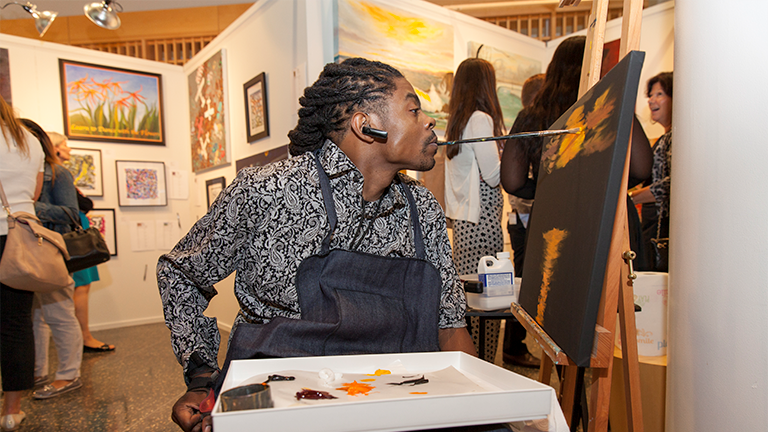 Art in Motion Showcases Talents, Progress of RIC Patients
May 2: The 14th annual Rehabilitation Institute of Chicago fundraiser features artwork by 23 of their patients, including art by two mouth painters who will show off their skills during Thursday's opening reception. 
---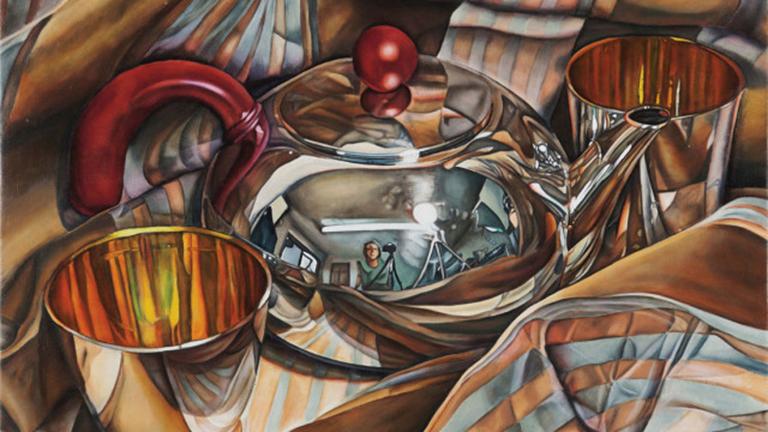 Virtuoso Photo-Realist Painter Returns to Chicago
April 29: Meet the onetime stay-at-home mom who painted everyday kitchen objects before emerging as a sought-after artist.
---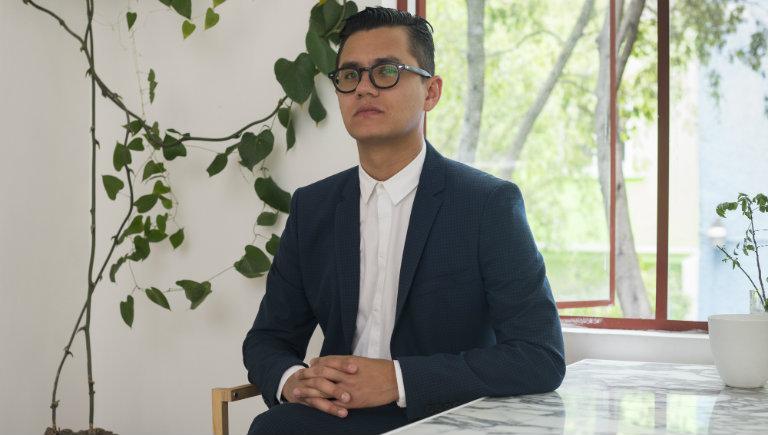 MCA Appoints New Associate Curator Jose Esparza Chong Cuy
April 8: Writers and curator Jose Esparza Chong Cuy, who was previously associate curator at the Museo Jumex in Mexico City, replaces Julie Rodrigues Widholm.
---
October 6, 2009: Praised for his paintings, a renowned Chicago artist goes back to the drawing board to create a comic strip.
---