A unique art exhibit returns to the city this week. It's called Art in Motion, and it features works by nearly two dozen art therapy patients of the Rehabilitation Institute of Chicago.
"All patients have their art displayed and we get a huge range of ability," said Alison Ossyra, advancement project manager at the Rehabilitation Institute of Chicago. "We have some people who were artists before their injury and now they've adapted to a different way of doing art."
Among the artists participating in the 14th annual event are two mouth painters, Antonio Davis and Mariam Paré. You can see them in action during the opening reception on Thursday.
"They had an interest in art before their injuries," said Ossyra of Davis and Pare. "After [their] injuries they've had to figure out a new way to do it."
In addition to artwork by RIC patients, 60 professional artists will have their work on display. James Rondeau, president and Eloise W. Martin director at the Art Institute of Chicago, will serve as the juror of submissions by the professional artists and award three monetary prizes.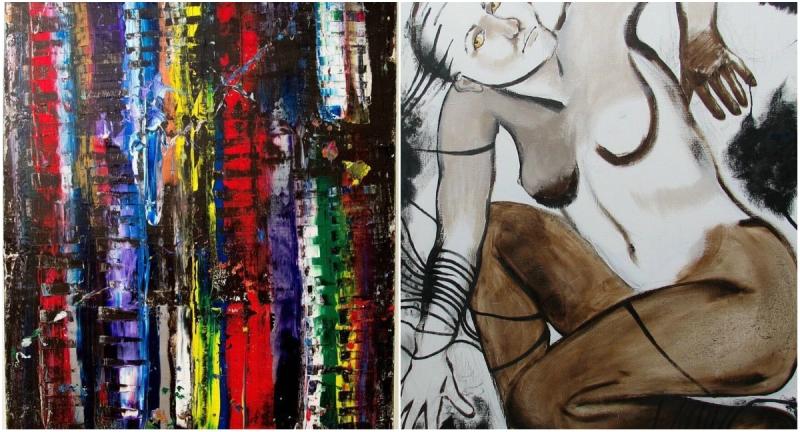 Left: Juke Box Overload by Roberto Ruiz. Right: Abulia by Sheri Butler. (Art in Motion / Facebook)
Art in Motion is more than a show: 50 percent of proceeds form art sales will benefit RIC's art therapy program as well as other therapeutic recreational programs, including music therapy and visits from Georgia, the center's service dog. 
The gallery will be set up at the Ryan Family Atrium of Northwestern's Lurie Center (303 E. Superior St.) from May 5-8. Thursday's opening reception (5:30-9 p.m.) includes music, appetizers and drinks, in addition to painting by Davis and Paré. Tickets start at $75. More information about ticket prices and donations can be found here.    
"We want this to be a great opportunity for the artists," Ossyra said. "They all come and they talk about their journey and their art. It's a great opportunity for them in terms of their therapy to show all that they've accomplished.
"It's a great part in terms of recognition [of art therapy]. A lot of people don't think about [what patients] can do in terms of therapy. They often think about being in a gym, but this is an important part of that as well."
The gallery will be open daily 9 a.m. to  5 p.m. throughout the Art in Motion event.
Follow Kristen Thometz on Twitter: @kristenthometz
---
Related 'Chicago Tonight' content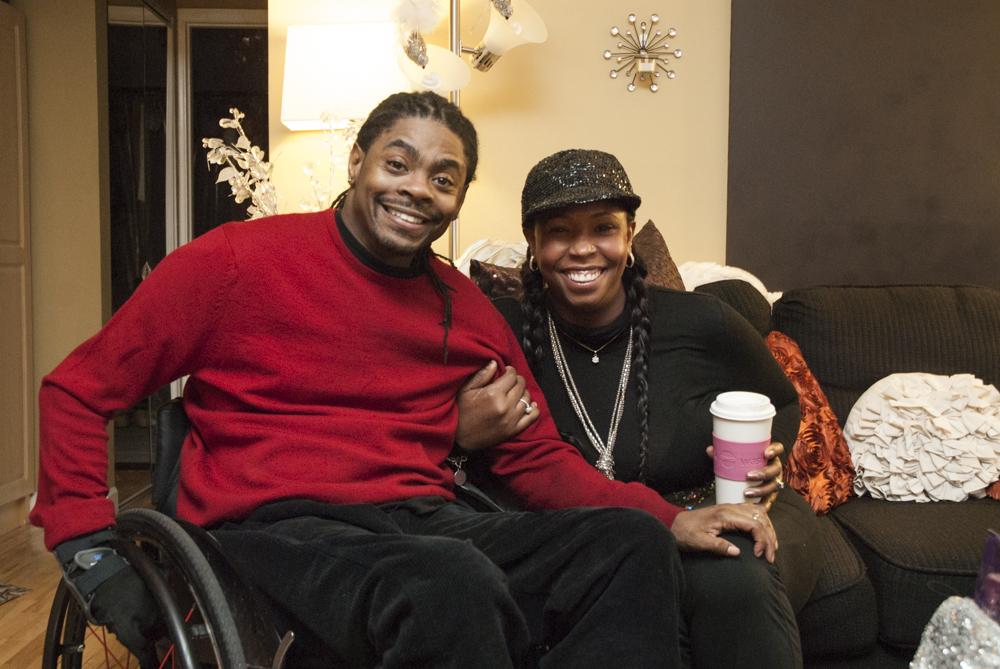 A Love Story Born from Adversity
Feb. 5, 2014: When Juanita met Antonio at a nursing home, he was recovering from a gunshot wound that left him in a wheelchair. Sixteen years later, he's an accomplished painter and she is the love of his life. Jay Shefsky has this remarkable love story.
---