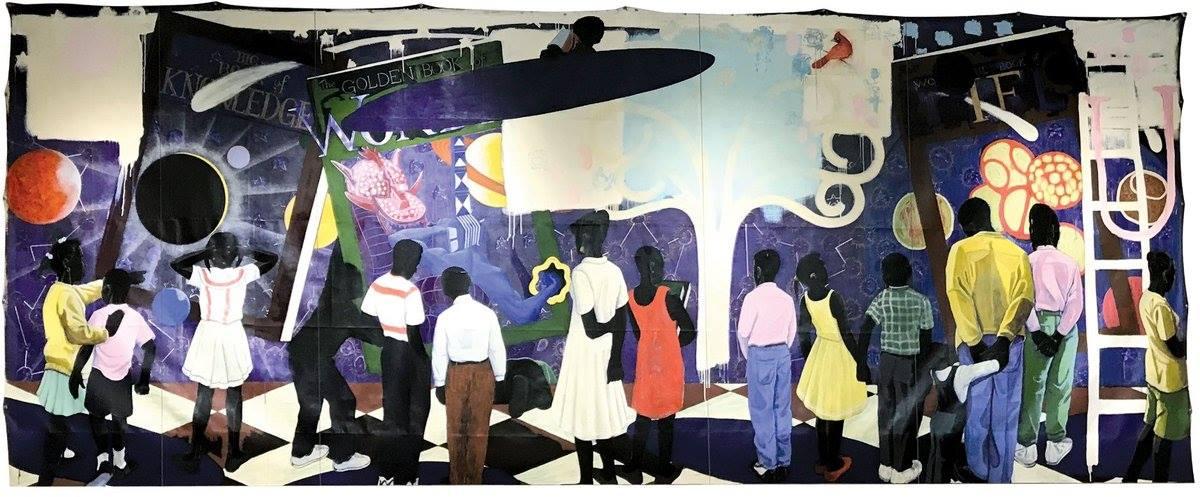 "Knowledge and Wonder" by Kerry James Marshall (Chicago Public Library / Facebook)
CHICAGO (AP) — Chicago Mayor Rahm Emanuel has dropped plans to sell a city-owned mural that could have raised millions of dollars for a major makeover at a library.
"Knowledge and Wonder" is a mural by local artist Kerry James Marshall that depicts black children looking at oversized books. It has been displayed at the Henry E. Legler branch in the city's West Garfield Park neighborhood. A Nov. 15 auction was expected to bring in more than $10 million for an expansion there.
Emanuel said he changed plans after hearing opposition, particularly from Marshall.
"I was swimming and thought, 'This is not what I wanted, given the city's contributions to public art, and Kerry's a friend and also a great ambassador for Chicago,'" Emanuel said Sunday. "I reached out to him and said, 'Look, I don't want this. If you're not happy, I don't want to go forward.'"
The mural was commissioned in 1995 for $10,000. Marshall said Emanuel's shift was the "right decision to make."
"It just seemed like a way of exploiting the work of artists in the city for short-term gain in a really shortsighted kind of way," Marshall said of a possible sale. "It certainly would make one believe there's no reason to do anything because you have some kind of civic pride as a citizen."
"Knowledge and Wonder" will be displayed again at the library as soon as possible, Emanuel said.
Earlier this year, music producer Sean Combs purchased a Marshall painting for $21 million, Marshall's New York dealer, Jack Shainman, told the New York Times. The seller was the Chicago Metropolitan Pier Exposition Authority, which acquired the work for the McCormick Place convention center in 1997.
---
Related stories
Kerry James Marshall Unveils Monumental Mural in the Loop
Master of Painting Brings Art from Bronzeville to the World
---