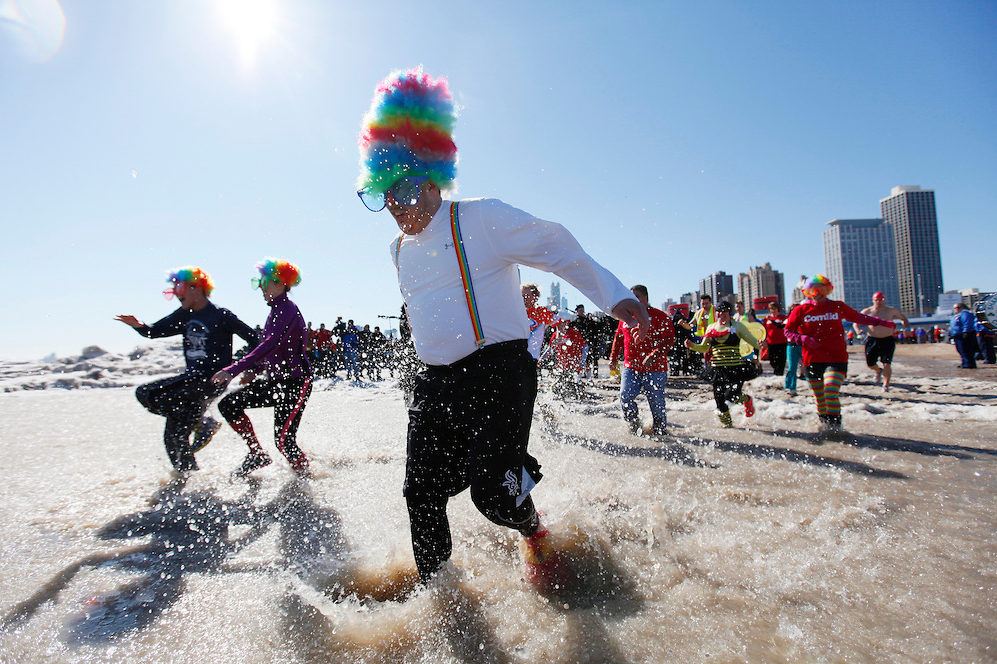 Over 4,500 people participated in last year's Polar Plunge. (Special Olympics Chicago)
It's that time of year again, when brazen Chicagoans, some donning outrageous costumes, brave the icy waters of Lake Michigan for a good cause.
The 16th annual Polar Plunge benefiting Special Olympics Chicago takes place on Sunday at North Avenue Beach.
Last year, the event raised over $1.2 million in donations, shattering the previous year's record of $1 million. Those funds are a far cry from the $40,000 raised at the first Polar Plunge in 2000.
Celebrity guests last year included Vince Vaughn, Lady Gaga and some of the cast from the TV shows "Chicago P.D." and "Chicago Fire." Gaga's appearance was unplanned; she jumped in with fiancé Taylor Kinney, an actor in "Chicago Fire."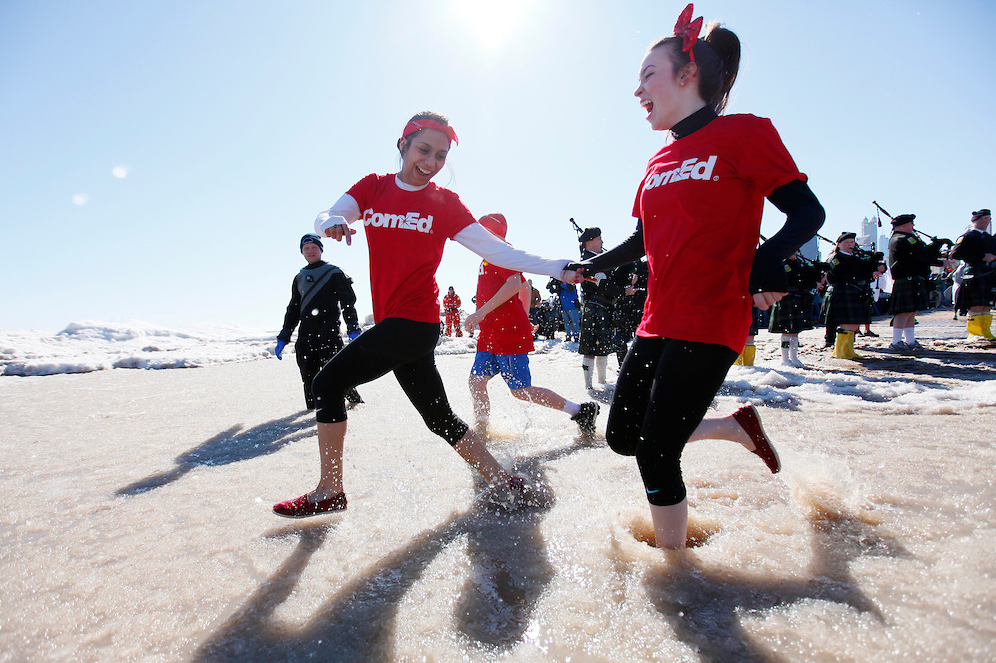 "Jumping in is very refreshing," said Susan Nicholl, executive director of Special Olympics Chicago. "We call it the fountain of youth." (Special Olympics Chicago)
In 2014, "Tonight Show" host Jimmy Fallon and Mayor Rahm Emanuel joined the frigid fray. Susan Nicholl, executive director of Special Olympics Chicago, said that year was pivotal to the event's popularity.
"We jokingly refer to it as the 'Fallon effect' here," Nicholl said. "We were on the verge of growing that year and his inclusion really spiked awareness."
Nicholl said the celebrity guests this year will be cast members from "Chicago P.D." and "Chicago Fire." And who knows? Lady Gaga is still engaged to Kinney, so maybe she'll make another cameo.
"We would love that," Nicholl said. "Wouldn't that be awesome? One week she's at the Oscars and the other week she's at North Avenue Beach. That's what happened last year."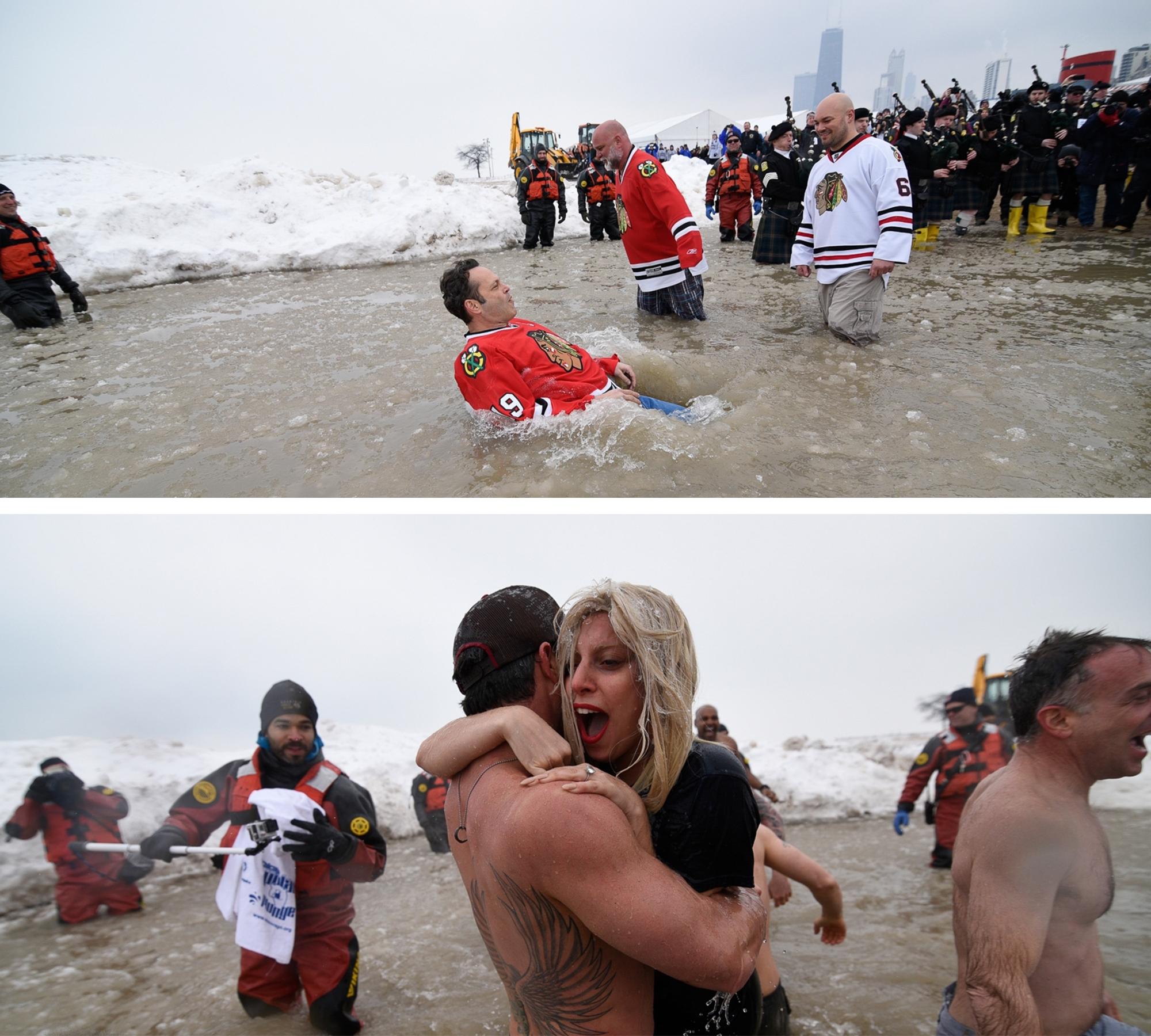 Vince Vaughn, above, took part in the event last year after the #VinnyDippin social media campaign called him out. That same year, Lady Gaga, below, made a surprise appearance with fiance Taylor Kinney. (Special Olympics Chicago)
Two local politicians are rallying their colleagues to take the plunge with them – or to at least pay up.
Ald. Matthew O'Shea (19th Ward) and Ald. Patrick D. Thompson (11th Ward) formed the "Alderbears" team last week, imploring fellow aldermen to join them in raising money and awareness for Special Olympics Chicago.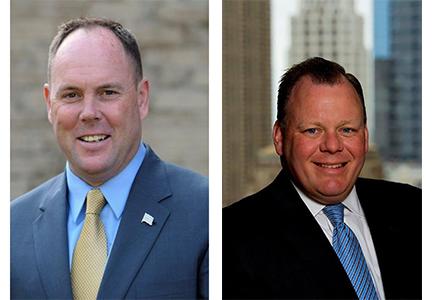 Ald. Matthew O'Shea (19th), left, and Ald. Patrick D. Thompson (11th), right, have formed the Alderbears to get their City Council colleagues to join them in plunging or donating for the cause.
Both O'Shea and Thompson have participated in the event numerous times, but this is the first time they've tried to organized fellow aldermen. Last week they sent letters to their colleagues requesting they participate. Their recruiting tactics seem to be working.
"We followed up with phone calls, gently twisting the arms of our colleagues," O'Shea said. "Several have agreed to the challenge and several more have said, 'There's no way I'm jumping in that frozen water, but I'll send a check.'"
O'Shea says about six aldermen have so far pledged to plunge with the Alderbears. Their donations presently stand at $1,164. O'Shea is hoping they can raise at least $5,000.
Given the recent mild winter, O'Shea isn't expecting the water to be too cold this year. Nevertheless, he's keeping Sunday's weather conditions a mystery until that fateful morning.
"I haven't looked at the weather yet," he said. "Why would you want to know?
"You never get used to diving into freezing cold water. You know it'll be a painful couple minutes but it's for a very worthy cause."
The Polar Plunge is the largest fundraising event for the Special Olympics in Chicago. The city has a relationship with the organization that dates back to its inception.
In 1968, the first International Special Olympics Summer Games were held at Soldier Field. A thousand participants with intellectual disabilities hailing from 26 U.S. states and Canada competed in track and field, swimming and floor hockey. Three years later, the Special Olympics received official approval from the U.S. Olympic Committee to use the word "Olympics" in the U.S.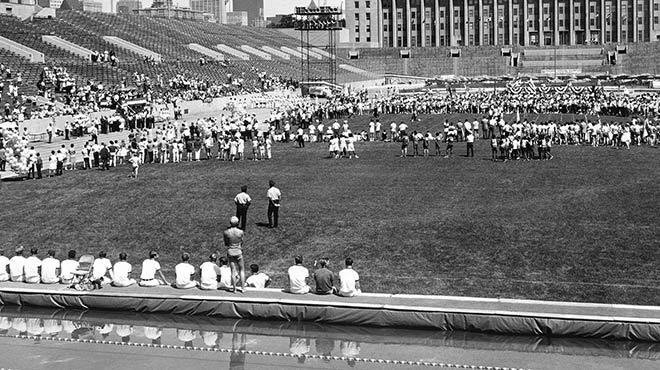 The first Special Olympics Games were held in July 1968 at Soldier Field. (Special Olympics Chicago)
There's still time to register online for the Polar Plunge. Plungers will meet at 10 a.m. in front of Castaways on North Avenue Beach, 1603 N. Lakeshore Drive.
Follow Evan Garcia on Twitter: @EvanRGarcia
---