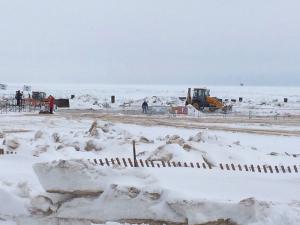 It's pretty hard to jump in the lake if the ice is right up to the shoreline. That's why backhoes were at North Avenue Beach for three days chopping through the ice to create some open water for this year's Special Olympics Polar Plunge.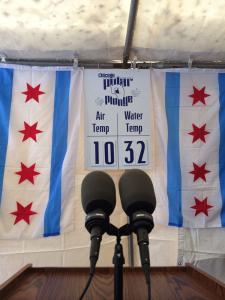 The numbers behind the podium set up for Mayor Rahm Emanuel's press conference told the story -- air temp: 10 degrees, water temp: 32 degrees. So, with the lake 22 degrees warmer than the air, would it actually feel warm? Not so much.
Mayor Emanuel joined 3,000 other polar plungers after promising children participating in the "Rahm's Readers" program that he would jump in Lake Michigan if they read more than 2 million books. They did; and he showed up ready to go.
The Plunge benefits the Special Olympics which raised over $1 million from the event.
An emotional mayor spoke of the challenges faced by special needs children and their parents:
While the mayor was talking to the press, the backhoes were still working in the water. They'd managed to clear enough ice away so the plungers would be faced with what looked like a giant Slurpee.
Since this was the mayor's first plunge, it wasn't clear if he knew the rules. As an experienced plunger, I enlightened him:
With about a 30 X 20 foot pond carved out of the thick ice lining the shoreline, the Police and Fire Department Marine Rescue unit donned dry suits and waded in. A precaution just in case the mayor's heart -- or anyone else's -- stopped after hitting the icy water. There were no reported rescues.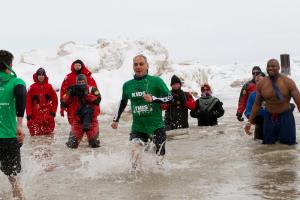 Just as I was about to get the money shot of Mayor Emanuel running into the water flanked by the Shannon Rovers in Wellingtons, my iPhone froze completely. As my hands were frozen as well, I couldn't get it back in operation until the mayor and Late Night host Jimmy Fallon were long gone. But the mayor's press office did document the event.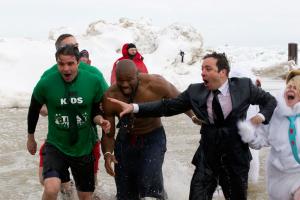 Mayor Emanuel was the first in with Fallon, in his suit, in the second wave. Fallon looked completely freaked out by the icy water. The mayor just looked cold. And I can report that he went all the way under.