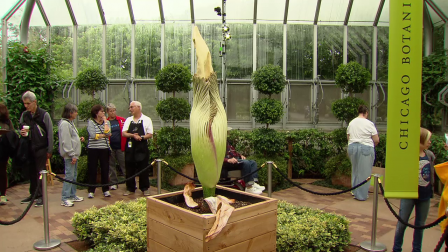 Spike was "flashing signals" on Aug. 26.
After much anticipation, the Chicago Botanic Garden on Saturday night announced that Spike is not expected to bloom. 
The rare corpse plant, by all accounts an Internet sensation, was moved into public view in the garden's semitropical greenhouse on Aug. 6, and has been watched round the clock via the CBG's livestream all week. 
On Saturday night, the CBG announced the following via Twitter:
#CBGSpike update: Sadly Spike lacks the energy to bloom. Nature can be unpredictable. We will harvest Spike's pollen. http://t.co/lqmNDyO5TA

— ChicagoBotanicGarden (@chicagobotanic) August 29, 2015
On its website, the garden provided more details on what's next for Spike:
August 29 update: Over the last few weeks, more than 50,000 people have visited Spike, the Garden's rare and unpredictable titan arum (Amorphophallus titanum). The plant has piqued their interest and curiosity about the natural world and exotic plants. We are humbled and grateful to all who have been cheering Spike on, watching for bloom on the webcam, and visiting us daily. Spike has thoroughly captivated and amazed our staff and all of you, our Garden friends.
On Monday, August 24, the plant reached its full height of 68 inches and we expected to see its spathe open and unleash a terrible stench two to four days later. As any gardener knows, plants do not always behave as we would expect. We patiently waited for Spike to open, but given the number of days that have passed and signs that the spadix is aging, we have determined that the plant does not have the energy to open by itself. 
Tim Pollak, outdoor floriculturist; Patrick Herendeen, senior director, Systematics and Evolutionary Biology; and Shannon Still, Ph.D., conservation scientist, will remove the spathe, cutting around the base just above where it attaches to the stalk of the plant. At that time, we will determine if the male flowers are functional. If they have produced pollen, we will bank it to pollinate other plants. The spathe, which is now wrapped around the plant, will be on display in the Greenhouse galleries for people to see and touch for several days after it has been cut away.
As to why Spike did not bloom, the garden says, "We're not sure why it didn't open. There have been so few to compare to know."
The titan arum, nicknamed Spike, captured the imagination of thousands in the Chicago area.
The draw? The plant is both extremely rare – it takes a new plant 10-12 years to bloom – and endowed with a powerful calling card: a stench that is described as a putrid mix of Limburger cheese, rotting meat, stinky feet and, well, you get the idea.
And so, why were folks lining up to share airspace with Spike?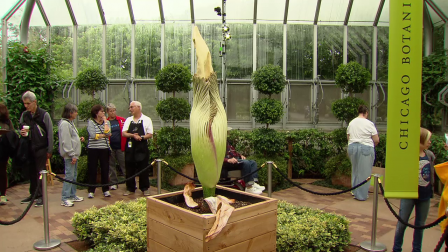 Spike was "flashing signals" on Aug. 26. "It's a happening," CBG visitor Rhoda Sterling told Chicago Tonight's Paris Schutz on Wednesday. "It's unusual. What blooms 10 or 14 years, once? So you think, 'Well I have a chance to be there.'"
In the days leading up to the announcement, the garden's livestream showed throngs of visitors surrounding Spike, who showed a lot of girth at its base and a bulging midsection. On Wednesday, outdoor floriculturist Tim Pollak told Schutz that the plant had been "flashing signals" that it was getting ready to bloom.
The CBG gave Spike the night off on Thursday and Friday, turning off lights that would otherwise have illuminated the tall plant on its webcam. On its Twitter account on Friday evening, the garden assured those watching that "scientists are carefully monitoring progress."
The garden's growth chart indicates that Spike grew 40 inches during his time in the public showroom, from 28 inches on Aug. 6 to his current height of 68 inches.
Visiting Spike
On Sunday night, the CBG announced that Spike's spadix would remain on view in the semitropical greenhouse through noon on Tuesday. 
Get information on parking fees here. The garden's regular hours are 7 a.m.-9 p.m. Admission is free. Pets are not allowed, except for service animals. 
Get driving directions to the garden and information on public transportation. 
Prefer to ride your bike to the garden? Find a map here.
Stay up to date on #CBGspike on Twitter.
More titan arum news
A titan arum named Stinky recently bloomed at the Denver Botanic Garden, which took more than 8,000 photos over 18 days to capture its lifecycle. Watch the incredible 43-second time-lapse video below.
Chicago Tonight's Paris Schutz visited Spike at the CBG on Wednesday. Watch the video below.
Did you see Spike? Tell us what you saw in the comments section below. You can also share your photos of Spike with us by using the form below.
Share your photos with us