The Chicago Botanic Garden is on death watch.
Officials there say the famed titan arum plant, more popularly known as the "corpse flower," could bloom in a matter of hours and emit its notorious foul odor. The plant has attained near-rock star status lately: So far, 40,000 visitors have flocked to the Botanic Garden to see it, even though the stench is yet to come.
The crowds are lining up to get a glimpse, and perhaps a whiff, of what CBG officials say is the world's largest, smelliest flowering plant.
Watch the CBG's livestream of Spike below. More information is available on the CBG website.
Peggy Nitzken, who came to visit the plant, is not opposed to return trips. "I came yesterday, I came today, I'll come tomorrow to see it unravel," she said.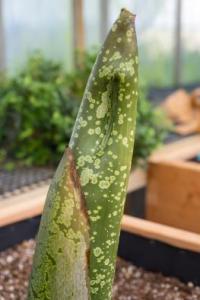 Titan arum, "Spike," on August 3. (Photo by Robin Carlson) Outdoor floriculturist Tim Pollak says the plant, nicknamed "Spike," has been growing at the garden for 12 years, and has flashed signals that it is hours away from blooming. To the right is Spike pictured less than three weeks ago. Now, the base is extra girthy, the internal temperature has spiked, and the flower petals are starting to pull away from the stem.
"It's making some moves to get ready to bloom," Pollak said. "It's made some movement today."
The plant is extremely rare, found mostly in rain forests in Indonesia. It's life span, once in bloom, is a very short 24-36 hours. And the smell that emanates from the flower has been described as being somewhere between Limburger cheese and a rotting mammal corpse. Why? To attract pollinators.
"Dung beetles, flies, they're attracted to that smell," explained Pollak. "They think it's a dead animal so they think they can feed upon it. What happens is, there's nothing to feed on so they carry pollen with them and move on to another flower."
The anticipation has made Spike a phenomenon in Chicago. Other corpse flowers have attained similar status, including one halfway around the globe.
"The same thing's happen in Melbourne's botanic garden in Australia," visitor Don Alchin said. "It's made national news, and we've waited 12 years for this to happen. And now I come here and it's happening here, it's rather amazing."
Titan arum, "Spike," on August 26.
Some visitors have found artistic inspiration in the plant and say they plan to be here until the very end.
Though botanists aren't sure of the exact hour of blooming, they do say it will almost certainly be during the evening.
Right before it pops it'll start to emit that Limburger death smell. We're not smelling anything right now which signals it's probably not going to be tonight.
When the moment comes, the CBG says it will stay open until 2:00 a.m. for all who wish to see – and smell.
The CBG says it has nine other corpse flowers growing in its production area. Some might bloom, many never will, and others will be used specifically for science.
---
Did you see Spike? Tell us what you smelled and saw in the comments section below. You can also share your photos of Spike with us by using the form below.
Share your photos with us