The Chicago Botanic Garden is getting ready for the big stink.
His name is Spike, and the nearly 70-inch tall titan arum has been in the spotlight for weeks, following its move into the semitropical greenhouse at the garden on Aug. 6.
He's now also the star of a round-the-clock livestream.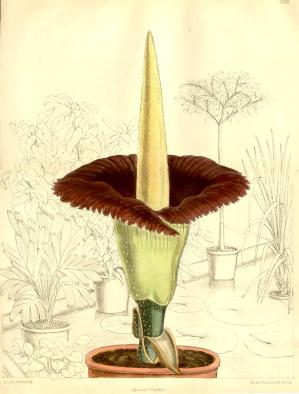 Illustration of a blooming titan arum from Curtis's Botanical Magazine. (Courtesy of the Chicago Botanic Garden)
For those who haven't heard about the rare plant, its scent precedes it. Upon its bloom, the so-called corpse flower (a.k.a. corpse plant) releases a stench comparable to such delights as rotting meat, stinky cheese and sweaty feet. 
If you were a carrion beetle or flesh fly, you wouldn't even need to get within selfie range to smell Spike. According to the CBG's website, "the odor produced by the plant can be detected by pollinators up to an acre away, but is not overpowering—our volunteers (and visitors!) will be grossed out by it, but it's unlikely anyone will become physically ill."
When Spike blooms, the garden will stay open until 2:00 am so as many visitors can meet – and smell – the rare plant, which is the first of its kind to bloom in the Chicago area. Note that the regular parking fee will be waived after 9:00 pm on the night of the bloom, and visitors will be restricted to the semitropical greenhouse where Spike resides.
Watch the CBG's livestream of Spike. More information available on the CBG website.
Below, a recent discussion about Spike on Chicago Tonight with Tim Pollak, outdoor floriculturist at the Chicago Botanic Garden. Also featured in the segment, to talk about natural phenomena in Chicago, are Greg Spyreas, a botanist with the Illinois Natural History Survey, an ecological research institute based in Champaign; and biologist Doug Taron, vice president of Research and Conservation at the Peggy Notebaert Nature Museum. 
---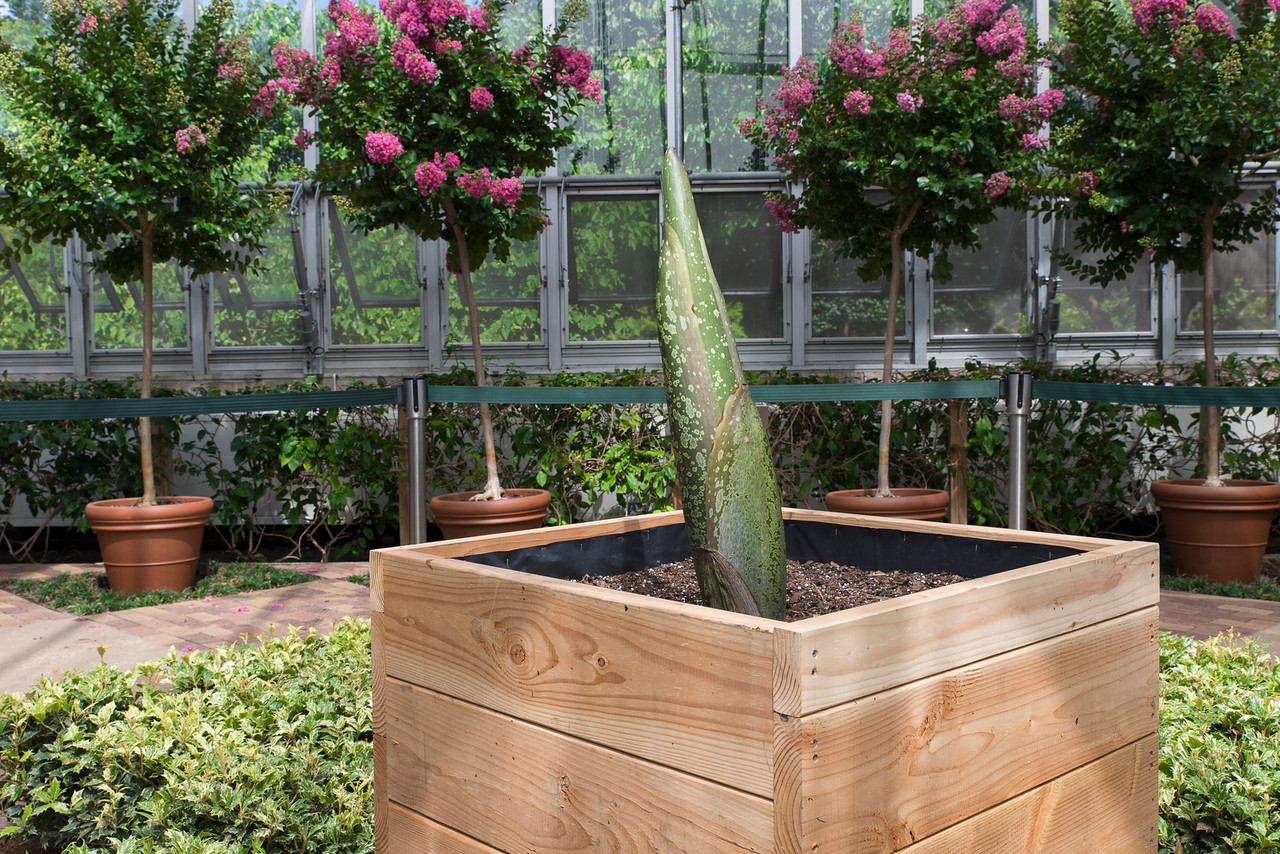 • Read more about Spike: Rare Plants Take Root, Bloom This Summer