A Look at Rare Paintings from Indiana Dunes Artist Frank Dudley
Struggling artist Frank Dudley visited the Indiana Dunes 100 years ago and discovered his life's work – painting the fragile and constantly evolving landscape and promoting and preserving the dunes.
On Tuesday, Chicago Tonight looks at the enduring impact of Dudley's dramatic oil paintings, whose popularity helped ensure protection for this unique topography of sea, sand and sky on the southern edge of Lake Michigan.
We'll also talk with local experts such as James Dabbert, an Illinois Institute of Technology professor who co-wrote the book The Indiana Dunes Revealed: The Art of Frank V. Dudley.
Alien landscapes
When artist Frank Dudley first exhibited his oil paintings of the Indiana Dunes in 1918, visitors to the Art Institute of Chicago were so unfamiliar with the "alien" landscapes, they were convinced he'd been painting out west, instead of a mere 45 miles from Chicago.
Originally a native of Delevan, Wisc., Dudley went on to study at the Art Institute, ultimately dedicating 40 years of his life towards fighting to preserve the dunes he painted. Those efforts led to the creation of a protected state park for the dunes in 1925 and, in 1966, of a national park which now includes over 15,000 acres of land and over 13 miles of Indiana shoreline.
In an era of emerging modern art, Dudley's paintings were rooted in the recent past, particularly the Impressionist movement of the late 19th century. While his fascination with Impressionism leant his art a gestural, expressive quality, Dudley's style was also considered conservative.
"He would've said he was conservative in the best possible way," said art historian Wendy Greenhouse. "He valued the traditions and the fundamental idea that art should enlighten and uplift and please and be something you'd wanna live with."  
"His compositions are very naturalistic, there's nothing forced about them," Greenhouse said. "You look at a scene and you say, 'oh that's exactly where I was last summer' but if you look at the mass of his work and his return to particular subjects repeatedly, which he does over long periods of time, you'll see that he's very careful to frame the landscape so that you see all the elements that make up the dunes landscape."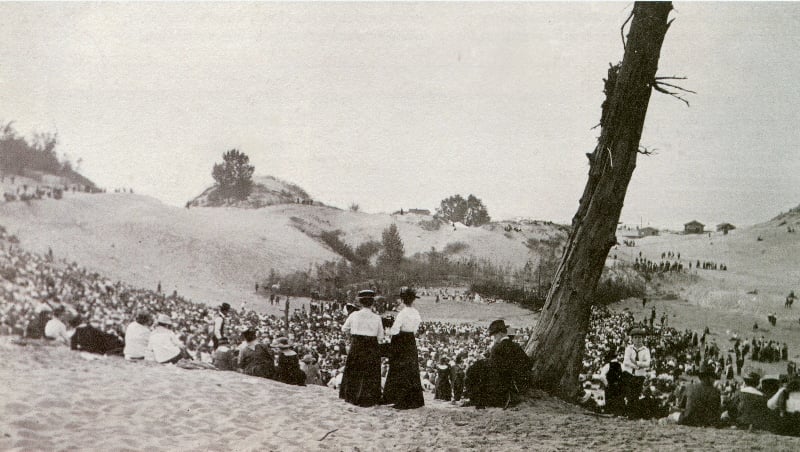 Dunes Pageant, June 3, 1917. (Photo, Paul B. Dudley) In this photo, Frank Dudley sits just underneath the tree. Initially, Dudley struggled as an artist, according to Illinois Institute of Technology Professor Jim Dabbert, who co-authored a book on the artist and befriended members of Dudley's family.
"He came to Chicago as a young man, as a landscape painter and like many artists in those days was exhibiting at Art Instiute of Chicago annual exhibitions, and then he did a very unusual thing – at age 50 he began to paint the Indiana Dunes to the near exclusion of all other subject matter," Dabbert said. "His fellow artists thought he made a bad career move, but Frank Dudley was on a mission." 
Dabbert points out that Dudley also painted non-dune related Chicago scenes – like the city skyline painted in 1934 from the view of Promontory Point,  and a view from the bridge in Jackson Park.
While there are many Dudley works in local private collections,  only a few exist in Chicago area public collections. The biggest groupings are at the Indiana State Museum in Indianapolis and the Brauer Museum of Art in Valparaiso. In the Chicago area, his work can be seen at the Vanderpoel Art Gallery, Salt Creek Union League Club, and the Illinois State Museum.
That's because Dudley, who kept a studio-cabin at the dunes year-round, had an unusual rental agreement. For 19 years, Dudley gave the state of Indiana one painting per year in lieu of rent for his studio cottage, which stood on state property. 
Throughout his long career, Dudley preferred to be called a painter rather than an artist. By the time of his death in 1957, Frank Dudley had earned the nickname "Painter of the Dunes."
Click below to view an original program from Dudley's 1918 Art Institute of Chicago exhibition
Original program from Dudley's 1918 Art Institute of Chicago exhibition