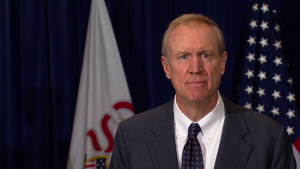 Gov. Bruce Rauner may not be supporting a bill to address Chicago's massive police and fire pension shortfall. The last minute measure passed both chambers of the general assembly this weekend. It purports to stave off what would have been a $600 million property tax hike by spreading payments out into the future.
Rauner made it clear today he is no fan of this bill. He says it just kicks this massive problem down the road.  The mayor says it saves Chicagoans from a massive $550 million property tax hike.
"I'm so disappointed in the mayor and speaker and president of the senate for doing another kick-the-can pension bill, and boy, is this bad news for homeowners and taxpayers," the governor said on WBEZ 91.5's Morning Shift with Tony Sarabia. The governor, however, refused to say one way or another whether he'd veto or sign the bill.
And here's a synopsis of what the bill does. It saves more than $800 million over the next five years, mostly by smoothing the payment schedule. It requires the systems to be 90 percent funded in 40 years, instead of the current schedule that requires that level in the next 25 years. It also calls for any revenue from a Chicago-owned casino to fund the pension systems – but a casino bill has yet to be passed, and city officials refuse to divulge exactly how much revenue they can expect from a casino.
Listed below are the expected payments into the pensions systems under the current plan versus the new plan that has passed the general assembly.
| YEAR | CURRENT PLAN | PROPOSED PLAN |
| --- | --- | --- |
| 2015 | $838 million | $619 million |
| 2016 | $866 million | $692 million |
| 2017 | $895 million | $727 million |
| 2018 | $924 million | $792 million |
| 2019 | $954 million | $894 million |
There were no concessions agreed to by police and fire union members as part of this bill; reforms to the city's municipal and laborer's pension funds contained cuts in benefits. The city says they are still talking to the unions to come to an agreement on reforms. The governor has 60 days to decide to veto or sign the bill – all signs point to him holding on to this until the last possible moment to use it as a bargaining chip to get some of the turnaround reforms he's looking for.