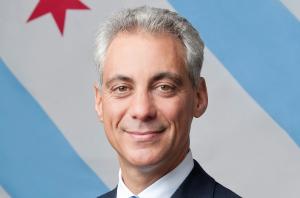 A much anticipated plan to shore up Chicago's beleaguered police and fire pension funds has finally surfaced in Springfield. The measure would double the city's payment into the fund next year and triple it in the next five years. Under the new schedule, the city will owe $619 million next year, down from the $839 million it would have had to pay under the old law, according to the city's budget department. 
The bill also lengthens the amount of time for the systems to reach 90 percent funded. That is now projected for the year 2055; currently, it would have to reach that funding level by 2040. The bill does not call for benefit reductions or increased contributions on the part of city police and fire personnel. But city officials say they are still negotiating with unions to achieve some level of reform to go along with the new projected revenue. 
The bill also calls for any revenue from a city-owned casino to go toward shoring up the two funds. Mayor Rahm Emanuel is betting on separate legislation that would authorize a Chicago casino, along with four other casinos throughout the state and expanded gaming at racetracks. The legislation is expected to include temporary casinos to provide revenue immediately to the pensions funds, as a permanent casino gets built. He would not comment on where they would be located or how many there would be.
The pension legislation is SB0777, amendment four. There are two days remaining in the spring legislative session. If it fails to pass now, it would need a higher threshold of votes to pass in a special session or the fall veto period.